Kyle Busch Unveils Patriotic Paint Scheme for Coca Cola 600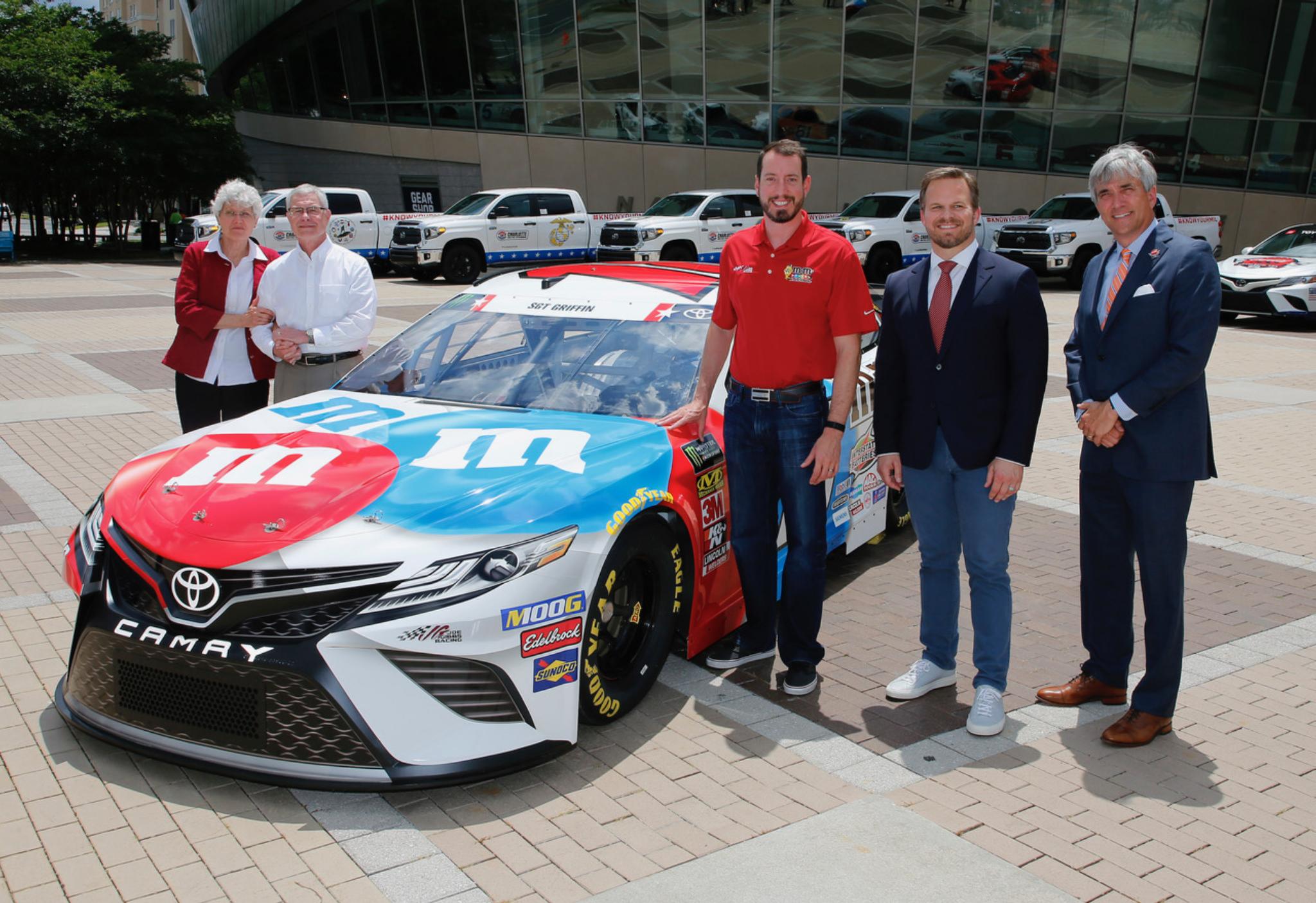 Kyle Busch, left, was joined by the family of Sgt. Dale Griffin, right, and Charlotte Motor Speedway's Marcus Smith and Greg Walter
CMS
Kyle Busch will attempt to defend last season's victory in the Coca Cola 600 with a specially-designed patriotic paint scheme on his M&M's Toyota Camry, honoring the men and women of the US military as well as the memory of a fallen soldier.

Busch's red, white and blue paint scheme will feature the name of fallen Army Sgt. Dale Griffin on the windshield, who lost his life in Afghanistan on Oct. 27, 2009 during Operation Enduring Freedom.

Griffin's parents, Dona and Gene Griffin, were on hand for the unveiling.

"I'm overwhelmed," Gene Griffin said. "I'm so thankful for everyone who's willing to stop and remember those who paid the ultimate price. We've been so blessed with the relationships we've created here. We'll carry this in our hearts forever."
Busch will be looking to earn his second Coca Cola 600 victory after taking the checkered flag in last year's event – marking his first Charlotte Motor Speedway Cup Series win of his career.

Busch said he considers it an honor to be running a patriotic paint scheme and honoring Sgt. Griffin's legacy.

"It means a lot," Busch said. "Having the opportunity to work with NASCAR and NASCAR Salutes to honor and remember our fallen who have given their lives to give us our freedom. It means a lot to have our Memorial Day weekend race, the Coca-Cola 600, at Charlotte because it's our home and to have the opportunity to carry a fallen (military) member's name on our race car is the ultimate honor. Being able to meet those families and spend time with them, hear their stories and hear who we're honoring is what means so much to me and the rest of the field."
To further honor the sacrifice of the men and women in the Armed Forces, NASCAR plans a special "Moment of Remembrance" during the May 26th event – bringing the entire field to a stop on pit road at the end of the second stage to join the fans in the stands for a 30-second moment of silence honoring America's fallen soldiers.