Bourdais to run GEICO colors at IndyCar GP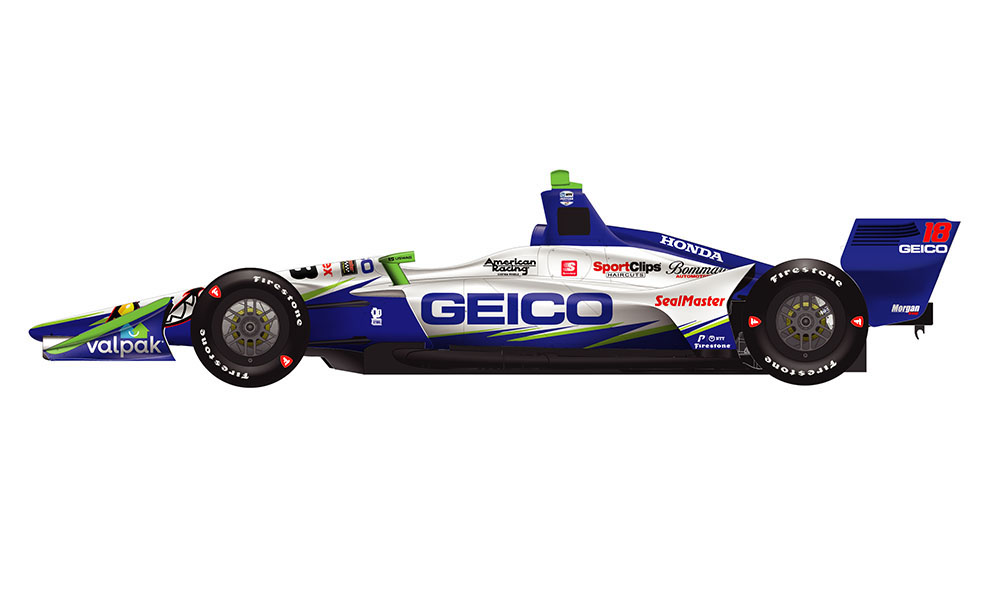 Bourdais' Geico livery for the GP
"We are very pleased to announce that GEICO will be the primary sponsor of the No. 18 Dale Coyne Vasser-Sullivan entry for the 2019 INDYCAR Grand Prix. GEICO has been with us since the beginning, going back to 2008. Over the last 12 years we have established an outstanding relationship with the company and look forward to once again representing them on-and-off the track," said DCRVS co-team owner James "Sulli" Sullivan.
"Each year our relationship has grown, and we've enjoyed the success they've experienced, including putting GEICO in the winner's circle at the 2013 Indianapolis 500. We learned long ago that auto racing fans are a group of dedicated folks and we have worked hard to engage them and make everyone aware of the products we provide aside from just auto insurance. Dale Coyne Vasser-Sullivan has been a great partner," said Bill Brower, assistant vice president of marketing for GEICO.
GEICO first partnered with Jimmy Vasser in 2008 and later with James "Sulli" Sullivan. GEICO, an associate sponsor of the No. 18 entry during the entire 2019 NTT IndyCar Series season, will assume the primary role for the INDYCAR Grand Prix. The 12-year partnership includes a win at the 2013 Indianapolis 500 with Tony Kanaan behind the wheel.
Since 1936, GEICO continues to find ways to manage its business costs to offer savings to customers today. In addition to auto insurance, GEICO also provides insurance for motorcycles, ATV's and RV's. Coverage for boats, life, homes, and apartments are written by non-affiliated insurance companies and is secured through the GEICO Insurance Agency Inc. Commercial auto insurance and personal umbrella protection are also available.
Bourdais is contesting his 14th NTT IndyCar Series season, fourth with Dale Coyne Racing and second with Dale Coyne Racing w/ Vasser-Sullivan. He is the only Indy car driver to win four consecutive championships (2004–2007). Bourdais has won 37 career IndyCar races (sixth all-time) and captured 34 pole positions (seventh all-time) and has won the race from the pole 18 times — third on the all-time list. An accomplished sports car racer, he was part of the Ford Chip Ganassi Racing win the GTE Class at the 24 Hours of Le Mans in Ford's return to the famed endurance race in 2016 and the GT Le Mans class at the 24 Hours of Daytona in 2017. Bourdais finished second overall in 24 Hours three times with Team Peugeot. He has also won the overall 12 Hours of Sebring and Petit Le Mans. Bourdais, 40, is a native of Le Mans, France, but resides in St. Petersburg, Florida.
"GEICO started supporting the team long before I arrived, including a win at the Indy 500," Bourdais said. "It is an honor to have such a prestigious company continue to support our efforts, and I look forward to, hopefully, bringing them another victory at IMS both on the road course and in the Indy 500."