Jones and Scuderia Corsa Kickoff May at Indy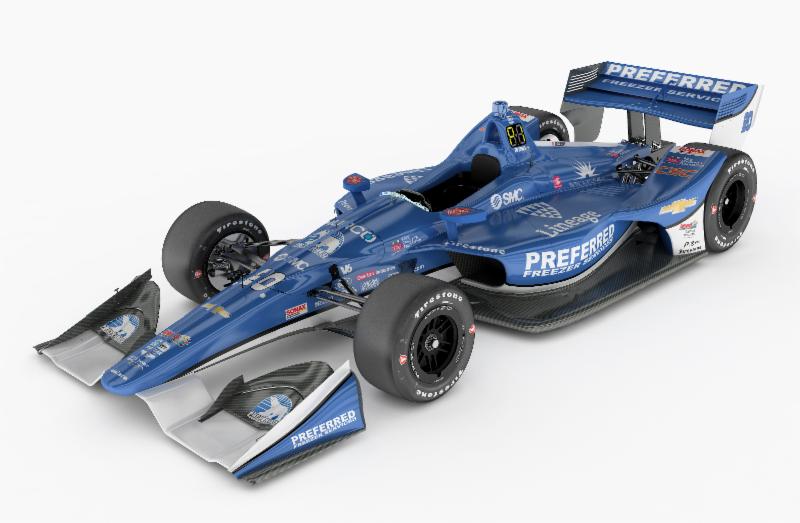 Ed Jones' Preferred Freezer sponsored Chevy
Ed Jones and the No. 20 Ed Carpenter Racing Scuderia Corsa Chevrolet entry kick off the month of May with the IndyCar Grand Prix on the Indianapolis Motor Speedway road course May 10-11.
The exciting month of May begins with the IndyCar Grand Prix, the Series final event before taking on the 103rd Running of the Indianapolis 500. After the April 24 test on the oval Jones and Scuderia Corsa were energized over the strong performance and aim to find momentum.
The IndyCar Grand Prix takes place on the 2.439-mile stretch of 14 twists and turns that weave throughout the spacious infield at IMS. The road course incorporates Turn 1 and Turn 2 of the oval's famous front stretch. Fans can gather close looks at the No. 20 from the grassy mounds within the infield or high above the course from the grandstands.
For Jones, the IndyCar Grand Prix offers a chance to get his bearings straight for the month.
"I'm looking forward to the month of May, with the two races," Jones said. "I'll use the Grand Prix to get warmed up and try to have a good weekend to get some momentum going for the 500. It's been a good track for me in the past, I've been quite quick there. I think the team will be strong here as well. We had our oval test two weeks ago now; it was great to get back into the swing of things around the speedway. I'm feeling confident and looking forward to getting on track."
The weekend begins Friday, May 10 with two practice sessions before flowing into qualification rounds. Saturday, May 11 is race day with a final warmup taking place in the early afternoon at 11:15 a.m. ET and the green flag set to drop at 3:30 p.m. The race is broadcast on NBC, check your local listings for details. Alongside the IndyCar weekend, Scuderia Corsa will host eight Ferrari Challenge clients at its home track, WeatherTech Raceway Laguna Seca. The Ferrari Challenge weekend takes place Friday, May 10 through Sunday, May 12 with races taking place both Saturday and Sunday. Follow all the action on Scuderia Corsa social media channels: Twitter @Scuderia_Corsa, Facebook at Scuderia Corsa, Instagram at @Scuderia.Corsa.