Wittmann wins from pole at wet Hockenheim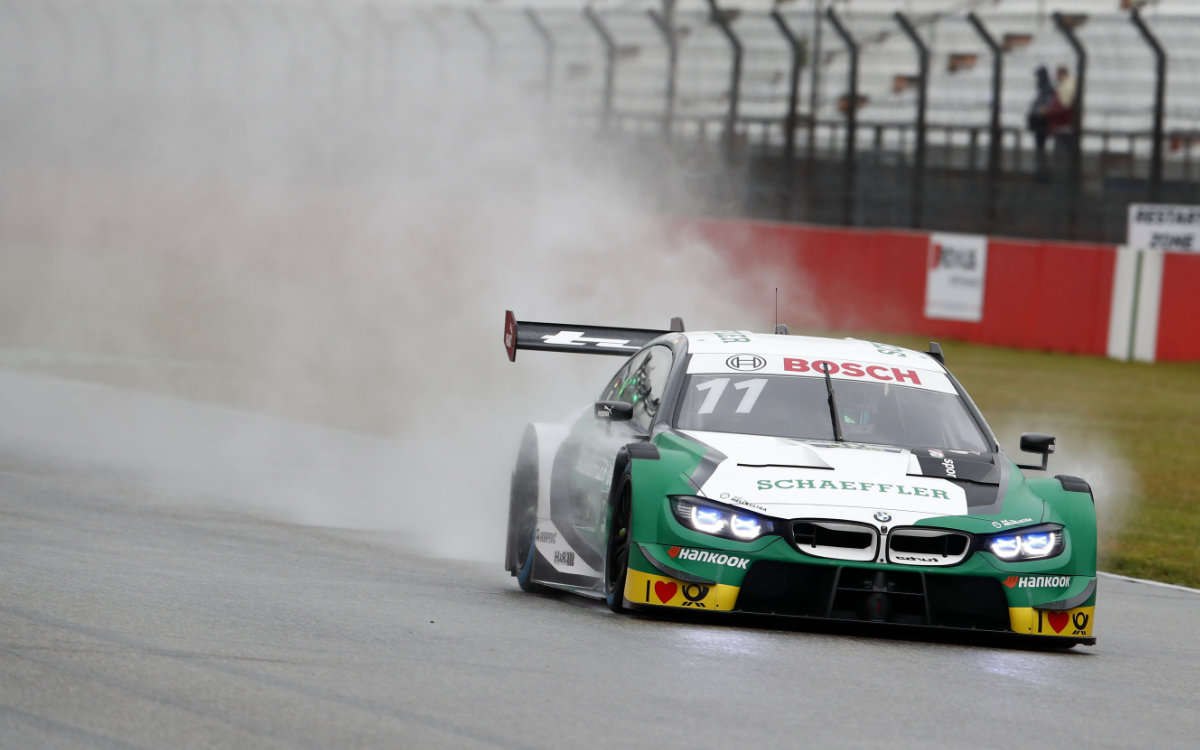 Marco Wittmann
DTM's new turbo formula kicked off in spectacular style as Marco Wittmann (GER, BMW) mastered the elements to take a commanding victory at Hockenheim today.
DTM's new two-liter, turbo-charged engines provided the drivers with an extra challenge, as they battled to control the torquey power response from the 610hp units in the slippery conditions.
Pole-sitter Wittmann, DTM champion in 2014 and '16, maintained his lead at the start and defended successfully until the finish, despite coming under intense pressure from René Rast (GER, Audi) who chased the leader after making his way through the field.
Rast was cruelly denied a shot at the lead when he was forced to pull onto the grass with a mechanical problem in the second half of the race. Instead, it was fellow Audi driver Mike Rockenfeller (GER), who inherited second place following Rast's retirement. Robin Frijns (NED, Audi) finished third, ahead of Timo Glock (GER, BMW), who drove a charging race back into contention after being nudged into a spin at the first corner. Fourth place and fastest lap was his reward for a strong afternoon's work.
R-Motorsport Aston Martin brought home its first car in ninth position, Daniel Juncadella (ESP) the first of two cars to finish, following the retirements of Ferdinand von Habsburg (AUT) and Paul Di Resta (GBR), who had qualified a highly impressive third on Saturday morning.
For Wittmann, it was his 12th career win in DTM, echoing the start to his title-winning 2014 season, where he also won the opening race at Hockenheim.
DTM's four rookies Sheldon van der Linde (RSA, BMW), Jake Dennis (GBR, Aston Martin) and Pietro Fittipaldi (BRA, Audi) all showed impressive flashes of speed during a tricky afternoon. For van der Linde and Fittipaldi, sixth and 10th place in their respective debuts saw them score their first-ever DTM championship points. Dennis just missed out on a point-scoring finish when he came home 11th.
Another courageous performance by Jonathan Aberdein (RSA, Audi) went unrewarded. He ran in the top 10 for some time, but lost his chance of scoring points with a tire strategy that proved too brave for the conditions. The South African was the sole driver to fit slick tires, but the conditions never turned around sufficiently to reward his bravery.
QUOTES – 1ST RACE, HOCKENHEIM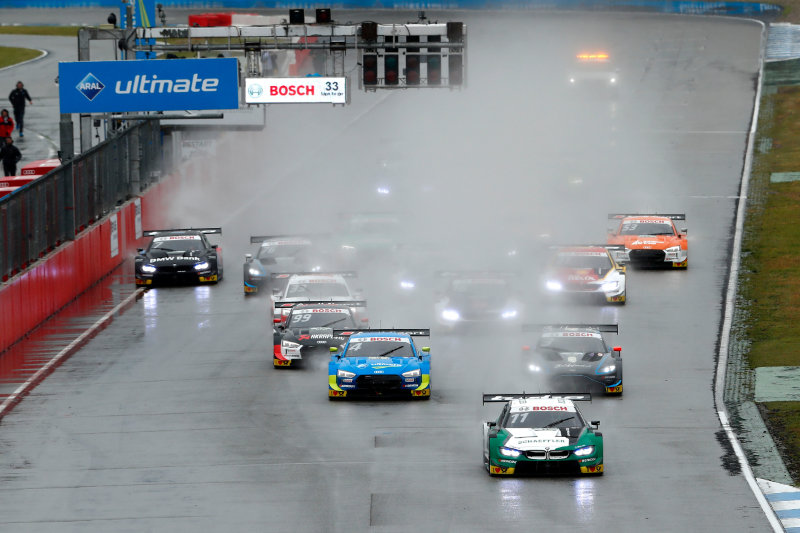 Wittmann gets jump at start
Gerhard Berger, 1. chairman ITR
"I've often been asked the question about championship favorites, and I've always said that Rast and Wittmann really impress me because they're always fast and always perform consistently. Today, both were top class again. In difficult conditions, they didn't make any mistakes and were clean and fast. For me, Aston Martin was a positive surprise, too. Being third in qualifying, right behind BMW and Audi, was a massive achievement. In the race, they were strong as well, but because of Di Resta's retirement, they weren't able to score the result they deserved. I also enjoyed watching this year's rookies. Van der Linde and Dennis were well up on the starting grid, van der Linde finished sixth right away today."
Marco Wittmann, winner"What a perfect start! The first win of the season, the first win in the new turbo era and in the new livery of my new sponsor Schaeffler, too. It couldn't have gone any better. First, Mike Rockenfeller really put me under pressure, then René Rast did likewise. Only after René had retired was I able to bring victory home safely."
Mike Rockenfeller, 2. place
"Second place is good and I'm happy with the valuable points. Initially, things weren't going too well. We'd put new tires on and decided to save the used tires from qualifying for the final stint. With the new tires in the rain, the handling of the car felt strange. On the second set, things got better again. I'm happy with today's result. The season is long and you have to score points consistently to be successful. That is what we managed to do."
Robin Frijns, 3. place
"My start was good, we were quick during the first four laps. After that, I didn't manage to get the tires to work and I lost time. I let Mike Rockenfeller and René Rast past. Once I fitted the second set of tires, things started going better, but then there were only six laps left."
Race 1 Result
| | | | | | |
| --- | --- | --- | --- | --- | --- |
| POS | DRIVER | TEAM | CAR | LAPS | GAP |
| 1 | Marco Wittmann | RMG | BMW | 34 | 0.000s |
| 2 | Mike Rockenfeller | Phoenix | Audi | 34 | 13.727s |
| 3 | Robin Frijns | Abt | Audi | 34 | 34.681s |
| 4 | Timo Glock | RMR | BMW | 34 | 37.407s |
| 5 | Loic Duval | Phoenix | Audi | 34 | 1m03.383s |
| 6 | Sheldon van der Linde | RBM | BMW | 34 | 1m05.453s |
| 7 | Bruno Spengler | RMG | BMW | 34 | 1m13.886s |
| 8 | Nico Muller | Abt | Audi | 34 | 1m29.780s |
| 9 | Daniel Juncadella | R-Motorsport | Aston Martin | 34 | 1m30.322s |
| 10 | Pietro Fittipaldi | WRT | Audi | 34 | 1m31.873s |
| 11 | Jake Dennis | R-Motorsport | Aston Martin | 34 | 1m36.899s |
| 12 | Jamie Green | Rosberg | Audi | 33 | 1 Lap |
| 13 | Joel Eriksson | RBM | BMW | 33 | 1 Lap |
| 14 | Philipp Eng | RMR | BMW | 33 | 1 Lap |
| 15 | Jonathan Aberdein | WRT | Audi | 33 | 1 Lap |
| 16 | Rene Rast | Rosberg | Audi | 28 | 6 Laps |
| – | Paul Di Resta | R-Motorsport | Aston Martin | 17 | Retirement |
| – | Ferdinand Habsburg | R-Motorsport | Aston Martin | 2 | Retirement |