2019 Indianapolis 500 Official Program On Sale Now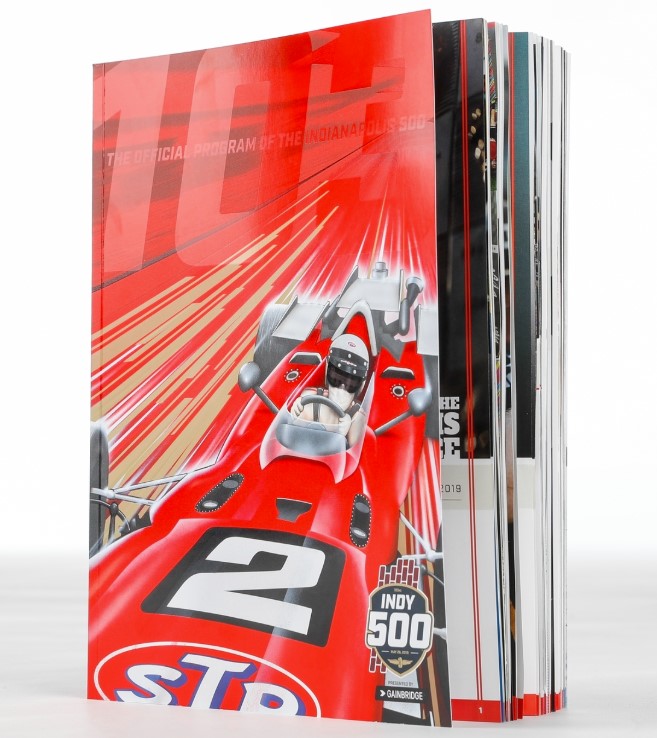 2019 Indy 500 program
An adaptation of a painting of Mario Andretti's 1969-winning Brawner Hawk III/Ford car is featured on the cover of the 2019 Indianapolis 500 presented by Gainbridge Official Souvenir Program, which is on sale now.
British artist and racing helmet livery designer Jason Fowler painted the original artwork of the famous Day-glo red car on metal with airbrush and bristle brush techniques, and that piece was adapted for the cover of the 224-page program. The cover was unveiled during a ceremony Tuesday evening, April 30 at the Indianapolis Motor Speedway Museum.
The Official Program cover features metallic gold ink, three different textured varnishes and Kalidocolor inks with true Day-glo rocket red as the color of Andretti's iconic car.
The Official Program is available now for $15 from shop.ims.com and at Official Trackside Gift Shops at IMS and the Indianapolis International Airport. The program also will be available at the temporary IMS shop in Circle Centre Mall in downtown Indianapolis, which is scheduled to open Thursday, May 9. Every online or retail purchase includes a free, black-and-gold Hot Wheels diecast Indy car featuring Andretti's 50th Anniversary logo and the 2019 Indy 500 logo, while supplies last.
Many feature stories about "The Greatest Spectacle in Racing" are included in the program, such as:
– A remembrance of late Indianapolis Motor Speedway chairman Mari Hulman George
– The 50th anniversary of Andretti's 1969 Indianapolis 500 victory
– NTT IndyCar Series title sponsor NTT and Indianapolis 500 presented by Gainbridge presenting sponsor Gainbridge
– The excitement and tension of bumping during "500" qualifying
– Penske Racing's 50 years at the Indianapolis 500, by the numbers
– Defending Indianapolis 500 presented by Gainbridge winner Will Power
– Reigning NTT IndyCar Series champion Scott Dixon
– Three-time Indianapolis 500 presented by Gainbridge pole winner Ed Carpenter
– NTT IndyCar Series rookie race winner Colton Herta
– NBC's first live telecast of the Indianapolis 500 presented by Gainbridge this May
– IMS Museum
– Thirty years of motorsports charity Racing For Kids
– Indianapolis 500-related community outreach in Central Indiana
Two separate pull-out items also are included: A replica of Andretti's thank you letter and photograph to Firestone after his 1969 victory and a poster listing the names of all Indianapolis 500 customers who have purchased reserved seats for the race for the last 25 consecutive years or more.
The Official Program also features biographies of drivers attempting to make the field of 33 cars for the 103rd Indianapolis 500 presented by Gainbridge on Sunday, May 26.