Chadwick leads practice at Hockenheim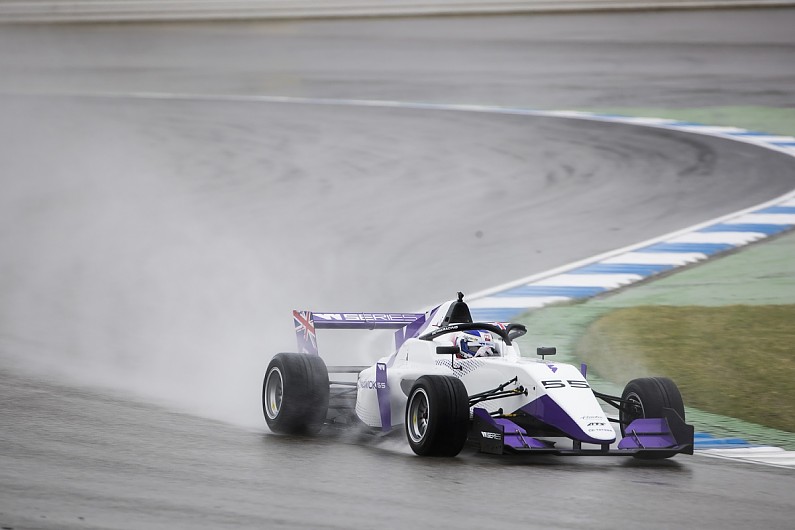 Jamie Chadwick in the wet 2nd session
Jamie Chadwick topped the opening two W Series practice sessions Friday at Hockenheim. The British driver's lap time of 1:38.65s edged Emma Kimilainen in the opening dry session by 0.36 seconds, before topping Kimilainen in a wet second session by over 7-tenths of a second.
The W Series has selected its drivers on merit and they are not required to bring financial backing. A lack of funding has been key in preventing many women from furthering their careers in motor sport. The intention is to change this by putting the women on track in a six-race season, promoting themselves, gaining experience and improving their chances to go racing in other series, all the while inspiring a new generation of women and girls.
Chadwick, who was the first woman to win the British GT championship, was enthused after climbing from her car. "To see 18 females on the grid and as competitive as they all are is groundbreaking for the sport," she said. "Hopefully it really will see the rise of women in motor sport.
"There is so much talk about getting more women into the sport but not enough is actually done. This really is a step in the right direction. Ideally we would see more women racing men at the top level but until then we have 18 female drivers racing in Formula Three cars, which we didn't have before. The level is high and there really is going to be good racing."
The series runs as part of the German Touring car championship, DTM's, race meetings. Very popular in Germany, DTM pulls huge crowds and if they had any impression that the female lineup presented artifice or novelty it had been dispelled by the end of the first session.
Qualifying will take place tomorrow followed by the series' inaugural race tomorrow afternoon.
Practice 1
| POS | DRIVER | GAP | LAPS |
| --- | --- | --- | --- |
| 1 | Jamie Chadwick | 1m38.650s | 19 |
| 2 | Emma Kimilainen | 0.360s | 15 |
| 3 | Fabienne Wohlwend | 0.422s | 18 |
| 4 | Naomi Schiff | 0.526s | 20 |
| 5 | Beitske Visser | 0.576s | 18 |
| 6 | Sarah Moore | 0.890s | 19 |
| 7 | Miki Koyama | 0.918s | 16 |
| 8 | Alice Powell | 0.947s | 19 |
| 9 | Tasmin Pepper | 0.948s | 19 |
| 10 | Marta Garcia | 1.131s | 19 |
| 11 | Sarah Bovy | 1.143s | 19 |
| 12 | Caitlin Wood | 1.423s | 19 |
| 13 | Megan Gilkes | 1.534s | 19 |
| 14 | Vicky Piria | 1.714s | 19 |
| 15 | Gosia Rdest | 1.813s | 19 |
| 16 | Sabre Cook | 1.891s | 17 |
| 17 | Vivien Keszthelyi | 2.127s | 20 |
| 18 | Jessica Hawkins | 2.134s | 13 |
| 19 | Shea Holbrook | 7.225s | 7 |
Practice 2

| POS | DRIVER | GAP | LAPS |
| --- | --- | --- | --- |
| 1 | Jamie Chadwick | 1m56.007s | 19 |
| 2 | Emma Kimilainen | 0.774s | 16 |
| 3 | Fabienne Wohlwend | 0.997s | 17 |
| 4 | Beitske Visser | 1.218s | 18 |
| 5 | Alice Powell | 1.317s | 17 |
| 6 | Sarah Moore | 1.507s | 16 |
| 7 | Marta Garcia | 2.152s | 16 |
| 8 | Vicky Piria | 2.248s | 16 |
| 9 | Caitlin Wood | 2.764s | 16 |
| 10 | Miki Koyama | 2.824s | 17 |
| 11 | Esmee Hawkey | 3.706s | 14 |
| 12 | Megan Gilkes | 3.917s | 17 |
| 13 | Jessica Hawkins | 4.650s | 11 |
| 14 | Naomi Schiff | 5.504s | 16 |
| 15 | Tasmin Pepper | 6.382s | 5 |
| 16 | Sabre Cook | 6.407s | 11 |
| 17 | Gosia Rdest | 6.644s | 17 |
| 18 | Shea Holbrook | 6.761s | 15 |
| 19 | Sarah Bovy | 8.385s | 7 |
| 20 | Vivien Keszthelyi | 46.025s | 3 |