Coulthard leads home Mustang 1-2-3 in first Perth night race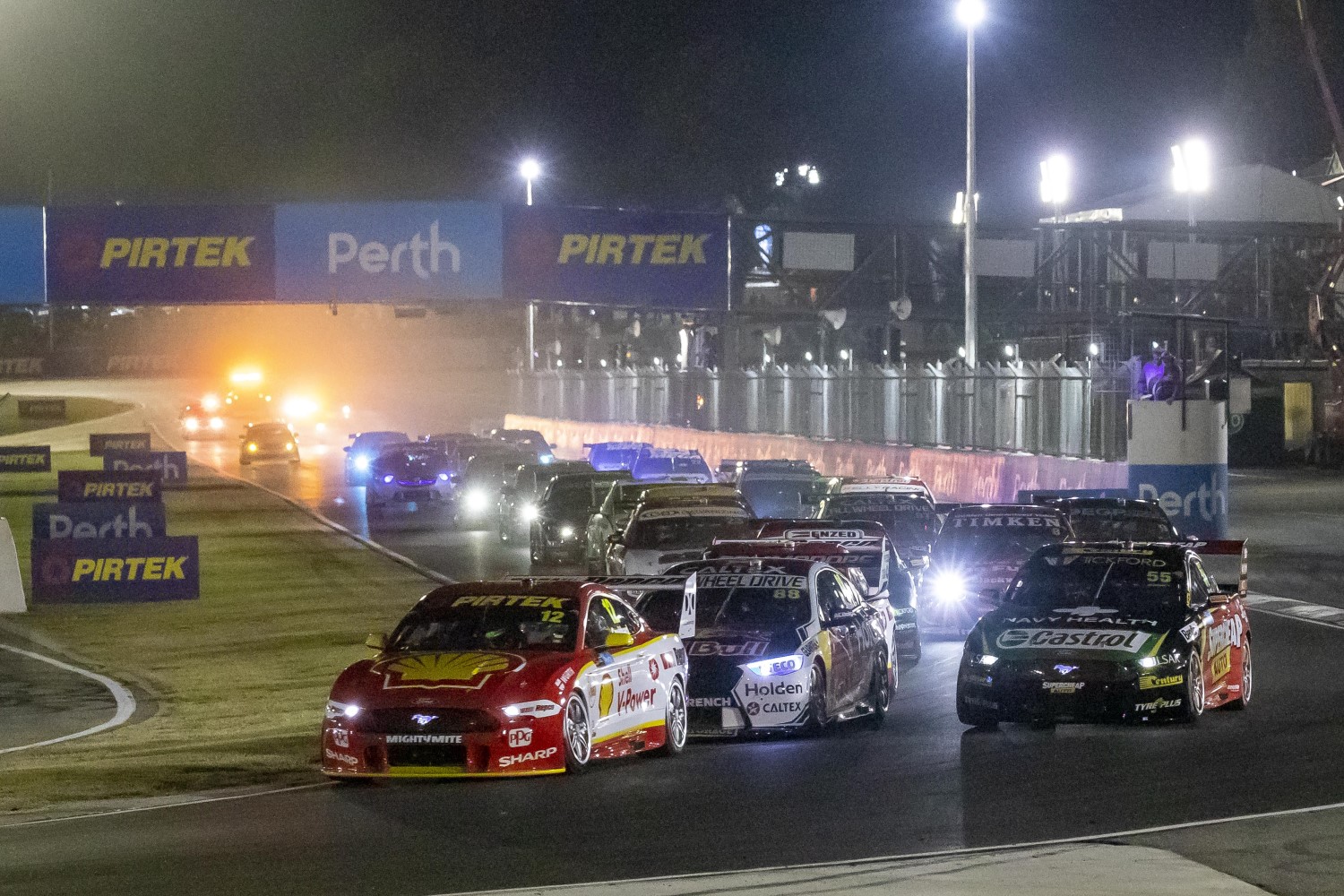 Fabian Coulthard gets jump at start
Fabian Coulthard has claimed victory in the first ever night race for the Virgin Australia Supercars Championship at Barbagallo Raceway.
Coulthard led home Shell Ford team-mate Scott McLaughlin in the opening leg of the maiden PIRTEK Perth SuperNight, with Chaz Mostert rounding out a blue oval top three in the Supercheap Auto Mustang.
The start proved crucial between the Mustang pair at Barbagallo Wanneroo Raceway, McLaughlin relinquishing the lead with a slow getaway from pole position. A lead he never regained from his teammate who went on to claim his first ever win in Perth.
"It's awesome to win in the dark, all the good shit happens after dark, so I'm pumped," Coulthard said.
"Scotty and I spoke about it before the start, 'I either need a blinder to get in front of you or you need a blinder and I'll slot behind'.
"Thankfully it went my way, I got an awesome launch and was able to get the run into Turn 1."
The result saw McLaughlin's Championship lead over Coulthard trimmed to 112 points, while Mostert remains third, Shane van Gisbergen the best of the Holden's now in fourth.
Coulthard led from start to finish and ultimately winning the 50-lap race by 2.2225 seconds, claiming his second win in a row after victory at Phillip Island last month.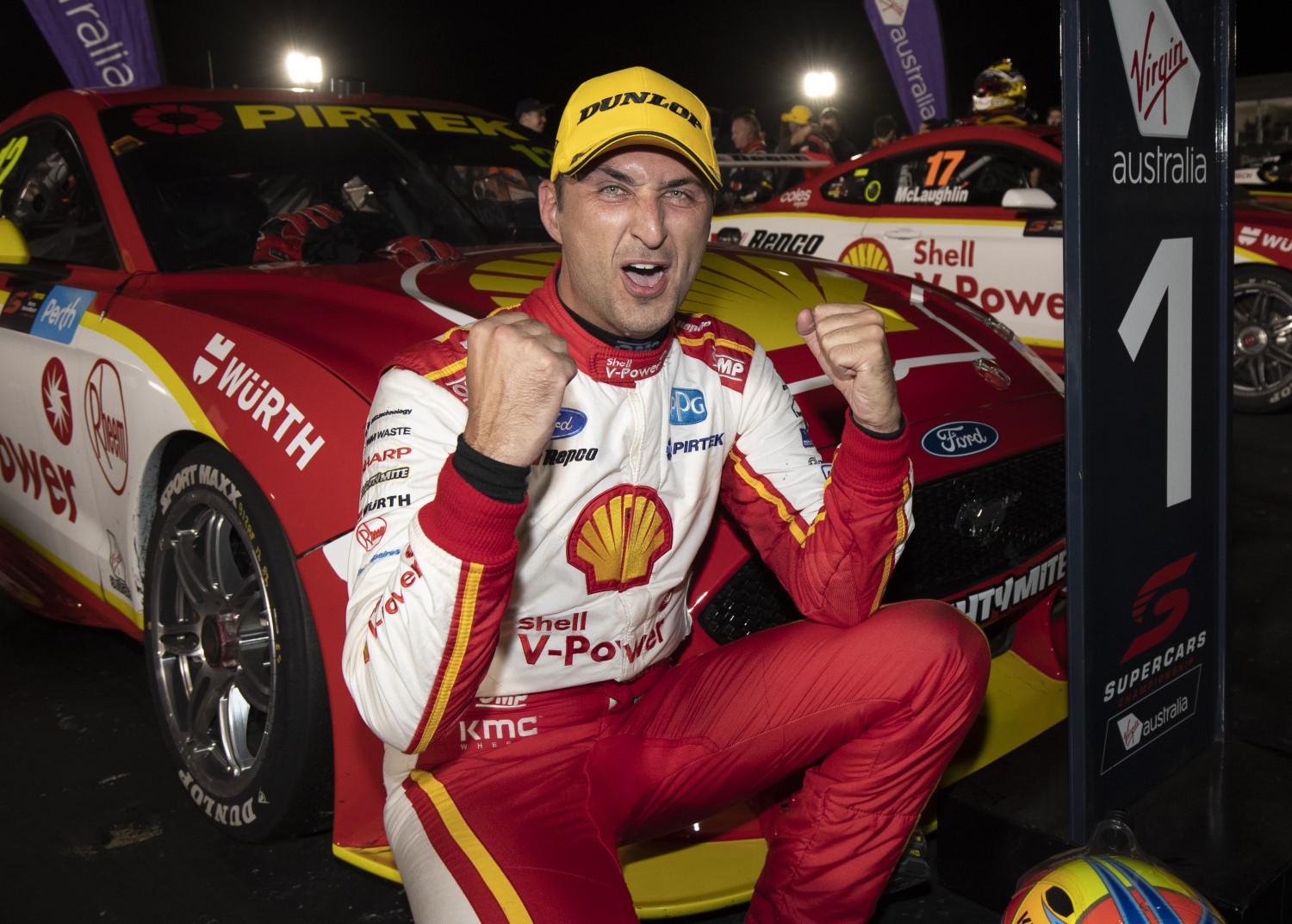 Fabian Coulthard
McLaughlin dropped back to fourth off the start but put a move on Mostert to reclaim third into the final corner on lap three, but then could not find a way past Whincup. The defending Supercars Champion pitted for two tires on lap 15, by which time Coulthard led by two seconds.
Whincup and Coulthard stopped three and four laps later, McLaughlin jumping Whincup into second but couldn't make in-roads on Coulthard.
"I absolutely balled that thing up, I need to look at it and see what's going on," McLaughlin said.
"But my team-mate did a great job, to get another one-two is awesome.
"I hope the fans enjoyed the night race, it's pretty cool from our point of view but it was so hard to see.
"The dirty track and stuff, so I had a couple of moments, but it was awesome."
It meant Coulthard retained the lead, as Whincup launched a stern challenge back at McLaughlin while they navigated yet-to-pit traffic. An opportunistic Whincup threw everything into sneaking past, but McLaughlin maintained second and eventually edged away.
The gap between Coulthard and McLaughlin remained steady at two seconds as the laps ticked by. There was no change, Coulthard claiming the 12th win of his Supercars career.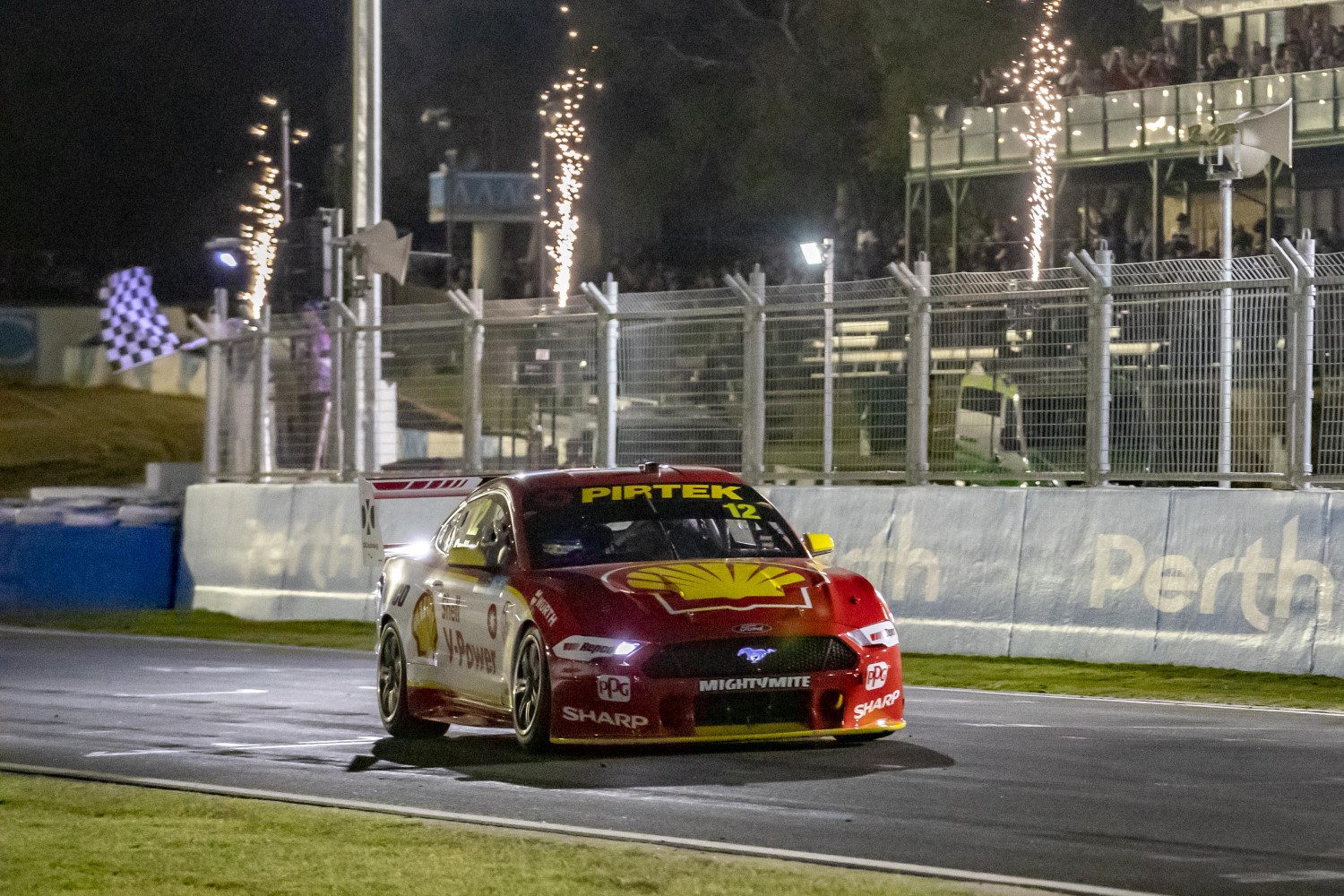 The series tried to neuter the Mustangs and the Penske team still beat them
Whincup could not go with McLaughlin and instead fell back towards fourth-placed Mostert. The Supercheap Auto Mustang grabbed the final podium position with eight laps remaining.
Shane van Gisbergen was among the last drivers to pit on lap 26, and cut his way through from 10th place on fresher tires.
He ranged up behind Red Bull Holden Racing Team stablemate Whincup in the closing laps, as Mostert pulled away from the pair.
Whincup was asked over the radio to let van Gisbergen past to chase Mostert, but he opted against relinquishing the position.
Van Gisbergen was unable to find a way past, settling for fifth behind Whincup. Will Davison pitted at the same time as van Gisbergen and worked his way through to sixth place.
Behind him, Brad Jones Racing's Nick Percat took seventh, and Cameron Waters, Lee Holdsworth and David Reynolds rounded out the top 10.
Simona De Silvestro finished 12th, as the best of the Kelly Racing Nissans.
Mark Winterbottom and Todd Hazelwood tangled at Turn 1 on lap four, and fell to the back of the field. Winterbottom wound up 18th, with Hazelwood 23rd.
James Courtney pitted early with a punctured right-front tyre and eventually finished 25th after a second stop, he did however set a new lap record in the final stages of the race.\
With fireworks expected on and off the track tomorrow, drivers will do it all again with a third and final practice at 1:05pm to decide where drivers will start for the three-part ARMOR ALL Qualifying session at 2:50pm.
Results
| | | | | |
| --- | --- | --- | --- | --- |
| POS | # | DRIVER | TEAM | TIME |
| 1 | 12 | Coulthard | Shell V-Power Racing Team | +0.000 |
| 2 | 17 | McLaughlin | Shell V-Power Racing Team | +2.223 |
| 3 | 55 | Mostert | Supercheap Auto Racing | +7.925 |
| 4 | 88 | Whincup | Red Bull Holden Racing Australia | +12.665 |
| 5 | 97 | Van Gisbergen | Red Bull Holden Racing Australia | +13.339 |
| 6 | 23 | Davison | Monster Energy Racing | +16.476 |
| 7 | 8 | Percat | Brad Jones Racing | +19.450 |
| 8 | 6 | C. Waters | Tickford Racing | +20.249 |
| 9 | 5 | Holdsworth | The Bottle-O Racing Team | +20.555 |
| 10 | 9 | Reynolds | Erebus Motorsport | +21.741 |
| 11 | 14 | Slade | Brad Jones Racing | +22.241 |
| 12 | 78 | S. De Silvestro | Nissan Nismo | +34.622 |
| 13 | 99 | A. de Pasquale | Erebus Motorsport | +36.565 |
| 14 | 34 | J. Golding | Wilson Security Racing GRM | +38.047 |
| 15 | 15 | R. Kelly | Nissan Motorsport | +38.926 |
| 16 | 2 | S. Pye | Mobil 1 Boost Mobile Racing | +39.519 |
| 17 | 7 | Heimgartner | Nissan Motorsport | +40.878 |
| 18 | 18 | Winterbottom | Preston Hire Racing | +42.161 |
| 19 | 3 | G. Jacobson | Nissan Nismo | +50.227 |
| 20 | 19 | J. Le Brocq | TEKNO Woodstock Racing | +50.804 |
| 21 | 77 | Blanchard | Drillpro Racing | +52.261 |
| 22 | 33 | R. Stanaway | Wilson Security Racing GRM | +52.600 |
| 23 | 35 | T. Hazelwood | Bigmate Racing | +1 Lap |
| 24 | 21 | M. Jones | CoolDrive Racing | +1 Lap |
| 25 | 22 | Courtney | Mobil 1 Boost Mobile Racing | +1 Lap |