Lap record smashed during first practice under lights in Perth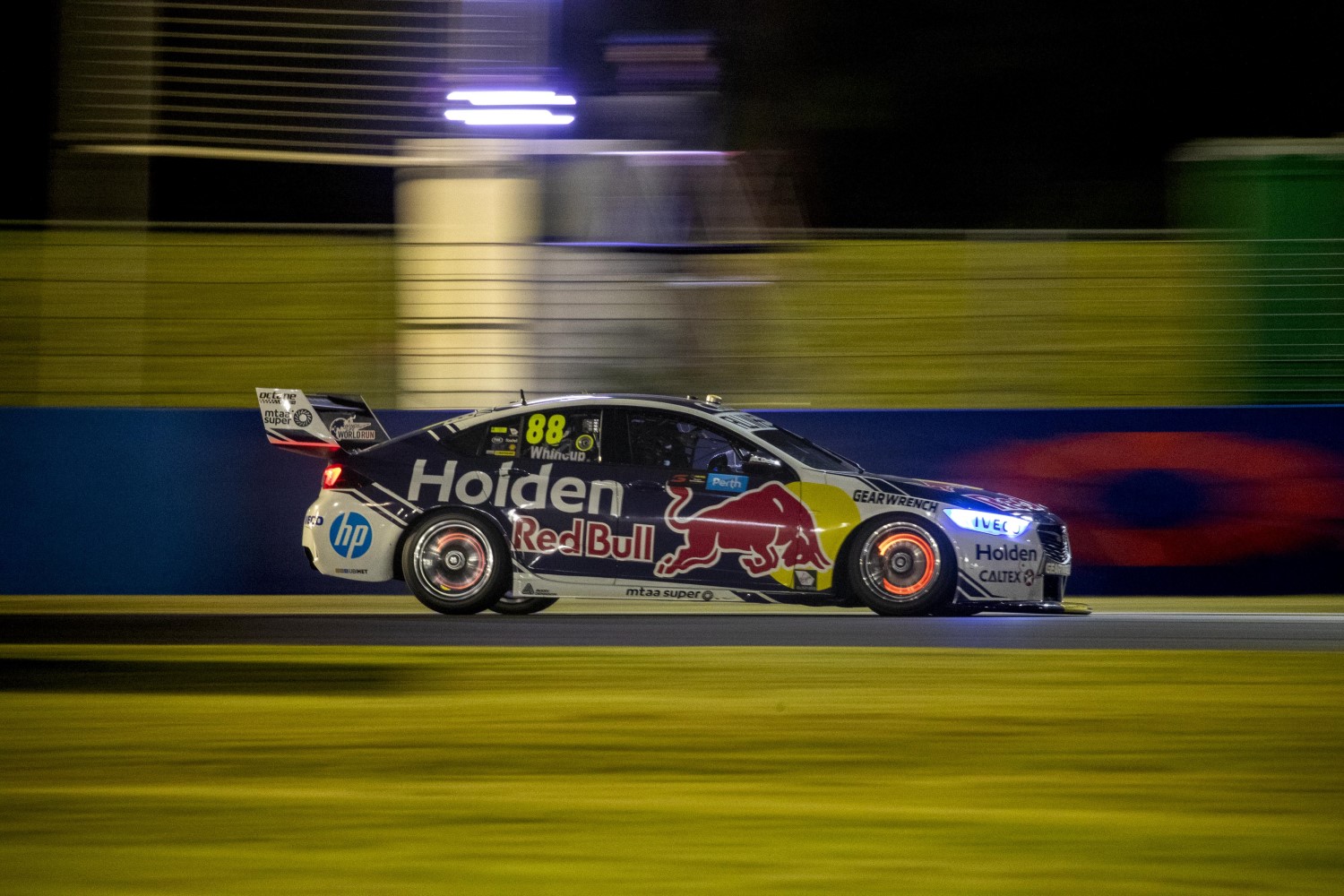 Whincup 3rd quick
Seven-time Virgin Australia Supercars Champion Jamie Whincup set a new lap record by over one full second at Barbagallo Wanneroo Raceway in the first ever practice session under lights at the PIRTEK Perth SuperNight.
Whincup logged a 53.4430s late in the session to shade Supercheap Auto Mustang driver Chaz Mostert by two hundredths of a second, with Milwaukee Racing Will Davison third in his Mustang just three hundredths behind Whincup.
leader Scott McLaughlin was seventh and Shane van Gisbergen 11th in a session where every single driver went under McLaughlin's former practice lap record.
Thirty minutes of running was the first taste drivers had of Barbagallo under lights, and the circuit that was resurfaced over summer.
The former practice/qualifying lap record of 54.5730s was surpassed immediately, with Mostert ultimately setting the pace through the first runs on a 54:0159s.
That stood as the benchmark until McLaughlin recorded a 53.8217s at the halfway mark.
Lee Holdsworth moved to the top entering the final 10 minutes, before further gains by Tickford team-mates Mostert and Davison.
Whincup logged a 53.4430s with three minutes left on the clock, which was not bettered.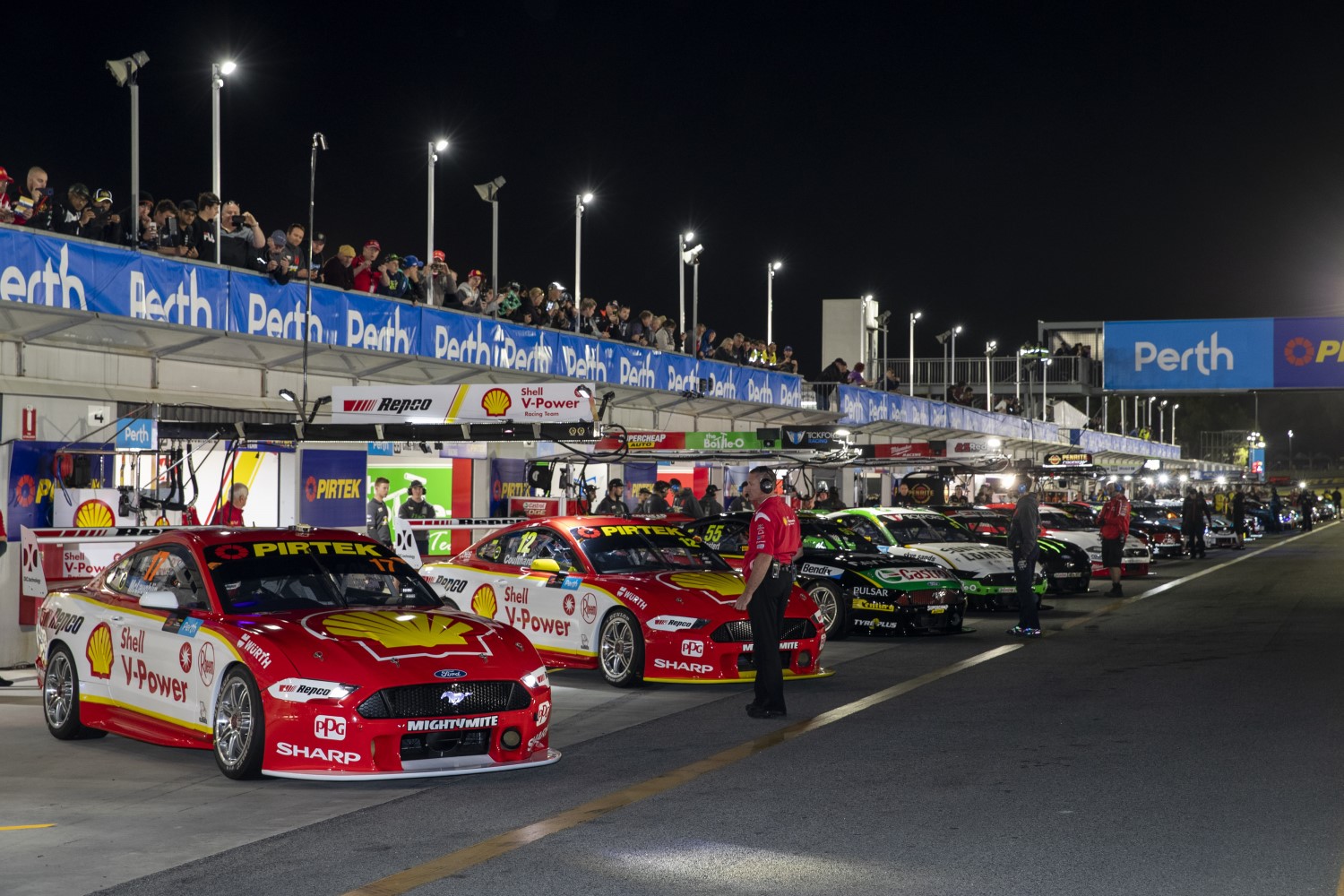 The Penske Mustangs were not fastest since being neutered, but are they sandbagging?
"First impressions are that we're much more competitive than Phillip Island," Whincup, who struggled last time out, said.
"It's not going to guarantee anything, we've got to keep the ball rolling, but much more competitive out of the track.
"After P1 at Phillip Island, we were absolutely nowhere and we were in catch-up all weekend.
"It's nice to be in a position where we should be competitive this weekend, but as it always is, we've just got to grind it out as the weekend goes on."
Mostert and Davison wound up second and third, while Fabian Coulthard made it three Mustangs in the top four behind Whincup.
"You're trying to feel what the car was doing, but very difficult," Davison said.
"Obviously one thing just picking your marks and getting your line and length with the level of grip out there was crazy.
"Obviously the vision is never as good in the night, but the grip level is just massively high.
"All very strange feeling in the car, everything is just on fast-forward, it's nuts.
"There's going to be some big offs in the race. If you leave the track you're going to leave it at a pretty great rate."
Penrite Racing pair David Reynolds and Anton De Pasquale were fifth and seventh, separated by Holdsworth.
McLaughlin was eighth, while Scott Pye regrouped from a puncture-induced off-track excursion at Turn 7 to finish ninth, and Cameron Waters took 10th.
Van Gisbergen finished 11th, one spot ahead of Simona De Silvesto in the best of the Kelly Racing Nissans.
Friday's running starts with Practice 2 at 12:45pm local time, before knockout ARMOR ALL Qualifying at 3:25pm and the 50-lap 120km opening race under lights in Perth to begin from 6:45pm.
Practice 1 Results
| | | | | | | |
| --- | --- | --- | --- | --- | --- | --- |
| POS | # | DRIVER | TEAM | BEST LAP | GAP | LAPS |
| 1 | 55 | Mostert | Supercheap Auto Racing | 54.016 | +0.000 | 5 |
| 2 | 97 | Van Gisbergen | Red Bull Holden Racing Australia | 54.094 | +0.078 | 6 |
| 3 | 88 | Whincup | Red Bull Holden Racing Australia | 54.189 | +0.174 | 5 |
| 4 | 22 | Courtney | Mobil 1 Boost Mobile Racing | 54.200 | +0.184 | 5 |
| 5 | 17 | McLaughlin | Shell V-Power Racing Team | 54.269 | +0.253 | 5 |
| 6 | 9 | Reynolds | Erebus Motorsport | 54.292 | +0.277 | 4 |
| 7 | 12 | Coulthard | Shell V-Power Racing Team | 54.385 | +0.369 | 5 |
| 8 | 2 | S. Pye | Mobil 1 Boost Mobile Racing | 54.392 | +0.376 | 5 |
| 9 | 14 | Slade | Brad Jones Racing | 54.416 | +0.400 | 5 |
| 10 | 6 | C. Waters | Tickford Racing | 54.449 | +0.433 | 5 |
| 11 | 78 | S. De Silvestro | Nissan Nismo | 54.454 | +0.438 | 5 |
| 12 | 77 | Blanchard | Drillpro Racing | 54.462 | +0.447 | 5 |
| 13 | 99 | A. de Pasquale | Erebus Motorsport | 54.471 | +0.455 | 2 |
| 14 | 18 | Winterbottom | Preston Hire Racing | 54.543 | +0.527 | 5 |
| 15 | 23 | Davison | Monster Energy Racing | 54.566 | +0.550 | 5 |
| 16 | 7 | Heimgartner | Nissan Motorsport | 54.573 | +0.557 | 5 |
| 17 | 5 | Holdsworth | The Bottle-O Racing Team | 54.623 | +0.607 | 5 |
| 18 | 35 | T. Hazelwood | Bigmate Racing | 54.701 | +0.685 | 5 |
| 19 | 33 | R. Stanaway | Wilson Security Racing GRM | 54.710 | +0.694 | 4 |
| 20 | 19 | J. Le Brocq | TEKNO Woodstock Racing | 54.746 | +0.730 | 5 |
| 21 | 3 | G. Jacobson | Nissan Nismo | 54.791 | +0.775 | 5 |
| 22 | 8 | Percat | Brad Jones Racing | 54.924 | +0.908 | 5 |
| 23 | 15 | R. Kelly | Nissan Motorsport | 55.025 | +1.009 | 4 |
| 24 | 34 | J. Golding | Wilson Security Racing GRM | 55.189 | +1.173 | 3 |
| 25 | 21 | M. Jones | CoolDrive Racing | 56.717 | +2.701 | 4 |