Tobacco companies are back in auto racing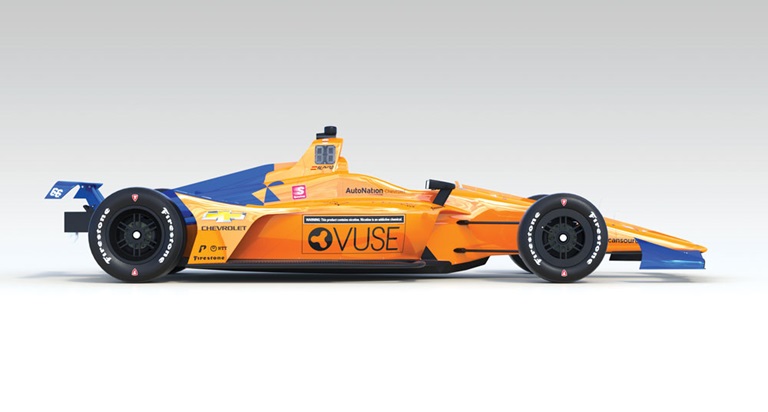 British American Tobacco's R.J. Reynolds subsidiary is promoting its Vuse vape brand on McLaren Racing's Indianapolis 500 entry
Photo: McLaren Racing
Once banished from motorsports, some major tobacco companies have quietly re-emerged as sponsors in recent months, promoting smoking alternatives such as vapor products and campaigns that highlight their move away from traditional cigarettes altogether writes Adam Stern of Sports Business Journal.
Companies such as R.J. Reynolds used to be among the biggest financial backers across the world's most popular forms of racing, capitalizing on a lack of rules for tobacco promotion in those sports. However, federal law eventually forced tobacco companies to stop advertising, largely under terms of the Master Settlement Agreement that was passed in the U.S. in 1998.
But due to the rising popularity of new-age tobacco and vapor products, the decision by some major tobacco companies to launch brand campaigns about their bids to re-invent themselves, and the lack of ad restrictions around e-cigarettes, the category has grown significantly in motorsports over the past year.
For example, Philip Morris International's Mission Winnow educational campaign — which promotes how the company eventually intends to stop selling cigarettes — is serving as title sponsor of Formula One team Scuderia Ferrari and MotoGP team Ducati. British American Tobacco has a major new deal with McLaren Racing that has both F1 and Indianapolis 500 assets.
The re-emergence of the tobacco category — albeit with new products and messages — has garnered the attention of the racing industry at large. That includes NASCAR, where tobacco companies have largely stayed away since Winston ended its 33-year Cup Series title sponsorship after the 2003 season.
"While it was a breath of fresh air to see NASCAR move from tobacco to technology when the Cup Series entitlement shifted from Winston to Nextel/Sprint, we live in a day and age where global motorsports need more sponsorships," said Brian Corcoran, chief engagement officer of Shamrock Sports & Entertainment and a former NASCAR executive during the changeover from Winston to Nextel in 2004. "It was inevitable to see motorsport governing bodies take the restrictor plate off such a valued category."
E-cigarettes and similar products have skyrocketed in popularity around the world in recent years, with brands such as Juul — which is partially owned by tobacco giant Altria — becoming household names. In the U.S., the number of middle school and high school youth who use such devices rose by 1.5 million from 2017 to 2018, to 3.6 million students, according to the 2018 National Youth Tobacco Survey. The global e-cigarette and vaping market is projected to reach $47 billion by 2025, according to a study by Grand View Research Inc.
That rising popularity is why some of the world's largest tobacco companies foresee a future in which they eventually will stop selling regular cigarettes. PMI is spending heavily around the Mission Winnow campaign. While exact figures are not known, a title sponsorship at Ferrari typically costs in the low to mid eight figures annually.
Simon Dowding, a spokesperson for PMI, told Sports Business Journal that PMI only plans to promote its educational campaigns in motorsports and has no plans to promote specific products. "PMI has been very clear that Mission Winnow does not and will not promote or advertise any of our tobacco or e-cigarette products or brands, irrespective of what others are doing," Dowding wrote in an email.
That stands in contrast to BAT's deal with McLaren. While BAT has been promoting its "A Better Tomorrow" educational campaign as part of its sponsorship that started this year, it has worked products into its on-car branding as well. In Bahrain earlier this season, BAT promoted its Vype vaping pens. Its subsidiary, R.J. Reynolds, is promoting its Vuse vape brand on McLaren's Indy 500 entry. To comply with U.S. regulations, the Vuse branding on McLaren's No. 66 Chevrolet includes a box on top of the logo that states: "Warning: This product contains nicotine. Nicotine is an addictive chemical."
A spokesperson for BAT told SBJ that it is re-emerging in motorsports marketing because, like PMI, the company intends to move away from selling regular cigarettes and wants to raise awareness both around that over-arching strategy and products that it claims provide reduced health risks.
"BAT is a very different business than when we were last involved in F1," the spokesperson said. "Our strategy now is centered around transforming tobacco and bringing together reduced-risk products to switch people away from cigarettes."
NASCAR, IndyCar and F1 all allow e-cigarette sponsorships with varying caveats. NASCAR started allowing such sponsorships a couple of years ago and does so only if the products comply with government regulations and contain no ingredients or substances banned under the NASCAR drug policy. There are no major e-cigarette deals in NASCAR currently, but multiple teams are shopping the category. IndyCar says it reviews each deal on a case-by-case basis to ensure it meets the series' requirements.
The sponsorships by the tobacco companies have run into some issues, even though they aim to promote newer products and not old-fashioned cigarettes. During the F1 season opener earlier this year in Australia, regulators in that country did not allow any on-car branding from PMI's deal with Ferrari or BAT's deal with McLaren. PMI completely removed all branding from its car while BAT passed through its on-car branding to 7-Eleven, which is one of its key customers.
"Teams, tracks and governing bodies all benefit from developing and deploying a win-win policy that provides tobacco brands with valued visibility," Corcoran said, "so long as they provide education to the risks involved with the use of their products." Adam Stern of Sports Business Journal