24 drivers top 200 mph in Talladega practice after NASCAR attempts to slow speeds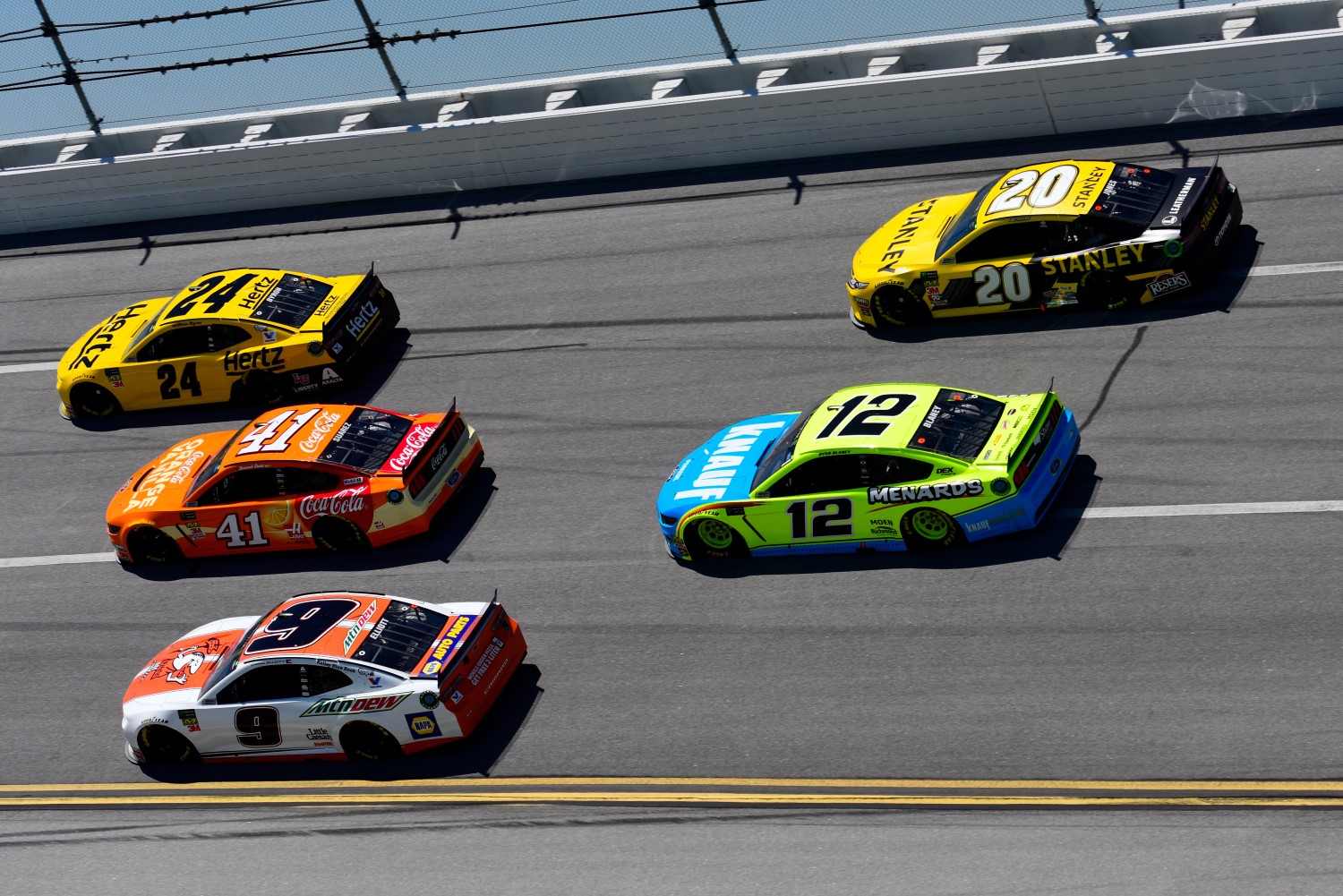 Practice Action
Drivers are even less certain than usual about what to expect at Talladega Superspeedway given a new package that NASCAR is still adjusting on the fly.
To Clint Bowyer, that unpredictability at least makes it anything but boring.
"If you woke up every day of your life and knew what the future held, that would be a boring life," he said Friday. "That's what's cool about Talladega."
If that's the case, the Cup race could be especially cool Sunday. Drivers who turned practice laps Friday at Talladega began to get some inkling of what the race might bring minus the restrictor plates.
But NASCAR made tweaks after the opening practice session, adding a 1-inch wicker to the spoiler and allowing teams to switch between the two gears until qualifying. Speeds ratcheted up in afternoon practice, when six cars topped 204 mph.
"I think pretty much everyone coming here thought that there was a pretty large potential for an audible along the way," Brad Keselowski, who leads active drivers with five Talladega wins, said between sessions. "I'm not frustrated. I'm just focused."
Gone are the restrictor plates that had sapped horsepower to reduce speed since 1988, oft-maligned devices geared toward improving safety at the nation's fastest tracks. They've been replaced by tapered spacers.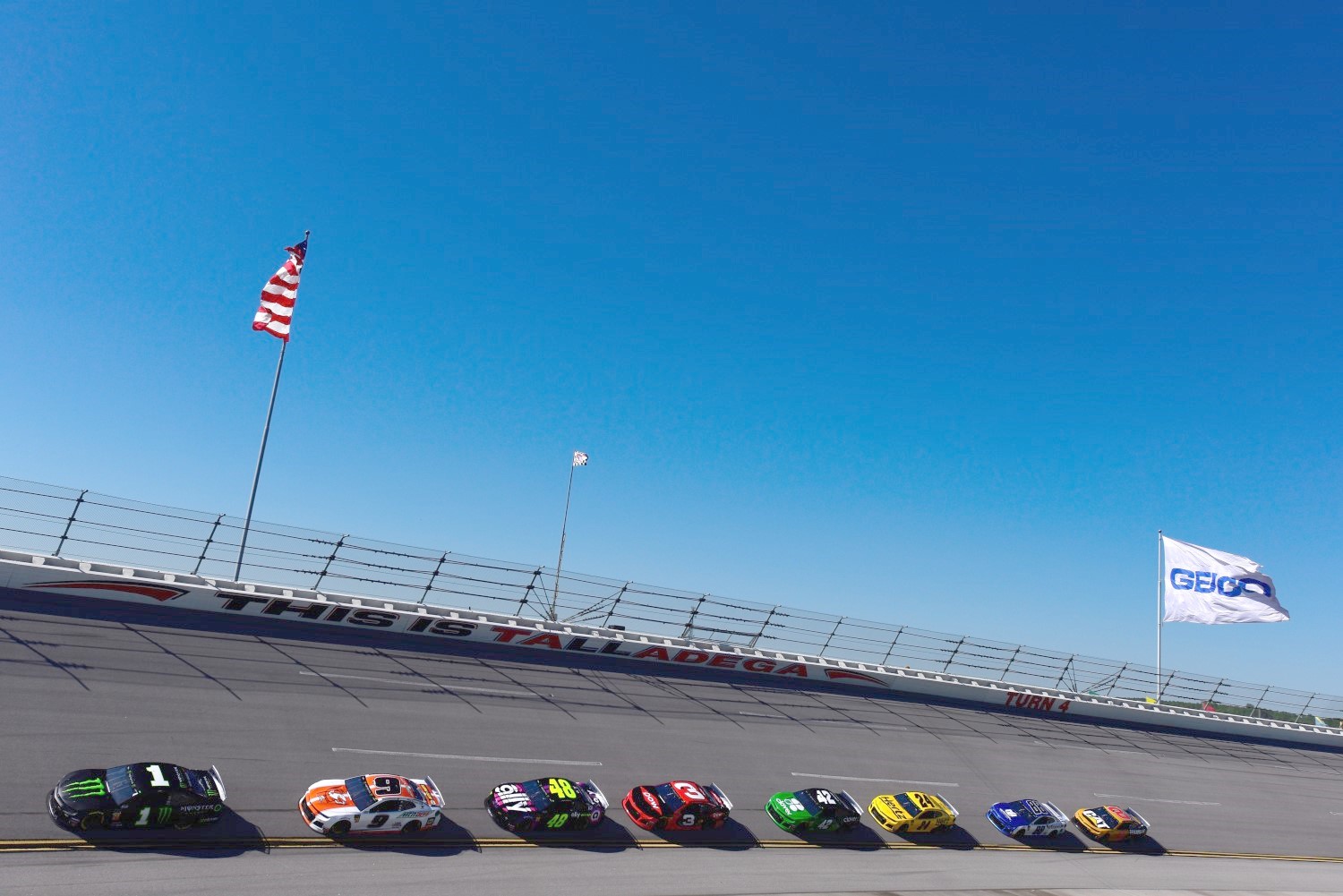 Drafting for speed
So at Talladega and Daytona, in July, drivers will have 550 horsepower, about 140 more than with the restrictor plates. The changes didn't go into force until after February's Daytona 500.
NASCAR has increased the height of the rear spoiler and the rear height of cars hoping to cut speeds. More changes came after their first tryout on the 2.66-mile track, famed in no small part for chaos and big wrecks.
The changes have led to lots of questions and speculation about what the race will look like when money and series points are on the line.
Matt DiBenedetto, who led a race-high 49 laps at Daytona, had a wary initial assessment after the first practice: "It's weird and it's different."
"I think the runs are really big and I hope I'm wrong, but I think there's going to be the potential for more crashes because the runs are so big," DiBenedetto said. "When we led at Daytona, we were able to kind of manage both lanes and lead for a long time. I think it's going to be harder to do that now."
Jimmie Johnson said the closing rate "is the highest I've ever experienced."
Talk that the new package could lead to a return to more tandem drafting seemed to have subsided after practice, when pairing up proved difficult.
"I don't think that the tandem deal that we have all thought about it is going to be a reality, but I do think that the cars are still pretty fast and handling will still come into play," David Ragan said.
Of course, it's Talladega. Keselowski isn't taking it for granted that Friday's talk necessarily translates to Sunday's race.
"Whatever the sentiment is [Friday], the race will be the opposite," he said. "Because all the drivers are listening, and if you say they're going to wreck everybody, then they'll all get scared and they won't run tight and wreck each other. If you say, 'Oh, it'll be just fine,' then they'll all run over each other. It tends to go inverse of whatever the sentiment is in the week." AP Story
"You try to prepare yourself and look back at notes and stuff from recent events and honestly, I think a lot of the prep work that you typically do maybe just gets shifted to Friday night and Saturday night. You don't know," said Joey Logano, driver of the No. 20 Team Penske Ford who is seeking back-to-back GEICO 500 wins at Talladega. "You don't want to overload yourself with races and not know what is going on. For me, at least, it's probably better to figure out what we have here first and then kind of study and add to the strategy of what we need from there."
With a new rules package making its debut at NASCAR's biggest track, Clint Bowyer echoed the feeling that teams have more questions than answers heading into the GEICO 500.
"Good old fashioned luck goes a long way here sometimes. The big one happens. Something chaotic happens," Clint Bowyer (No. 14 Ford for Stewart-Haas Racing), a two-time Talladega Superspeedway winner, said. "These stages have really compiled racing within the race. It isn't just all about the end. As the stages come to an end, the first and second stages you really see the intensity pick up and it kind of gives you a glimpse of what you will see at the end and some carnage can happen at those. You have to be careful and cautious and lucky enough to get there to get your points. But the place to be at Talladega is no different than anywhere, it is out front. If you are ahead of all of that, it doesn't matter what happens in the mirror."
Kurt Busch (No. 1 Chevrolet for Chip Ganassi Racing) led opening practice for the GEICO 500 with a lap of 47.249 (202.671 MPH). For final practice, Ryan Newman (No. 6 Ford for Roush Fenway Racing) was fastest with a lap of 46.905 (204.157 mph). Qualifying for Sunday's GEICO 500 is set for 3:40 p.m. CDT on Saturday afternoon.
After some concerns with engine durability, the RPMs and speeds creeping up during first practice, NASCAR added a 1 inch wicker to the 9-inch spoiler and are allowing the teams to switch between the two gear options (.345 and .350) until qualifying. Once they qualify, they must keep that gear in the car through the race.
Final Practice Results
| | | | | | | | |
| --- | --- | --- | --- | --- | --- | --- | --- |
| Pos | Car | Driver | Team | Time | Speed | Behind | Gap |
| 1 | 6 | Ryan Newman | Acorns Ford | 46.905 | 204.157 | —.— | —.— |
| 2 | 17 | Ricky Stenhouse Jr | Fifth Third Bank Ford | 46.912 | 204.127 | -0.007 | -0.007 |
| 3 | 19 | Martin Truex Jr | Bass Pro Shops Toyota | 46.915 | 204.114 | -0.010 | -0.003 |
| 4 | 36 | Matt Tifft # | Surface Suncreen/Tunity Ford | 46.920 | 204.092 | -0.015 | -0.005 |
| 5 | 18 | Kyle Busch | M&M's Chocolate Bar Toyota | 46.923 | 204.079 | -0.018 | -0.003 |
| 6 | 20 | Erik Jones | STANLEY Toyota | 46.927 | 204.062 | -0.022 | -0.004 |
| 7 | 10 | Aric Almirola | Smithfield Ford | 47.263 | 202.611 | -0.358 | -0.336 |
| 8 | 21 | Paul Menard | Quick Land Tire & Auto Center Ford | 47.329 | 202.328 | -0.424 | -0.066 |
| 9 | 95 | Matt DiBenedetto | Procore Toyota | 47.349 | 202.243 | -0.444 | -0.020 |
| 10 | 11 | Denny Hamlin | FedEx Express Toyota | 47.418 | 201.949 | -0.513 | -0.069 |
| 11 | 88 | Alex Bowman | Nationwide Chevrolet | 47.459 | 201.774 | -0.554 | -0.041 |
| 12 | 24 | William Byron | Hertz Chevrolet | 47.461 | 201.766 | -0.556 | -0.002 |
| 13 | 9 | Chase Elliott | Mountain Dew/Little Caesar's Chevrolet | 47.463 | 201.757 | -0.558 | -0.002 |
| 14 | 8 | Daniel Hemric # | Caterpillar Chevrolet | 47.464 | 201.753 | -0.559 | -0.001 |
| 15 | 1 | Kurt Busch | Monster Energy Chevrolet | 47.468 | 201.736 | -0.563 | -0.004 |
| 16 | 42 | Kyle Larson | Clover Chevrolet | 47.469 | 201.732 | -0.564 | -0.001 |
| 17 | 48 | Jimmie Johnson | Ally Chevrolet | 47.475 | 201.706 | -0.570 | -0.006 |
| 18 | 3 | Austin Dillon | Dow Chevrolet | 47.487 | 201.655 | -0.582 | -0.012 |
| 19 | 13 | Ty Dillon | GEICO Chevrolet | 47.503 | 201.587 | -0.598 | -0.016 |
| 20 | 41 | Daniel Suarez | Coca-Cola Orange Vanilla Ford | 47.675 | 200.860 | -0.770 | -0.172 |
| 21 | 4 | Kevin Harvick | Busch Beer Flannel Ford | 47.725 | 200.650 | -0.820 | -0.050 |
| 22 | 43 | Bubba Wallace | World Wide Technology Chevrolet | 47.746 | 200.561 | -0.841 | -0.021 |
| 23 | *62 | B. Gaughan(i) / T. | BrdOilDstrbtng/SthPntHtl&Casino Chevrolet | 47.763 | 200.490 | -0.858 | -0.017 |
| 24 | 14 | Clint Bowyer | Toco Warranty Ford | 47.777 | 200.431 | -0.872 | -0.014 |
| 25 | 22 | Joey Logano | MoneyLion Ford | 48.014 | 199.442 | -1.109 | -0.237 |
| 26 | 47 | Ryan Preece # | Kroger Chevrolet | 48.417 | 197.782 | -1.512 | -0.403 |
| 27 | 37 | Chris Buescher | Tide Pods Chevrolet | 48.438 | 197.696 | -1.533 | -0.021 |
| 28 | 15 | Ross Chastain(i) | Chevrolet | 48.536 | 197.297 | -1.631 | -0.098 |
| 29 | 00 | Landon Cassill(i) | Home Town Lenders Chevrolet | 48.569 | 197.163 | -1.664 | -0.033 |
| 30 | 34 | Michael McDowell | Love's Travel Stops Ford | 48.579 | 197.122 | -1.674 | -0.010 |
| 31 | *81 | Jeffrey Earnhardt(i) | Xtreme Concepts Toyota | 48.811 | 196.185 | -1.906 | -0.232 |
| 32 | 12 | Ryan Blaney | Menards/Knauf Ford | 48.984 | 195.492 | -2.079 | -0.173 |
| 33 | 2 | Brad Keselowski | Snap On Ford | 49.033 | 195.297 | -2.128 | -0.049 |
| 34 | *96 | Parker Kligerman(i) | TRD 40th Anniversary Toyota | 49.149 | 194.836 | -2.244 | -0.116 |
| 35 | 52 | Stanton Barrett | HUSKI CHOCOLATE Chevrolet | 49.385 | 193.905 | -2.480 | -0.236 |
| 36 | 38 | David Ragan | Shriners Hospital for Children Ford | 50.335 | 190.245 | -3.430 | -0.950 |
| 37 | 77 | Justin Haley(i) | Fraternal Order of Eagles Chevrolet | 50.559 | 189.402 | -3.654 | -0.224 |
| 38 | *27 | Reed Sorenson | Low-T Centers Chevrolet | 50.580 | 189.324 | -3.675 | -0.021 |
| 39 | 51 | Cody Ware(i) | JACOB Companies Ford | 52.736 | 181.584 | -5.831 | -2.156 |