City of Windsor to again sponsor Detroit GP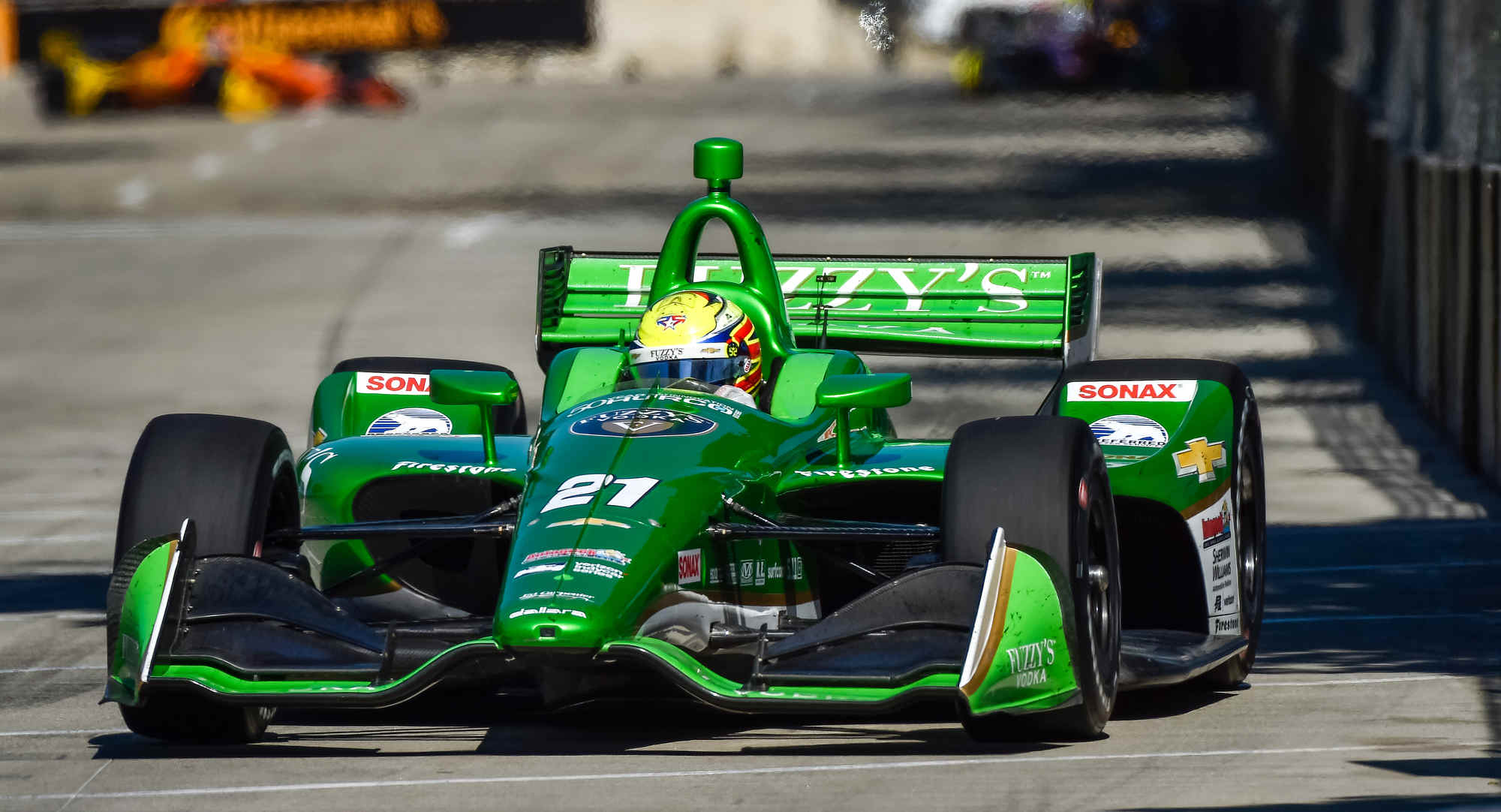 Spencer Pigot at Detroit in 2018
Preparation for a Detroit-Windsor sports tradition is running under a green flag.
The City of Windsor announced Thursday that it will once again serve as a major sponsor for the Chevrolet Detroit Grand Prix presented by Lear, which will take place from May 31 to June 2 on Detroit's Belle Isle, the large island park in the Detroit River that is now a Michigan state park. A partnership between race officials, the city of Windsor and Tourism Windsor Essex Pelee Island (TWEPI) was discussed at Riverfront Festival Plaza, where an IndyCar was displayed.
Windsor's sponsorship of the IndyCar race, the only one on the year's schedule that features a doubleheader, has spanned a decade. The road course is considered one of the toughest on the racing circuit, as stated by American driver Spencer Pigot, who attended the media event.
"Detroit's very difficult," said Pigot, who participated in the Grand Prix three times previously for Ed Carpenter Racing. "It's very bumpy, so having a car that's very compliant over the bumps is important, but also there are fast corners, there are slow corners, there's a little bit of everything. It's a very unique street course. I think it's definitely one of the hardest physically of the season and you have to do it two days in a row."
The Grand Prix, which has been run in some fashion in Detroit on and off since 1982, signed last summer a deal to stay on Belle Isle for at least five more years. This was after race officials listened to public feedback and agreed to make changes with the Michigan Department of Natural Resources, which oversees Belle Isle as a state park. The Grand Prix is increasing its total contribution for hosting the event to $450,000, which includes the annual event free of $325,000, and another $125,000 for department projects on Belle Isle.
A ticket package is once again being offered to Canadian race fans. A $99 weekend package includes access to Grandstand #2 or general admission on Saturday or Sunday of race weekend, round-trip Transit Windsor bus transportation, access to both paddock areas as well as the family zone, and free concerts on Belle Isle.
Michael Montri, president of the Grand Prix, said the double paddock access is new this year, along with a key change in one vantage point.
"We're going to have a new grandstand on the outside of the track, right next to the Canadian grandstand, Grandstand 2," said Montri. "That will give unparalleled views to those folks of the cars coming down the front stretch."
Headliners scheduled to perform for the free concert series include Frankie Ballard on Saturday and Stone Temple Pilots on Sunday. Both of the main races will be broadcast live on NBC.
For complete information about the City of Windsor's Grand Prix ticket packages, visit the official website. Mark Brown/Blackburnnews