2020 Corvette C8 July 18th unveiled confirmed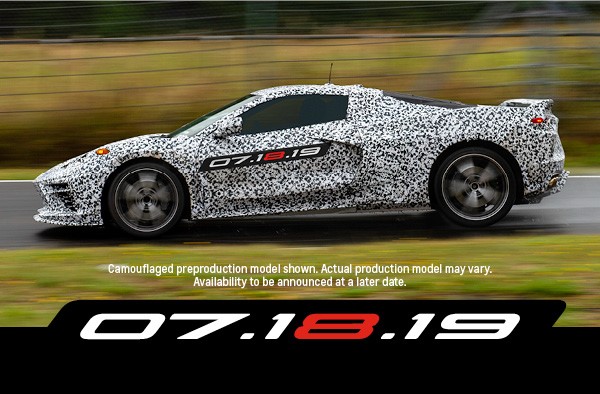 Chevy released this photo of the camouflaged C8 Corvette
The wait is almost over as Chevrolet has finally confirmed the 2020 Corvette will be unveiled this summer.
The company is keeping details under wraps, but said the 2020 C8 is the "sum of each generation before it, but will stand alone as the new standard of performance."
Chevrolet is staying tight-lipped, but we already know the model will be a radical departure from its predecessor as it will adopt a mid-mounted 6.2-liter V8 engine that is expected to produce at least 500 hp (373 kW / 507 PS). It will be connected to an eight-speed dual-clutch transmission which sends power to the rear wheels.
While the powertrain itself isn't too revolutionary, the Corvette will adopt an all-new design as part of its switch to a mid-engine layout. The wide grille and curved front fascia of the C7 will be jettisoned and replaced by a more aggressive setup that features an angular nose which is flanked by muscular air intakes.
The sports car will also adopt a significantly shorter hood as there's no need for engine room up front anymore. Bigger changes occur further back as the model has chiseled bodywork, aggressive side scoops and a steeply sloping roofline. Other highlights will include a ventilated rear fascia, a short wing and a four-tailpipe sports system.
Drivers will sit behind a stylish two-spoke steering wheel and find themselves looking at an all-new digital instrument cluster. To the right is 'floating' infotainment system which is supported by a stylish metal bracket.
The center console has spark plenty of controversy as it features a ramp-like structure which connects to the dashboard. It's lined with an assortment of controls which operate everything from the heated and ventilated seats to the climate control system. Elsewhere, drivers will find a rotary controller and Lamborghini-like switchgear for the transmission.
Chevrolet will likely reveal more details about the 2020 Corvette in the lead up to the unveiling, but the first car out of the gate will be the entry-level model which will retain the Stingray moniker. In traditional Corvette fashion, it will be followed by high-performance variants including one that is rumored to have between 900 hp (671 kW / 912 PS) and 1,000 hp (746 kW / 1014 PS). carscoops