Chinese GP: Vettel over Hamilton in Practice 1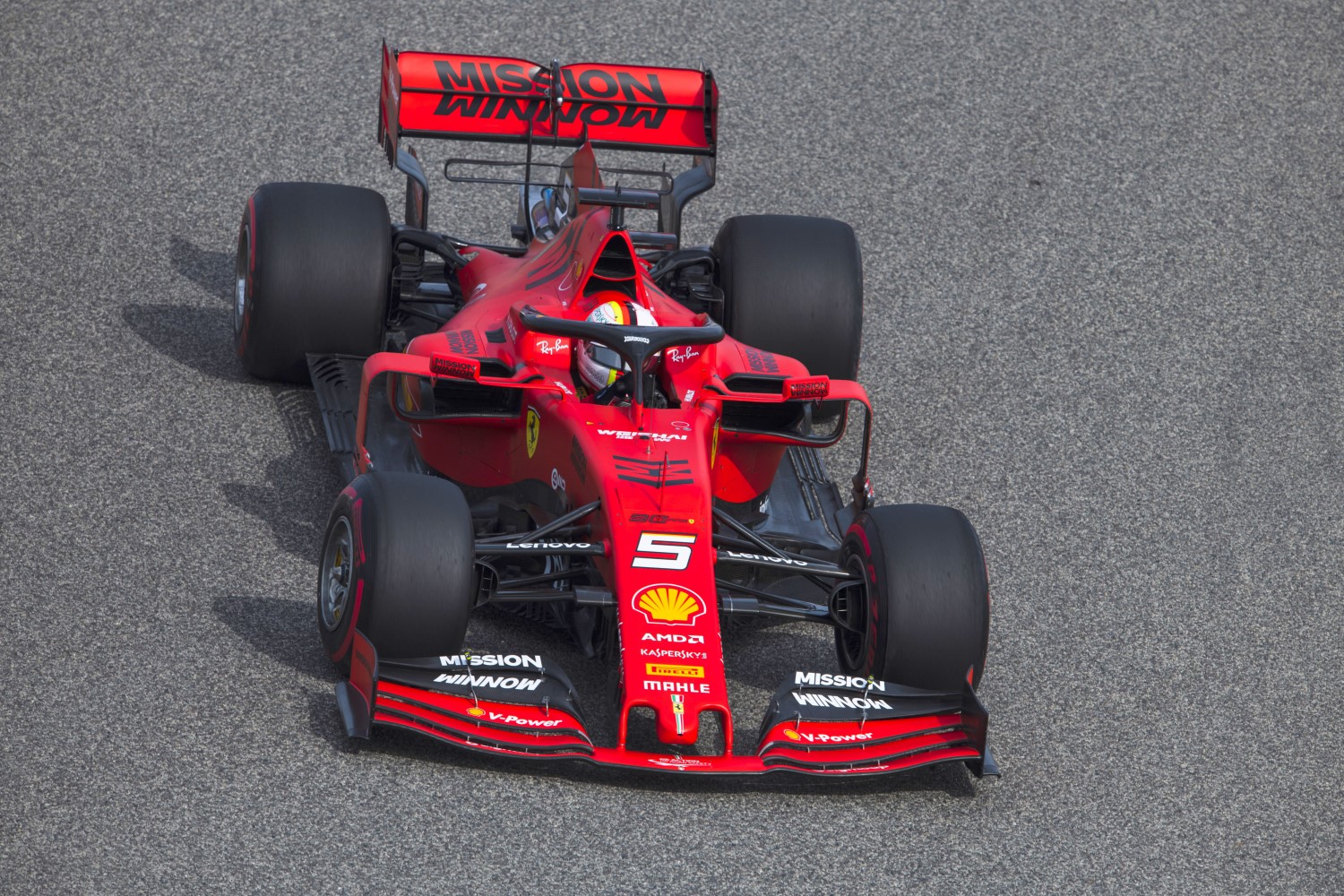 Sebastian Vettel quick so far
After choking in Bahrain last week, Sebastian Vettel appears to have the bit between his teeth this weekend.
Two weeks on from his costly spin when battling Hamilton in Bahrain, Vettel started the China weekend on the right foot by turning in a fastest time of 1m33.911s, lapping two-tenths of a second quicker than the rest of the field.
He topped Practice 1 using Medium tires on his Ferrari while Lewis Hamilton was 2/10ths behind of Soft tires.
Advantage Vettel, so far.
Of course this was just practice 1 and Mercedes has yet to show their full hand.
Charles Leclerc was close behind Hamilton in the 2nd Ferrari with Max Verstappen [Red Bull] and Valtteri Bottas [2nd Mercedes] rounding out the top-5.
Having endured a torrid start to his career with Renault, Daniel Ricciardo – wearing a special Jack Brabham tribute helmet – put in a great lap to head the midfield for the first time so far in 2019, finishing P6 and ahead of the Red Bull of Pierre Gasly, Ricciardo's time 1.328s off Vettel's pace.
Gasly refrained from using the soft tires – perhaps partly explaining his deficit to team mate Verstappen – while Toro Rosso's Daniil Kvyat in P8, Racing Point's Lance Stroll in P9 and Haas' Romain Grosjean in P10 were all separated by just 0.06s. Stroll, meanwhile, provided the main entertainment in the session, slewing his RP19 wildly across the track at the final corner early on in FP1 before getting back on his way.
Giovinazzi in the 2nd Alfa Romeo never put up a time. Reports circulated that it was a power unit issue which hampered Giovinazzi – the Italian having completed just two laps. Alfa Romeo are working hard to get his car ready – but they ran out of time in this session.
Practice 1 Results
| | | | | | | |
| --- | --- | --- | --- | --- | --- | --- |
| POS | NO | DRIVER | CAR | TIME | GAP | LAPS |
| 1 | 5 | Sebastian Vettel | Ferrari | 1:33.911 | +0.000s | 19 |
| 2 | 44 | Lewis Hamilton | Mercedes | 1:34.118 | +0.207s | 21 |
| 3 | 16 | Charles Leclerc | Ferrari | 1:34.167 | +0.256s | 21 |
| 4 | 33 | Max Verstappen | Red Bull Racing Honda | 1:34.334 | +0.423s | 20 |
| 5 | 77 | Valtteri Bottas | Mercedes | 1:34.653 | +0.742s | 23 |
| 6 | 3 | Daniel Ricciardo | Renault | 1:35.239 | +1.328s | 23 |
| 7 | 10 | Pierre Gasly | Red Bull Racing Honda | 1:35.428 | +1.517s | 23 |
| 8 | 26 | Daniil Kvyat | Scuderia Toro Rosso Honda | 1:35.447 | +1.536s | 24 |
| 9 | 18 | Lance Stroll | Racing Point BWT Mercedes | 1:35.466 | +1.555s | 25 |
| 10 | 8 | Romain Grosjean | Haas Ferrari | 1:35.507 | +1.596s | 24 |
| 11 | 20 | Kevin Magnussen | Haas Ferrari | 1:35.517 | +1.606s | 25 |
| 12 | 27 | Nico Hulkenberg | Renault | 1:35.591 | +1.680s | 22 |
| 13 | 4 | Lando Norris | McLaren Renault | 1:35.631 | +1.720s | 24 |
| 14 | 23 | Alexander Albon | Scuderia Toro Rosso Honda | 1:35.695 | +1.784s | 26 |
| 15 | 7 | Kimi Raikkonen | Alfa Romeo Racing Ferrari | 1:35.729 | +1.818s | 23 |
| 16 | 55 | Carlos Sainz | McLaren Renault | 1:35.756 | +1.845s | 24 |
| 17 | 11 | Sergio Perez | Racing Point BWT Mercedes | 1:35.820 | +1.909s | 24 |
| 18 | 88 | Robert Kubica | Williams Mercedes | 1:36.847 | +2.936s | 27 |
| 19 | 63 | George Russell | Williams Mercedes | 1:37.619 | +3.708s | 28 |
| 20 | 99 | Antonio Giovinazzi | Alfa Romeo Racing Ferrari | No Time | No Time | 2 |