Leonardo Pulcini ends Barcelona test on top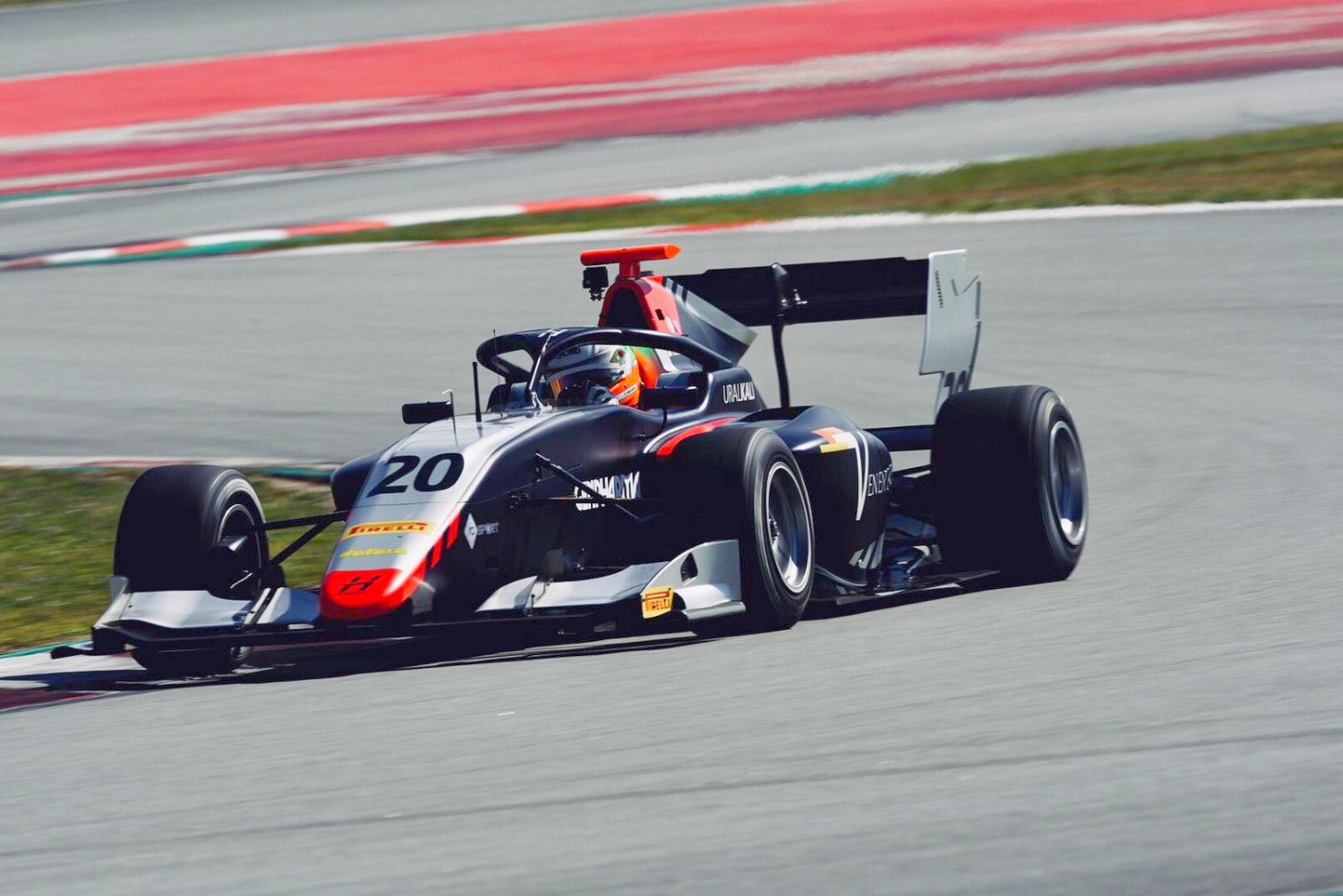 Leonardo Pulcini
Leonardo Pulcini was once again quickest on Day 2 of the second FIA Formula 3 pre-season testing at Barcelona, Spain. The Italian ace from Hitech Grand Prix clocked in a time of a 1:32.222 in the morning session to top the day overall ahead of ART Grand Prix teammates Christian Lundgaard and Max Fewtrell.
The day opened on a wet circuit following overnight showers. The proceedings were halted in the very early stages after Alessio Deledda span and stopped at Turn 3. On a rapidly drying track Lundgaard set the initial pace in a 1:33.750.
On the one hour mark Teppei Natori went wide at Turn 9 and ended into the tire barrier bringing out a second red flag and his day to an early close. At the re-start Jehan Daruvala was the first man to dip under 1m33s, but it was Alex Peroni who set the fastest laptime in a 1:32.460 before three consecutive red flag periods including one courtesy of the Campos man who stopped at Turn 13.
With one hour left in the session, Lundgaard and Fewtrell moved up to P1 and P2 respectively but Pulcini found some extra pace to improve on the Dane's time and went top. The top 3 remained unchallenged until the checkered flag. Peroni ended fourth ahead of Daruvala, Liam Lawson, Sebastian Fernandez, David Beckmann, Robert Shwartzman and Richard Verschoor.
There was a one hour break before the pitlane re-opened for the afternoon running. Pedro Piquet was the first man to feed onto the track, but it was his teammate Niko Kari who set the early pace before stopping 30 minutes into the session and bringing out a red flag.
The teams dedicated the rest of the day to long runs during which Lirim Zendeli went quickest in a 1:33.703. Forty minutes before the checkered flag, the rain started to fall on some parts of the track sending the cars back to the pits to assess the conditions and switch to wet tires.
As the session drew to a close, the rain fell even harder. At the checkered flag, the standings remained unchanged with Zendeli heading Piquet, Kari, Yuki Tsunoda, Felipe Drugovich, Jake Hughes, Bent Viscaal, Logan Sargeant, Fernandez and Fabio Scherer.
The Formula 3 paddock will now to head to Budapest where the final two-day pre-season testing will take place at the Hungaroring on April 17-18.
FIA Formula 3 Barcelona Test – Day 2 Morning Session
| | | | | |
| --- | --- | --- | --- | --- |
| Pos | DRIVER | TEAM | LAPTIME | LAPS |
| 1 | Leonardo Pulcini | Hitech Grand Prix | 1:32.222 | 48 |
| 2 | Christian Lundgaard | ART Grand Prix | 1:32.369 | 40 |
| 3 | Max Fewtrell | ART Grand Prix | 1:32.429 | 42 |
| 4 | Alexander Peroni | Campos Racing | 1:32.460 | 20 |
| 5 | Jehan Daruvala | PREMA Racing | 1:32.507 | 33 |
| 6 | Liam Lawson | MP Motorsport | 1:32.621 | 35 |
| 7 | Sebastian Fernandez | Campos Racing | 1:32.627 | 33 |
| 8 | David Beckmann | ART Grand Prix | 1:32.642 | 38 |
| 9 | Robert Shwartzman | PREMA Racing | 1:32.712 | 33 |
| 10 | Richard Verschoor | MP Motorsport | 1:32.722 | 32 |
| 11 | Simo Laaksonen | MP Motorsport | 1:32.881 | 32 |
| 12 | Jüri Vips | Hitech Grand Prix | 1:32.901 | 41 |
| 13 | Marcus Armstrong | PREMA Racing | 1:32.907 | 33 |
| 14 | Lirim Zendeli | Sauber Junior Team by Charouz | 1:33.111 | 45 |
| 15 | Raoul Hyman | Sauber Junior Team by Charouz | 1:33.226 | 36 |
| 16 | Ye Yifei | Hitech Grand Prix | 1:33.255 | 42 |
| 17 | Pedro Piquet | Trident | 1:33.286 | 37 |
| 18 | Bent Viscaal | HWA RACELAB | 1:33.296 | 33 |
| 19 | Logan Sargeant | Carlin Buzz Racing | 1:33.319 | 46 |
| 20 | Felipe Drugovich | Carlin Buzz Racing | 1:33.500 | 43 |
| 21 | Artem Petrov | Jenzer Motorsport | 1:33.523 | 35 |
| 22 | Niko Kari | Trident | 1:33.533 | 20 |
| 23 | Yuki Tsunoda | Jenzer Motorsport | 1:33.692 | 45 |
| 24 | Fabio Scherer | Sauber Junior Team by Charouz | 1:33.722 | 30 |
| 25 | Keyvan Andres | HWA RACELAB | 1:34.211 | 36 |
| 26 | Devlin DeFrancesco | Trident | 1:34.229 | 30 |
| 27 | Andreas Estner | Jenzer Motorsport | 1:34.323 | 41 |
| 28 | Jake Hughes | HWA RACELAB | 1:34.732 | 15 |
| 29 | Alessio Deledda | Campos Racing | 1:35.009 | 26 |
| 30 | Teppei Natori | Carlin Buzz Racing | 1:36.712 | 6 |

FIA Formula 3 Barcelona Test – Day 2 Afternoon Session
| | | | | |
| --- | --- | --- | --- | --- |
| Pos | DRIVER | TEAM | LAPTIME | LAPS |
| 1 | Lirim Zendeli | Sauber Junior Team by Charouz | 1:33.703 | 32 |
| 2 | Pedro Piquet | Trident | 1:33.827 | 44 |
| 3 | Niko Kari | Trident | 1:33.983 | 32 |
| 4 | Yuki Tsunoda | Jenzer Motorsport | 1:33.985 | 34 |
| 5 | Felipe Drugovich | Carlin Buzz Racing | 1:34.085 | 49 |
| 6 | Jake Hughes | HWA RACELAB | 1:34.106 | 22 |
| 7 | Bent Viscaal | HWA RACELAB | 1:34.108 | 32 |
| 8 | Logan Sargeant | Carlin Buzz Racing | 1:34.114 | 44 |
| 9 | Sebastian Fernandez | Campos Racing | 1:34.297 | 32 |
| 10 | Fabio Scherer | Sauber Junior Team by Charouz | 1:34.558 | 44 |
| 11 | Artem Petrov | Jenzer Motorsport | 1:34.650 | 34 |
| 12 | Alexander Peroni | Campos Racing | 1:34.662 | 36 |
| 13 | Devlin DeFrancesco | Trident | 1:34.707 | 30 |
| 14 | Keyvan Andres | HWA RACELAB | 1:34.756 | 33 |
| 15 | Raoul Hyman | Sauber Junior Team by Charouz | 1:35.096 | 56 |
| 16 | Christian Lundgaard | ART Grand Prix | 1:35.135 | 43 |
| 17 | Richard Verschoor | MP Motorsport | 1:35.235 | 38 |
| 18 | Andreas Estner | Jenzer Motorsport | 1:35.236 | 41 |
| 19 | Simo Laaksonen | MP Motorsport | 1:35.457 | 39 |
| 20 | Max Fewtrell | ART Grand Prix | 1:35.626 | 42 |
| 21 | Robert Shwartzman | PREMA Racing | 1:35.712 | 47 |
| 22 | Jüri Vips | Hitech Grand Prix | 1:35.767 | 38 |
| 23 | Liam Lawson | MP Motorsport | 1:35.893 | 43 |
| 24 | Jehan Daruvala | PREMA Racing | 1:35.940 | 37 |
| 25 | Marcus Armstrong | PREMA Racing | 1:35.959 | 37 |
| 26 | David Beckmann | ART Grand Prix | 1:36.001 | 31 |
| 27 | Leonardo Pulcini | Hitech Grand Prix | 1:36.032 | 37 |
| 28 | Ye Yifei | Hitech Grand Prix | 1:36.231 | 34 |
| 29 | Alessio Deledda | Campos Racing | 1:36.385 | 33 |
| 30 | Teppei Natori | Carlin Buzz Racing | — | 0 |