Video: IndyCar Test for Fernando Alonso at Texas Motor Speedway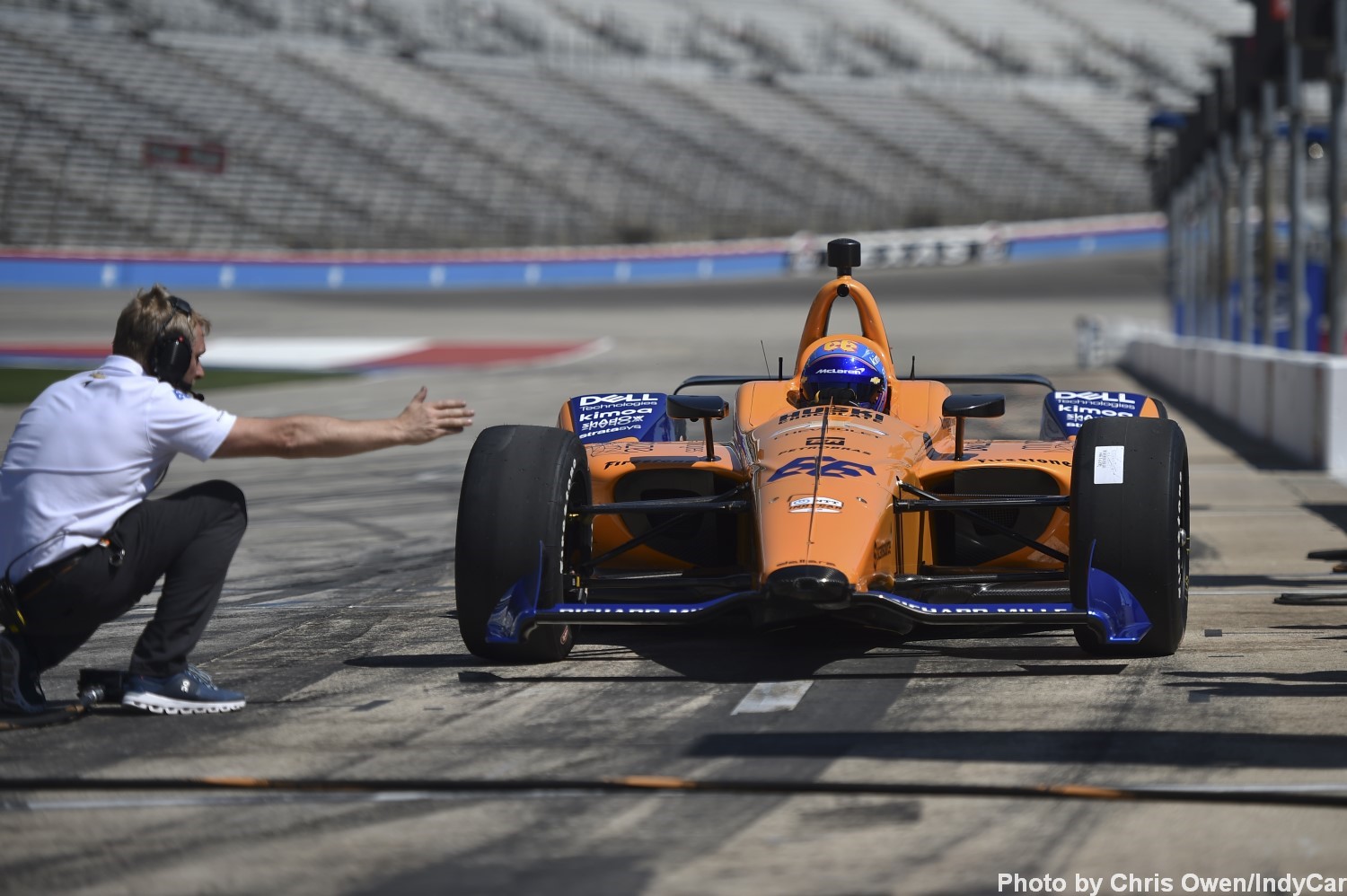 Fernando Alonso
Highlights of the Fernando Alonso test with McLaren Racing, which took place Tuesday April 9, 2019 at Texas Motor Speedway, as he prepares for the 103rd Running of the Indianapolis 500 presented by Gainbridge on May 26.
Video courtesy of IndyCar and edited by AutoRacing1.com and includes preparation, on-track shots and a Question And Answer period afterward.
Key Quotes:
"It was great, obviously," he said after climbing from the No. 66 Chevy. "It's only the first couple of laps with the car. We are taking care of everything slowly with the speed. It's good to be back on the oval with a very specific setup. This car that turns left 'self-steering' a little bit. So, again, some weird feeling for me to try to get used to with the speedway, especially with a lot of banking on the corner, especially Turns 3 and 4. It's different than Indianapolis, but hopefully a good preparation for us."
"For myself, obviously, it's just about getting comfort in the car," he said. "It's a new car, new team so in terms of seat position, headrest, pedals, steering wheel preferences I think all these things we can start now the work. For the team, I think it is quite important to set up everything as a team, who does what in the team, also the pit wall, the facility is completely new for everyone (and) try to solve as many problems here and at the open test on the [April] 24th (of May at Indianapolis Motor Speedway) and getting ready for the 500."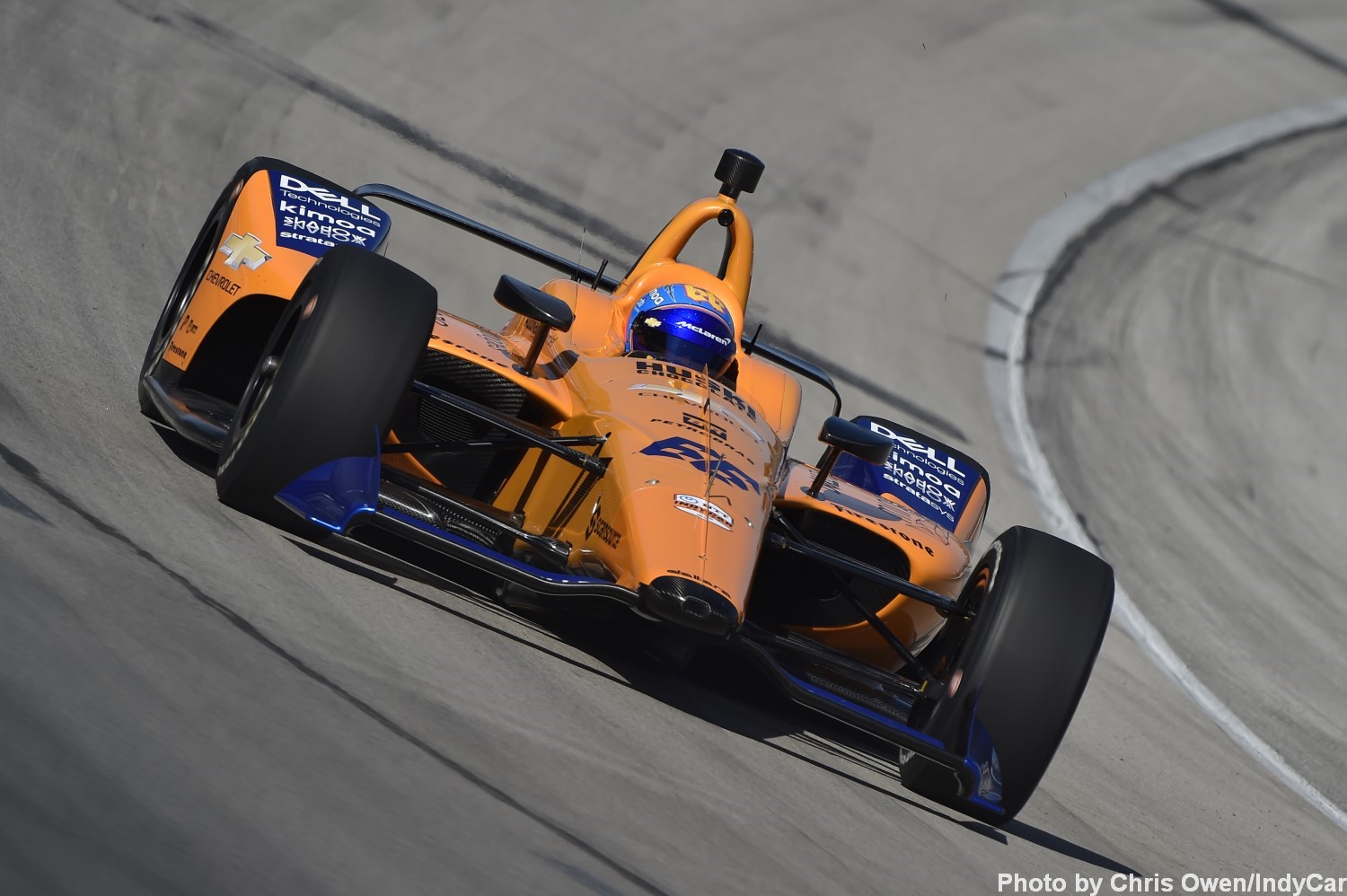 At full song on the Texas banking
Part of the learning process for Alonso involved adapting to the new-for-2018 Universal Aero Kit, which offer similar downforce in speedway trim, but features more drag and behaves differently than the manufacturer-based Honda aero kit he used two years ago at Indy.
"So far it's too early to say because I am not up to speed," he said of comparing the aero kits. "I guess, listening to everyone in the last year, there will be less downforce. They can be more trickier to drive, especially following. Today's not a problem because I am alone. But I guess it's going to be challenging, especially this year I am not with the Andretti, let's say, environment. It's all by ourselves this year."
Having one Indy 500 experience to draw from is meaningful for Alonso on his upcoming month of May spent with McLaren's new IndyCar operation.
"I feel quite a lot more prepared," he said. "At least I know the race, the atmosphere of the 500, the drivers' parade, I know the formation laps. I know a lot of things that you spend energy on your first time there because everything comes as a surprise. I think that energy I can save it now. I know how it goes so I can go into the rhythm of the race, come into qualifying with a little bit more energy and more concentration, but I take this race as if I was starting from zero. I don't want to take for granted anything. I want to review every single race from the past, start from zero with engineers and everything. I want to go to the simulator as I did when making the first start, every pit stop. I want to make much preparation as possible."
"It's a little bit more of an unknown situation for all of us," Alonso said. "We believe in different philosophies in terms of setup and ways to prepare the cars. So we are experimenting those. We started with a baseline setup that we know has been used in the past, but slowly we tried to test different things. Today was the first day and in Indianapolis it's going to be a little bit more deep into that.
"A lot of work on the simulator (has been done) as well to explore these different roads, and let's see what we can find."
The morning saw the team execute a single installation lap and battle several small issues that hinder most new squads. The afternoon proved a different story as Alonso managed to put in 105 total laps in warm and windy conditions.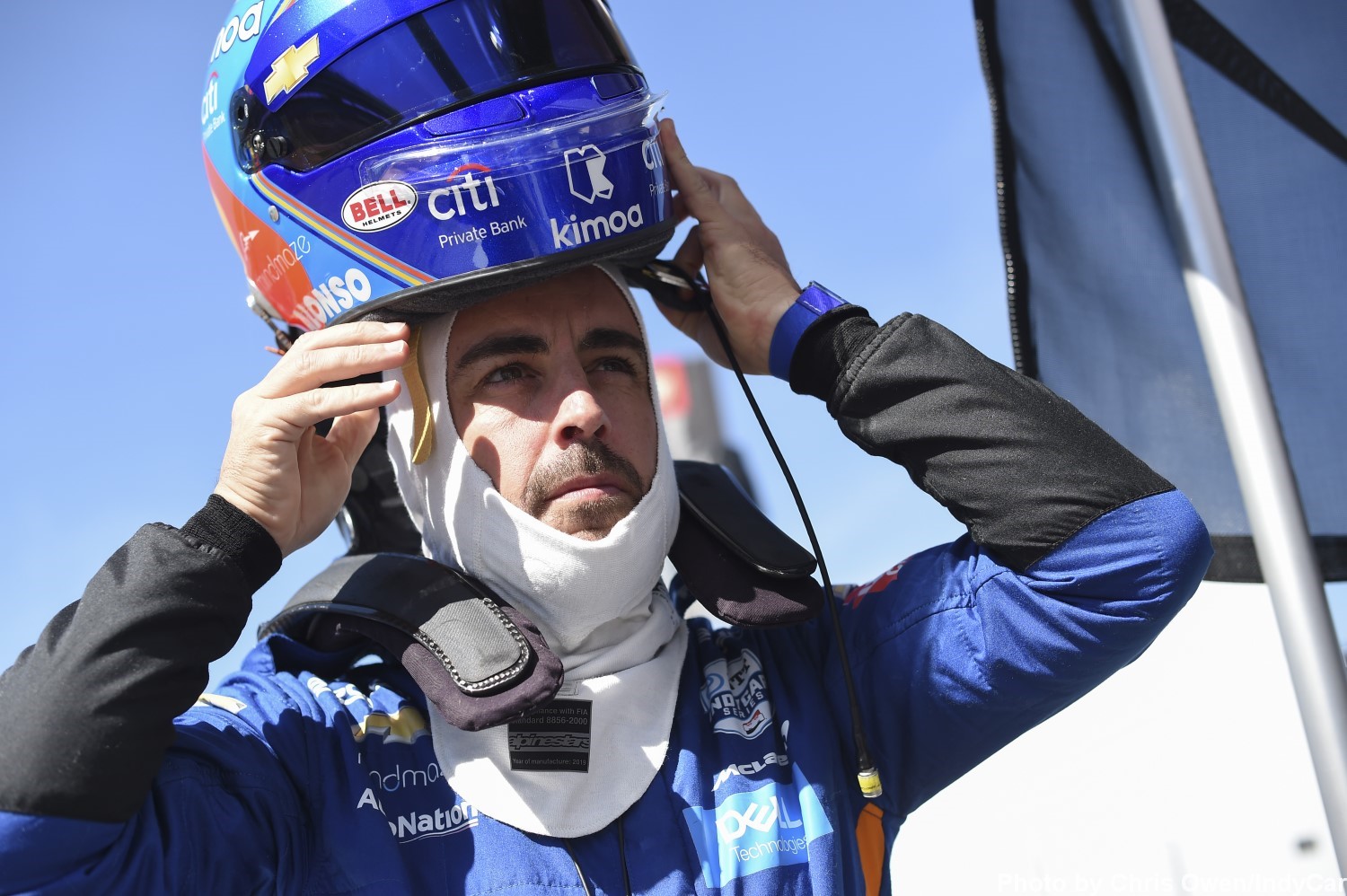 Alonso focused
With his only oval run coming two seasons ago during the final year of the competitive manufacturer aero kit era, Tuesday's test marked the first time Alonso had driven an Indy car with the universal aero kit on a superspeedway.
Even with just a single NTT IndyCar Series race under his belt, Alonso knew the 1.5-mile TMS oval is not something that will serve as an ideal comparison to the iconic 2.5-mile Indianapolis oval in May.
"This track is so different that it would be unfair of me to compare the two kits because it's not the same place," Alonso said.
"I remain on the idea that this universal kit is said to be more difficult to drive with a little bit less downforce. So you need to optimize the setup a little bit different with this kit and it will depend on a little bit of that week (during the April 24 open test at Indianapolis Motor Speedway) on the wind conditions, the temperature and, more importantly, especially for me, how these kits behave in traffic.
"Running alone normally is a little bit easier, but in traffic I think it's going to be challenging when you lack downforce."
The IMS test is exactly where the focus was for Alonso from the moment he stepped out of car for the day and sat on the pit wall. The test car used at Texas was prepared at Carlin's shop in Delray Beach, Florida. For the IMS test, Alonso is expected to have his primary race car that was build at the McLaren Technology Centre in Woking, England.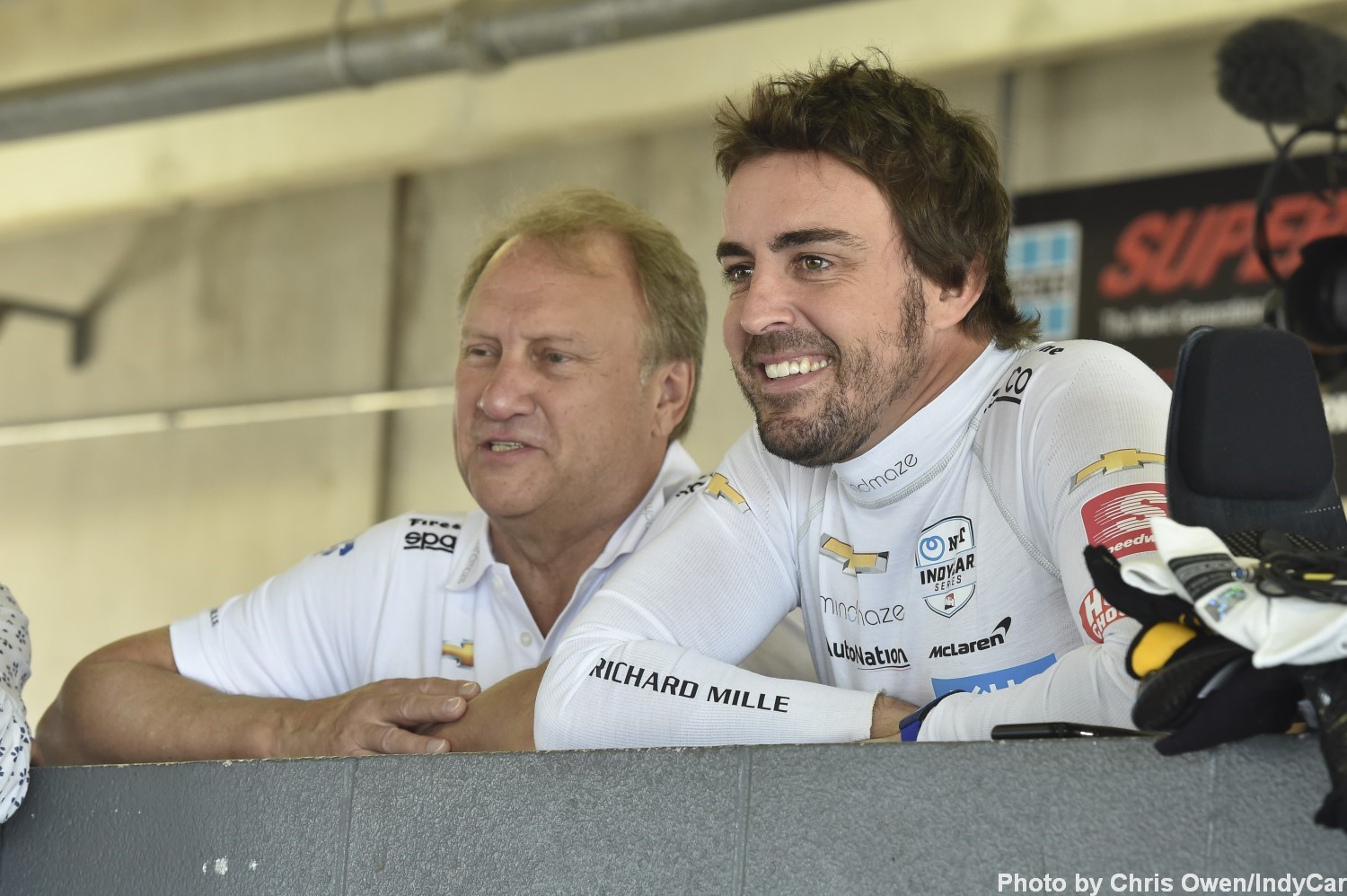 Team boss Bob Fernley and Alonso in the garage
"Looking forward to go to the open test first, to set up really there with the team and the car and start improving the car and being hopefully competitive in May when the race comes," Alonso said.
"It's going to be tough, as we knew. These setups, we know how delicate they are, how extreme they are. So small changes make a big difference on the lap time, a big difference on the feeling. The track is never the same. It keeps changing all the day from the morning, cold temperatures through the afternoon, quite hot, quite windy in the afternoon.
"I think Indy also is quite a windy place, so you need to keep chasing the track conditions with a setup. It's going to be a big challenge and we are ready to take it."
Overall, Alonso continued to respect the challenges to compete at the highest level in North America's premier open-wheel championship.
"I came from different series that there was a scenario you can be touching the grass a little bit and can lose that lap," Alonso said. "Here, there is not that scenario in any of the corners, so you have to be on top of your skills every single lap, every single corner. That's quite demanding and quite stressful.
"This (test) day, it has been also in that way, just to remind myself how critical everything is here. You need to make perfection every lap."