Logano fastest in final practice for the Food City 500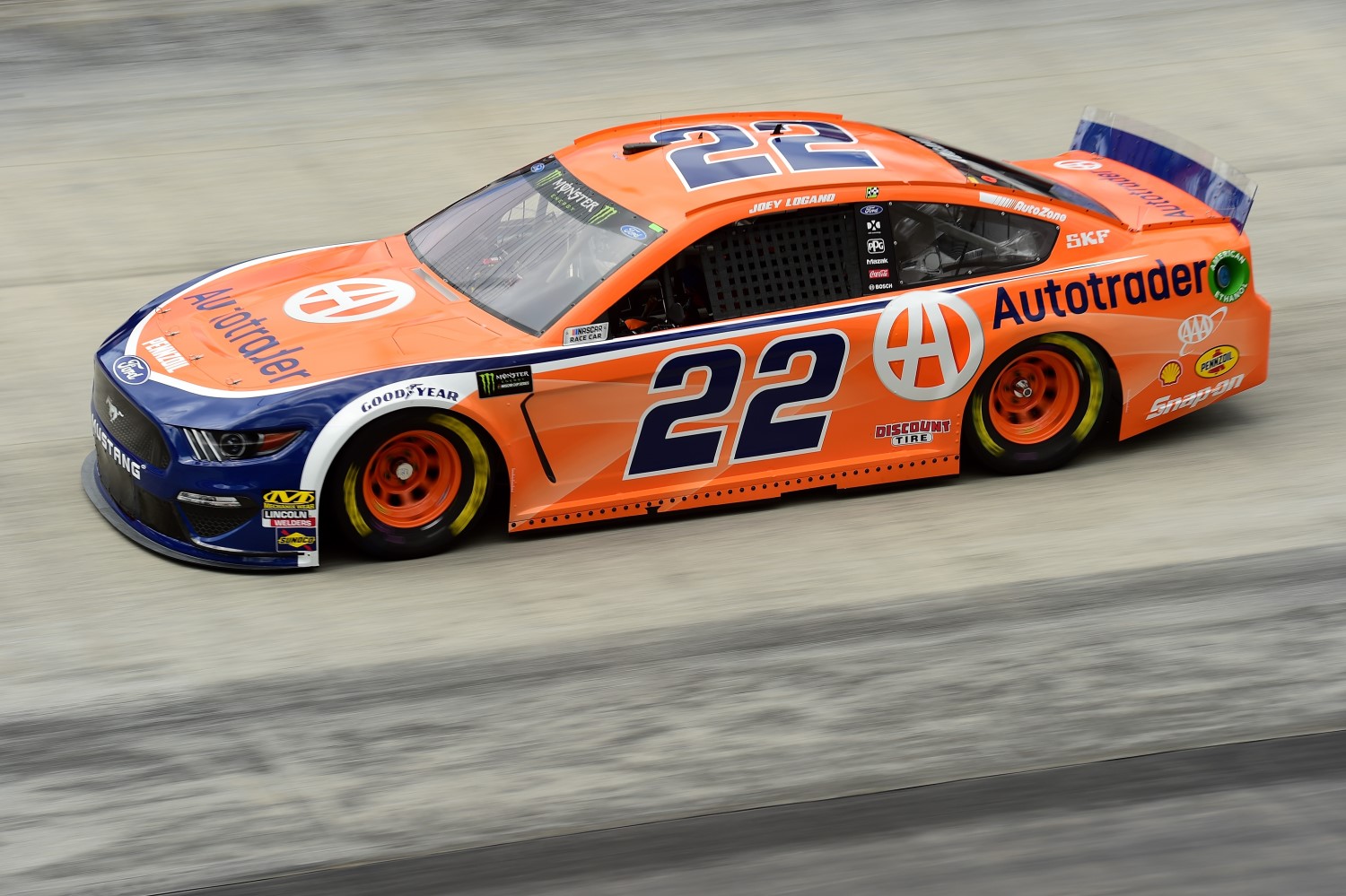 Joey Logano
Joey Logano paced the final Cup practice Saturday for the Food City 500.
The Team Penske driver turned a 128.830 mph lap (14.894 seconds) on the 0.533-mile oval.
Jimmie Johnson was second, followed by Austin Dillon, Kevin Harvick and Kyle Busch.
Logano has two victories at Bristol, most recently on Aug. 22, 2015.
Chase Elliott, who will start from the pole position Sunday, was 16th fastest after brushing the wall in practice.
Final Practice Results
| | | | | | | | |
| --- | --- | --- | --- | --- | --- | --- | --- |
| Pos | No. | Driver | Team | Time | Speed | Behind | Gap |
| 1 | 22 | Joey Logano | Autotrader Ford | 14.894 | 128.830 | —.— | —.— |
| 2 | 48 | Jimmie Johnson | Ally Chevrolet | 14.924 | 128.571 | -0.030 | -0.030 |
| 3 | 3 | Austin Dillon | Symbicort Chevrolet | 14.925 | 128.563 | -0.031 | -0.001 |
| 4 | 4 | Kevin Harvick | Hunt Brothers Pizza Ford | 14.935 | 128.477 | -0.041 | -0.010 |
| 5 | 18 | Kyle Busch | Skittles Toyota | 14.969 | 128.185 | -0.075 | -0.034 |
| 6 | 95 | Matt DiBenedetto | LFR Pro League Toyota | 14.976 | 128.125 | -0.082 | -0.007 |
| 7 | 19 | Martin Truex Jr. | Auto Owners Insurance Toyota | 14.993 | 127.980 | -0.099 | -0.017 |
| 8 | 6 | Ryan Newman | Wyndham Rewards Ford | 14.995 | 127.963 | -0.101 | -0.002 |
| 9 | 41 | Daniel Suarez | Haas Automation Ford | 14.997 | 127.946 | -0.103 | -0.002 |
| 10 | 12 | Ryan Blaney | PPG Ford | 15.008 | 127.852 | -0.114 | -0.011 |
| 11 | 20 | Erik Jones | CRAFTSMAN Racing for a Miracle Toyota | 15.016 | 127.784 | -0.122 | -0.008 |
| 12 | 21 | Paul Menard | Menards/Sylvania Ford | 15.020 | 127.750 | -0.126 | -0.004 |
| 13 | 14 | Clint Bowyer | Haas Automation Ford | 15.027 | 127.690 | -0.133 | -0.007 |
| 14 | 11 | Denny Hamlin | FedEx Freight Toyota | 15.036 | 127.614 | -0.142 | -0.009 |
| 15 | 2 | Brad Keselowski | Discount Tire Ford | 15.040 | 127.580 | -0.146 | -0.004 |
| 16 | 9 | Chase Elliott | NAPA Auto Parts Chevrolet | 15.046 | 127.529 | -0.152 | -0.006 |
| 17 | 47 | Ryan Preece # | Kroger Chevrolet | 15.047 | 127.520 | -0.153 | -0.001 |
| 18 | 88 | Alex Bowman | Nationwide Chevrolet | 15.053 | 127.470 | -0.159 | -0.006 |
| 19 | 17 | Ricky Stenhouse Jr. | SunnyD Ford | 15.061 | 127.402 | -0.167 | -0.008 |
| 20 | 8 | Daniel Hemric # | Caterpillar/Bass Pro Shops Chevrolet | 15.065 | 127.368 | -0.171 | -0.004 |
| 21 | 10 | Aric Almirola | SHAZAM /Smithfield Ford | 15.081 | 127.233 | -0.187 | -0.016 |
| 22 | 42 | Kyle Larson | Credit One Bank Chevrolet | 15.090 | 127.157 | -0.196 | -0.009 |
| 23 | 37 | Chris Buescher | Bush's Beans Chevrolet | 15.092 | 127.140 | -0.198 | -0.002 |
| 24 | 1 | Kurt Busch | Monster Energy Chevrolet | 15.092 | 127.140 | -0.198 | -0.000 |
| 25 | 13 | Ty Dillon | GEICO Chevrolet | 15.097 | 127.098 | -0.203 | -0.005 |
| 26 | 36 | Matt Tifft # | Surface Sunscreen/Tunity Ford | 15.106 | 127.022 | -0.212 | -0.009 |
| 27 | 24 | William Byron | Axalta Chevrolet | 15.114 | 126.955 | -0.220 | -0.008 |
| 28 | 32 | Corey LaJoie | DUDE Wipes Ford | 15.160 | 126.570 | -0.266 | -0.046 |
| 29 | 34 | Michael McDowell | Love's Travel Stops Ford | 15.166 | 126.520 | -0.272 | -0.006 |
| 30 | 38 | David Ragan | MDS Transport Ford | 15.200 | 126.237 | -0.306 | -0.034 |
| 31 | 43 | Bubba Wallace | Blue-Emu Chevrolet | 15.207 | 126.179 | -0.313 | -0.007 |
| 32 | 00 | Landon Cassill | StarCom Fiber Chevrolet | 15.244 | 125.872 | -0.350 | -0.037 |
| 33 | 51 | Gray Gaulding(i) | Jacob Companies Ford | 15.446 | 124.226 | -0.552 | -0.202 |
| 34 | 52 | Bayley Currey # | Belmont Classic Cars Chevrolet | 15.467 | 124.058 | -0.573 | -0.021 |
| 35 | *66 | Timmy Hill(i) | Toyota | 15.947 | 120.324 | -1.053 | -0.480 |