IndyCar: Hinchcliffe tops red-flag ruined practice 3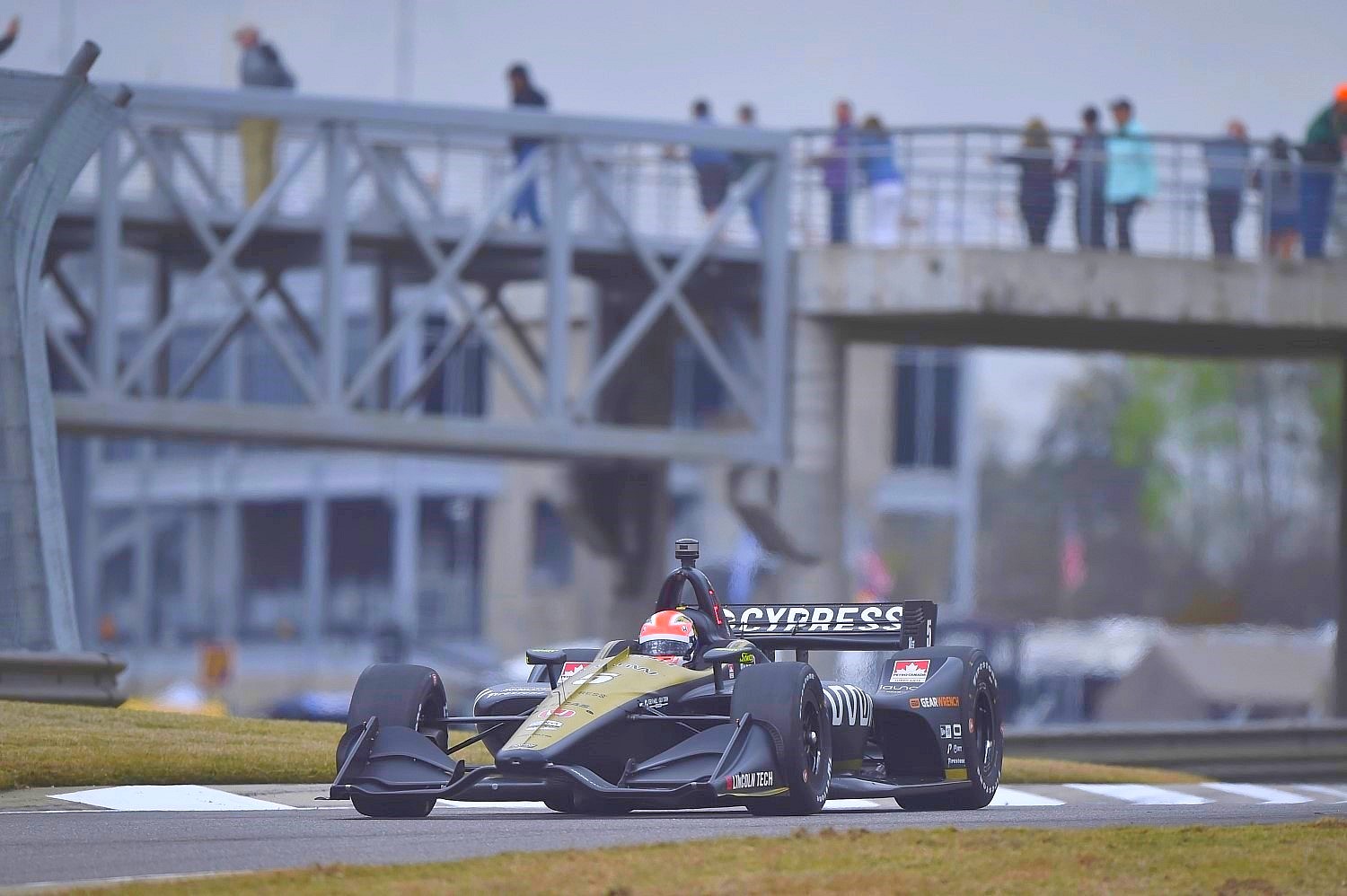 James Hinchcliffe the man to beat for pole this afternoon
We have seen so many red flags in IndyCar practice at Barber Motorsports Park this weekend you would think the drivers are a bunch of rank amateurs. Final practice was no different and totally disjointed as a result.
James Hinchcliffe [Honda] was again the only driver to get down into the 1m08s bracket and his lap of 1m08.735s was a whopping 0.300s faster than 2nd quick Sebastien Bourdais [Honda] – a big gap given how tight the field is.
Scott Dixon was third quick in his Ganassi Honda ahead of Colton Herta and Takuma Sato who rounded out the top-5 as Honda powered cars again ran 1-2-3-4-5.
However, everyone feels Team Penske is sandbagging and focusing on race setups until qualifying begins.
Marcus Ericsson, Zach Veach and Graham Rahal were among those going off and causing red flags this session.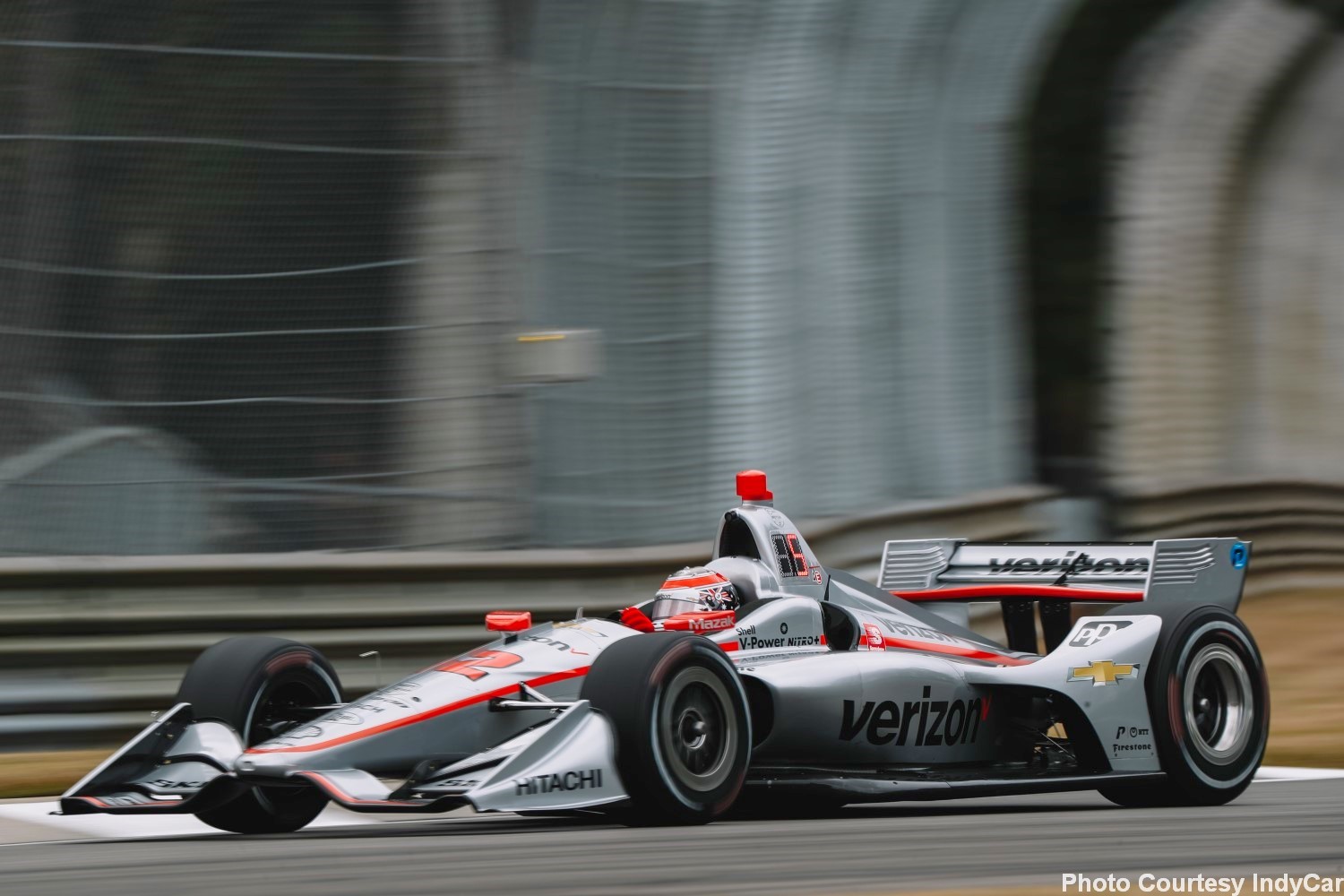 How much is Will Power and the Penske team sandbagging?
Given the lack of green-flag running in practice, and the fact the red tires have thrown teams for a loop will make qualifying a total crap shoot.
The talk remains about the lack of balance and stability when the cars were shod with the red-sidewall tire.
As unstable as the alternate reds felt for some drivers, the primary black tire felt the opposite for most. Usually, the softer alternate compound is stickier and faster but wears more quickly. On Friday, though, it was oddly out of sorts. Changing track conditions at NTT IndyCar Series road- and street-courses have made the primary the tire of choice on occasion over the years, so while Friday's experience was rare, it wasn't a total anomaly.
The temps are up at Barber and it is getting very humid, which will make the track rather slippery for qualifying where we expect several of the drivers to again run out of talent and crash – causing several red flags and ruining it for everyone. There is even a chance for thunderstorms during qualifying.
Like we said – a total crap shoot.
Practice 3 Results
| | | | | | | | | |
| --- | --- | --- | --- | --- | --- | --- | --- | --- |
| Pos | No | Name | FTime | Diff | Gap | Laps | Engine | Team |
| 1 | 5 | James Hinchcliffe | 1:08.735 | –.—- | –.—- | 12 | Honda | Arrow Schmidt Peterson Motorsports |
| 2 | 18 | Sebastien Bourdais | 1:09.035 | 0.3000 | 0.3000 | 12 | Honda | Dale Coyne w/Vasser-Sullivan |
| 3 | 9 | Scott Dixon | 1:09.233 | 0.4983 | 0.1983 | 10 | Honda | Chip Ganassi Racing Teams |
| 4 | 88 | Colton Herta | 1:09.244 | 0.5093 | 0.0110 | 14 | Honda | Harding Steinbrenner Racing |
| 5 | 30 | Takuma Sato | 1:09.269 | 0.5341 | 0.0248 | 16 | Honda | Rahal Letterman Lanigan Racing |
| 6 | 21 | Spencer Pigot | 1:09.278 | 0.5433 | 0.0092 | 12 | Chevy | Ed Carpenter Racing |
| 7 | 22 | Simon Pagenaud | 1:09.284 | 0.5486 | 0.0053 | 16 | Chevy | Team Penske |
| 8 | 10 | Felix Rosenqvist | 1:09.288 | 0.5533 | 0.0047 | 14 | Honda | Chip Ganassi Racing Teams |
| 9 | 59 | Max Chilton | 1:09.311 | 0.5762 | 0.0229 | 15 | Chevy | Carlin |
| 10 | 27 | Alexander Rossi | 1:09.348 | 0.6130 | 0.0368 | 12 | Honda | Andretti Autosport |
| 11 | 31 | Patricio O'Ward | 1:09.427 | 0.6921 | 0.0791 | 13 | Chevy | Carlin |
| 12 | 20 | Ed Jones | 1:09.454 | 0.7189 | 0.0268 | 12 | Chevy | Ed Carpenter Racing |
| 13 | 28 | Ryan Hunter-Reay | 1:09.479 | 0.7443 | 0.0254 | 9 | Honda | Andretti Autosport |
| 14 | 60 | Jack Harvey | 1:09.528 | 0.7931 | 0.0488 | 14 | Honda | Meyer Shank Racing w/Arrow SPM |
| 15 | 12 | Will Power | 1:09.596 | 0.8608 | 0.0677 | 14 | Chevy | Team Penske |
| 16 | 4 | Matheus Leist | 1:09.629 | 0.8936 | 0.0328 | 13 | Chevy | AJ Foyt Enterprises |
| 17 | 2 | Josef Newgarden | 1:09.741 | 1.0058 | 0.1122 | 13 | Chevy | Team Penske |
| 18 | 14 | Tony Kanaan | 1:09.863 | 1.1279 | 0.1221 | 12 | Chevy | AJ Foyt Enterprises |
| 19 | 15 | Graham Rahal | 1:09.972 | 1.2372 | 0.1093 | 13 | Honda | Rahal Letterman Lanigan Racing |
| 20 | 98 | Marco Andretti | 1:10.038 | 1.3033 | 0.0661 | 10 | Honda | Andretti Herta w/Curb-Agajanian |
| 21 | 7 | Marcus Ericsson | 1:10.155 | 1.4201 | 0.1168 | 7 | Honda | Arrow Schmidt Peterson Motorsport |
| 22 | 19 | Santino Ferrucci | 1:10.559 | 1.8236 | 0.4035 | 11 | Honda | Dale Coyne Racing |
| 23 | 81 | Ben Hanley | 1:10.912 | 2.1772 | 0.3536 | 15 | Chevy | DragonSpeed |
| 24 | 26 | Zach Veach | 1:11.086 | 2.3513 | 0.1741 | 2 | Honda | Andretti Autosport |