Jones leads early Saturday Bristol practice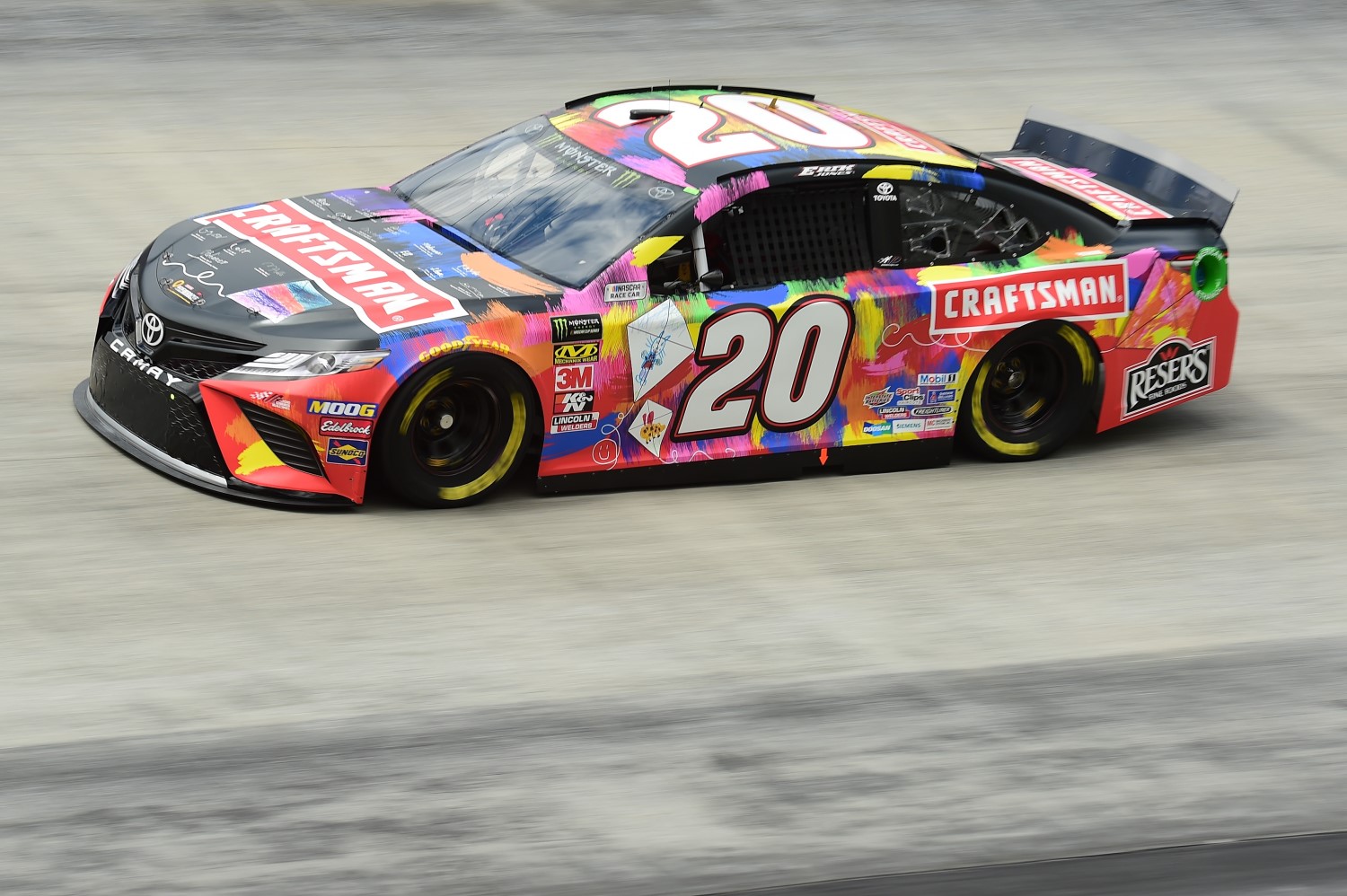 Erik Jones
Erik Jones led the Saturday morning Monster Energy NASCAR Cup Series practice at Bristol with a lap of 129.903 mph (14.771 seconds).
Fellow Joe Gibbs Racing driver Denny Hamlin was second fastest at 129.850 mph.
Daniel Suarez wound up third with a lap of 129.482 mph with Joey Logano fourth at 129.195 mph. Seven-time Bristol winner Kyle Busch completed the top five with a lap of 129.186 mph.
Results
| | | | | | | | |
| --- | --- | --- | --- | --- | --- | --- | --- |
| Pos | Car | Driver | Team | Time | Speed | Behind | Gap |
| 1 | 20 | Erik Jones | CRAFTSMAN Racing for a Miracle Toyota | 14.771 | 129.903 | —.— | —.— |
| 2 | 11 | Denny Hamlin | FedEx Freight Toyota | 14.777 | 129.850 | -0.006 | -0.006 |
| 3 | 41 | Daniel Suarez | Haas Automation Ford | 14.819 | 129.482 | -0.048 | -0.042 |
| 4 | 22 | Joey Logano | Autotrader Ford | 14.852 | 129.195 | -0.081 | -0.033 |
| 5 | 18 | Kyle Busch | Skittles Toyota | 14.853 | 129.186 | -0.082 | -0.001 |
| 6 | 48 | Jimmie Johnson | Ally Chevrolet | 14.864 | 129.090 | -0.093 | -0.011 |
| 7 | 14 | Clint Bowyer | Haas Automation Ford | 14.870 | 129.038 | -0.099 | -0.006 |
| 8 | 19 | Martin Truex Jr. | Auto Owners Insurance Toyota | 14.870 | 129.038 | -0.099 | -0.000 |
| 9 | 4 | Kevin Harvick | Hunt Brothers Pizza Ford | 14.874 | 129.004 | -0.103 | -0.004 |
| 10 | 12 | Ryan Blaney | PPG Ford | 14.877 | 128.978 | -0.106 | -0.003 |
| 11 | 13 | Ty Dillon | GEICO Chevrolet | 14.883 | 128.926 | -0.112 | -0.006 |
| 12 | 1 | Kurt Busch | Monster Energy Chevrolet | 14.908 | 128.709 | -0.137 | -0.025 |
| 13 | 9 | Chase Elliott | NAPA Auto Parts Chevrolet | 14.915 | 128.649 | -0.144 | -0.007 |
| 14 | 95 | Matt DiBenedetto | LFR Pro League Toyota | 14.921 | 128.597 | -0.150 | -0.006 |
| 15 | 10 | Aric Almirola | SHAZAM /Smithfield Ford | 14.926 | 128.554 | -0.155 | -0.005 |
| 16 | 24 | William Byron | Axalta Chevrolet | 14.942 | 128.417 | -0.171 | -0.016 |
| 17 | 3 | Austin Dillon | Symbicort Chevrolet | 14.951 | 128.339 | -0.180 | -0.009 |
| 18 | 2 | Brad Keselowski | Discount Tire Ford | 14.954 | 128.313 | -0.183 | -0.003 |
| 19 | 6 | Ryan Newman | Wyndham Rewards Ford | 14.957 | 128.288 | -0.186 | -0.003 |
| 20 | 42 | Kyle Larson | Credit One Bank Chevrolet | 14.964 | 128.228 | -0.193 | -0.007 |
| 21 | 21 | Paul Menard | Menards/Sylvania Ford | 14.984 | 128.057 | -0.213 | -0.020 |
| 22 | 17 | Ricky Stenhouse Jr. | SunnyD Ford | 15.017 | 127.775 | -0.246 | -0.033 |
| 23 | 37 | Chris Buescher | Bush's Beans Chevrolet | 15.051 | 127.487 | -0.280 | -0.034 |
| 24 | 43 | Bubba Wallace | Blue-Emu Chevrolet | 15.062 | 127.393 | -0.291 | -0.011 |
| 25 | 47 | Ryan Preece # | Kroger Chevrolet | 15.097 | 127.098 | -0.326 | -0.035 |
| 26 | 34 | Michael McDowell | Love's Travel Stops Ford | 15.105 | 127.031 | -0.334 | -0.008 |
| 27 | 32 | Corey LaJoie | DUDE Wipes Ford | 15.108 | 127.006 | -0.337 | -0.003 |
| 28 | 8 | Daniel Hemric # | Caterpillar/Bass Pro Shops Chevrolet | 15.111 | 126.980 | -0.340 | -0.003 |
| 29 | 38 | David Ragan | MDS Transport Ford | 15.120 | 126.905 | -0.349 | -0.009 |
| 30 | 15 | Ross Chastain(i) | Rim Riderz Chevrolet | 15.121 | 126.896 | -0.350 | -0.001 |
| 31 | 36 | Matt Tifft # | Surface Sunscreen/Tunity Ford | 15.160 | 126.570 | -0.389 | -0.039 |
| 32 | 00 | Landon Cassill | StarCom Fiber Chevrolet | 15.248 | 125.839 | -0.477 | -0.088 |
| 33 | 51 | Gray Gaulding(i) | Jacob Companies Ford | 15.257 | 125.765 | -0.486 | -0.009 |
| 34 | 88 | Alex Bowman | Nationwide Chevrolet | 15.631 | 122.756 | -0.860 | -0.374 |
| 35 | 77 | Quin Houff | FALCI Adaptve Motorsports Chevrolet | 15.709 | 122.147 | -0.938 | -0.078 |