Bahrain Test Day 2: George Russell puts Mercedes on top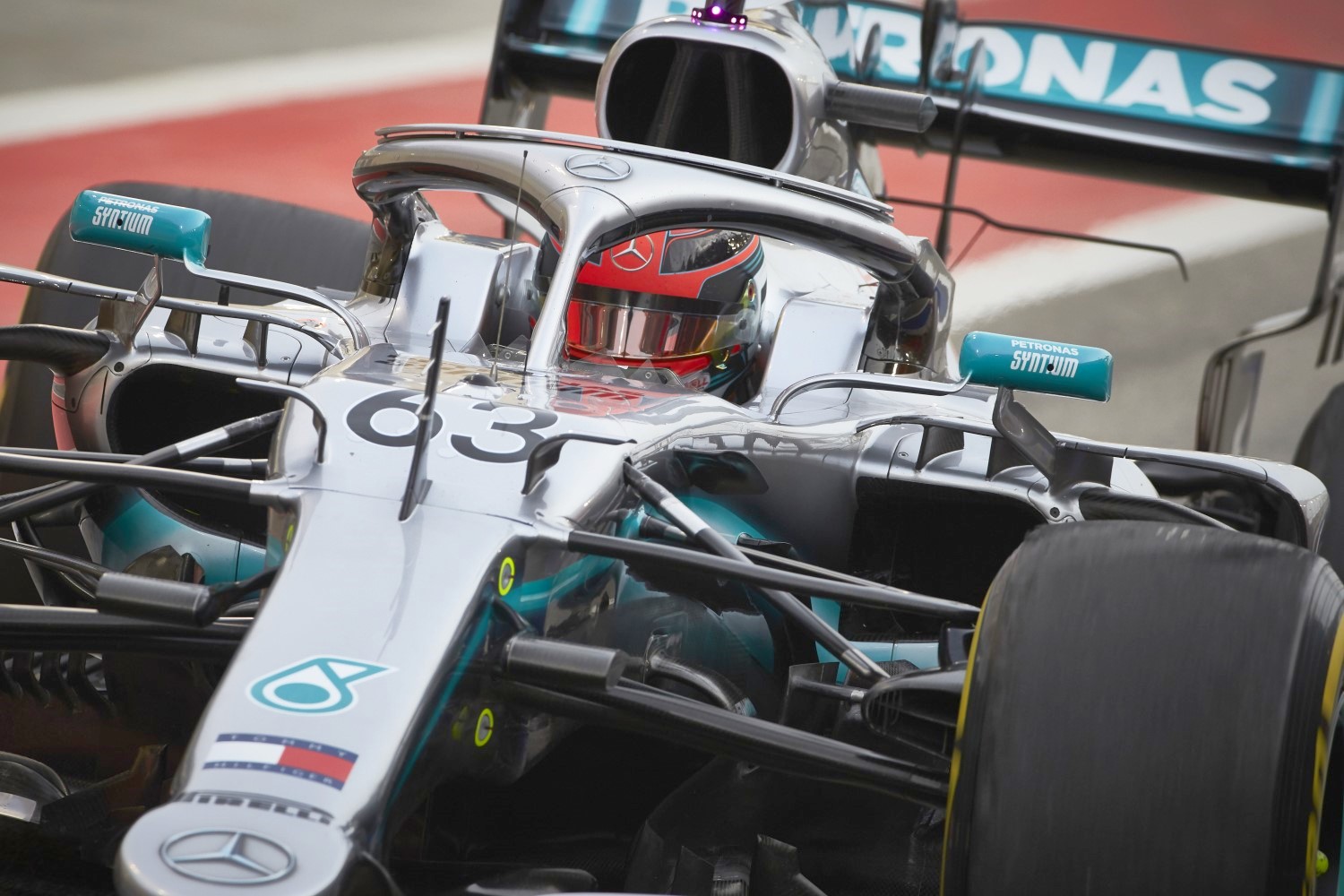 George Russell
Mercedes Junior driver George Russell set the fastest time of Formula 1 testing in Bahrain, driving for Mercedes. He was happy to get out of his regular car the 2019 Williams that he on Tuesday at the post-Bahrain Grand Prix test before taking over from Lewis Hamilton at Mercedes.
Russell's best effort of 1m29.029s shaded the Racing Point' Sergio Perez by 0.066s.
Ferrari driver Sebastian Vettel's early-morning time stood as the benchmark for most of the day, before Perez improved with less than two hours remaining.
Vettel never tried to improve on his 1m29.319s, and slipped to third in the final standings.
The German was one of seven drivers to clear 100 laps as teams looked to make up for a disappointing day of testing on Tuesday, which was interrupted by persistent rain.
Mick Schumacher, the son of seven-time F1 champion Michael swapped the Ferrari he made his own test debut in on Tuesday for the Alfa Romeo on Wednesday.
Schumacher only completed 70 laps, though, on his way to setting the sixth-fastest time – a 1m29.998s.
Likewise, Pirelli tire tester Fernando Alonso posted a 1m31.006s on lap 68 of 69, sharing McLaren's Pirelli work with Carlos Sainz Jr.
George Russell
Timings don't mean a lot in testing; however, it's always a special experience to be on top of the timesheets. We had a very productive day today, the team learned a lot of things to help them progress. Driving a different car than usual, I personally also learned a lot which I can take back to further improve my driving.
Andrew Shovlin
It's been great to have George back in our car for the day and many thanks to Williams for allowing it. He did an excellent job today, the way he goes about testing and his consistency and feedback would make you think he has a couple of seasons of F1 under his belt, not just two races. The morning had been successful, we had a packed program due to the rain yesterday but were getting through the items very well. Unfortunately, at lunch we spotted a small water leak that wasn't a quick fix which delayed our afternoon program quite considerably. Whilst we couldn't complete all our test items, we've done the important bits and we leave here with more information and understanding of the car and tyres and we've managed to test some developments that we plan to roll out over the next few races.
Mick Schumacher (car number 36):
"It has been another beautiful day at an F1 track today, and I can only repeat myself as it is just so much fun to drive these cars. After the first experience I had yesterday I tried to implement what I learned into today's laps, and I am happy about how it worked. It has been very nice working with the team at Alfa Romeo Racing, gaining confidence with the car and improving steadily. I will definitely fly back with some very beautiful memories and am looking forward to getting myself back into the preparations for the next F2 race in Baku."
Day 2 Results
| | | | | |
| --- | --- | --- | --- | --- |
| POS | DRIVER | CAR | TIME/BEHIND | LAPS |
| 1 | George Russell | Mercedes | 1m29.029s | 101 |
| 2 | Sergio Perez | Racing Point/Mercedes | 0.066s | 60 |
| 3 | Sebastian Vettel | Ferrari | 0.290s | 102 |
| 4 | Carlos Sainz Jr. | McLaren/Renault | 0.766s | 20 |
| 5 | Daniil Kvyat | Toro Rosso/Honda | 0.882s | 111 |
| 6 | Mick Schumacher | Alfa Romeo/Ferrari | 0.969s | 70 |
| 7 | Alexander Albon | Toro Rosso/Honda | 1.008s | 143 |
| 8 | Lance Stroll | Racing Point/Mercedes | 1.020s | 35 |
| 9 | Dan Ticktum | Red Bull/Honda | 1.827s | 134 |
| 10 | Romain Grosjean | Haas/Ferrari | 1.874s | 86 |
| 11 | Fernando Alonso | McLaren/Renault | 1.977s | 69 |
| 12 | Pietro Fittipaldi | Haas/Ferrari | 2.180s | 48 |
| 13 | Lando Norris | McLaren/Renault | 2.274s | 72 |
| 14 | Jack Aitken | Renault | 2.471s | 103 |
| 15 | Nicholas Latifi | Williams/Mercedes | 3.169s | 100 |
| 16 | Carlos Sainz Jr. | McLaren/Renault | 3.240s | 60 |