HMSA readies vintage cars to race Grand Prix of Long Beach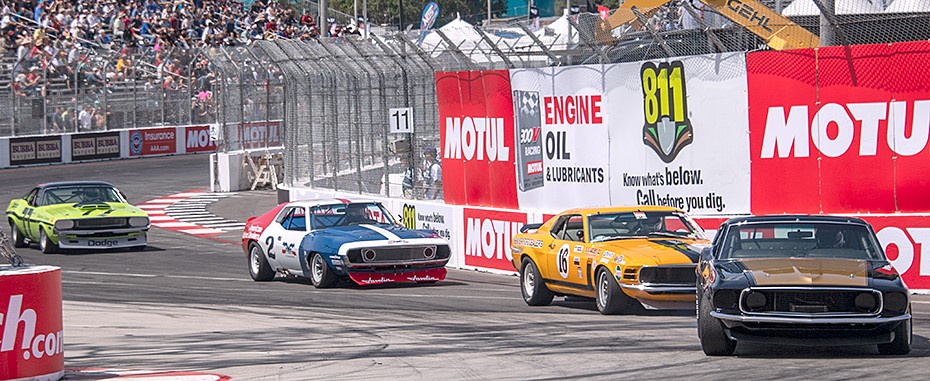 Vintage Trans-Am cars
When Long Beach throws a motorsports party, it really does go all out. The best part? Everyone is invited! When the Acura Grand Prix of Long Beach takes over the streets for racing, it won't be just for the highly modern and new NTT IndyCar Series cars.
Long Beach celebrates history and the incredible vintage cars of the past as well.
Historic Motor Sports Association President Cris Vandagriff said he's honored that HMSA will be the sanctioning body and organizer of the Historic IMSA GTO Challenge in Long Beach. The cars will all be period correct race cars from 1980 through 1991 – helping to celebrate the 50thanniversary of IMSA – and will practice and qualify on Friday, April 12 before taking the green flag for the race at 5 p.m. on April 13.
"It is going to be exciting to see and hear those historic IMSA GTO cars back on the streets of Long Beach again," Grand Prix Association of Long Beach President and CEO, Jim Michaelian said. "And it is especially appropriate to have them here again in conjunction with the celebration of IMSA's 50thanniversary in 2019."
HMSA races in some incredible places in North America, but nothing beats the crowd at Long Beach each April.
"There are so many people at the Grand Prix of Long Beach, it's just nuts," Vandagriff said. "This is the ninth time that we have run a support race at the Grand Prix and it's something we look forward to each year. We get to bring a piece of history with us each year and it's a big honor to be part of the event each year."
Steve Millen won with the #75 Nissan 300ZX in 1991 and his car is scheduled to race.
"When the celebrity race ended, I was asked to bring a group to fill the slot," Vandagriff said. "And we've been participating as a support group ever since with some of the best cars of the vintage racing world. It's incredible to honor the past at such a massive event. I love working with the Grand Prix. They make a big deal about the history and what we are showcasing each year and we do everything it takes to bring out the best cars for the fans."
Being a staunch preserver of historically accurate vintage race cars isn't always easy, but Vandagriff says there are countless reasons to stay true to the cars.
"Sometimes it can feel like I'm the only one in the country who fights for the cars not to change and so that they run like than ran in that period," Vandagriff says. "But then there are those moments when I realize I'm not the only one who appreciates these cars. A few years ago I was sitting in the paddock at the Grand Prix and Roger Penske walks up and is looking at all of our cars. I introduced myself and showed him that we had three of his former cars. My family's McLaren was parked next to one of his cars and he pointed at it and said 'That was your dad's car, right?' and I was blown away. I just love what HMSA is about."
The 2019 schedule of events for the only sanctioning body in the world that requires period correct race cars can be found at www.hmsausa.comand features some of the longest-running events in the country.