Kyle Busch surges late to claim Xfinity Series victory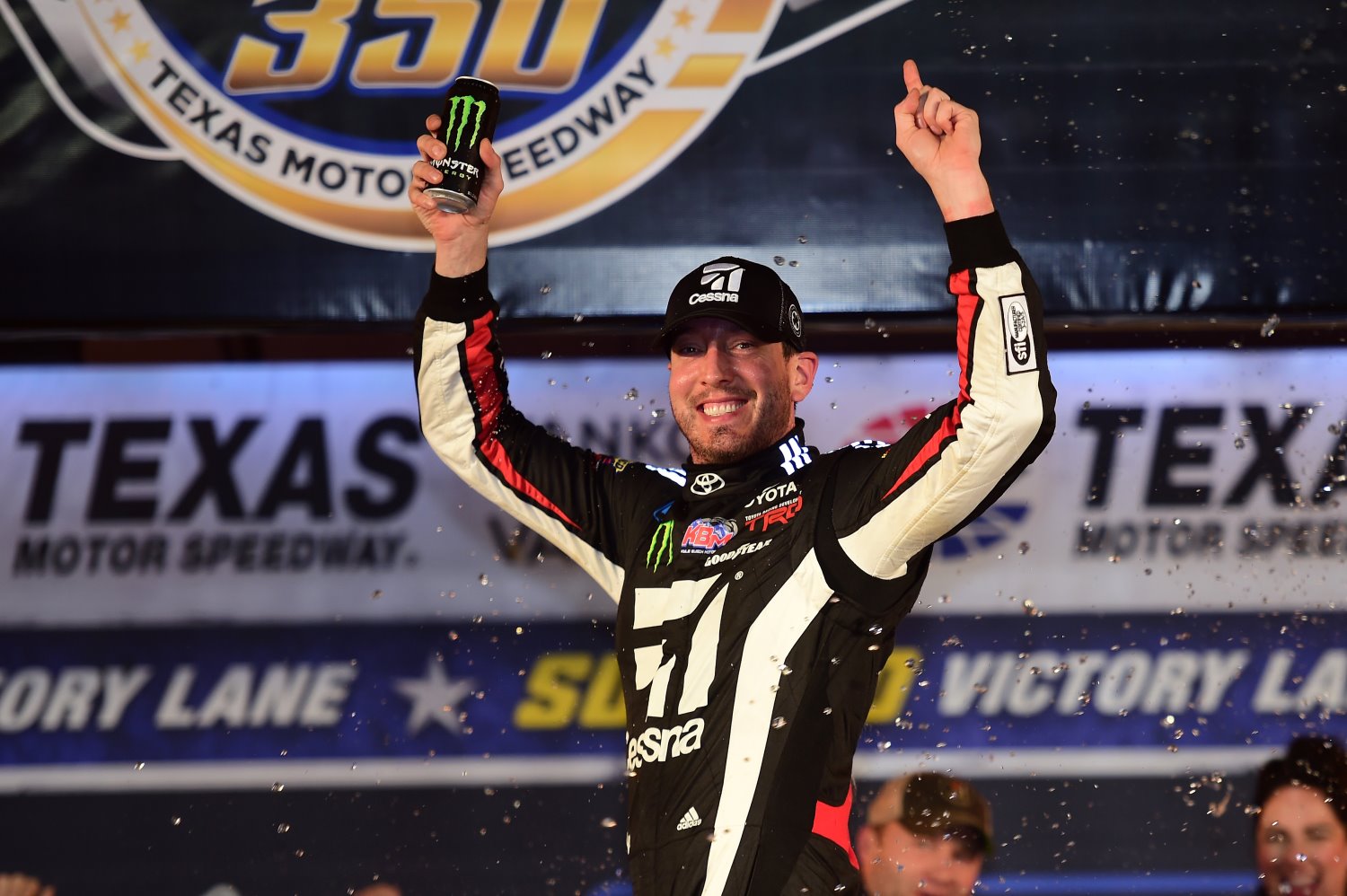 Kyle Busch – two down one to go
Kyle Busch surged to victory in an eventful NASCAR Xfinity Series race Saturday, keeping his hopes of a tripleheader weekend sweep alive at Texas Motor Speedway.
Busch guided the Joe Gibbs Racing No. 18 Toyota to lead 33 of the 200 laps to prevail in the My Bariatric Solutions 300. His third Xfinity victory of the season was his ninth at the 1.5-mile Fort Worth track and the 95th of his career in the Xfinity Series. Busch also prevailed in Friday night's Gander Outdoors Truck Series event.
Tyler Reddick led 19 laps and claimed second place, .861 seconds behind Busch at the checkered flag. Pole-starter Christopher Bell led a race-high 128 laps and recovered from an early penalty to finish third. Chase Briscoe was fourth, and Jeb Burton claimed fifth in his first Xfinity start of the season.
The event also served as the qualifying race for the Xfinity Series' four-race Dash 4 Cash bonus program. Reddick, Bell, Briscoe, and sixth-place Michael Annett gained eligibility as the top-finishing Xfinity regulars in Saturday's race, giving them a shot at a $100,000 payday next Saturday at Bristol Motor Speedway. Burton finished higher in the Texas rundown, but is not entered in the Bristol event.
Bell won the pole position and led all the way in Stage 1, but his momentum was slowed by a pit-road speeding penalty during the stage intermission on Lap 49. The infraction bumped Bell to 19th place, but he rallied to finish fifth at the end of Stage 2 on Lap 90.
Bell then shot to the lead at the drop of the Stage 3 green flag, rocketing from third to first on the first lap with a bold move down the backstretch.
The race was slowed by nine caution periods, including one that knocked contenders Cole Custer and Brandon Jones out of the running with 68 laps remaining. Custer lost control of his No. 00 Ford entering Turn 1, making contact with Jones' No. 19 Toyota in a contest for fourth place. Both cars sustained heavy damage and were done for the day.
Ryan Sieg used pit strategy to secure his first career stage win, holding off Ross Chastain at the end of Stage 2. Sieg's No. 39 Chevrolet wound up 10th in the final order.
KYLE BUSCH, No. 18 iK9 Toyota Supra, Joe Gibbs Racing
Finishing Position: 1st
What did it take to finally get your Camry out in front of the field to win this race?
"Not taking any tires was certainly a help. We jumped the field there and I was worried about the restart. I just didn't think there was going to be enough grip. This car certainly had enough grip in it. I can't thank iK9, the First Foundation – this Toyota Supra was awesome today. It was really fast. Really fast on the long run, I just could never get people away from me on the front side of the run to just settle into my rhythm and settle into my run and be able to go. Every time I got to the outside people would just drive by me on the bottom, and then I'd get to the inside and somebody would bust it on the outside of me and make me lose. We were just all over the place. Certainly, a fast race car once I could get rolling. Overall, Christopher Bell ran a great race. He should've won this thing today. I want to thank the fans and everybody for coming out and supporting the Xfinity Series and what we do here. Thanks Monster Energy, Cessna, DVX Eyewear and Black Cover."
How were you able to balance your car on long and short runs?
"Not very well. Just on the short run on the restarts, everybody would get alongside of me and they would pull me backwards and mess up my hair and get me to the high side – which was the slow side – and our car just wouldn't run up there at all. Finally, once I could get inline and get everybody away from me, I could start my momentum going back forward and pass some guys. It just took a while to get that going. We were better on the long run. This iK9 First Foundation Toyota Supra was awesome today. They gave me a really good piece on the long run. We worked on that in practice and it worked. It was better. Just track position. Once you all get rolling and start running a rhythm it was hard to catch the 20 (Christopher Bell) and the 2 (Tyler Reddick) there at the end. I could gain on them some, but then lapped cars would mess with you and take you backwards. Overall, just want to say thanks to the fans, Monster Energy, DVX Eyewear, Cessna, Black Clover and all of our friends and partners."
What does it mean to have some of J.D. Gibbs friends here today in victory lane with you today?
"Any victory is special and to continue to live the JD (Gibbs) legacy all life long, and what he meant to us and meant to this organization and the things he did for me, especially. It was cool to see that car out there today — I wish it had a better day. Overall, was excited for my group of guys to bring home a win for Joe Gibbs Racing and Joe (Gibbs), Norm Miller at Interstate Batteries – they're all around here somewhere too. I look forward to hopefully getting another one of those tomorrow."
Was the VHT on the track better today than anticipated?
"I thought it was a tad more usable today – maybe with just some of the Cup cars practicing and kind of getting in it and rubbering it in a little bit was beneficial. Then I think too, the Xfinity cars getting in it and rubbering it in a little bit. It's not like it's night and day. It does take a little bit of heat to activate. It's not there on restarts. I tried to throw it off in there a few times on restarts and get some grip out of it and it's not there. You definitely have to tip-toe with it for a few laps and then kind of use it to your discretion as you go. It makes dealing with lapped cars a bit easier depending on where they fall. It's not a bad thing."
What does it mean to go for the triple here this weekend at Texas Motor Speedway?
"I've been close before. I don't know how many times I've won two of the three – it's been too many. Certainly, to have the opportunity to go after another one here is good, means a lot. You first have to win the first one, and then two to have the chance for the third. Fortunately, I'm in that position and I've got a better Interstate Batteries Camry than I did yesterday. In practice today we worked on it and tuned on it and made some headway, but still probably not quite where I'd like it to be, but we have to race it out. It's going to be an interesting race tomorrow I think for sure."
Was the final pit stop the perfect execution?
"Sure, just run your pit road speed and come on down. Get into your box and we only did fuel, so it was relatively quick. The guys obviously didn't have a whole lot to do – just getting the fuel engaged and being able to them get out of the box and not stall it or anything like that. We were racing the 2 (Tyler Reddick) there on exit, I knew we were kind of close to him and thankfully we were able to beat him out to be in control of the restart. That's what won us the race was just being first and being in control of the restart. I could go when I wanted to, and I got a good launch and was able to get single file before we got to turn one. That was the best thing for us all day. Every time I had people alongside of me or on my sides, they were side-drafting me and everything else. I just could never get away and once I was free and away from cars, I could make ground and pass people back and go back towards the front. It was just aggravating sometimes for me, but overall pit road was good."
Do you expect tomorrow's Cup race to be similar to the racing we saw in today's practice session?
"I think that's what you're going to see. It was pretty good conditions there that everybody was kind of coming in and out of the garage, working on their car and getting back in line. Some guys were on new tires, some guys weren't on tires. Some guys were making headway and so that's why I say it's going to be interesting just to see how the race exactly plays out and what happens. I don't think being the leader you're going to be able to get away. What's frustrating I think about this package is when you are strung out, like I remember there was a couple times in practice where I was with two or three guys and there was about eight of them that were way further out ahead. I cleared the three that I was with and had a gap between those front eight and I couldn't run them down. For as fast as I was, for just passing two other fast cars — the 22 (Joey Logano) being one of them and somebody else – I couldn't gain on the group that was ahead. That's a detriment I feel like, if there's a detriment to this package is just that you can't drive it fast enough if you don't have the tow from in front of you. That's what's screwing up qualifying. If there's a way to make these cars run in the pack a little bit better without needing the draft from the front guy, then obviously that would be better. I don't think there's a way."
What can you say about Christopher Bell and his talent in a race car?
"Christopher's (Bell) awesome. He's a good one and I think he's going to be somebody for our future. I don't know exactly how much of our future, but obviously just how successful he can be, I think the sky's the limit. I think he's got it. He's done a really good job, he's really smooth. Today, he did a fantastic job. There was a time off of (turn) two he made it three-wide on me and got the lead — that was going to be his race, that was going to be the winning move and then it just came down to the end and all the shenanigans with pit road and everything else. Overall, he did a good job. There's been times this year where there's been some things that have happened to him that haven't been his fault and I'm sure that's frustrating on his behalf, but for them to have a win and be in the Playoffs, they're good, they're going to be solid going forward."
Is your Cup car similar to where your Xfinity car was prior to today's race?
"It's hard to tell right now exactly. My Xfinity car, I would have said that we were top-three, top-four car from practice. Cup car, I have no idea. I haven't looked at any of the sheets. I don't have time when I get done with practice before intros, so I don't have that information for you, but as far as the way that it felt in driving it and passing people and the speed and stuff like that, I feel a little farther off than I want to be. We were running some good laps and we were about two-tenths off so we had to figure out how much we could trim it out and gain some of that two-tenths and yet keep the feel in the car and a good feel through the corner, especially turns one and two. We made a little headway on that, not as much as I'd hoped."
BEN BESHORE, crew chief, No. 18 iK9 Toyota Supra, Joe Gibbs Racing
What went into the decision to take fuel only on the final pit stop?
"It's been a track position race all day. Us, the 20 (Christopher Bell), the 2 (Tyler Reddick) car – they were virtually the same speed all day. We had trouble passing each other. You just get so aero-tight. With sort of a short run there at the end and a lot of cautions coming after, we just wanted to get him (Kyle Busch) out front quick – in and out of the pits would be good – and put him as close to the front as we could."
What do you see in Kyle Busch that others don't see based on working with him for so long?
"His (Kyle Busch) work ethic. He studies a lot. He works a lot through the week. He watches video, watches Dart Fish if it's available. Asks questions to us on certain stuff. We go back and forth on driver debriefs. He does a lot of work through the week. He doesn't just show up and put the hammer down and go. Him having laps in the Truck Series, and having five or six shots at restarts there — that all plays into the end of the race there where he knows what lane he wants to pick, he knows where the grip's at in the track, how far he can drive in — just those extra laps he has on the track. He puts in a lot of work and it shows."
How does Kyle challenge you and the team?
"The expectations are high when he's (Kyle Busch) in our car. It obviously pushes us to give him the best car that we possibly can because if we finish second, we know it's probably our fault. The expectations are high, so we have to step up."