Leclerc and Vettel again run 1-2 in final Bahrain GP practice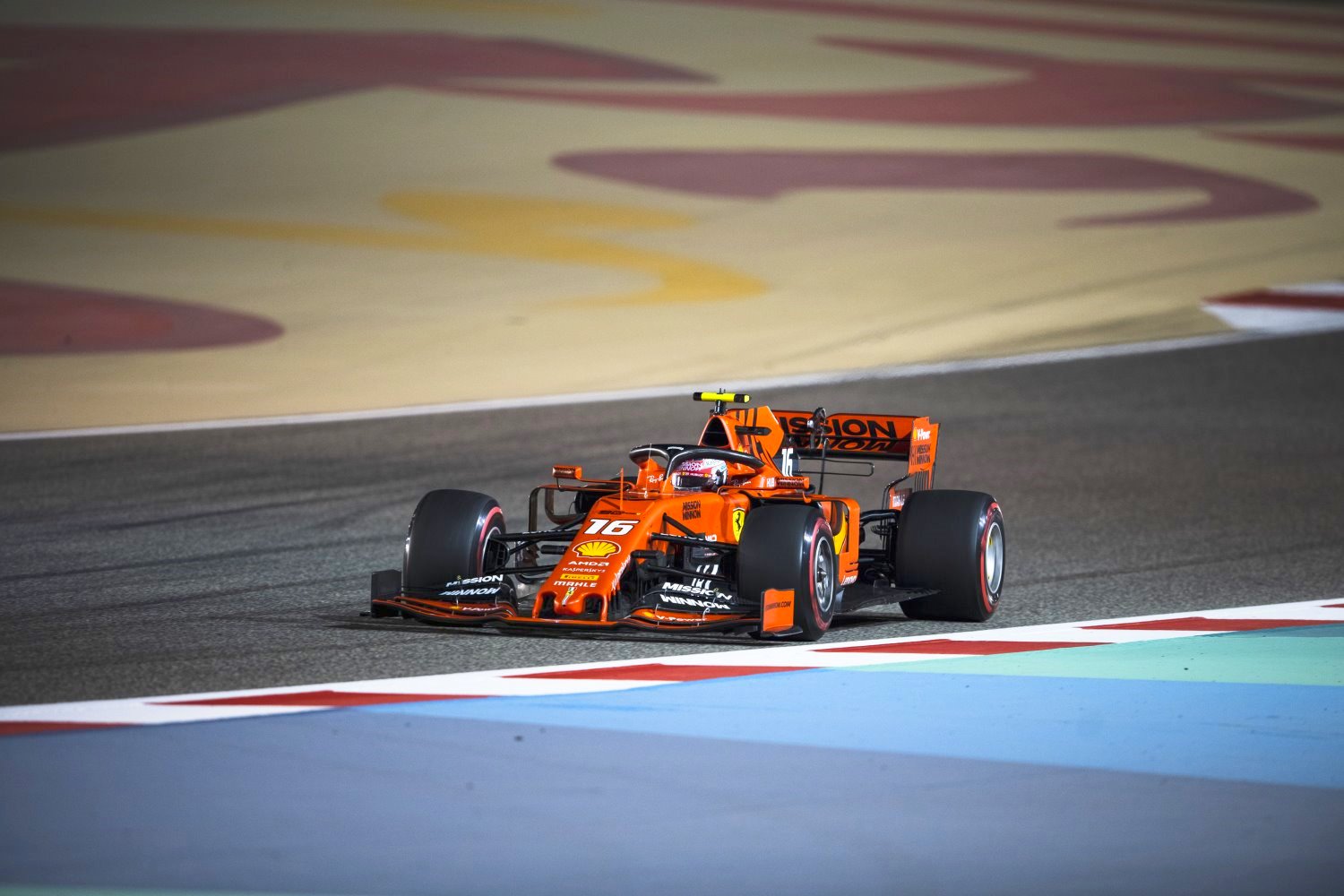 Charles Leclerc – fastest in the desert heat
Ferrari teammates Charles Leclerc and Sebastian Vettel picked up where they left off Friday by dominating the final Bahrain GP practice session ahead of qualifying.
However, this session, like session 1 on Friday was run in the heat of the day, so no one is really giving it their best given the cooler conditions of the night for qualifying are what really count.
Leclerc put up a lap of 1m29.569s – slower than Vettel's lap last evening but enough to beat Vettel by 0.169s this time.
It is the gap back to the Mercedes that is surprising with the fastest Mercedes (Hamilton) 0.756s back and 0.820s back (Bottas) while Romain Grosjean rounded out the top-5 for Haas 1.249s back.
Practice 3 Results
| | | | | | | |
| --- | --- | --- | --- | --- | --- | --- |
| POS | NO | DRIVER | CAR | TIME | GAP | LAPS |
| 1 | 16 | Charles Leclerc | Ferrari | 1:29.569 | +0.000s | 15 |
| 2 | 5 | Sebastian Vettel | Ferrari | 1:29.738 | +0.169s | 16 |
| 3 | 44 | Lewis Hamilton | Mercedes | 1:30.334 | +0.765s | 10 |
| 4 | 77 | Valtteri Bottas | Mercedes | 1:30.389 | +0.820s | 12 |
| 5 | 8 | Romain Grosjean | Haas Ferrari | 1:30.818 | +1.249s | 14 |
| 6 | 27 | Nico Hulkenberg | Renault | 1:30.910 | +1.341s | 12 |
| 7 | 4 | Lando Norris | Mclaren Renault | 1:30.955 | +1.386s | 15 |
| 8 | 33 | Max Verstappen | Red Bull Racing Honda | 1:30.959 | +1.390s | 10 |
| 9 | 55 | Carlos Sainz Jr. | Mclaren Renault | 1:30.965 | +1.396s | 14 |
| 10 | 26 | Daniil Kvyat | Scuderia Toro Rosso Honda | 1:31.173 | +1.604s | 17 |
| 11 | 7 | Kimi Raikkonen | Alfa Romeo Racing Ferrari | 1:31.333 | +1.764s | 21 |
| 12 | 10 | Pierre Gasly | Red Bull Racing Honda | 1:31.392 | +1.823s | 13 |
| 13 | 20 | Kevin Magnussen | Haas Ferrari | 1:31.540 | +1.971s | 13 |
| 14 | 18 | Lance Stroll | Racing Point Bwt Mercedes | 1:31.618 | +2.049s | 16 |
| 15 | 11 | Sergio Perez | Racing Point Bwt Mercedes | 1:31.638 | +2.069s | 9 |
| 16 | 3 | Daniel Ricciardo | Renault | 1:31.643 | +2.074s | 11 |
| 17 | 23 | Alexander Albon | Scuderia Toro Rosso Honda | 1:31.679 | +2.110s | 17 |
| 18 | 99 | Antonio Giovinazzi | Alfa Romeo Racing Ferrari | 1:32.132 | +2.563s | 21 |
| 19 | 63 | George Russell | Williams Mercedes | 1:33.387 | +3.818s | 14 |
| 20 | 88 | Robert Kubica | Williams Mercedes | 1:33.525 | +3.956s | 13 |