Oliver Askew dominates Indy Lights race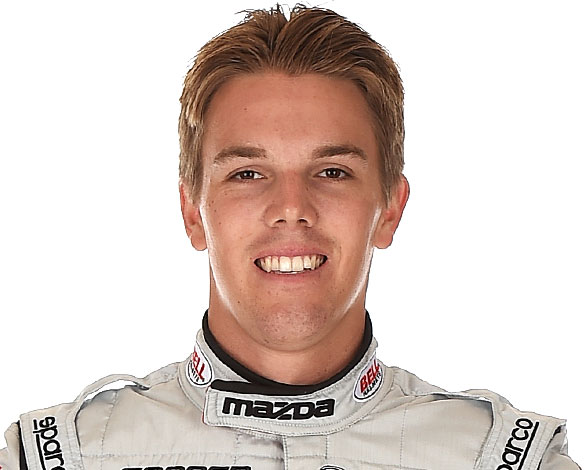 Oliver Askew
There was no doubt about the winner of today's Cooper Tires Indy Lights Grand Prix Presented by Allied Building Products. Oliver Askew, 22, from Jupiter, Fla., took off from his second pole position in just three Indy Lights Presented by Cooper Tire starts and, unlike on his home state streets of St. Petersburg two weeks ago, this time he was completely untroubled on his way to an emphatic victory for Andretti Autosport.
In his wake, an exciting battle for second place ended with Dutchman Rinus VeeKay (Juncos Racing) edging fellow teenager Robert Megennis (Andretti Autosport), from New York, N.Y., to the checkered flag by just over two tenths of a second.
The first-ever Indy Lights encounter at Formula 1 venue Circuit of The Americas, just a few miles from downtown Austin, Texas, was a thriller… Askew aside, that is. The talented young American has been an unstoppable force ever since posting the fastest time during a pre-season test in February. He was fastest in practice yesterday, qualified on pole position for today's race and then, this morning, took pole again for tomorrow's second race of the weekend during a separate 30-minute qualifying session.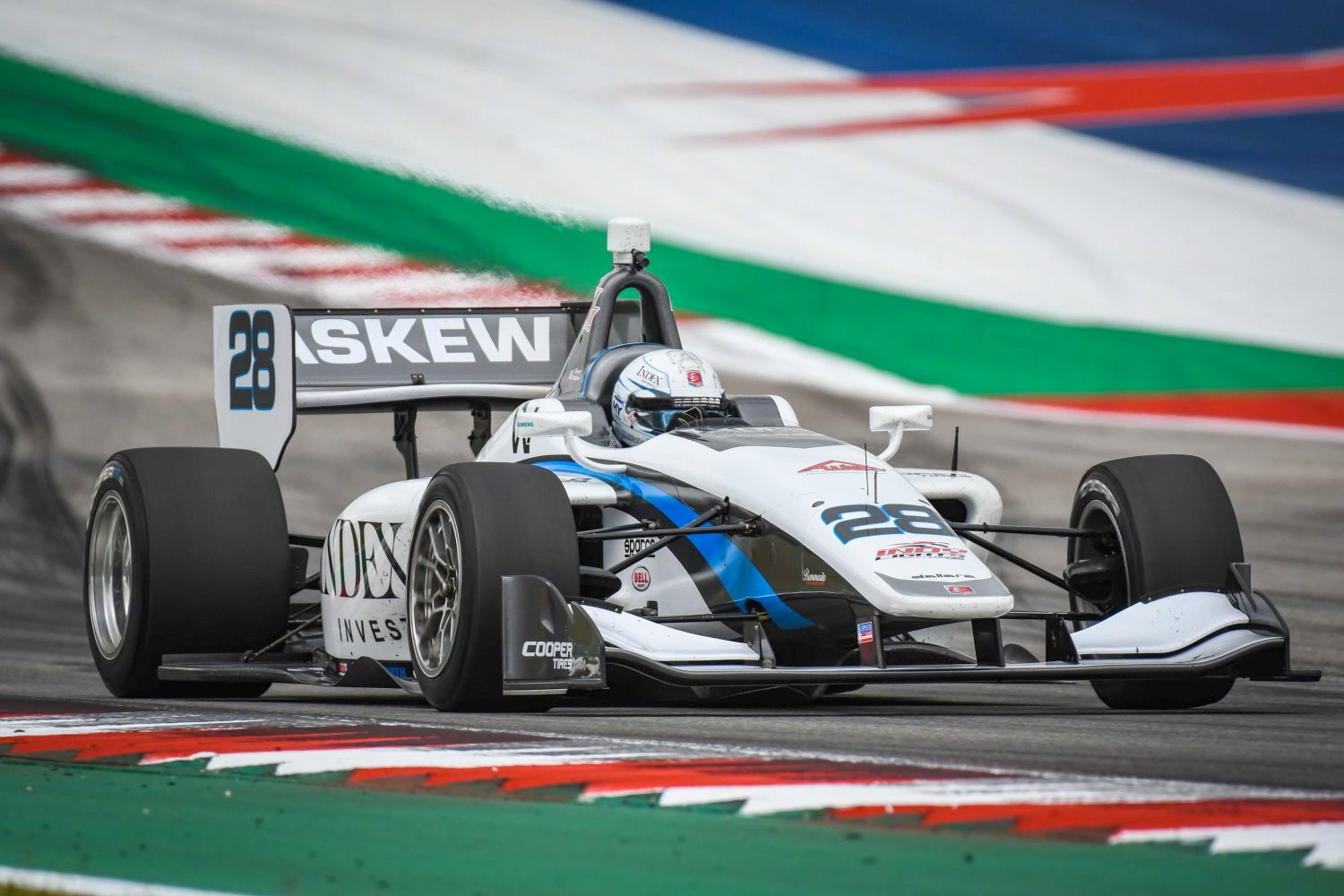 Askew in action
Askew was helped in his quest to win the race when one of his Andretti Autosport teammates, Ryan Norman, from Aurora, Ohio, who had posted the second fastest lap in qualifying, spun off the road on the warmup lap and was required to start from the back.
Askew took full advantage of the fact there was no one alongside him as the green flag flew and held a slender but unexpectedly comfortable advantage when he hit the brakes on the steeply uphill approach to the notoriously tight Turn One. Englishman Toby Sowery (BN Racing/Team Pelfrey), who had lined up fourth on the grid, slipped past third-place qualifier Megennis at Turn One, while VeeKay, from sixth, emerged ahead of Sowery's BN Racing teammate, David Malukas, in fourth.
Sowery kept some pressure on Askew for the first couple of laps before Askew hit his stride and began to edge away. Instead of pressuring the leader, Sowery instead found his mirrors filled by Megennis. The pair then involved in a titanic battle for position, exchanging places on numerous occasions on different parts of the race track as Askew disappeared into the distance.
By the end, Askew had stretched his advantage to a whopping 24.6800 seconds, one of the largest margins of victory in Indy Lights history. In doing so he joined St. Petersburg winner VeeKay in becoming only the ninth driver to win on all three levels of the Road to Indy Presented by Cooper Tires open-wheel ladder.
After falling several seconds in arrears while being embroiled in his own tussle for fourth with Malukas in the early stages – until the youngster from Chicago, Ill., clipped the curb in Turn 15 and broke his car's suspension – VeeKay closed inexorably on the squabble between Sowery and Megennis. By half-distance in the 20-lap race, the trio was together. Game on!
Sowery, though, was troubled by some loose bodywork and wasn't able to use his AER engine's push-to-pass capability quite as effectively as his rivals.
VeeKay made the final pass for position on the back straight with just one lap to go, earning himself the Tilton Hard Charger Award as well as second place by the slenderest of margins. Sowery looked set to cling onto fourth, behind Megennis, until contact under braking for Turn 12 on the final lap with Norman delayed them both and allowed Frenchman Julien Falchero through into fourth for Belardi Auto Racing.
The championship chases for both teams and drivers have tightened considerably. Despite a disappointing seventh-place finish for Canada's Zachary Claman after an early drive-through penalty, Belardi Auto Racing now leads the Team standings by four points over Andretti Autosport and five over BN Racing. In the drivers' standings, VeeKay now leads by two points, 73-71, over Claman, with Askew just five points further back in third. Tomorrow's fourth round will see the green flag fall at 9:10 a.m. CDT.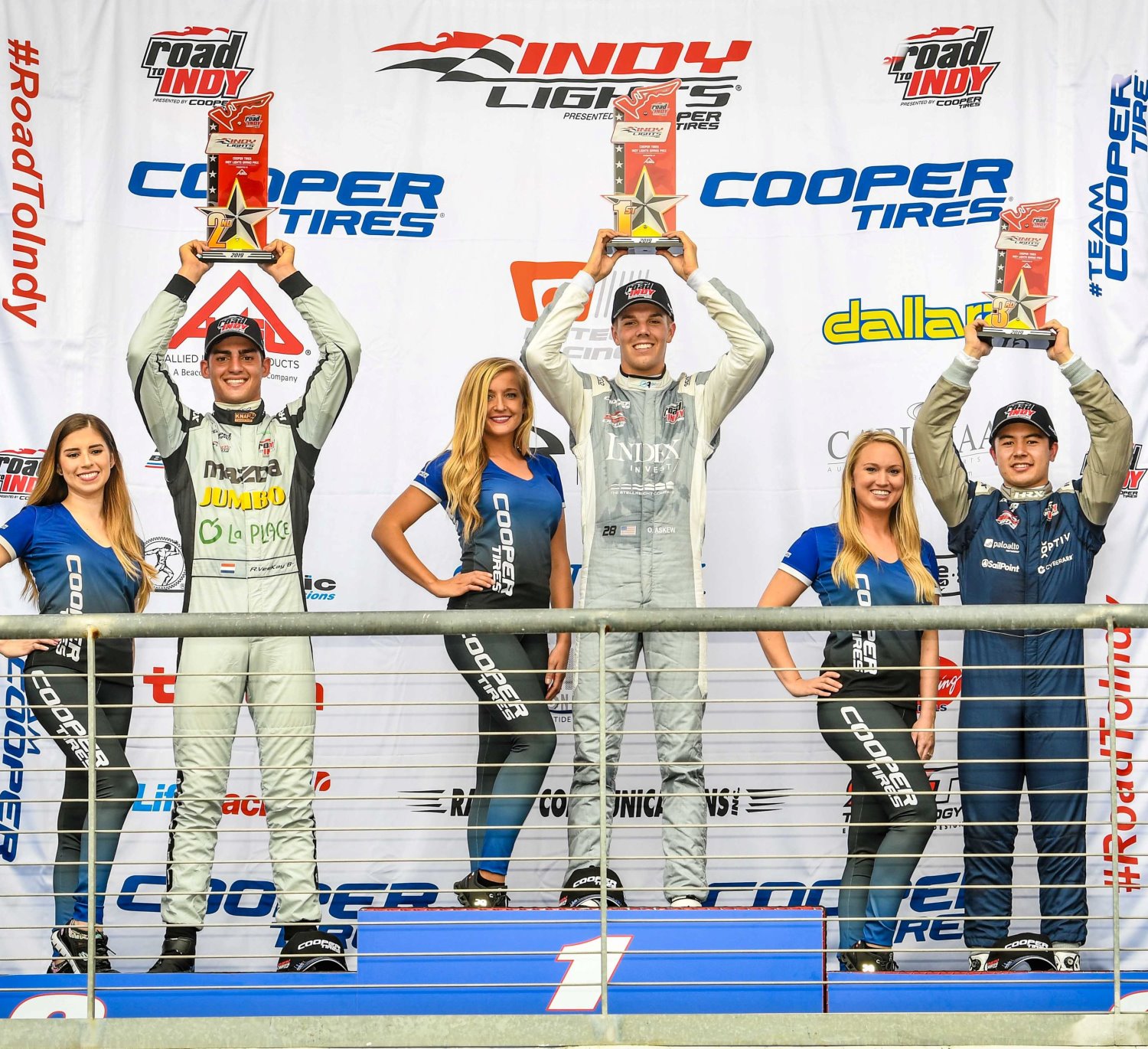 Top-3 finishers
Oliver Askew (#28 Index Invest Dallara-Andretti Autosport Dallara-AER IL-15): "It was a pretty good race for us. I had a clean start which is really important and just kept my head down and built a gap to where we could start conserving tires just in case there was a caution. The car was unbelievable. The #28 Index Invest car was really good so a big thanks to everyone at Andretti Autosport for all of their help. I don't think we are satisfied at the moment, but we will keep pushing until we are. This track requires really smooth inputs on both the steering wheel and the pedals, as well as a good car. That's the most important thing."
Rinus VeeKay (#21 Mazda/Jumbo Supermarkets/La Place Restaurants/KNAF Talent First-Juncos Racing Dallara-AER IL-15): "I had quite a good race. I came through in fourth through Turn One and had a long battle with David Malukas behind me on new tires. He was using the push-to-pass all of the time. I had no one in front of me any more so I was just defending and not planning on attacking the guys in front because they were gone. They starting fighting for position for more than 10 laps and that was a good opportunity for me to get close in the push-to-pass window. Once I got there, I had saved my tires a little more than them and it gave me a little advantage to pass them. I also had a little more push-to-pass. I am super happy with P2. It was really the maximum I could achieve today and we will see if the car can be improved for tomorrow. It was already a great car and I would like to thank the team for making the podium possible for me."
Robert Megennis (#27 Cybersecurity Dallara-Andretti Autosport Dallara-AER IL-15): "It was a great race. I started in third and held third on the start and was battling the entire race long – the first half with Toby and the second with Rinus. I just drove the best I could, and tried to be smart with tire maintenance and push-to-pass. I was in second and had a good gap over Toby but then Rinus caught up and was able to get by me on the last lap. Overall, I am happy with my first podium in Indy Lights and I can't thank the team, CyberArk, Optiv, Palo Alto Networks and SailPoint enough for getting me out there. I am excited for tomorrow and, starting on the front row, I think we are going to be able to challenge for a win."
Results
| | | | | | | | | | |
| --- | --- | --- | --- | --- | --- | --- | --- | --- | --- |
| Pos | No | Name | Laps | Diff | Gap | Led | ST | Status | Team |
| 1 | 28 | Oliver Askew | 20 | 0.0000 | 0.0000 | 20 | 1 | Active | Andretti Autosport |
| 2 | 21 | Rinus VeeKay | 20 | 24.6800 | 24.6800 | 0 | 6 | Active | Juncos Racing |
| 3 | 27 | Robert Megennis | 20 | 24.9432 | 0.2632 | 0 | 3 | Active | Andretti Autosport |
| 4 | 4 | Julien Falchero | 20 | 30.0656 | 5.1224 | 0 | 8 | Active | Belardi Auto Racing |
| 5 | 48 | Ryan Norman | 20 | 31.2575 | 1.1919 | 0 | 2 | Active | Andretti Autosport |
| 6 | 2 | Toby Sowery | 20 | 37.8013 | 6.5438 | 0 | 4 | Active | BN Racing/Team Pelfrey |
| 7 | 13 | Zachary Claman | 20 | 44.6325 | 6.8312 | 0 | 10 | Active | Belardi Auto Racing |
| 8 | 5 | Lucas Kohl | 20 | 74.3314 | 29.6989 | 0 | 7 | Active | Belardi Auto Racing |
| 9 | 67 | Dalton Kellett | 19 | 1 LAPS | 86.2321 | 0 | 9 | Active | Juncos Racing |
| 10 | 79 | David Malukas | 4 | 53.8400 | 21.0307 | 0 | 5 | Contact | BN Racing |