Buemi tops Sanya practice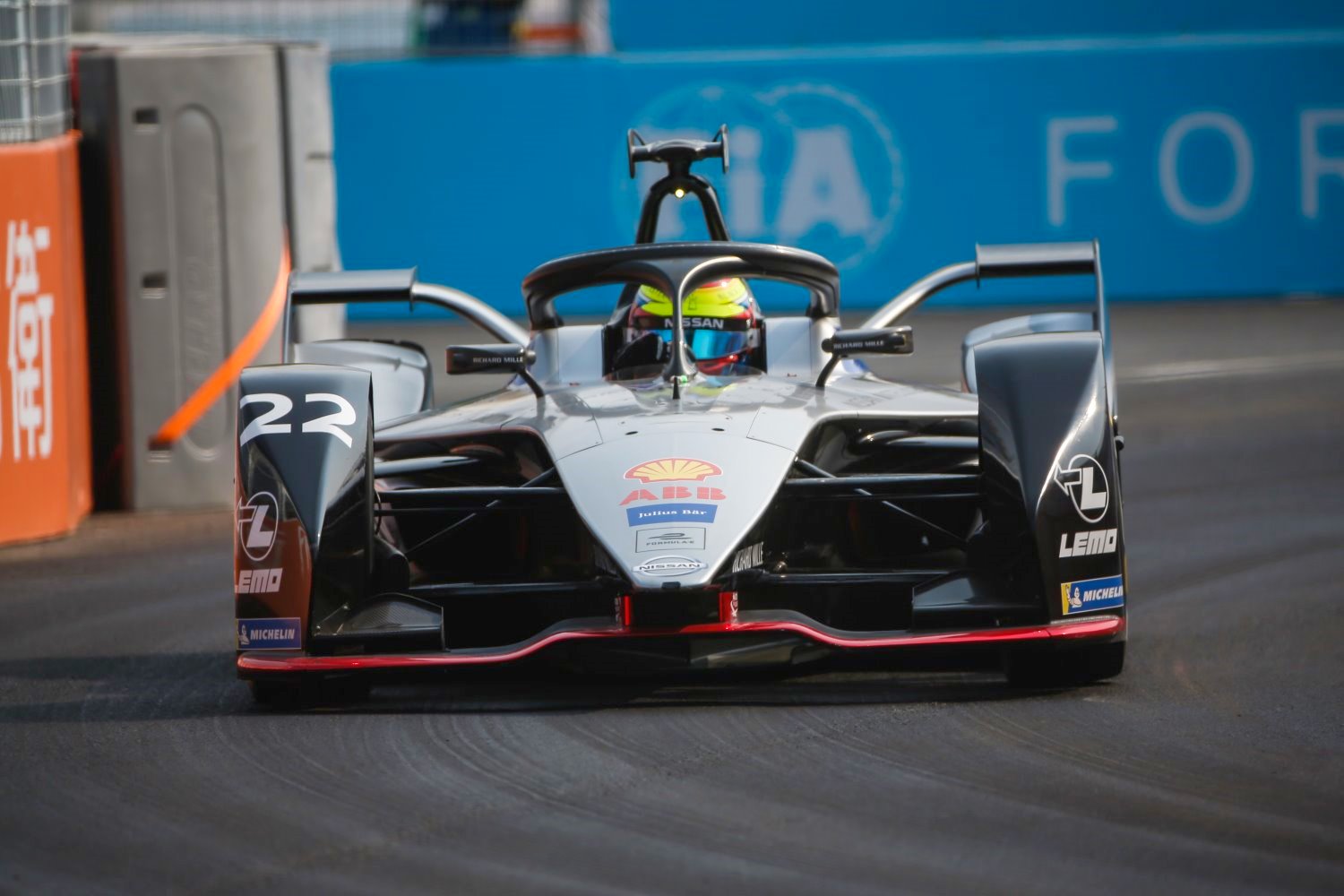 Rowland topped practice 1
Nissan e.dams' claimed another fastest time in Sanya as Sebastien Buemi followed in his teammate's footsteps, setting a lap time of 1:07.288s in the second Practice session. Close behind was BMW i Andretti Motorsport's Antonio Felix da Costa with a time of 1:07.397s and Bumei's teammate Oliver Rowland third fastest with 1:07.453s.
With temperatures rising in Sanya's Haitang Bay, pre-race concerns that battery temperatures would prove problematic during the race started to look more valid, particularly after the sweltering race in Santiago played havoc with drivers' energy management strategy. Turn 3 caused trouble for Buemi, who collided with the wall after locking up. Over at Mahindra Racing, rookie Pascal Wehrlein was confined to the garage after glancing the wall coming out of Turn 6.
Practice 1 Summary
Ahead of the showdown in Sanya, Nissan e.dams' rookie driver Oliver Rowland was fastest in the first session of the day with a time of 1:07.561s, followed by BMW i Andretti Motorsport's Antonio Felix da Costa (1:07.625s) and his teammate Alex Sims (1:07.751s).
With a total of 15 cars all finishing the session within a second, the 2.360 km track in Haitang Bay saw a few drivers, including reigning champion Jean-Eric Vergne and former champ Lucas di Grassi, struggle to find the breaking points. Further trouble for the DS Techeetah drivers saw them repeatedly struggle on the brakes, hinting at issues in the Chinese team's technical set up in Sanya.
Free practice two result
| | | | | |
| --- | --- | --- | --- | --- |
| POS | DRIVER | TEAM | TIME/GAP | LAPS |
| 1 | Sebastien Buemi | e.dams | 1m07.288s | 16 |
| 2 | Antonio Felix da Costa | BMW | 0.109s | 13 |
| 3 | Oliver Rowland | e.dams | 0.165s | 18 |
| 4 | Jerome d'Ambrosio | Mahindra | 0.168s | 15 |
| 5 | Jean-Eric Vergne | DS Techeetah | 0.177s | 15 |
| 6 | Edoardo Mortara | Venturi | 0.240s | 17 |
| 7 | Mitch Evans | Jaguar | 0.290s | 14 |
| 8 | Lucas di Grassi | Audi | 0.290s | 11 |
| 9 | Felipe Nasr | Dragon | 0.359s | 15 |
| 10 | Jose Maria Lopez | Dragon | 0.369s | 15 |
| 11 | Sam Bird | Virgin | 0.427s | 13 |
| 12 | Stoffel Vandoorne | HWA | 0.520s | 17 |
| 13 | Felipe Massa | Venturi | 0.629s | 15 |
| 14 | Andre Lotterer | DS Techeetah | 0.664s | 19 |
| 15 | Daniel Abt | Audi | 0.761s | 15 |
| 16 | Robin Frijns | Virgin | 0.989s | 12 |
| 17 | Tom Dillmann | NIO | 1.128s | 16 |
| 18 | Oliver Turvey | NIO | 1.145s | 16 |
| 19 | Nelson Piquet Jr. | Jaguar | 1.373s | 15 |
| 20 | Alexander Sims | BMW | 1.444s | 13 |
| 21 | Gary Paffett | HWA | 1.952s | 16 |
| 22 | Pascal Wehrlein | Mahindra | 2.617s | 8 |
Free practice one result
| | | | | |
| --- | --- | --- | --- | --- |
| POS | DRIVER | CAR | TIME/GAP | LAPS |
| 1 | Oliver Rowland | Nissan | 1m07.561s | 26 |
| 2 | Antonio Felix da Costa | BMW | 0.064s | 30 |
| 3 | Alexander Sims | BMW | 0.190s | 27 |
| 4 | Lucas di Grassi | Audi | 0.191s | 26 |
| 5 | Sebastien Buemi | Nissan | 0.297s | 26 |
| 6 | Robin Frijns | Audi | 0.410s | 24 |
| 7 | Jean-Eric Vergne | DS | 0.458s | 25 |
| 8 | Jerome d'Ambrosio | Mahindra | 0.598s | 27 |
| 9 | Mitch Evans | Jaguar | 0.660s | 22 |
| 10 | Daniel Abt | Audi | 0.738s | 28 |
| 11 | Stoffel Vandoorne | Venturi | 0.741s | 26 |
| 12 | Edoardo Mortara | Venturi | 0.768s | 29 |
| 13 | Pascal Wehrlein | Mahindra | 0.962s | 26 |
| 14 | Gary Paffett | Venturi | 0.987s | 29 |
| 15 | Sam Bird | Audi | 0.989s | 23 |
| 16 | Felipe Nasr | Penske | 1.115s | 25 |
| 17 | Oliver Turvey | NIO | 1.260s | 26 |
| 18 | Nelson Piquet Jr. | Jaguar | 1.261s | 29 |
| 19 | Felipe Massa | Venturi | 1.567s | 27 |
| 20 | Jose Maria Lopez | Penske | 1.709s | 25 |
| 21 | Tom Dillmann | NIO | 1.724s | 24 |
| 22 | Andre Lotterer | DS | 2.093s | 25 |