IndyCar Pitstop and Warm-up Practice Times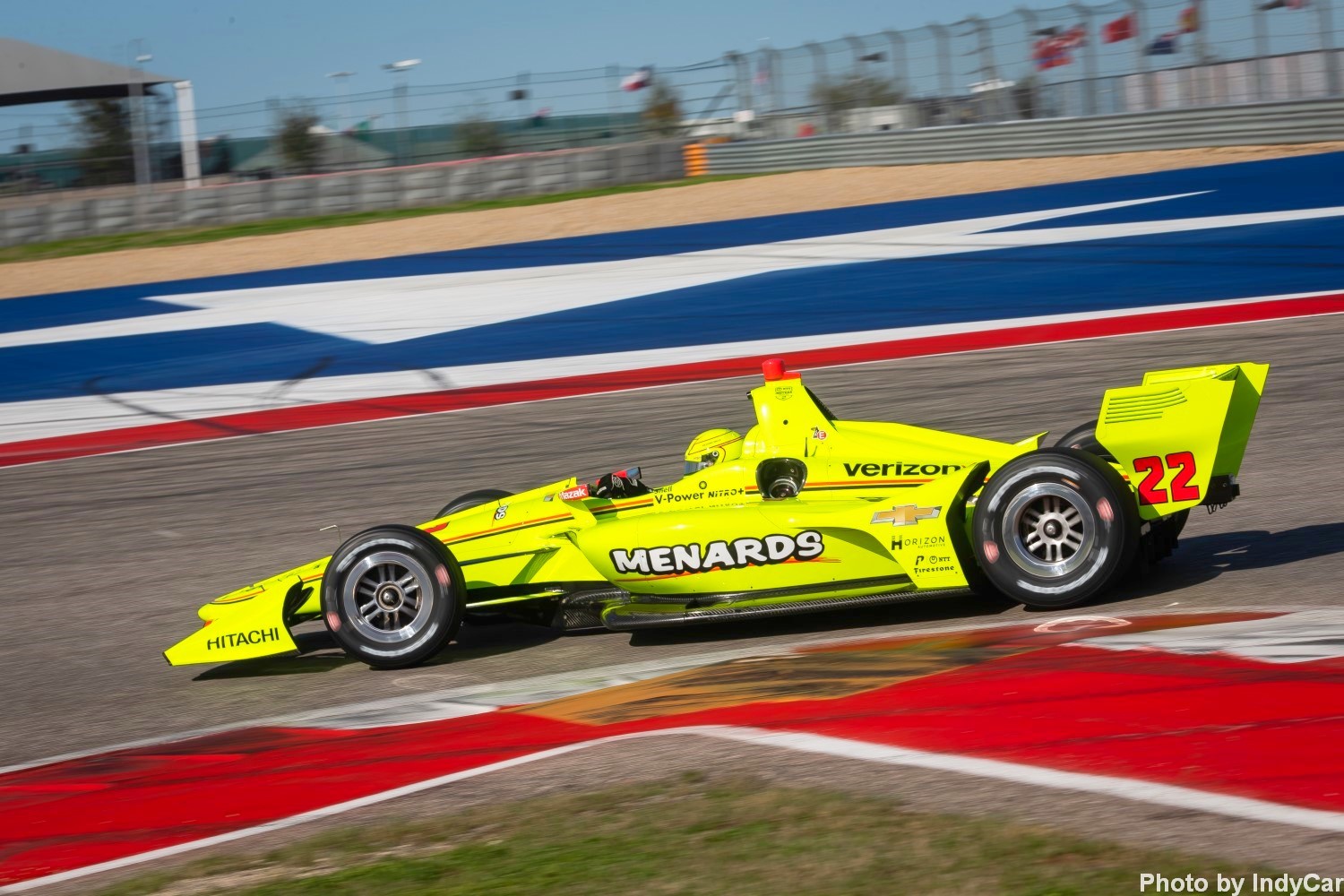 Pagenaud kept the Penske Chevys at the top of the charts in this session
Pitstop practice and Sunday warm-ups were moved from Sunday morning to Friday afternoon again for this IndyCar race.
Some drivers focused on pitstop practice but other drivers, like Colton Herta who missed practice 2 completely, focused on car setup.
Simon Pagenaud turned the fastest lap to give Team Penske the fastest time in every session. With the track undulations and unevenness here, Penske's shock package is working well.
Session Results
| | | | | | | | |
| --- | --- | --- | --- | --- | --- | --- | --- |
| Pos | Car | Driver Name | Engine | Time | Speed | Diff | Gap |
| 1 | 22 | Pagenaud, Simon | Chevy | 01:48.3334 | 113.317 | –.—- | –.—- |
| 2 | 88 | Herta, Colton (R) | Honda | 01:48.4341 | 113.212 | 0.1007 | 0.1007 |
| 3 | 27 | Rossi, Alexander | Honda | 01:48.8672 | 112.761 | 0.5338 | 0.4331 |
| 4 | 10 | Rosenqvist, Felix (R) | Honda | 01:49.3739 | 112.239 | 1.0405 | 0.5067 |
| 5 | 98 | Andretti, Marco | Honda | 01:49.5111 | 112.098 | 1.1777 | 0.1372 |
| 6 | 12 | Power, Will | Chevy | 01:49.7010 | 111.904 | 1.3676 | 0.1899 |
| 7 | 28 | Hunter-Reay, Ryan | Honda | 01:49.7835 | 111.820 | 1.4501 | 0.0825 |
| 8 | 14 | Kanaan, Tony | Chevy | 01:49.7957 | 111.808 | 1.4623 | 0.0122 |
| 9 | 19 | Ferrucci, Santino (R) | Honda | 01:49.8927 | 111.709 | 1.5593 | 0.0970 |
| 10 | 5 | Hinchcliffe, James | Honda | 01:49.9239 | 111.677 | 1.5905 | 0.0312 |
| 11 | 7 | Ericsson, Marcus (R) | Honda | 01:49.9807 | 111.620 | 1.6473 | 0.0568 |
| 12 | 60 | Harvey, Jack | Honda | 01:50.0263 | 111.573 | 1.6929 | 0.0456 |
| 13 | 30 | Sato, Takuma | Honda | 01:50.0549 | 111.544 | 1.7215 | 0.0286 |
| 14 | 26 | Veach, Zach | Honda | 01:50.2749 | 111.322 | 1.9415 | 0.2200 |
| 15 | 31 | O'Ward, Patricio (R) | Chevy | 01:50.2899 | 111.307 | 1.9565 | 0.0150 |
| 16 | 18 | Bourdais, Sebastien | Honda | 01:50.3114 | 111.285 | 1.9780 | 0.0215 |
| 17 | 20 | Jones, Ed | Chevy | 01:50.4502 | 111.145 | 2.1168 | 0.1388 |
| 18 | 9 | Dixon, Scott | Honda | 01:50.6269 | 110.968 | 2.2935 | 0.1767 |
| 19 | 2 | Newgarden, Josef | Chevy | 01:50.7165 | 110.878 | 2.3831 | 0.0896 |
| 20 | 15 | Rahal, Graham | Honda | 01:51.0256 | 110.569 | 2.6922 | 0.3091 |
| 21 | 4 | Leist, Matheus | Chevy | 01:51.1229 | 110.472 | 2.7895 | 0.0973 |
| 22 | 21 | Pigot, Spencer | Chevy | 01:51.2148 | 110.381 | 2.8814 | 0.0919 |
| 23 | 59 | Chilton, Max | Chevy | 01:51.3227 | 110.274 | 2.9893 | 0.1079 |
| 24 | 32 | Kaiser, Kyle (R) | Chevy | 01:52.9876 | 108.649 | 4.6542 | 1.6649 |
(R) Rookie