David Hobbs to be honored by RRDC in Long Beach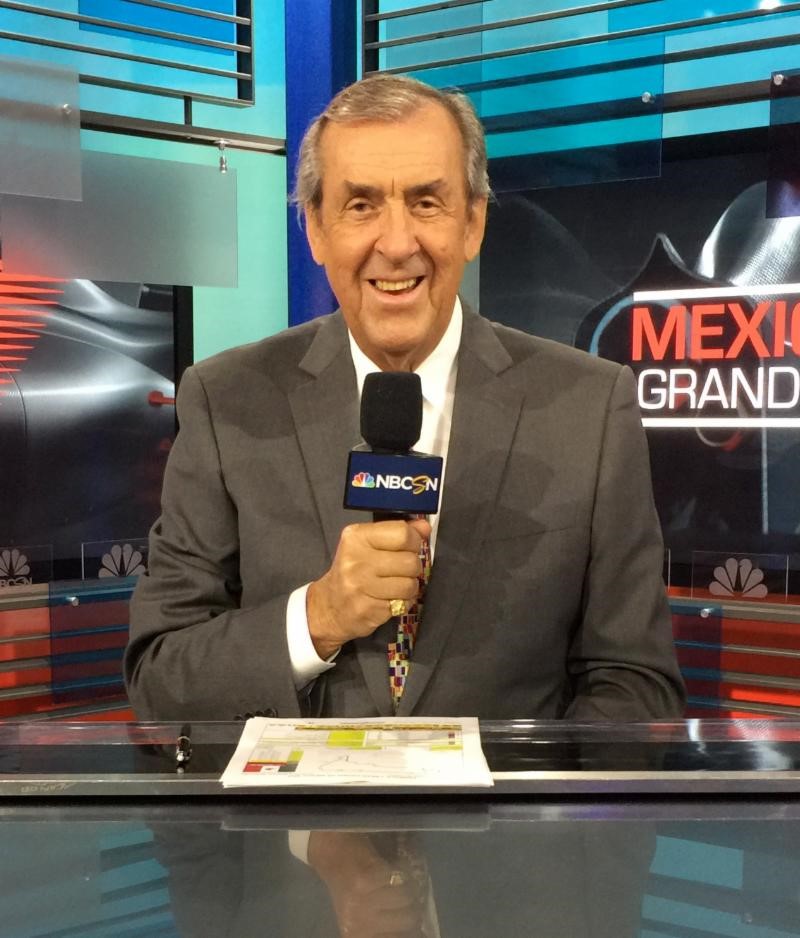 David Hobbs
David Hobbs, multi-faceted racer and colorful TV commentator for nearly four decades, will be honored by the Road Racing Drivers Club at the "RRDC Evening with David Hobbs Presented by Firestone" in Long Beach, Calif., on Thursday, April 11. This is the RRDC's 11th consecutive annual banquet honoring auto racing's most influential leaders and icons, and will be held prior to the 45th Annual Acura Grand Prix of Long Beach.
Previous honorees were Dan Gurney, Parnelli Jones, Roger Penske, Jim Hall, Brian Redman, Mario Andretti, Bobby Unser, George Follmer, Emerson Fittipaldi and Johnny Rutherford. These "RRDC Evenings" are acknowledged as one of the highlights of the auto-racing social calendar, drawing fans and luminaries from all forms of motorsports.
The Firestone brand will return as presenting sponsor of the RRDC banquet for the 10th consecutive year.
"We've been privileged to receive continued support from Firestone for the RRDC's Long Beach dinner for the past decade," said RRDC President Bobby Rahal. "Firestone has an unrivaled heritage in motorsports dating back to the first Indy 500 in 1911. We always welcome Firestone's support, and salute the brand's long-standing success and contributions to the sport."
The dinner's proceeds will help support the RRDC's young driver initiatives, including its groundbreaking SAFEisFAST.com program and the Team USA Scholarship, which the RRDC has backed since 1997 and has been providing opportunities for talented young American race-car drivers since 1990. The Mark Donohue Foundation, a 501(C)(3) tax-exempt organization, was recently formed to further support the SAFEisFAST.com initiative. Information about the Foundation can be found on the RRDC's website www.RRDC.org.
Born in Leamington Spa, U.K., in 1939, Hobbs is one of motor racing's most remarkable all-rounders. In a 31-year driving career, "Hobbo," as he's known to friends and fans, raced in almost every imaginable category: endurance sports racers, touring cars, Formula 1, Formula 5000, IndyCar, IMSA, Trans-Am, Can-Am and even NASCAR. On top of that he has been a television commentator in the U.S. for nearly 40 years, bringing wit and wisdom to the screen most recently as part of NBC's Formula 1 team.
His racing career began in his mum's Morris Oxford in 1959, and he went on to set a British closed-course speed record of 167.5 mph driving the then-secret Jaguar XJ13 in 1967, a record that lasted for 19 years. He then claimed the 1971 Formula 5000 championship and the 1983 SCCA Trans-Am Championship.
He's raced in the 1993 U.S. Fastmasters Championship, at the 24 Hours of Le Mans, the Indy 500, led the 1976 Daytona 500, and debuted in Formula 1 in 1966, competing on that circuit for several years.
As a TV commentator, Hobbs began his on-air career with CBS in 1976, covering 17 consecutive Daytona 500 broadcasts, then moved to the Speed Channel network to cover Formula 1, Le Mans, Trans-Am, World Sports Car, etc. Most recently he was with NBC Sports co-hosting live coverage of Formula 1 races from 2013-17.
In 2018, his book, "Hobbo: Motor Racer, Motor Mouth," co-authored with Andrew Marriott, was published, which Hobbs has been promoting through book signings around the country. He opened David Hobbs Honda in 1987 in Milwaukee, Wis., which is managed by his eldest son Gregg. Hobbs and wife Margaret ("Mags") live in Vero Beach, Fla., and Elkhart Lake, Wis.
"David is such an icon of the sport here in the U.S., you'd never know he was an Englishman," said Rahal. "His career spans nearly 40 years of entertaining us on the small screen, not to mention hearing his voice in the movie 'Cars' as 'Hobbscap.' We are proud to honor him for all his passion as a driver and commentator, and for all he's achieved in our sport."
The RRDC Evening with David Hobbs Presented by Firestone will be held on Thursday, April 11, at the Hilton Hotel, 701 West Ocean Blvd, Long Beach, Calif., with cocktails at 6 p.m., and dinner at 7:15 p.m. Tickets are $225 per person ($200 for RRDC members) if purchased by April 1, and space is limited. Sponsor packages are also available. All are welcome, but this event is expected to sell out, so early reservations are recommended. Please contact Jeremy Shaw at rrdc2@cox.net.
About Firestone Racing:
The Firestone brand has participated in world-class motorsports events for more than a century, and racing has played an integral role in building and shaping Firestone into the time-tested, iconic brand it is today. Harvey Firestone, the brand's founder and a pioneer of sports marketing, was one of the first to use racing as the ultimate proving ground for his tires. Ever since Ray Harroun's Firestone-equipped Marmon Wasp won the inaugural Indianapolis 500® in 1911, Firestone has worked to constantly evolve and advance race tire technology. Overall, Firestone tires have carried the winner of the Indy 500 to victory circle 69 times – more than double all other tire manufacturers combined. Firestone has served as INDYCAR's sole tire supplier since 2000, and the brand's on-track success translates to durable, dependable performance and uncompromising quality on the open road.
About the RRDC:
The Road Racing Drivers Club was formed in 1952 as a way to give champion drivers a say in their sport, particularly in the areas of safety, and has evolved to serve the future of road racing by mentoring new drivers on both amateur and professional levels. The Club's membership includes leading industry professionals, race officials and motorsports journalists, in addition to prominent racing names.
In 2011, the FIA launched SAFEisFAST.com, a free online training program offered by the Mark Donohue Foundation and presented by Honda. More than 100 video tutorials taught by over 200 RRDC members and championship drivers from Formula 1, IndyCar, the WEC and IMSA, teach driving techniques, physical preparation, mental acuity, driver safety, car setup and racing sponsorship. New videos
In 2017 The Mark Donohue Foundation, a 501(C)(3) organization, was formed to support the SAFEisFAST.com program and to help ensure its operations. http://www.rrdc.org/mark-donohue-foundation/.
Bobby Rahal is President, John Fergus is Vice President/Treasurer, and Tom Davey is Secretary.
The RRDC presents three annual awards: the Phil Hill Award, the Mark Donohue Award, and the Bob Akin Award, and supports the Team USA Scholarship, which has been assisting young Americans in the early stages of their careers since 1990. The RRDC also honors icons of the sport at its annual dinner at the Long Beach (Calif.) Grand Prix. Honorees have been Dan Gurney, Parnelli Jones, Roger Penske, Jim Hall, Brian Redman, Mario Andretti, Bobby Unser, George Follmer, Emerson Fittipaldi and Johnny Rutherford.
Membership in the RRDC is by invitation only. For more information, visit www.rrdc.org.