12 Hours of Sebring Hour 4: Cadillac leads, Fords lead GTLM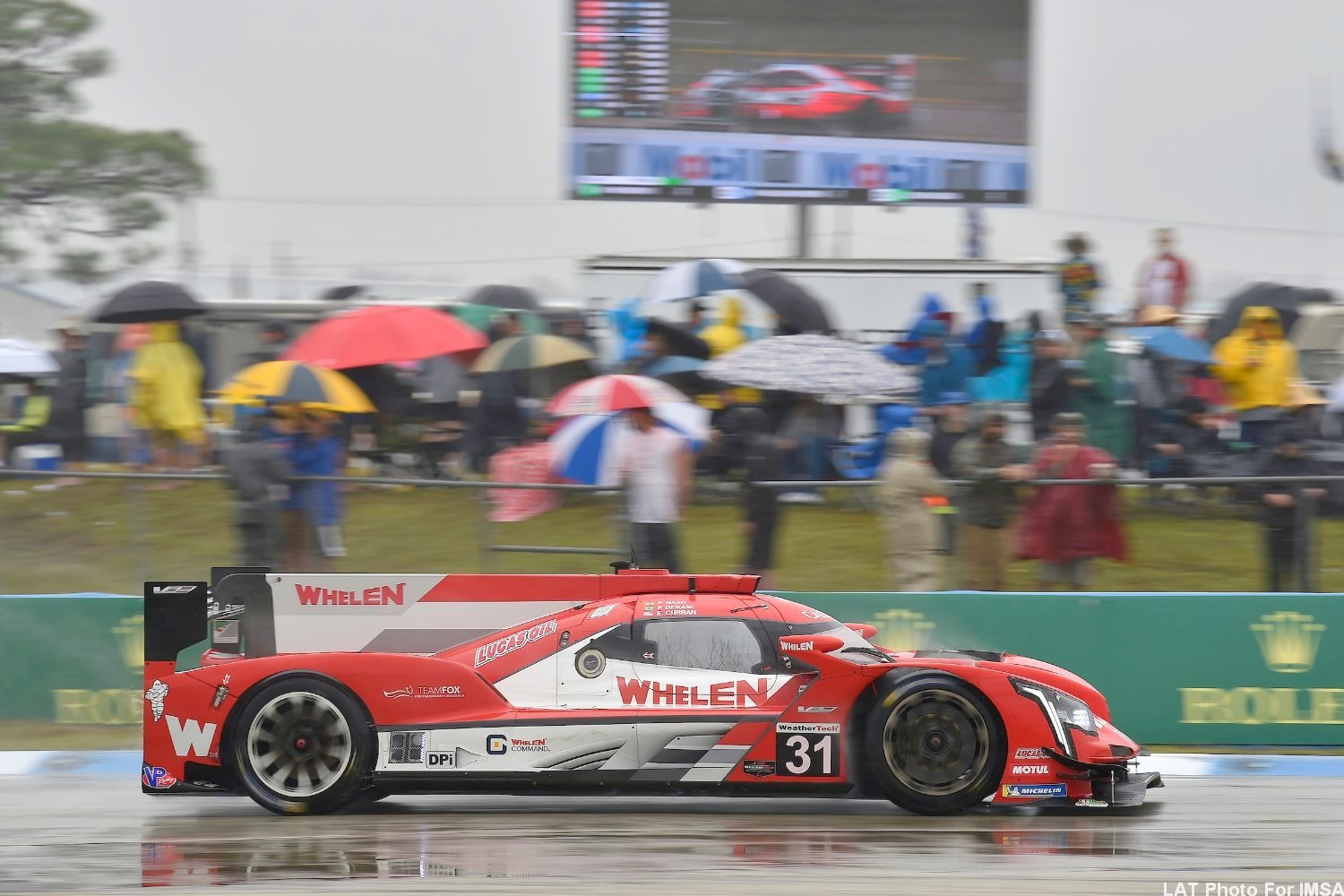 Leading #31 Cadillac
At the 1/3-mark of the 2019 12 Hours of Sebring the #31 Cadillac leads but the rain is beginning to fall again.
Olivier Pla has brought the #55 Mazda up to 2nd place.
Brendon Hartley still runs 3rd in the #5 Cadillac.
Ryan Brscoe has the #67 Ganassi Ford GT in front in the GTLM class ahead of the sister #66 Ford GT of Sebastien Bourdais. while the #33 Mercedes has moved into the GTD lead.
Hour 4 Standings
| | | | | | | | |
| --- | --- | --- | --- | --- | --- | --- | --- |
| POS | CL | PIC | CURRENT DRIVER | No./MFG | LAPS | BEHIND | STOPS |
| 1 | DPI | 1 | Felipe Nasr | #31 CADILLAC DPI | 104 | 0.000s | 5 |
| 2 | DPI | 2 | Olivier Pla | #55 MAZDA DPI | 104 | 28.479 | 4 |
| 3 | DPI | 3 | Brendon Hartley | #5 CADILLAC DPI | 104 | 56.563 | 5 |
| 4 | DPI | 4 | Misha Goikhberg | #85 CADILLAC DPI | 103 | 1 LAP | 5 |
| 5 | DPI | 5 | Matthieu Vaxiviere | #10 CADILLAC DPI | 103 | 1 LAP | 9 |
| 6 | DPI | 6 | Chris Miller | #84 CADILLAC DPI | 103 | 1 LAP | 5 |
| 7 | DPI | 7 | Alexander Rossi | #7 ACURA DPI | 103 | 1 LAPS | 6 |
| 8 | DPI | 8 | Jonathan Bennett | #54 NISSAN DPI | 103 | 1 LAPS | 5 |
| 9 | DPI | 9 | Simon Pagenaud | #6 ACURA DPI | 100 | 4 LAPS | 8 |
| 10 | GTLM | 1 | Ryan Briscoe | #67 FORD GT | 99 | 5 LAPS | 3 |
| 11 | GTLM | 2 | Sebastien Bourdais | #66 FORD GT | 99 | 5 LAPS | 3 |
| 12 | GTLM | 3 | Philipp Eng | #24 BMW M8 GTE | 99 | 5 LAPS | 3 |
| 13 | GTLM | 4 | Jan Magnussen | #3 CHEVROLET CORVETTE C7.R | 99 | 5 LAPS | 4 |
| 14 | GTLM | 5 | Colton Herta | #25 BMW M8 GTE | 99 | 5 LAPS | 3 |
| 15 | LMP2 | 1 | Andrew Evans | #38 ORECA LMP2 | 98 | 6 LAPS | 5 |
| 16 | GTLM | 6 | Nick Tandy | #911 PORSCHE 911 RSR | 98 | 6 LAPS | 5 |
| 17 | GTLM | 7 | Earl Bamber | #912 PORSCHE 911 RSR | 98 | 6 LAPS | 5 |
| 18 | GTD | 1 | Jeroen Bleekemolen | #33 MERCEDES-AMG GT3 | 97 | 7 LAPS | 4 |
| 19 | GTD | 2 | Rik Breukers | #11 LAMBORGHINI HURACAN GT3 | 97 | 7 LAPS | 4 |
| 20 | GTD | 3 | Toni Vilander | #63 FERRARI 488 GT3 | 97 | 7 LAPS | 4 |
| 21 | GTD | 4 | Ana Beatriz | #57 ACURA NSX GT3 | 97 | 7 LAPS | 4 |
| 22 | GTD | 5 | Lars Kern | #9 PORSCHE 911 GT3 R | 97 | 7 LAPS | 3 |
| 23 | GTD | 6 | Dillon Machavern | #96 BMW M6 GT3 | 97 | 7 LAPS | 3 |
| 24 | GTD | 7 | Mario Farnbacher | #86 ACURA NSX GT3 | 97 | 7 LAPS | 3 |
| 25 | GTD | 8 | Spencer Pumpelly | #44 LAMBORGHINI HURACAN GT3 | 97 | 7 LAPS | 5 |
| 26 | GTD | 9 | Nicholas Boulle | #73 PORSCHE 911 GT3 R | 96 | 8 LAPS | 5 |
| 27 | GTD | 10 | Townsend Bell | #12 LEXUS RC F GT3 | 96 | 8 LAPS | 4 |
| 28 | GTD | 11 | Jack Hawksworth | #14 LEXUS RC F GT3 | 96 | 8 LAPS | 4 |
| 29 | GTD | 12 | Christopher Mies | #29 AUDI R8 LMS GT3 | 96 | 8 LAPS | 4 |
| 30 | GTD | 13 | Andrew Davis | #19 AUDI R8 LMS GT3 | 95 | 9 LAPS | 6 |
| 31 | GTD | 14 | Ryan Dalziel | #8 AUDI R8 LMS GT3 | 95 | 9 LAPS | 5 |
| 32 | GTD | 15 | Maximilian Buhk | #71 MERCEDES-AMG GT3 | 95 | 9 LAPS | 9 |
| 33 | GTD | 16 | Bryan Sellers | #48 LAMBORGHINI HURACAN GT3 | 94 | 10 LAPS | 8 |
| 34 | GTD | 17 | Lawson Aschenbach | #47 LAMBORGHINI HURACAN GT3 | 94 | 10 LAPS | 7 |
| 35 | DPI | 10 | Rene Binder | #50 CADILLAC DPI | 91 | 13 LAPS | 5 |
| 36 | GTLM | 8 | Oliver Gavin | #4 CHEVROLET CORVETTE C7.R | 89 | 15 LAPS | 5 |
| 37 | LMP2 | 2 | Anders Fjorback | #52 ORECA LMP2 | 76 | 28 LAPS | 5 |
| 38 | DPI | 11 | Timo Bernhard | #77 MAZDA DPI | 54 | 50 LAPS | 2 |