12 Hours of Sebring Hour 1: Wet start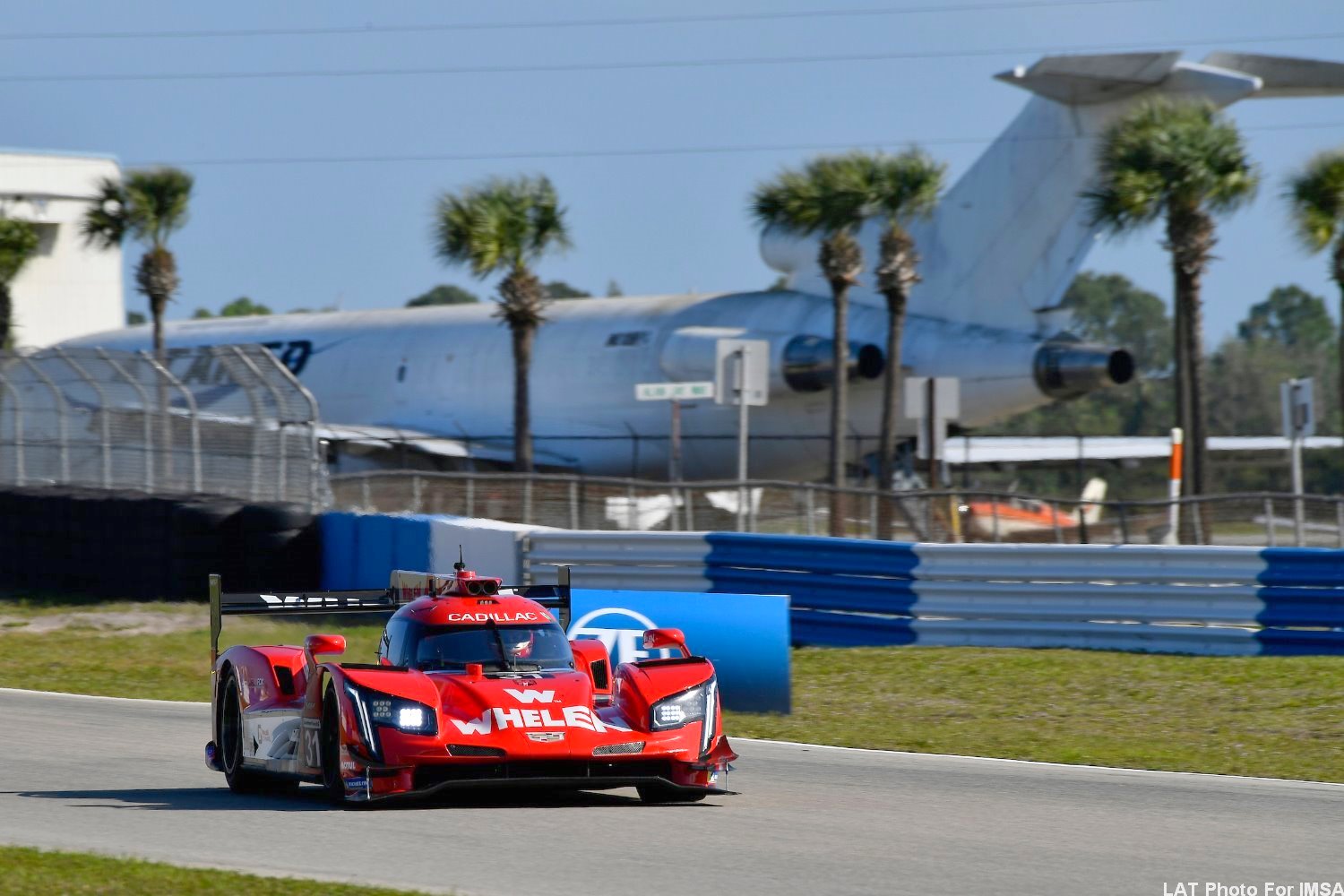 Derani leads in the #31 (photo taken Friday)
The 12 Hours of Sebring started behind the pace car because a heavy rain showers that hit the Sebring, Florida airport circuit all morning.
The first 40 minutes ran under the yellow behind the pace car but when the green flag dropped on the still wet track the the #5 Cadillac and #31 Cadillac blew off the pole winning #6 Penske Acura like it was standing still. The traction control of the Cadillac is said to be a better system than the Acuras.
How slow are the Acuras? In the wet they were losing 15 seconds per lap to the Cadillacs and were lapped in the first 20 minutes of green flag running. The LMP2 and GTLM cars blew them off as well. If it stays wet much longer their race will essentially be over.
In GTLM the #67 Ganassi Ford GT is struggling to hold off the #25 Rahal BMW.
Hour 1 Standings
| | | | | | | |
| --- | --- | --- | --- | --- | --- | --- |
| Pos | Class | PIC | Current Driver | No./MFG | Laps | Behind |
| 1 | DPI | 1 | Pipo Derani | #31 Cadillac | 20 | –.— |
| 2 | DPI | 2 | Filipe Albuquerque | #5 Cadillac | 20 | 5.237s |
| 3 | DPI | 3 | Tristan Nunez | #77 Mazda | 20 | 26.747s |
| 4 | DPI | 4 | Jonathan Bomarito | #55 Mazda | 20 | 41.656s |
| 5 | DPI | 5 | Simon Trummer | #84 Cadillac | 20 | 45.667s |
| 6 | DPI | 6 | Tristan Vautier | #85 Cadillac | 20 | 49.337s |
| 7 | LMP2 | 1 | Kyle Masson | #38 Oreca | 19 | 1 Lap |
| 8 | GTLM | 1 | Richard Westbrook | #67 Ford GTM | 19 | 1 Lap |
| 9 | GTLM | 2 | Tom Blomqvist | #25 BMW M8 GTEM | 19 | 1 Lap |
| 10 | DPI | 7 | Will Owen | #50 Cadillac | 19 | 1 Lap |
| 11 | GTLM | 3 | Dirk Mueller | #66 Ford GTM | 19 | 1 Lap |
| 12 | GTLM | 4 | Jesse Krohn | #24 BMW M8 GTEM | 19 | 1 Lap |
| 13 | GTLM | 5 | Antonio Garcia | #3 Chevrolet Corvette C7.RIM | 19 | 1 Lap |
| 14 | GTLM | 6 | Tommy Milner | #4 Chevrolet Corvette C7.Rim | 19 | 1 Lap |
| 15 | GTD | 1 | Zacharie Robichon | #9 Porsche 911 Gt3 Rim | 19 | 1 Lap |
| 16 | GTD | 2 | Trent Hindman | #86 Acura NSX GT3 | 19 | 1 Lap |
| 17 | DPI | 8 | Jordan Taylor | #10 Cadillac | 19 | 1 Lap |
| 18 | LMP2 | 2 | Matthew McMurry | #52 Oreca | 19 | 1 Lap |
| 19 | GTD | 3 | Christina Nielsen | #57 Acura NSX GT3 | 19 | 1 Lap |
| 20 | DPI | 9 | Helio Castroneves | #7 Acura | 19 | 1 Lap |
| 21 | GTD | 4 | Robby Foley | #96 BMW M6 GT3 | 19 | 1 Lap |
| 22 | GTD | 5 | Ezequiel Perez Companc | #8 Audi R8 Lms GT3 | 19 | 1 Lap |
| 23 | GTD | 6 | Ben Keating | #33 Mercedes-Amg GT3 | 19 | 1 Lap |
| 24 | GTD | 7 | Cooper Macneil | #63 Ferrari 488 GT3 | 19 | 1 Lap |
| 25 | GTD | 8 | Jc Perez | #71 Mercedes-Amg GT3 | 19 | 1 Lap |
| 26 | DPI | 10 | Dane Cameron | #6 Acura | 19 | 1 Lap |
| 27 | GTD | 9 | Nicholas Boulle | #73 Porsche 911 Gt3 Rim | 19 | 1 Lap |
| 28 | GTD | 10 | John Potter | #44 Lamborghini Huracan GT3 | 19 | 1 Lap |
| 29 | DPI | 11 | Jonathan Bennett | #54 Nissan | 19 | 1 Lap |
| 30 | GTD | 11 | Frank Montecalvo | #12 Lexus Rc F GT3 | 19 | 1 Lap |
| 31 | GTD | 12 | Richard Heistand | #14 Lexus Rc F GT3 | 19 | 1 Lap |
| 32 | GTD | 13 | Rolf Ineichen | #11 Lamborghini Huracan GT3 | 18 | 2 Laps |
| 33 | GTD | 14 | Will Hardeman | #19 Audi R8 Lms GT3 | 18 | 2 Laps |
| 34 | GTD | 15 | Ryan Hardwick | #48 Lamborghini Huracan GT3 | 18 | 2 Laps |
| 35 | GTLM | 7 | Laurens Vanthoor | #912 Porsche 911 RSR | 18 | 2 Laps |
| 36 | GTLM | 8 | Patrick Pilet | #911 Porsche 911 RSR | 18 | 2 Laps |
| 37 | GTD | 16 | Daniel Morad | #29 Audi R8 Lms GT3 | 18 | 2 Laps |