Zizzo surprises with Top Fuel pole; Hight, Butner, Smith also lead Gainesville pro fields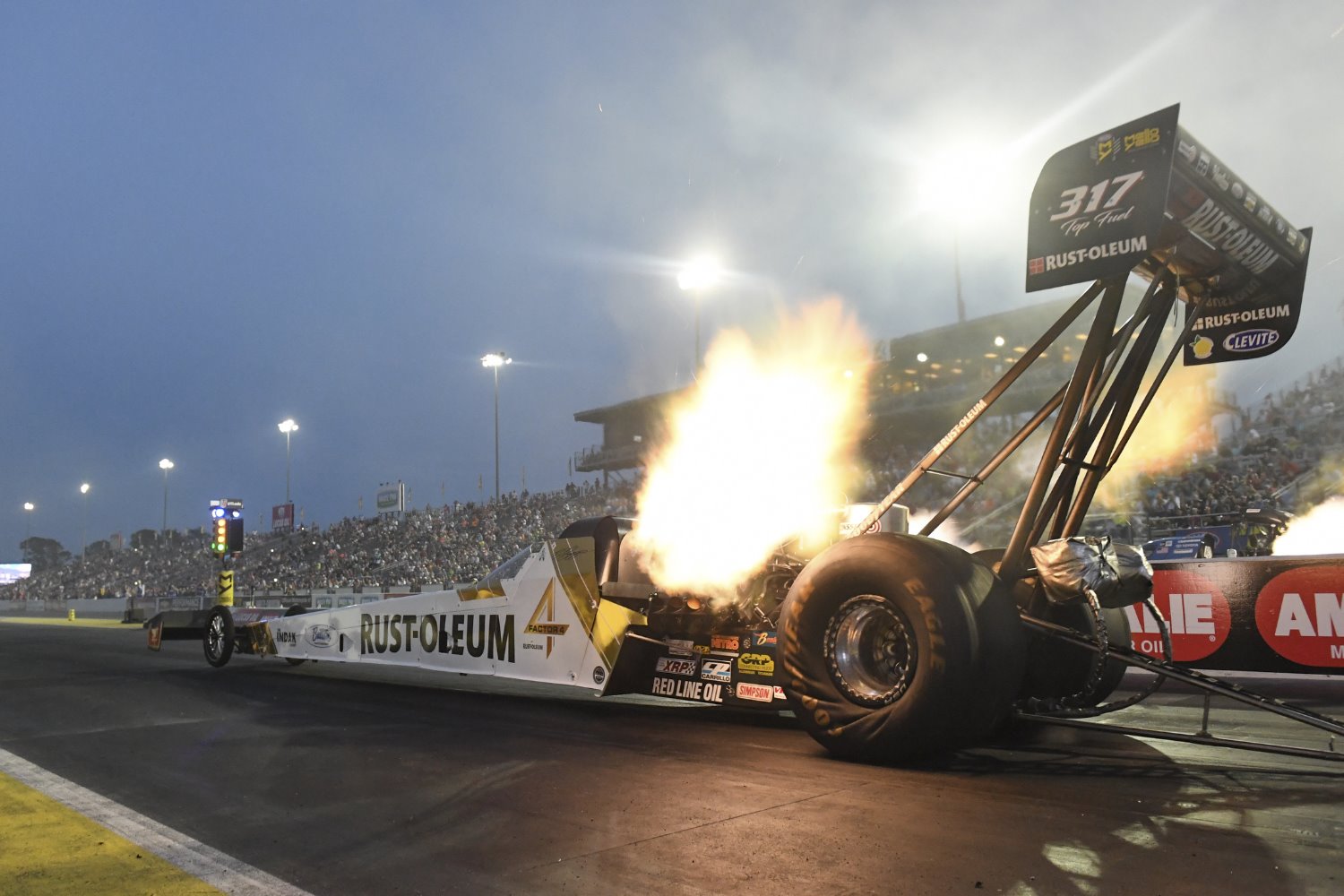 TJ Zizzo
After the first two rounds of professional qualifying at the 50th annual Amalie Motor Oil NHRA Gatornationals, T.J. Zizzo is the surprise low qualifier in Top Fuel. Zizzo is joined at the top of the standings by Robert Hight, Bo Butner, and Matt Smith, who hold the provisional top spots in Funny Car, Pro Stock, and Pro Stock Motorcycle, respectively.
Zizzo, who competed in just two NHRA events last season with his Rustoleum-backed entry, made one of the best runs of his career with a 3.762 to take the top spot. The only other Top Fuel driver to find the 3.7-second zone during Friday's sun soaked qualifying was Phoenix winner, Doug Kalitta, who ran 3.776.
Hight, the top Funny Car qualifier at the first two events in Pomona and Phoenix, is well on his way to a third green hat after wheeling his Auto Club Chevy to a 3.928. Hight is one of a half-dozen three-second qualifiers including past Gainesville winner Bob Tasca III, Ron Capps, Shawn Langdon, Tommy Johnson Jr., and John Force.
Butner made two great runs with his Butner Auto Camaro and either of them would have been enough to lead the Pro Stock field. Butner opened with a 6.557 and then returned in the afternoon run with a 6.556 to sweep all six qualifying bonus points available on Friday. Butner's teammate, Greg Anderson, also clocked a 6.556, but his speed was a fraction slower than Butner's.
Smith, the reigning Mello Yello Pro Stock Motorcycle champion, also led both sessions including a best of 6.753. Smith also re-set the class' speed record at 201.76 mph on his Denso EBR. Smith is being pursued by Harley-Davidson riders Eddie Krawiec, Andrew Hines, and Angelle Sampey, who are currently seeded second, third, and fourth.
Top Fuel low qualifier T.J. Zizzo: "When I saw [the video] of my team when we went all the way to the finish line, and they saw the scoreboard light up, that's what gives me joy. They jumped for joy like they just won the event. One guy even had tears in his eyes. That's what gets me excited. It's not about me.
"We may be a part-time team, but we're constantly working on it. This winter we spent $60,000 lightening the car by more than 100 pounds and it really paid off for us. I haven't driven this car since the U.S. Nationals last September, so it's been six months, and it takes a while to get your bearings, but it's surprising how fast things come back. I told the guys for the first run just to give me a car to go A to B, which it did, and the second run was better than the first. I don't think that will stay No. 1 tomorrow. We can run faster, but might not stay No. 1. I'll be happy with a 3.74, which would be a new career best for us, but I'm already thinking about Sunday."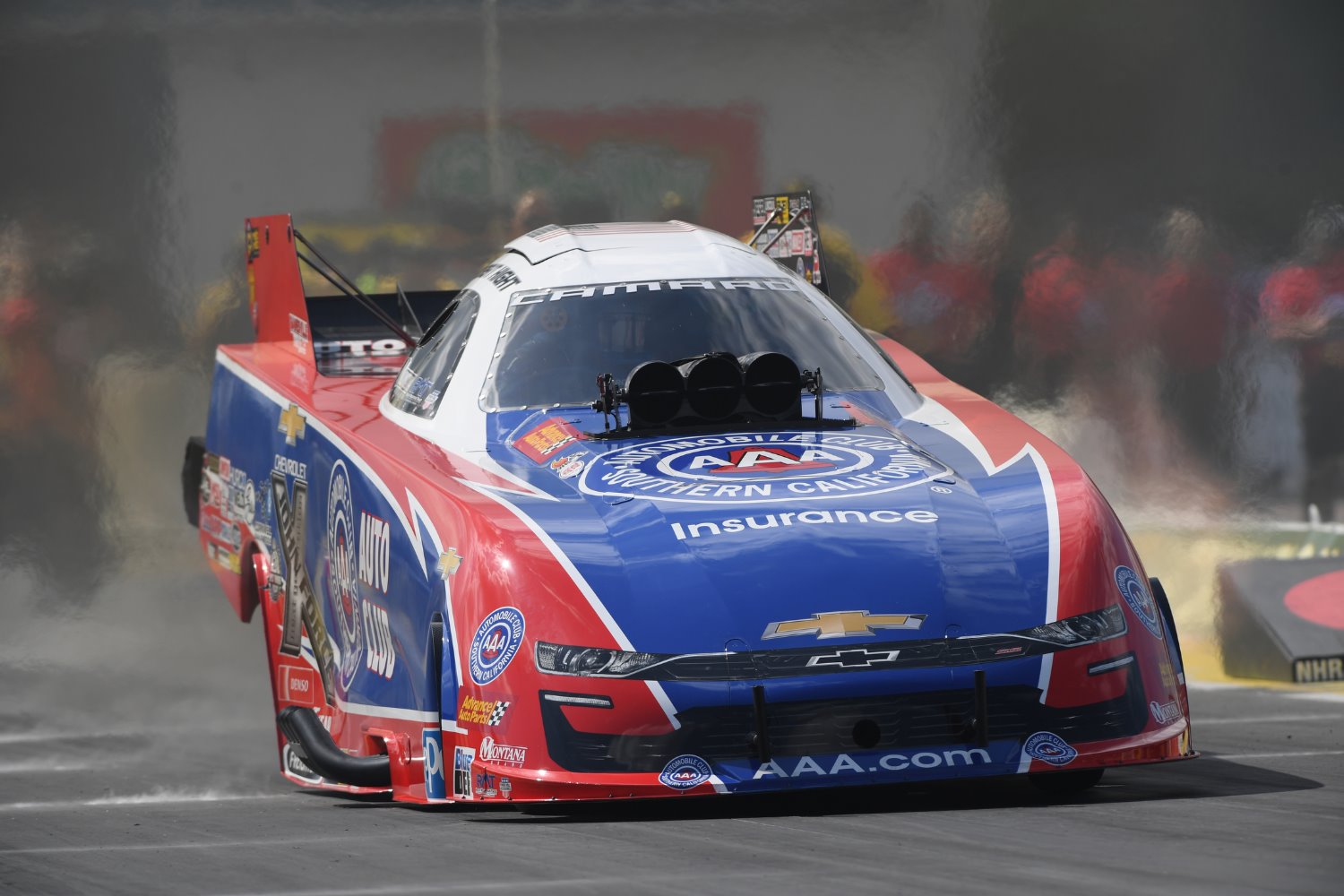 Robert Hight
Funny Car low qualifier Robert Hight: "First off, that run is not going to stay No. 1. The forecast is that it's going to cool off 10 degrees tomorrow. When I made that run I thought someone would run an .080-something behind me. It dropped a cylinder on me so I shut it off early; it would have run maybe a .90 if I had stayed with it.
"The track is still fairly green but it's just going to keep getting better and better. We want to put on a show for these fans because they packed the house today. It's exciting. You know Jimmy [Prock], my crew chief, and Chris Cunningham; they're going to push it every single run and it wouldn't surprise me to see an .85 tomorrow. It's going to be good."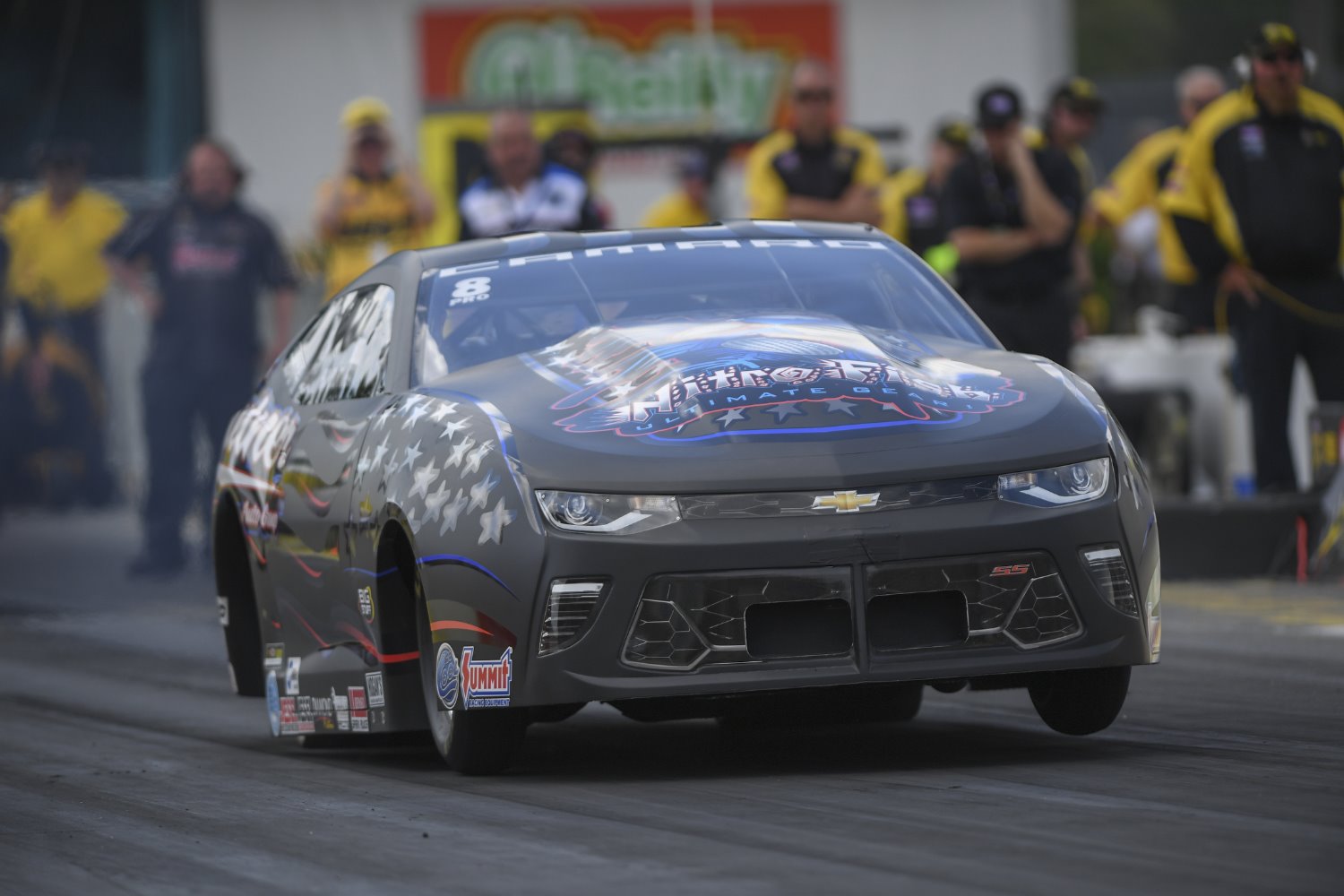 Bo Butner
Pro Stock low qualifier Bo Butner: "I can't complain our Jim Butner Auto Group/Nitro Fish Camaro has been awesome. We made two runs today within a thousandths of a second and that shows how strong our KB team is. I was lucky to run just a little quicker than [teammate] Greg Anderson. I think we're gonna have a good weekend.
[new crew member] Dave Connolly has been good. I've added some other guys and we've got a big crew now. I'm less of a hands-on guy. I can hop in and drive and I enjoy that part. I believe that having guys you can trust is everything in this sport, especially in Pro Stock since you have to be perfect. This is the toughest class. Having less to think about is the way to go. I can't wait for race day. My Summit Cobra Jet Factory Stock car is good, but we haven't seen the potential of that car. Tomorrow, I need to make another good run. The two cars are fun but they're totally different. My goal is to do well in both of them."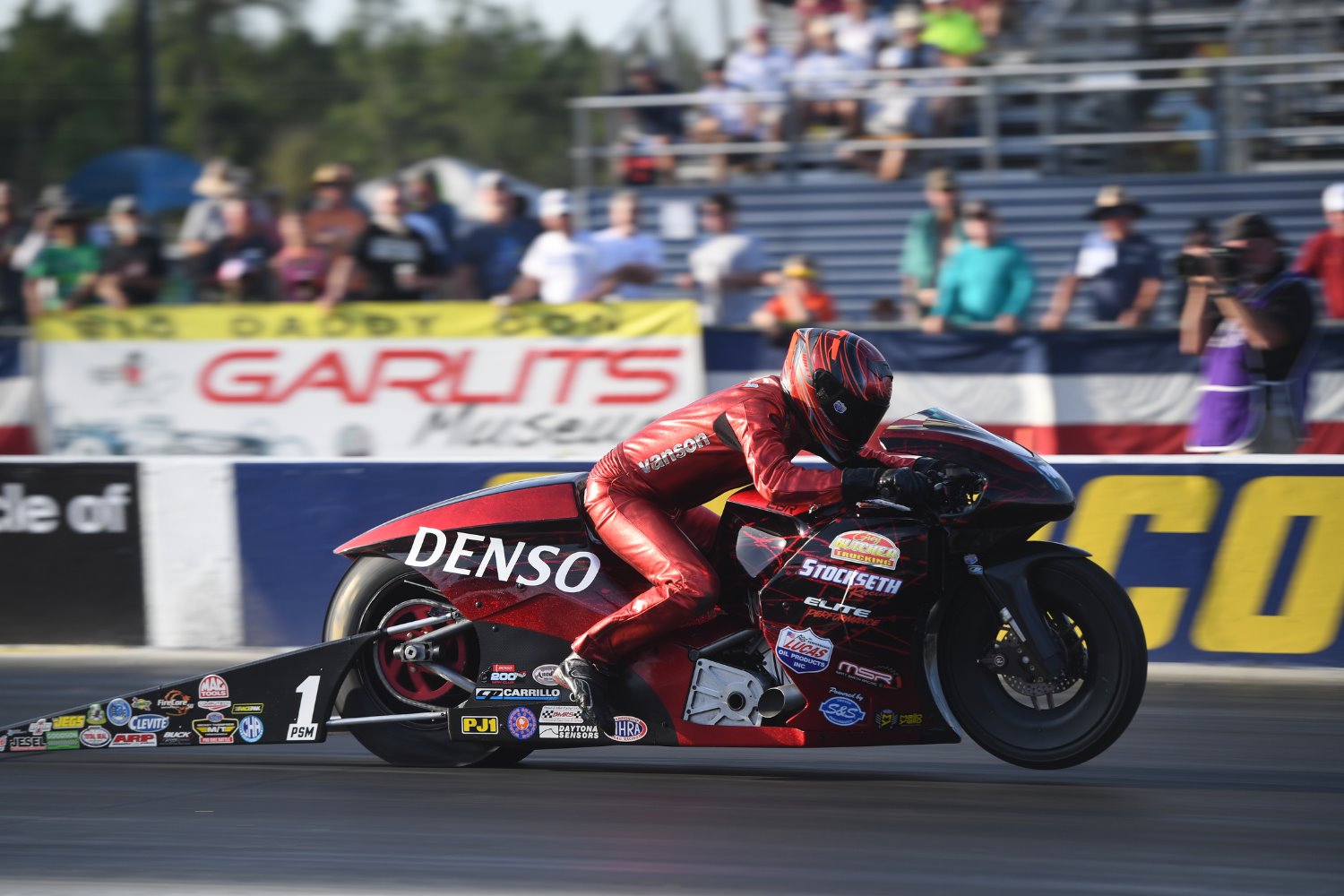 Matt Smith
Pro Stock Motorcycle low qualifier Matt Smith: "I'm glad that what we did last year was able to carry over to this season. Sometimes you do stuff to the bike over the winter and it doesn't carry and you struggle. I built two more identical bikes, one for [wife] Angie and the other for [new teammate] Scotty Pollacheck. I'm still working on those two bikes and once I get them right we'll have an awesome three-bike team. This track is super smooth and we made a nice run and re-set the speed record at 201.76 mph. I think we can run quicker tomorrow.
"Last year, we came here with a Suzuki and some things happened and I had a DNQ and we went on to win the championship. We ran really well at the end of the year, especially the last race in Pomona and I think people know that wasn't a fluke. It's supposed to be cooler tomorrow and depending on what the wind does, we could re-set the E.T. record. It's been there since 2012 and I'd like to get it. I think we can run 6.71 and maybe about 202.5 mph."
TOP FUEL QUALIFYING
Top Fuel Q1: World champ Steve Torrence showed the Top Fuel field the way home in the opening qualifying session with a 3.800 on the new and still a little green all-concrete track that will only get better through the weekend. Leah Pritchett was not far behind with a 3.811 in the Mopar/Pennzoil dragster while Zizzo, who competed at only two events last season, impressed on his first run of the season with a 3.827 from his Rust-Oleum dragster. Doug Kalitta ran an identical 3.827 but Zizzo got the higher spot thanks to a superior speed, 320.72 to 318.62.
In the first head-to-head meeting – albeit it's in qualifying, but there was still a competition – top rookies Austin Prock and Jordan Vandergriff paired off side by side. Prock and the Montana Brand car won their reaction time bet, .062 to .090, and got to the finish first of the two tractionless dragsters, 4.238 to 4.592.
Top Fuel Q2: T.J. Zizzo stunned everyone by powering his Rust-Oleum dragster to the No. 1 qualifying spot in Funny Car with a sizzling pass of 3.762. Zizzo, a part-time campaigner in the Mello Yello Series, followed his strong 3.872 opening pass Friday with a field topper. Zizzo, of Lincolnshire, Ill., has never been the No. 1 qualifier in his career.
Winternationals champ Doug Kalitta joined Zizzo in the 3.7-second zone with a run of 3.776 in his Mac Tools dragster while Brittany Force had the round's third-best run with a 3.800.
Eighteen drivers tried to make the field today with Cameron Ferre's 4.084 ending up in the 16th spot and Lex Joon and Pat Dakin on the outside looking in with two qualifying sessions to go Saturday.
FUNNY CAR QUALIFYING
Funny Car Q1: Three-time Gatornationals Funny Car winner Ron Capps grabbed the early qualifying lead with his NAPA Auto Parts Charger SRT Hellcat with a 4.017. Behind Capps is another multi-time Gainesville champ, eight-time winner John Force, who clocked a 4.040 in his Peak Chevy. Force is gunning for career win No. 150 at this event; no other Mello Yello-class driver even has more than 100.
Kalitta Racing teammates J.R. Todd and Shawn Langdon ended up third and fourth with the reigning world champ's DHL Toyota clocking a 4.088, a tenth better than teammate Langdon's 4.187 in the Global Electronics Camry. Only 11 cars made runs as breakage struck a few and others opted to wait for the second session.
Funny Car Q2: Six Funny Cars ripped their way into the three-second zone during the late-afternoon session led by Robert Hight, who clocked a 3.928 in the Auto Club Camaro. Bob Tasca III (3.953), Ron Capps (3.965), Shawn Langdon (3.979), Tommy Johnson Jr. (3.985), and John Force (3.995) also covered the new concrete-strip in less than four seconds.
Tim Wilkerson made a solid run of 4.01 but crossed the centerline after the finish line for a costly five-point penalty. Defending event champ Jack Beckman surprisingly find himself in the field's 16th and final spot after two troubled runs and a 5.075 best.
PRO STOCK QUALIFYING
Pro Stock Q1: Bo Butner, who is pulling double-duty this weekend in Pro Stock and the SAM Tech.edu NHRA Factory Stock Showdown, drove to the top spot in Friday's opening qualifying session after driving his Butner Auto Camaro to a 6.557. Behind Butner with a 6.560 was Erica Enders' Melling entry. Greg Anderson is also off to a strong start after a third-best 6.563 in his Summit Racing equipment Camaro.
Pro Stock Q2: The qualifying bonus points continue to add up for 2017 world champ Bo Butner, who banked three more "little points" after his 6.555 in Friday's second session held up as the quickest pass of the round. Butner aced his KB Racing teammate, Greg Anderson, who was just a thousandth of a second behind at 6.556 in his Summit Camaro.
The Elite cars also showed a consistently quick performance with Phoenix champ Jeg Coughlin Jr. running 6.560 and teammates Erica Enders and Rodger Brogdon carding matching 6.562 elapsed times. There is just .017-second separating the top eight qualifiers with Alex Laughlin holding down the No. 8 spot with a 6.573. Chassis builder Wally Stroupe occupies the current bump spot with a 6.782
PRO STOCK MOTORCYCLE QUALIFYING
Pro Stock Motorcycle Q1: Reigning NHRA Mello Yello champion Matt Smith maintained the torrid pace he set at the end of last season and claimed the early lead in Pro Stock Motorcycle qualifying.
Smith rode his bright red Denso EBR to a 6.753 to lead a strong field of 23 riders. Smith, the current speed record holder, also cracked the 200-mph mark with a 200.95 best. Behind Smith was championship runner-up Eddie Krawiec who rode his Harley-Davidson to a 6.792 and Krawiec's teammate, Andrew Hines, who ran 6.812. In her first run as a member of the Vance & Hines team, Angelle Sampey clocked a respectable 6.854.
Pro Stock Motorcycle Q2: Matt Smith reaffirmed his hold on the top spot in Friday's Pro Stock Motorcycle qualifying with a 6.785 elapsed time during the afternoon session, but the real news came from the speed clocks, which registered a record-setting 201.76 mph top-end charge. Smith's run came alongside Eddie Krawiec, who also topped 200-mph with a 6.812, 200.17 on his Screamin' Eagle Harley-Davidson.
Angelle Sampey made another solid run aboard the third Vance & Hines team Harley-Davidson with a 6.820 to back up her earlier 8.854 run. Hector Arana Sr. also made a marked improvement with a 6.847 on his Lucas Oil Buell that is currently good for the No. 6 spot. The Suzuki bikes haven't been left behind either with Jimmy Underdahl and Jerry Savoie both holding top-half starting spots after two runs.
There was plenty of shuffling in throughout the field which ultimately led to a six-second bump spot with two sessions remaining on Saturday. Steve Johnson is on the provisional bump spot at 6.961 while those who will need to improve on Saturday in order to get into the field include Katie Sullivan, Karen Stoffer, John Hall, and rookie Jianna Salinas.