#8 Toyota still leads with 3 hours to go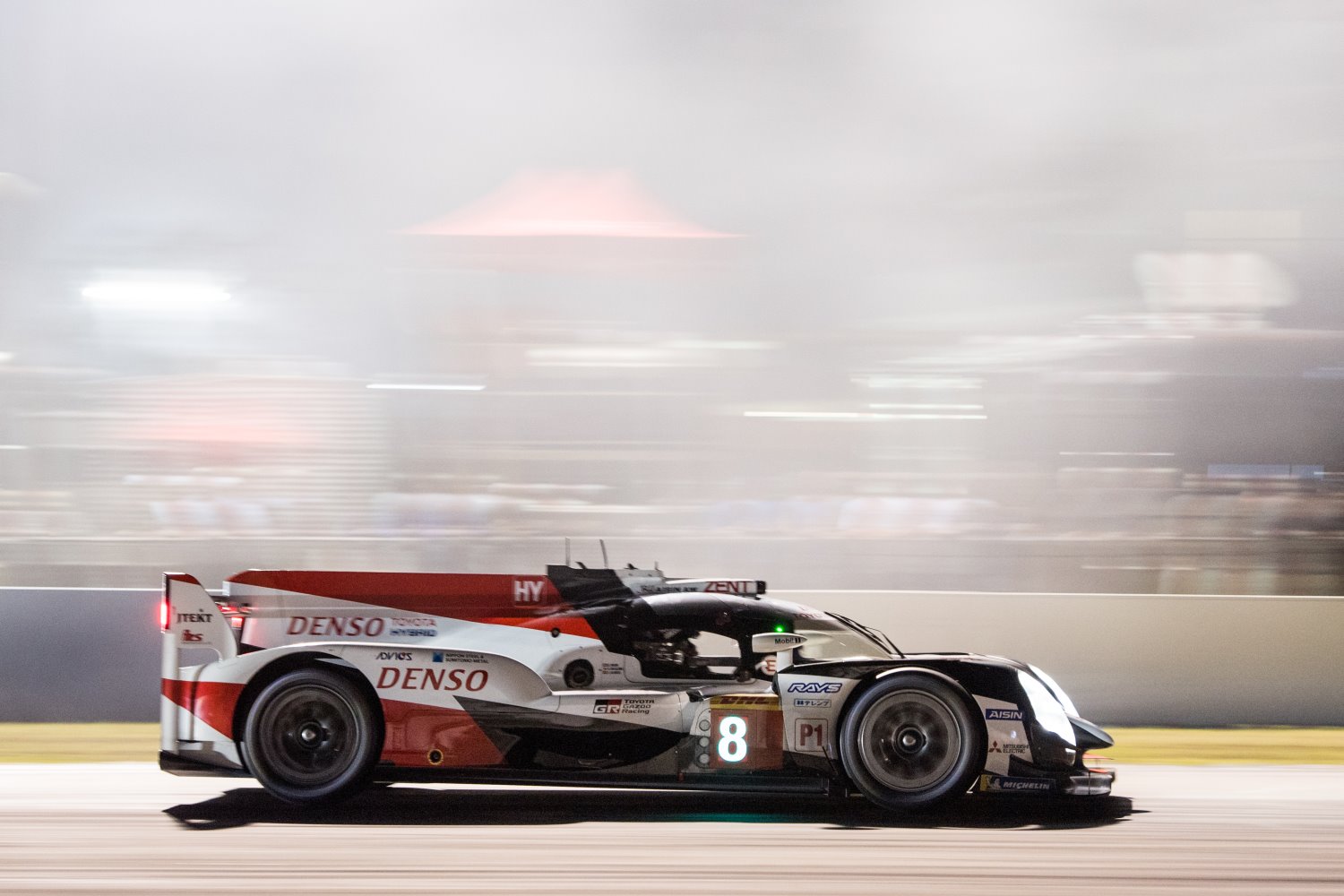 Buemi is now at the wheel of the #8 Toyota
Sebastien Buemi is now at the wheel of the leading #8 Toyota which holds a 2 lap lead after the #7 sister car ran into trouble and needed a 3-minute repair stop.
Fernando Alonso is on his way to knocking off another big motorsports event as he aims to prove he is the best all-around driver of all-time.
Up next, the Indy 500.
3 Hours To Go
| | | | | | | | | | |
| --- | --- | --- | --- | --- | --- | --- | --- | --- | --- |
| POS | Class | PIC | No. | TEAM | CURRENT DRIVER | BEHIND. | LAPS | PIT | STATUS |
| 1 | LMP1 | 1 | #8 | Toyota Gazoo Racing | Sebastien Buemi | 0.000s | 153 | 6 | Run |
| 2 | LMP1 | 2 | #7 | Toyota Gazoo Racing | Jose Maria Lopez | 2 Laps | 151 | 7 | Run |
| 3 | LMP1 | 3 | #3 | Rebellion Racing | Gustavo Menezes | 5 Laps | 148 | 7 | Run |
| 4 | LMP1 | 4 | #11 | Smp Racing | Vitaly Petrov | 8 Laps | 145 | 6 | Run |
| 5 | LMP2 | 1 | #37 | Jackie Chan Dc Racing | William Stevens | 10 Laps | 143 | 6 | Run |
| 6 | LMP2 | 2 | #36 | Signatech Alpine Matmut | Nicolas Lapierre | 1:07.861 | 143 | 6 | Run |
| 7 | LMP2 | 3 | #28 | Tds Racing | Loïc Duval | 11 Laps | 142 | 7 | Run |
| 8 | LMP2 | 4 | #31 | Dragonspeed | Anthony Davidson | 16.817 | 142 | 8 | Run |
| 9 | LMP1 | 5 | #10 | Dragonspeed | Renger Van Der Zande | 12 Laps | 141 | 7 | Run |
| 10 | LMP2 | 5 | #29 | Racing Team Nederland | Nyck De Vries | 12.840 | 141 | 7 | Run |
| 11 | LMP2 | 6 | #50 | Larbre Competition | Erwin Creed | 13 Laps | 140 | 6 | Run |
| 12 | LMP1 | 6 | #1 | Rebellion Racing | Mathias Beche | 15 Laps | 138 | 8 | In |
| 13 | GT Pro | 1 | #67 | Ford Chip Ganassi Team Uk | Andy Priaulx | 18 Laps | 135 | 4 | Run |
| 14 | GT Pro | 2 | #91 | Porsche Gt Team | Richard Lietz | 18.145 | 135 | 4 | Run |
| 15 | GT Pro | 3 | #95 | Aston Martin Racing | Darren Turner | 38.743 | 135 | 4 | Run |
| 16 | GT Pro | 4 | #51 | Af Corse | Alessandro Pier Guidi | 41.616 | 135 | 4 | Run |
| 17 | GT Pro | 5 | #92 | Porsche Gt Team | Kevin Estre | 47.203 | 135 | 5 | Run |
| 18 | GT Pro | 6 | #63 | Corvette Racing | Mike Rockenfeller | 48.275 | 135 | 5 | Run |
| 19 | GT Pro | 7 | #82 | BMW Team Mtek | Bruno Spengler | 49.514 | 135 | 4 | Run |
| 20 | GT Pro | 8 | #71 | Af Corse | Davide Rigon | 51.049 | 135 | 4 | Run |
| 21 | GT Pro | 9 | #97 | Aston Martin Racing | Maxime Martin | 1:03.471 | 135 | 4 | Run |
| 22 | GT Pro | 10 | #81 | BMW Team Mtek | Martin Tomczyk | 19 Laps | 134 | 5 | Run |
| 23 | GT Am | 1 | #56 | Team Project 1 | Patrick Lindsey | 21 Laps | 132 | 4 | Run |
| 24 | GT Am | 2 | #98 | Aston Martin Racing | Mathias Lauda | 59.787 | 132 | 5 | Run |
| 25 | GT Am | 3 | #77 | Dempsey – Proton Racing | Julien Andlauer | 1:22.134 | 132 | 5 | Run |
| 26 | GT Am | 4 | #90 | Tf Sport | Jonathan Adam | 1:41.295 | 132 | 5 | Run |
| 27 | GT Am | 5 | #54 | Spirit Of Race | Francesco Castellacci | 22 Laps | 131 | 6 | Run |
| 28 | GT Am | 6 | #70 | Mr Racing | Edward Cheever | 6.204 | 131 | 5 | Run |
| 29 | GT Am | 7 | #86 | Gulf Racing | Benjamin Barker | 20.142 | 131 | 5 | Run |
| 30 | GT Am | 8 | #88 | Dempsey – Proton Racing | Gianluca Roda | 1:16.533 | 131 | 5 | Run |
| 31 | GT Pro | 11 | #66 | Ford Chip Ganassi Team Uk | Billy Johnson | 27 Laps | 126 | 4 | Run |
| 32 | LMP2 | 7 | #38 | Jackie Chan Dc Racing | Gabriel Aubry | 39 Laps | 114 | 9 | Run |
| 33 | LMP1 | 7 | #17 | Smp Racing | Egor Orudzhev | 91 Laps | 62 | 2 | Stop |