Penske driver McLaughlin wins again in Melbourne
Scott McLaughlin
Supercars young gun Chaz Mostert has set up a showdown with the on-fire Scott McLaughlin with a golden performance in the opening race of the Beaurepaires Melbourne 400 at the Australian Grand Prix.
McLaughlin won his third straight race to open the 2019 season, but it was a twenty-second to fifth performance by Mostert which caught the eye in the first of four races this weekend.
It was a bitter sweet victory for Christchurch born McLaughlin who was devastated by the news which unfolded in his home country earlier in the day.
"The car was great, but this goes out to New Zealand," McLaughlin said. "Tough times over there in Christchurch, my home town, they're all suffering, so all love to you guys."
The separate qualifying sessions for each race means Mostert will start alongside McLaughlin in the second race tomorrow and again in the final race on Sunday as he attempts to break the Shell V-Power racers' winning stranglehold.
Like he was in Adelaide in the season opener Mostert was extremely quick but his poor qualifying for the first race cost him the opportunity to dice with the winners.
He made it up the grid in lightning pace making up a monster 17 places from start to finish.
"It's probably a bit like Adelaide," he said. "I feel like we have a much better race car than we do in qualifying so if we can unlock some qualifying speed then we might be someone to beat out there.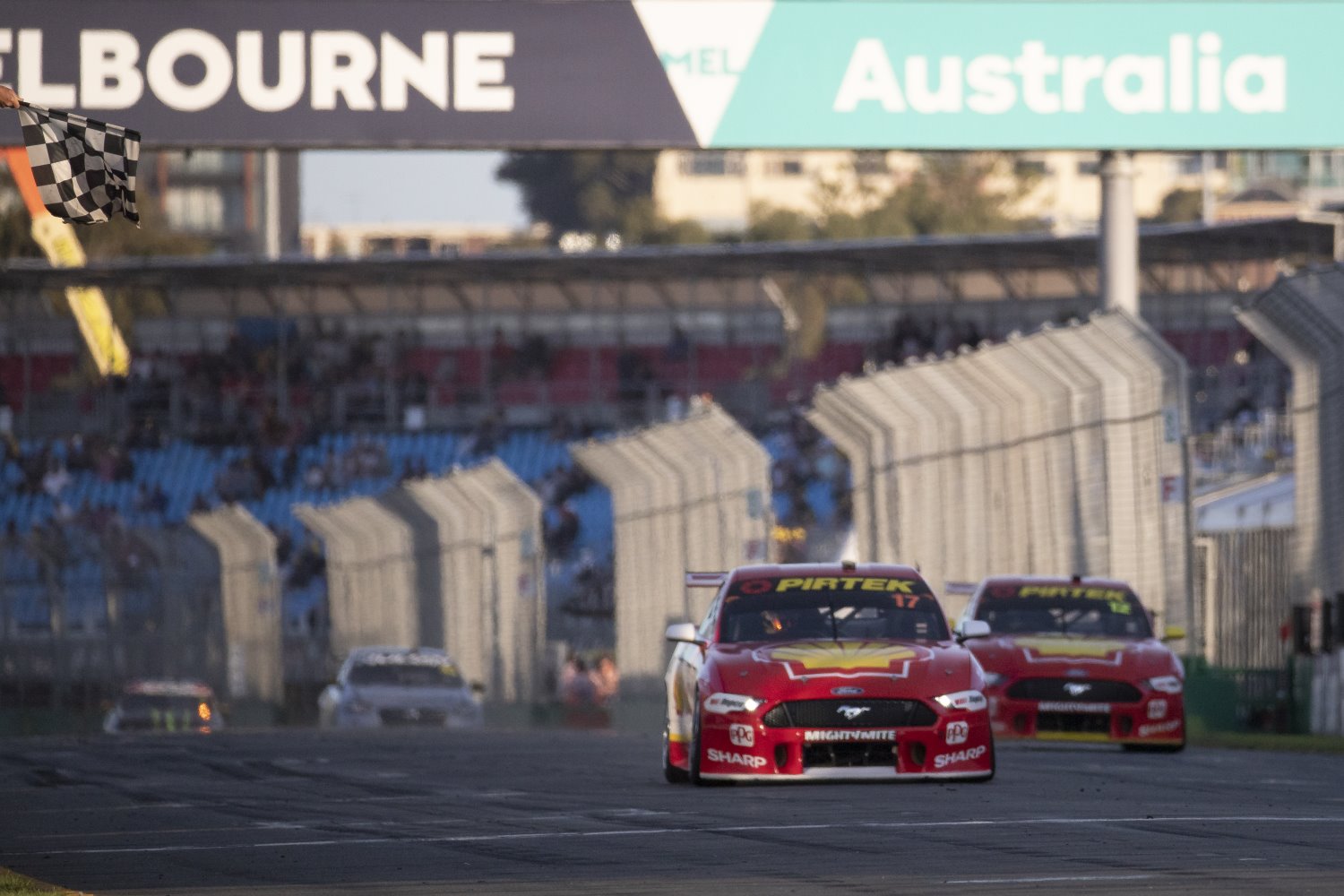 Like taking candy from a baby. Penske cars cross the finish line 1-2
"Last year we struggled with race pace and now we've turned the thing into a bit of a monster in race conditions. I wish we could run full tanks all the time, the car felt pretty good.
"I'm pretty chuffed to get to fifth to be honest."
McLaughlin was not headed in the race as he and team-mate Fabian Coulthard cleared away. Coulthard pitted early to avoid any pit lane issues, leaving the way clear for McLaughlin to claim his third straight victory to start the year.
Will Davison continued his good start to the year with fourth in the Milwaukee Mustang.
Tim Slade was the same with sixth in the Freightliner Commodore ahead of James Courtney and Jamie Whincup.
Earlier Mostert snapped McLaughlin's run of straight ARMOR ALL Pole Positions in the final qualifying session of the weekend.
McLaughlin led the way in both 10-minute sessions on Thursday, and continued that form with another commanding performance on Friday afternoon.
It took his Supercars pole tally to 50, and the defending Supercars Champion led the way into the closing stages of the final 10-minute hitout with a 1:54.3655s.
Melbourne Race 1 Results
| | | | | |
| --- | --- | --- | --- | --- |
| POS | # | DRIVER | TEAM | TIME |
| 1 | 17 | McLaughlin | Shell V-Power Racing Team | 50:01.241 |
| 2 | 12 | Coulthard | Shell V-Power Racing Team | +0.687 |
| 3 | 6 | C. Waters | Tickford Racing | +4.619 |
| 4 | 23 | Davison | Monster Energy Racing | +9.917 |
| 5 | 55 | Mostert | Supercheap Auto Racing | +11.558 |
| 6 | 14 | Slade | Brad Jones Racing | +15.820 |
| 7 | 22 | Courtney | Mobil 1 Boost Mobile Racing | +21.760 |
| 8 | 88 | Whincup | Red Bull Holden Racing Australia | +22.021 |
| 9 | 5 | Holdsworth | The Bottle-O Racing Team | +22.450 |
| 10 | 9 | Reynolds | Erebus Motorsport | +23.188 |
| 11 | 99 | A. de Pasquale | Erebus Motorsport | +23.796 |
| 12 | 18 | Winterbottom | Preston Hire Racing | +27.770 |
| 13 | 2 | S. Pye | Mobil 1 Boost Mobile Racing | +29.407 |
| 14 | 8 | Percat | Brad Jones Racing | +37.003 |
| 15 | 7 | Heimgartner | Nissan Motorsport | +37.759 |
| 16 | 15 | R. Kelly | Nissan Motorsport | +38.020 |
| 17 | 34 | J. Golding | Wilson Security Racing GRM | +38.964 |
| 18 | 33 | R. Stanaway | Wilson Security Racing GRM | +40.628 |
| 19 | 78 | S. De Silvestro | Nissan Nismo | +40.886 |
| 20 | 21 | M. Jones | CoolDrive Racing | +56.277 |
| 21 | 19 | J. Le Brocq | TEKNO Woodstock Racing | +56.797 |
| 22 | 3 | G. Jacobson | Nissan Nismo | +1:10.378 |
| 23 | 35 | T. Hazelwood | Bigmate Racing | +2 Laps |
| NC | 97 | Van Gisbergen | Red Bull Holden Racing Australia | +4 Laps |
DRIVERS' CHAMPIONSHIP POINTS

1.
Scott McLaughlin
400
-000
2.
Jamie Whincup
294
-106
3.
Will Davison
290
-110
4.
Cameron Waters
263
-137
5.
Shane Van Gisbergen
258
-142
6.
Nick Percat
249
-151
7.
Chaz Mostert
245
-155
8.
Tim Slade
242
-158
9.
Fabian Coulthard
239
-161
10.
Mark Winterbottom
232
-168

TEAMS' CHAMPIONSHIP POINTS

1.
Shell V-Power Racing Team
639
-00
2.
Tickford Racing (Waters/Davison)
553
-86
3.
Triple Eight Race Engineering (Whincup/SVG)
552
-87
4.
Brad Jones Racing
491
-148
5.
Tickford Racing (Mostert/Holdsworth)
415
-224
6.
Erebus Motorsport
394
-245
7.
Nissan Motorsport (Kelly/Heimgartner)
303
-336
8.
Garry Rogers Motorsport
287
-352
9.
Walkinshaw Racing
279
-360
10.
Nissan NISMO (De Silvestro/Jacobsen)
266
-373