Sebring: Lopez puts Toyota on top again in practice 2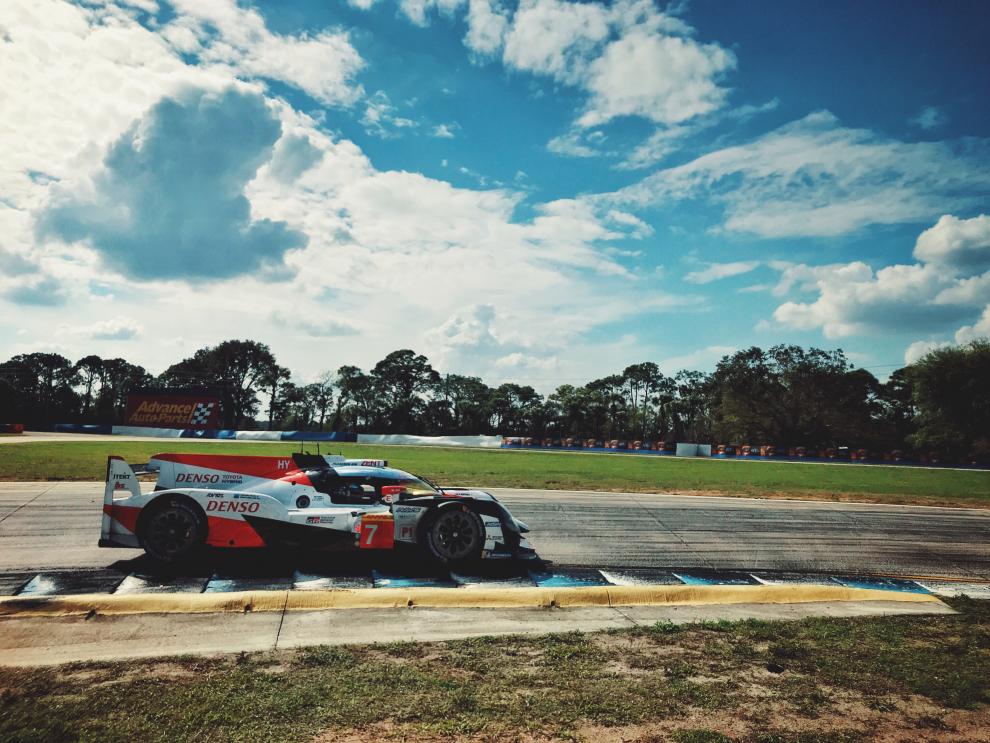 #17 Toyota of Lopez
Still sandbagging, Toyota driver Jose Maria Lopez set the fastest time of the weekend so far in final practice for the Sebring 1000 Miles World Endurance Championship round.
After taking over the #7 TS050 Hybrid from Mike Conway, Lopez posted a best time of 1m41.448s in the 60-minute session, eclipsing his own best time set in Wednesday evening's second practice.
But it remains three tenths shy of Conway's unofficial record set last weekend in testing.
Fernando Alonso set the best time in the #8 Toyota, a 1m42.101s – 0.653s adrift of Lopez – as both Toyotas stretched their advantage over the non-hybrid LMP1 runners.
GTE Pro was led the #67 Ford at 1m57.730s with Andy Priaulx driving, while Porsche's pair of 911 RSRs filled the next two spots, Michael Christensen in the #92 narrowly shading Gianmaria Bruni in the #91 car, while Alessandro Pier Guidi put the best of the Ferraris in fourth.
Practice 3 Results
| | | | | | |
| --- | --- | --- | --- | --- | --- |
| POS | CLASS | DRIVER | TEAM | GAP | LAPS |
| 1 | LMP1 | M.Conway, K.Kobayashi, J.M.Lopez | Toyota Gazoo Racing | 1m41.448s | 27 |
| 2 | LMP1 | S.Buemi, K.Nakajima, F.Alonso | Toyota Gazoo Racing | 0.653s | 29 |
| 3 | LMP1 | H.Hedman, B.Hanley, R.van der Zande | DragonSpeed | 2.708s | 22 |
| 4 | LMP1 | N.Jani, M.Beche, B.Senna | Rebellion Racing | 3.106s | 22 |
| 5 | LMP1 | N.Berthon, T.Laurent, G.Menezes | Rebellion Racing | 3.259s | 28 |
| 6 | LMP1 | M.Aleshin, V.Petrov, B.Hartley | SMP Racing | 4.951s | 21 |
| 7 | LMP1 | S.Sarrazin, E.Orudzhev, S.Sirotkin | SMP Racing | 5.327s | 17 |
| 8 | LMP2 | H-Pin Tung, G.Aubry, S.Richelmi | Jackie Chan DC Racing | 6.905s | 24 |
| 9 | LMP2 | N.Lapierre, A.Negrao, P.Thiriet | Signatech Alpine Matmut | 7.046s | 23 |
| 10 | LMP2 | F.van Eerd, G.van der Garde, N.de Vries | Racing Team Nederland | 7.580s | 27 |
| 11 | LMP2 | R.Gonzalez, P.Maldonado, A.Davidson | DragonSpeed | 7.613s | 23 |
| 12 | LMP2 | F.Perrodo, M.Vaxiviere, L.Duval | TDS Racing | 7.885s | 25 |
| 13 | LMP2 | D.H.Hansson, J.King, W.Stevens | Jackie Chan DC Racing | 7.905s | 21 |
| 14 | LMP2 | E.Creed, R.Ricci, G.Jeannette | Larbre Competition | 9.329s | 23 |
| 15 | GTE Pro | A.Priaulx, H.Tincknell, J.Bomarito | Ford Chip Ganassi Team UK | 16.282s | 23 |
| 16 | GTE Pro | M.Christensen, K.Estre | Porsche GT Team | 16.604s | 19 |
| 17 | GTE Pro | R.Lietz, G.Bruni | Porsche GT Team | 16.635s | 22 |
| 18 | GTE Pro | A.P.Guidi, J.Calado, D.Serra | AF Corse | 16.917s | 23 |
| 19 | GTE Am | C.Ried, J.Andlauer, M.Campbell | Dempsey-Proton Racing | 17.106s | 20 |
| 20 | GTE Pro | S.Mucke, O.Pla, B.Johnson | Ford Chip Ganassi Team UK | 17.147s | 21 |
| 21 | GTE Pro | D.Rigon, S.Bird, M.Molina | AF Corse | 17.340s | 19 |
| 22 | GTE Pro | M.Tomczyk, N.Catsburg, A.Sims | BMW Team MTEK | 17.416s | 24 |
| 23 | GTE Pro | A.Farfus, A.F.da Costa, B.Spengler | BMW Team MTEK | 17.647s | 20 |
| 24 | GTE Pro | J.Magnussen, A.Garcia, M.Rockenfeller | Corvette Racing | 17.682s | 12 |
| 25 | GTE Am | G.Roda, G.Roda, M.Cairoli | Dempsey-Proton Racing | 17.812s | 22 |
| 26 | GTE Am | J.Bergmeister, P.Lindsey, E.Perfetti | Team Project 1 | 18.157s | 21 |
| 27 | GTE Pro | M.Sorensen, N.Thiim, D.Turner | Aston Martin Racing | 18.161s | 27 |
| 28 | GTE Pro | A.Lynn, M.Martin | Aston Martin Racing | 18.213s | 22 |
| 29 | GTE Am | T.Flohr, F.Castellacci, G.Fisichella | Spirit of Race | 18.251s | 24 |
| 30 | GTE Am | S.Yoluc, J.Adam, C.Eastwood | TF Sport | 18.486s | 22 |
| 31 | GTE Am | M.Ishikawa, O.Beretta, E.Cheever | MR Racing | 18.681s | 21 |
| 32 | GTE Am | M.Wainwright, B.Barker, T.Preining | Gulf Racing | 18.981s | 24 |
| 33 | GTE Am | L.P.-Companc, M.Cressoni, M.Griffin | Clearwater Racing | 19.131s | 24 |
| 34 | GTE Am | P.D.Lana, P.Lamy, M.Lauda | Aston Martin Racing | 20.159s | 13 |