Road to Indy St. Pete Saturday race recap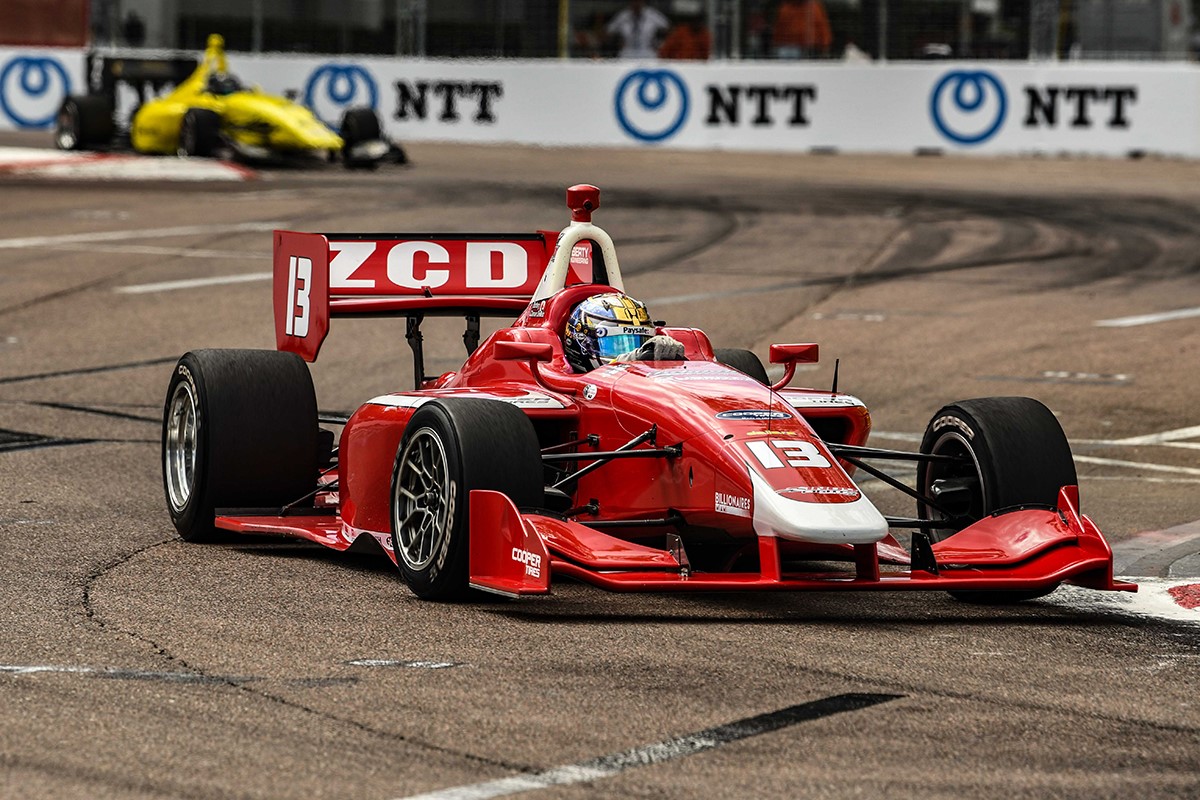 Zachary Claman
Zachary Claman (Belardi Auto Racing) celebrated his return to Indy Lights presented by Cooper Tires by leading every lap of the season opener and winning the race by 0.7271 of a second over Toby Sowery (BN Racing/Team Pelfrey). Claman, who drove in Indy Lights from 2016-17, competed in 10 NTT IndyCar Series races in 2017 and '18, but returned to the top level of the Road to Indy presented by Cooper Tires this season to hone his race craft in hopes of an eventual return to the NTT IndyCar Series.
Parker Thompson (Abel Motorsports) completed a weekend sweep of the Indy Pro 2000 Championship presented by Cooper Tires doubleheader at St. Petersburg. The 21-year-old Canadian won by 1.4334 seconds over Kyle Kirkwood (RP Motorsport Racing) on Saturday, one day after winning the season opener.
Braden Eves also completed a weekend sweep, his in the Cooper Tires USF2000 Championship, but in most unusual fashion. Eves was running third in Saturday's second race when the two cars ahead of him – Darren Keane (Cape Motorsports) and Christian Rasmussen (Jay Howard Driver Development) – had contact on the next-to-last turn of the final lap. Eves dodged the incident and won by 0.6338 of a second over Hunter McElrea (Pabst Racing) to collect his second win in as many days.
Lights Results
| | | | | | | | |
| --- | --- | --- | --- | --- | --- | --- | --- |
| Pos | SP | Car | Driver | Lap | Laps Down | Time Down | Running/Reason Out |
| 1 | 1 | 13 | Claman, Zachary | 35 | 0 | –.—- | Running |
| 2 | 2 | 2 | Sowery, Toby (R) | 35 | 0 | 0.7271 | Running |
| 3 | 3 | 28 | Askew, Oliver (R) | 35 | 0 | 4.3757 | Running |
| 4 | 4 | 79 | Malukas, David (R) | 35 | 0 | 8.1375 | Running |
| 5 | 6 | 21 | VeeKay, Rinus (R) | 35 | 0 | 10.6064 | Running |
| 6 | 5 | 27 | Megennis, Robert (R) | 35 | 0 | 21.4424 | Running |
| 7 | 7 | 48 | Norman, Ryan | 35 | 0 | 23.4315 | Running |
| 8 | 8 | 4 | Falchero, Julien (R) | 35 | 0 | 26.9144 | Running |
| 9 | 10 | 5 | Kohl, Lucas (R) | 35 | 0 | 54.3808 | Running |
| 10 | 9 | 67 | Kellett, Dalton | 34 | 1 | – | Running |