Thompson and Abel Motorsports Sweep Indy Pro 2000 Weekend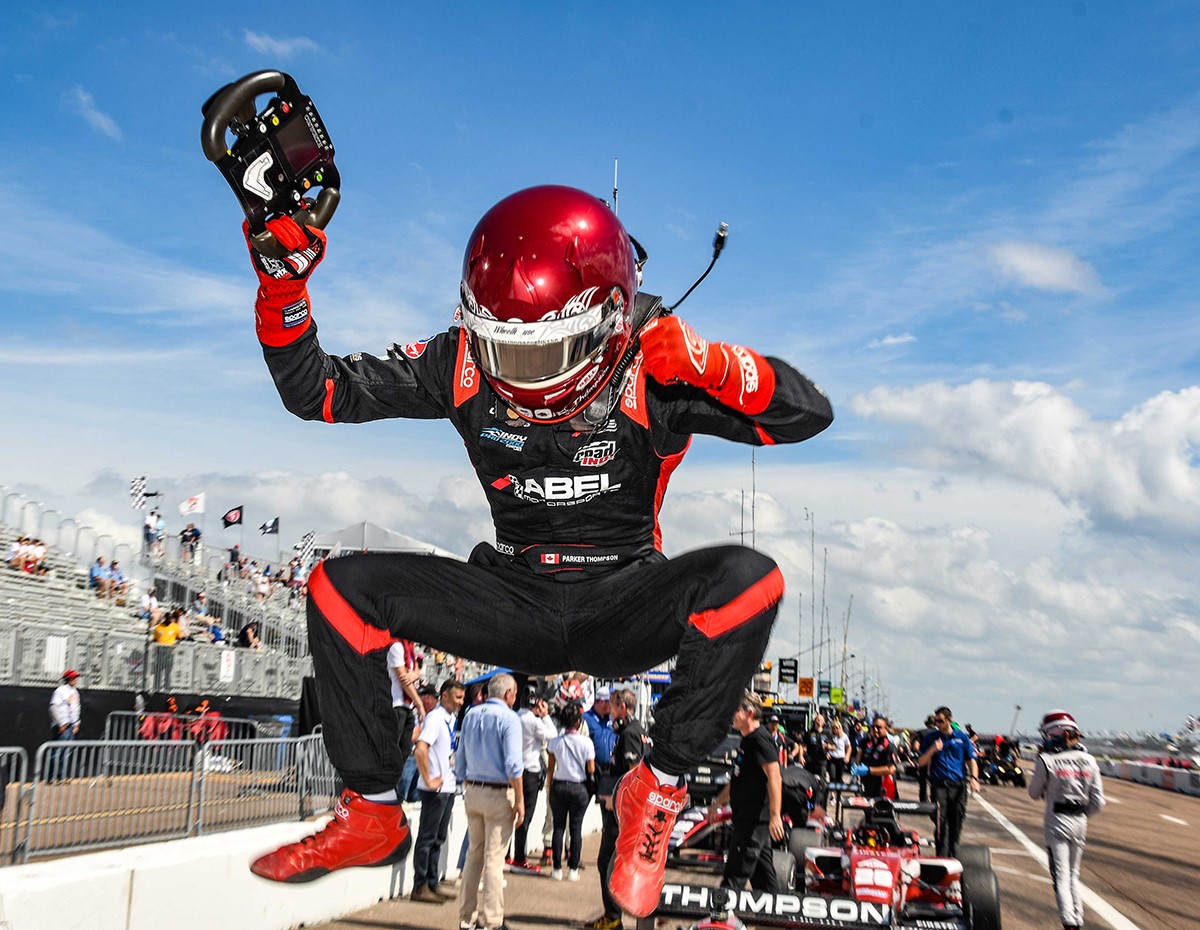 Parker Thompson
Parker Thompson and Abel Motorsports ensured a virtually perfect commencement to their fresh partnership as the gifted Canadian led from start to finish in today's Grand Prix of St. Petersburg Presented by Allied Building Products. Thompson, who celebrated his 21st birthday just one week ago, backed up his victory in yesterday's opening round of the Indy Pro 2000 Championship Presented by Cooper Tires by posting the fastest time in qualifying earlier this morning. The native of Red Deer, Alb., Canada, then catapulted immediately into a lead he never looked likely to relinquish.
Kyle Kirkwood, from Jupiter, Fla., who won last year's Cooper Tires USF2000 Championship, the first step on the unique Road to Indy Presented by Cooper Tires open-wheel development ladder, bounced back from a disappointing result on Friday to finish second for RP Motorsport USA. Danial Frost, from Singapore, overcame a two-position grid penalty to complete the podium for Exclusive Autosport.
After being jumped on the start yesterday, Thompson this time made an exemplary getaway to lead outside front row qualifier Kirkwood into Turn One on the first of 30 laps. Behind, Frost made amends for being assessed a two-grid-positions penalty this morning after failing to acknowledge the checkered flag at the end of qualifying by vaulting from sixth on the grid to third ahead of Juncos Racing teammates Sting Ray Robb, from Payette, Idaho, and Rasmus Lindh, from Gothenburg, Sweden. Moises de la Vara, from Guadalajara, Mexico slotted into sixth for DEForce Racing ahead of Los Angeles, Calif.-based Russian Nikita Lastochkin (Exclusive Autosport).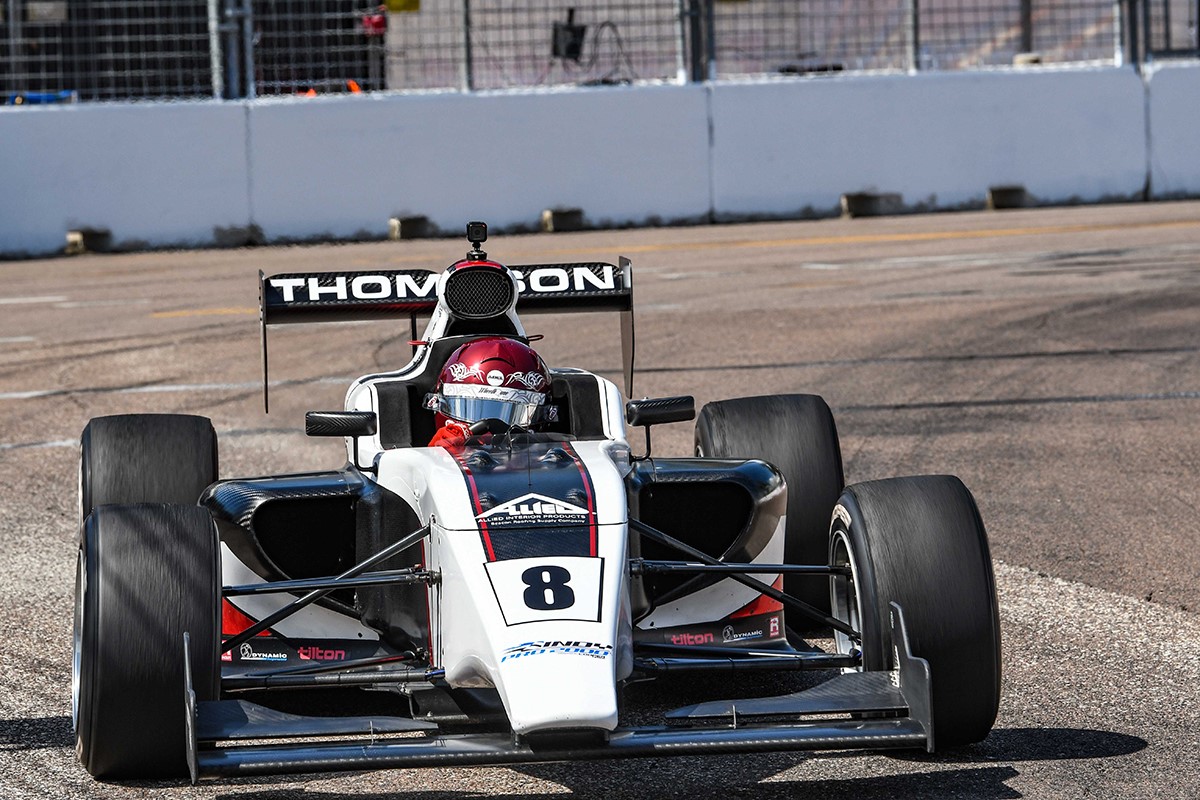 Thompson
Thompson turned a string of quick laps in the early stages to extend his advantage over Kirkwood to a hair under two seconds at the end of Lap Eight. The margin grew as high as three seconds with two-thirds of the race completed, whereupon Kirkwood found some extra pace and whittled the deficit to just 1.4334 seconds at the checkered flag. Kirkwood also "stole" an additional championship point from under Thompson's nose by posting a new fastest race lap on the 29th and penultimate lap.
Frost couldn't match the pace of the two leaders but still drove a fine race to secure his first Road to Indy Presented by Cooper Tires podium, despite constant pressure from the Juncos twins, who exchanged places on the fifth lap so that Lindh secured fourth place ahead of Robb.
De la Vara took his second top-six finish of the weekend ahead of Lastochkin, both of whom were well clear of Phillippe Denes, from Carmel, Calif., who secured the Tilton Hard Charger Award after rising from 12th on the grid to finish eighth. Denes emerged on top of a race-long battle with Damiano Fioravanti (RP Motorsport USA), from Rome, Italy, Kory Enders (DEForce Racing), from Sugar Land, Texas, and Jacob Abel (Abel Motorsports), from Louisville, Ky.
After picking up Abel Motorsports' second PFC Award of the weekend for the winning car owner, Thompson holds an early 19-point lead, 64-45 over Lindh in the quest for a scholarship valued at nearly $600,000 to graduate into Indy Lights Presented by Cooper Tires, the top step of the Road to Indy, in 2020. Up next are two more races at the Indianapolis Motor Speedway road course on May 10-11.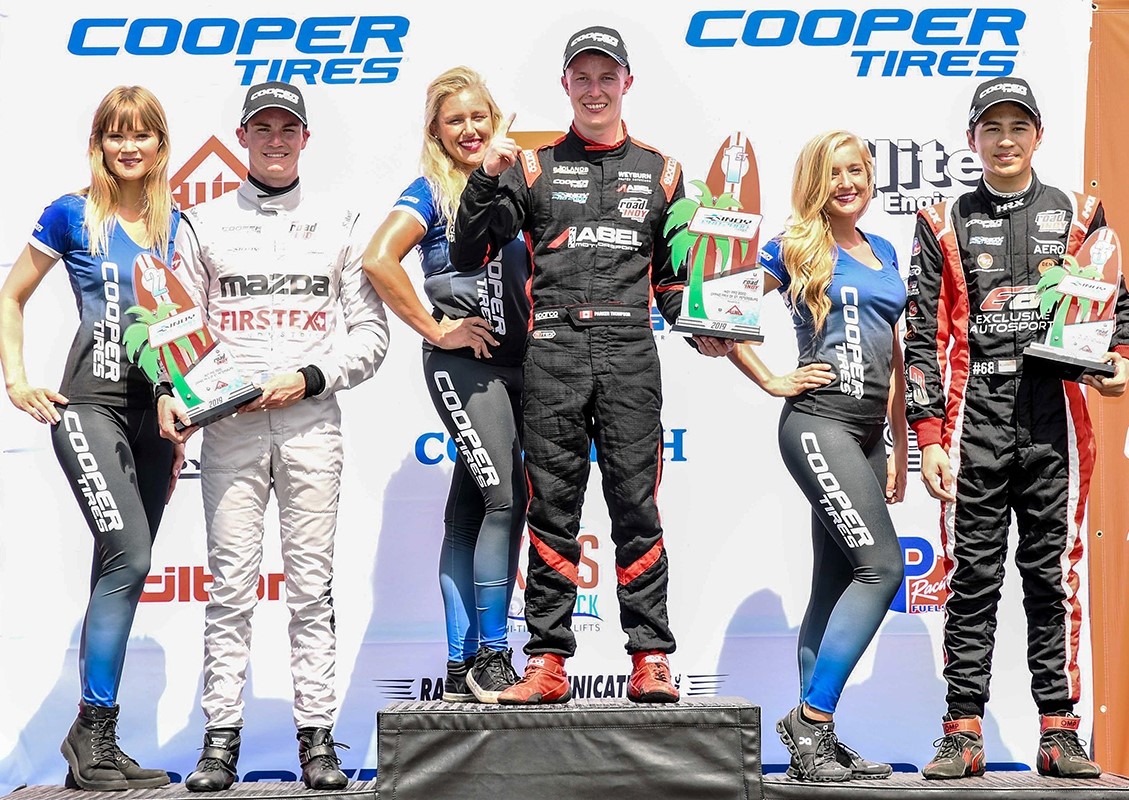 Podium celebration
Parker Thompson (#8 Abel Construction/Badlands Motorsports Resort-Abel Motorsports Tatuus PM-18): "It is unbelievable to sweep the weekend. All the credit goes to Abel Motorsports – coming for a brand-new team on the Road to Indy, racing in a completely new category, to take both wins, that is amazing. I can't thank them enough for this opportunity. We went into St. Pete not thinking anything past this weekend, so hopefully you'll see more of us this season."
Kyle Kirkwood (#28 Mazda/Firstex Industries/Bell Helmets/Sabelt Tatuus PM-18): "It was tough to put a situation like yesterday behind me but the team kept me very positive. We knew we had a fast car so I knew that if I could stay clean, we'd do well. Parker was much quicker than me in the beginning and I was dealing with a balance issue, but the car came on at the end. We thought it would come in sooner, Lap 10 instead of Lap 25, but that's all a symptom of not racing yesterday – we haven't had more than five laps at a time this weekend so what will happen during a full 30-lap race is nearly impossible to predict. We had the pace, so to bounce back like that feels great."
Danial Frost (#68 Den-Jet Exclusive Autosport Tatuus PM18): "I'm super ecstatic to finish on the podium in my first race on a street course. We were so close last year in USF2000, but we were much more confident coming into this weekend. We got up to speed quickly, which was a tough thing to do, because you have to be so precise. But a podium spot in the U.S. feels so good, because the competition level is so high here."