Hunter-Reay again on top in practice 3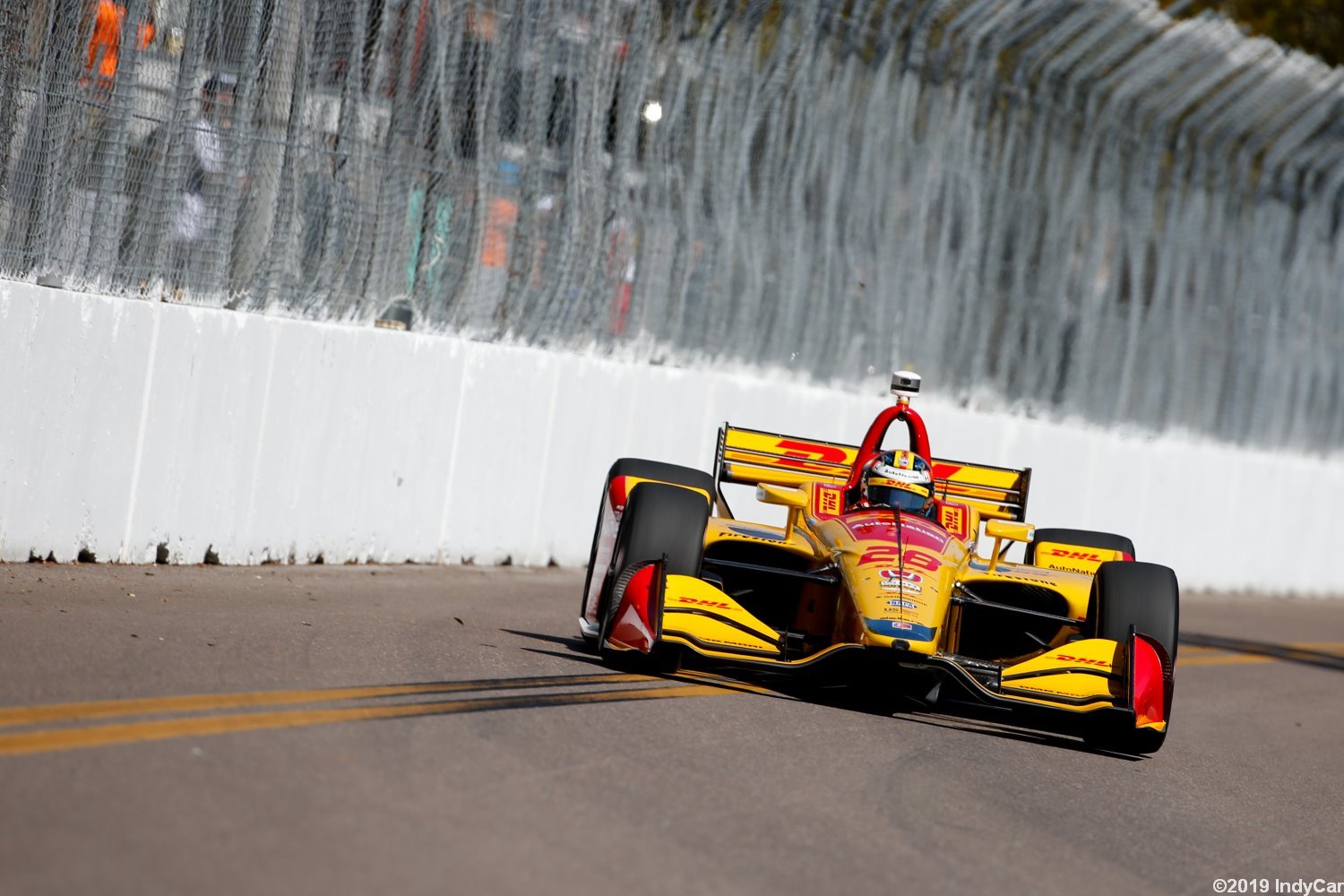 Ryan Hunter-Reay
Ryan Hunter-Reay has the bit between his teeth so far this weekend in St. Petersburg for the opening race of the 2019 NTT Data IndyCar Series. Fastest in session 2 and fastest overall on Friday, Hunter-Reay was again fastest in the final practice session for the Firestone GP of St. Petersburg on Saturday morning.
Penske Chevy driver Josef Newgarden was close behind in 2nd ahead of Takuma Sato in third in the Rahal Honda.
Simon Pagenaud (Penske Chevy) and Will Power (Penske Chevy) rounded out the top-5.
Four drivers caused a red flag and had to sit out 5 minutes of the session. Zach Veach had his second off of the weekend, Carlin's Max Chilton, rookie Ben Hanley and Ed Jones. Mark C. reporting from St. Pete
Practice 3 Results
| | | | | | | | | | |
| --- | --- | --- | --- | --- | --- | --- | --- | --- | --- |
| Pos | No | Name | FTime | Diff | Gap | Laps | FSpeed | Engine | Team |
| 1 | 28 | Ryan Hunter-Reay | 1:00.897 | –.—- | –.—- | 13 | 106.410 | Honda | Andretti Autosport |
| 2 | 2 | Josef Newgarden | 1:00.901 | 0.0039 | 0.0039 | 17 | 106.403 | Chevy | Team Penske |
| 3 | 30 | Takuma Sato | 1:00.903 | 0.0067 | 0.0028 | 21 | 106.398 | Honda | Rahal Letterman Lanigan Racing |
| 4 | 22 | Simon Pagenaud | 1:01.050 | 0.1534 | 0.1467 | 16 | 106.143 | Chevy | Team Penske |
| 5 | 12 | Will Power | 1:01.075 | 0.1784 | 0.0250 | 17 | 106.099 | Chevy | Team Penske |
| 6 | 20 | Ed Jones | 1:01.099 | 0.2021 | 0.0237 | 14 | 106.058 | Chevy | Ed Carpenter Racing |
| 7 | 9 | Scott Dixon | 1:01.148 | 0.2516 | 0.0495 | 14 | 105.972 | Honda | Chip Ganassi Racing Teams |
| 8 | 10 | Felix Rosenqvist | 1:01.168 | 0.2711 | 0.0195 | 16 | 105.938 | Honda | Chip Ganassi Racing Teams |
| 9 | 88 | Colton Herta | 1:01.275 | 0.3788 | 0.1077 | 15 | 105.752 | Honda | Harding Steinbrenner Racing |
| 10 | 98 | Marco Andretti | 1:01.291 | 0.3948 | 0.0160 | 15 | 105.724 | Honda | Andretti Herta Autosport with CA |
| 11 | 4 | Matheus Leist | 1:01.371 | 0.4742 | 0.0794 | 16 | 105.588 | Chevy | AJ Foyt Enterprises |
| 12 | 5 | James Hinchcliffe | 1:01.401 | 0.5040 | 0.0298 | 15 | 105.536 | Honda | Arrow Schmidt Peterson Motorsports |
| 13 | 7 | Marcus Ericsson | 1:01.487 | 0.5901 | 0.0861 | 17 | 105.389 | Honda | Arrow Schmidt Peterson Motorsport |
| 14 | 18 | Sebastien Bourdais | 1:01.514 | 0.6175 | 0.0274 | 15 | 105.342 | Honda | Dale Coyne Racing with Vasser-Sullivan |
| 15 | 15 | Graham Rahal | 1:01.588 | 0.6918 | 0.0743 | 21 | 105.215 | Honda | Rahal Letterman Lanigan Racing |
| 16 | 23 | Charlie Kimball | 1:01.630 | 0.7329 | 0.0411 | 15 | 105.144 | Chevy | Carlin |
| 17 | 21 | Spencer Pigot | 1:01.678 | 0.7811 | 0.0482 | 11 | 105.062 | Chevy | Ed Carpenter Racing |
| 18 | 27 | Alexander Rossi | 1:01.707 | 0.8104 | 0.0293 | 13 | 105.012 | Honda | Andretti Autosport |
| 19 | 26 | Zach Veach | 1:01.721 | 0.8240 | 0.0136 | 13 | 104.989 | Honda | Andretti Autosport |
| 20 | 14 | Tony Kanaan | 1:01.753 | 0.8567 | 0.0327 | 15 | 104.934 | Chevy | AJ Foyt Enterprises |
| 21 | 59 | Max Chilton | 1:02.046 | 1.1493 | 0.2926 | 10 | 104.439 | Chevy | Carlin |
| 22 | 19 | Santino Ferrucci | 1:02.203 | 1.3067 | 0.1574 | 16 | 104.175 | Honda | Dale Coyne Racing |
| 23 | 60 | Jack Harvey | 1:02.416 | 1.5192 | 0.2125 | 17 | 103.820 | Honda | Meyer Shank Racing w/ Arrow SPM |
| 24 | 81 | Ben Hanley | 1:03.498 | 2.6014 | 1.0822 | 10 | 102.050 | Chevy | DragonSpeed |