Both Repsol Honda riders still recovering from surgery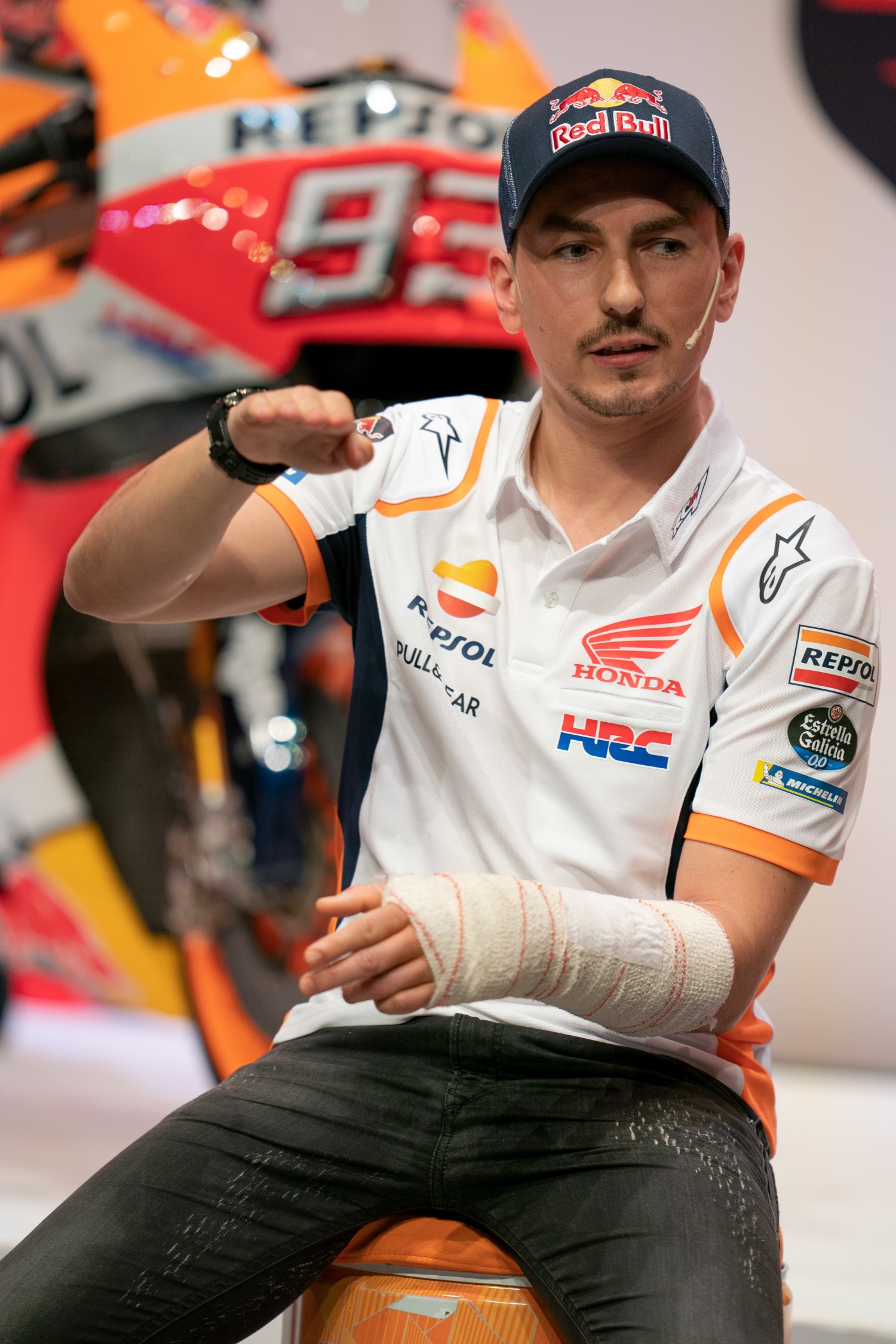 Jorge Lorenzo
Honda MotoGP rider Jorge Lorenzo says he still needs "one full month" to totally recover from the left scaphoid he broke during training in January.
Lorenzo crashed while training on dirt bikes in January and broke his left scaphoid, forcing him to miss the opening Sepang pre-season test.
He returned for the Qatar test and was sixth overall after the three days, but is yet to put a race distance on his wrist.
Speaking ahead of his Honda debut in Qatar this weekend, Lorenzo admits he needs more time to recover to "do all the things you can do when you are healed", but is "quite well" enough to race.
"Well we've been alittle bit unlucky, I've been a bit unlucky because in the last six months I never felt that I was 100 percent [fit]," he said.
"I'm getting close to that, but I think I still need one full month more to really feel 100 percent, to make more push ups and [to do] all the things you can do when you are healed.
"But I'm quite well to ride a bike, I'm better than in the test. I feel fitter, I feel stronger
"Also Honda will bring here some new modifications to make my life a little bit easy. So I expect to be a little bit stronger than I was 10 days ago."
Lorenzo spent the latter months of 2018 battling a foot injury and a broken left wrist suffered in crashes at Aragon and in Thailand – the former he sensationally blamed on new teammate Marc Marquez.
Marquez feels 'ready' despite interrupted preparations
Marquez also spent the winter recovering from injury, after undergoing surgery on the left shoulder he dislocated last year.
The world champion did make both pre-season tests, but he too was unable to complete a race simulation.
However, he says he is "happy" with his feeling on the bike and is "ready" to race now he is "close to 100 percent" fit.
"It has been a strange pre-season for the Repsol Honda Team and my side," he said.
"I miss some long runs, of course, because I am one of the guys who likes to do them. But I'm happy with the pace that I have, I'm happy with how I felt on the bike.
"Here in Qatar, for example, the last day [of the test], I was thinking to make a long run but the conditions we had on the race track will be completely different to the ones we will have on Sunday, because was a lot of rubber, a lot of grip.
"Of course Sunday will be different, so the most important for me is about physical condition: I feel ready. About the bike, still we have margin to improve."