Thunder Thursday at The Pike Outlets Set for April 11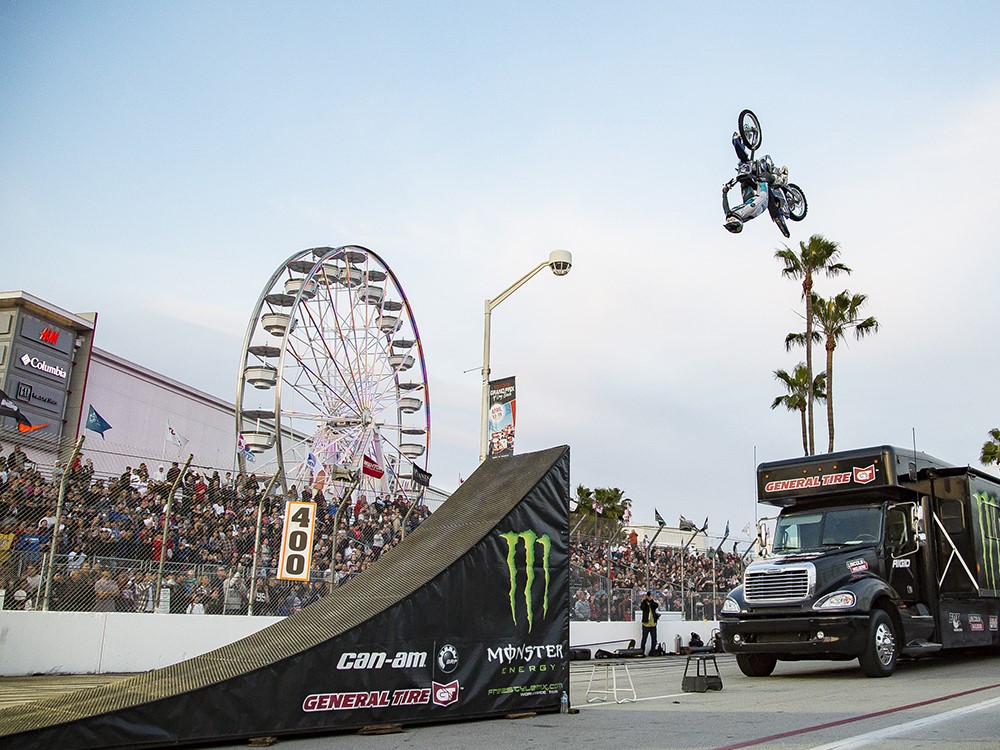 Thunder Thursday at The Pike Outlets action
Liezl Estipona
Thunder Thursday at The Pike Outlets, the free-to-the-public festival that annually marks the start of the Acura Grand Prix of Long Beach race weekend, will take place on Thursday, April 11, and have plenty of fun for the entire family.
Presented by the Long Beach Convention and Visitors Bureau, Thunder Thursday's activities begin at 6:00 p.m., with NTT IndyCar Series pit stop competitions on Shoreline Drive, west of Pine Ave., taking place at 6:45 p.m. and 7:45 p.m. Tony Carbajal's stunt motorcycles will wow the crowd at 7:05 p.m. and 8:05 p.m. and the always-exciting freestyle motocross demonstrations will take over Shoreline Drive at 7:30 p.m. and 8:30 p.m. Spectator viewing for these events will be located in and around the three grandstands adjacent to The Pike Outlets at Pine Ave. and Shoreline Drive.
"Race fans and Long Beach residents are sure to enjoy this kick-off event at The Pike Outlets, with everything from extreme sports and racecars to shopping and dining at our retailers and restaurants." said Morgan Erickson, property manager of The Pike Outlets.
"Thunder Thursday is a great, family-friendly way to get the Acura Grand Prix weekend started," said Steve Goodling, president & CEO, Long Beach Convention & Visitors Bureau. "We're looking forward to hosting a great crowd."
Within The Pike Outlets, fans will enjoy live music and DJs on the stage in the Main Plaza. Food will be available in the Main Plaza, as will, for fans 21 and older, a Beer Garden hosted by the Auld Dubliner.
Car enthusiasts and racing fans will find a classic car show located on The Paseo, with local antique and vintage cars. Meanwhile, race cars will be displayed on Bay Street with professional drivers and crews from the IMSA WeatherTech SportsCar Championship, Pirelli GT4 America and more signing autographs.
Fans will also have an opportunity to pick up an Acura Grand Prix weekend coupon booklet and a chance to win prizes and special offers with The Pike Outlet's street team.
Parking for Thunder Thursday at The Pike Outlets will be available in the Pike Parking structure at Chestnut Place off Ocean Blvd.
The Acura Grand Prix of Long Beach will take place April 12-14. For more information, visit gplb.com.
About The Pike Outlets
The Pike Outlets is a 390,568 sf retail property owned by SITE CENTERS in the heart of Downtown Long Beach, California. Located off of Shoreline Drive and Pine Ave, The Pike Outlets is a premier destination for shopping, dining, and entertainment. The Pike Outlets has a number of great fashion retailers featuring apparel that holds appeal across a wide spectrum of shoppers. The retailers are complemented by restaurants and nightlife options that make the property much more than just a hub of shopping such as a movie theatre, comedy club, and the iconic Ferris Wheel.