Vettel and Hamilton neck-and-neck on final test day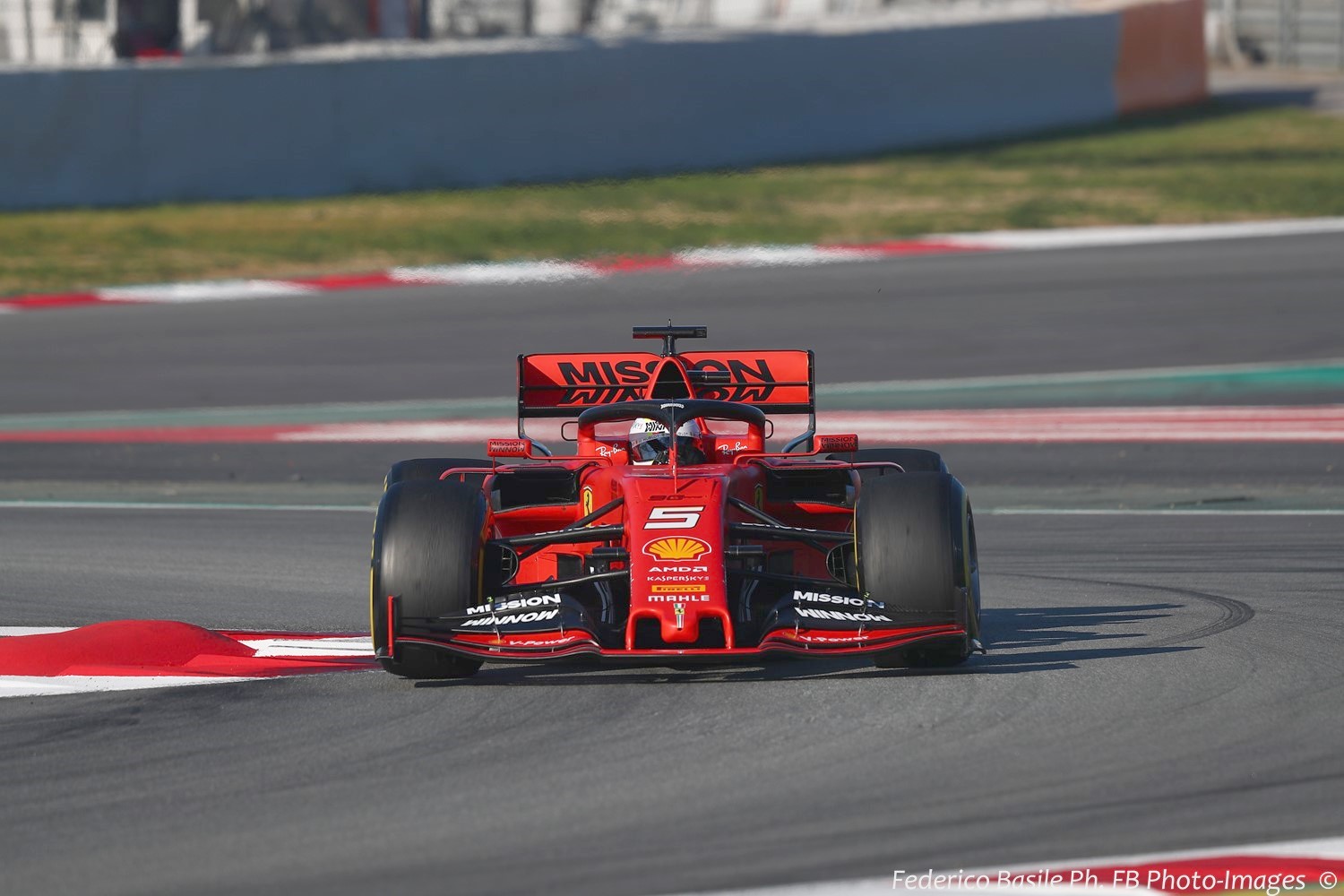 Sebastian Vettel
After Sebastian Vettel's Ferrari broke down with an electrical issue ending his day hours early, sandbagging Mercedes ace Lewis Hamilton finally showed his hand and put up a time only 0.003s slower — proving what we have told you the past two weeks, Mercedes was sandbagging all along.
Vettel ended the two weeks of testing quickest at 1m16.221s to Hamilton's 1m16.224s. Of course both have more in hand and come race weekend in May, look for times easily in the 1m15s range.
Ferrari said the electrical problem would "take too much time to repair" and called it a day early, preventing Vettel to see if he could get down into the 1m15s bracket.
All the teams were anxious to head home for the weekend.
All drivers set their fast time on the C5 tires today except for Max Verstappen whose day ended very early with gearbox issues so he never had a chance to make a 'glory run'.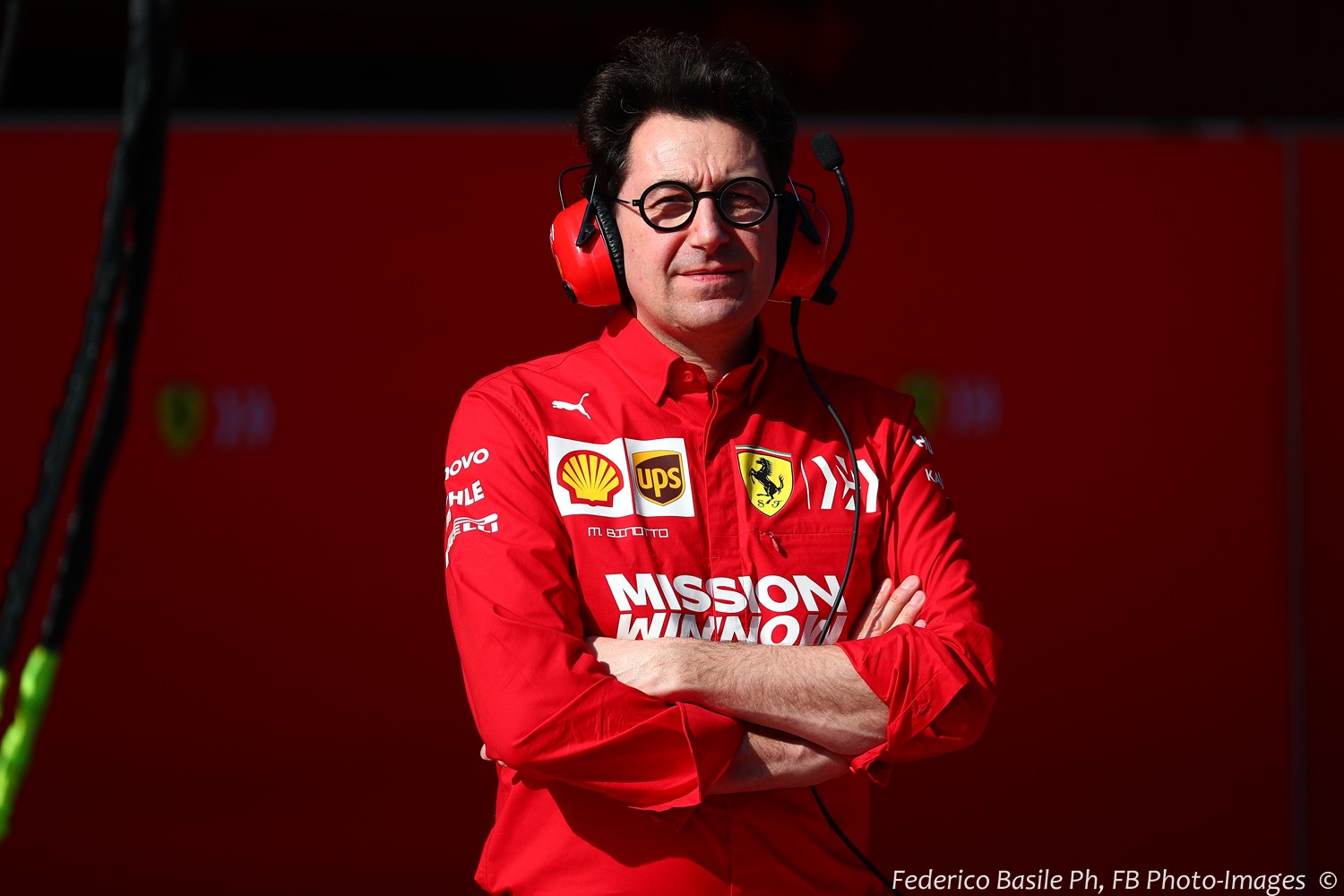 Binotto knows Mercedes is sandbagging
Mattia Binotto says it would be "completely wrong" to assume Ferrari is ahead of Mercedes, but is "happy" Lewis Hamilton believes Mercedes could be half-a-second behind its Formula 1 rival.
Hamilton said on the final day of pre-season testing at Barcelona that Ferrari could be as much as five tenths clear of Mercedes, which introduced a major aerodynamic package this week.
Mercedes has said throughout testing that it believes Ferrari holds an early advantage, but Ferrari team principal Binotto does not agree.
"We are still trying to learn our car, trying to understand the limit of performance but also the reliability," said Binotto.
"These days are very important in the preparation of the entire season.
"I'm happy to know that Hamilton believes we are faster. I believe they are very strong, I believe Mercedes will be very, very strong in Australia.
"It would be completely wrong to think today that we're faster than them.
"Here, we may run different fuel levels, we've got different programs.
"I'm not expecting them to be behind us, or if Mercedes is behind they will be very, very close."
Quotes
Mattia Binotto
"These past days have been very intensive and interesting. We are still focusing on our car to understand its limits in terms of performance and reliability," he said. "Overall, I am pleased with the work we have carried out," he continued. "I am pleased with how the car behaves and it was well balanced at this track. However, we cannot be completely satisfied at the moment as we would like to be faster and more reliable. So there's still a lot to do. Our programme didn't always run as smoothly as we would have liked, due to reliability issues and Sebastian's crash when a wheel rim broke. There are still many issues to be addressed and we must push forward on the performance front. The fact that our car is running properly is a good starting point, but we are still not ready for Melbourne and I'd say it's a case of a work in progress. Both drivers set very similar lap times," concluded Binotto. "We already knew that Charles is a very fast driver, as we have seen throughout his years with the Ferrari Driver Academy and last season in Formula 1. As for Sebastian, his performance shows him to be the multi-world champion we already know."
Kimi Raikkonen
"Today was our last day of testing. We got to know the car over the past two weeks and know where our strengths lie. We will see where we really are when we arrive in Melbourne. I look forward to our first race together there."
Valtteri Bottas
That's the final day of testing done, next time we'll drive the W10, it will be in Melbourne. We've used our time on track here in Barcelona efficiently, learning a lot and improving our performance over the past two weeks. We've also learned that the competition is going to be very, very tough this year, but we're looking forward to the challenge. We need to keep pushing and find more performance if we want to be competitive in Melbourne, but we have a strong team and have made good progress in the last days. We have a few days left to work on the car, so we will give it everything. I'm looking forward to Melbourne!
Lewis Hamilton
The last couple of days have been very positive: it felt like the changes we were making helped us progress and gave us clear feedback of when we were moving in the right or the wrong direction. Today, it was nice to feel the car on lighter fuel and to discover it a little better; I really enjoyed the day and got a good feel for the tyres as well. I'm not the biggest fan of testing, as everybody knows, but it has been a positive week overall. Even so, there is still a lot to do and we are not there yet; there are lots of areas that we are working on and we are heading in the right direction.
James Allison
It was a nice final day. We've waited for a number of days to run on the softer rubber and have a look at the car in its Melbourne spec. We're reasonably pleased because we had a good balance with both drivers and both set competitive lap times. But we've got plenty of work ahead of us before Melbourne. We can look back on eight days of testing where the car has been very reliable, where we've made steady progress throughout those two weeks with the performance and the set-up, we've run through a huge range of the procedures and tests that we need to complete in order to be ready for the first race of the season. All in all, it's been a very long, very tiring but successful test.
Max Verstappen
"The guys in the garage did an amazing job to turn the car around after yesterday's crash and get it on track this morning, but unfortunately we had a gearbox issue and the nature of it meant we had to stop," said Max afterwards. "I think overall we've had a really positive test here. If you look at the longer runs it looks pretty promising. I think we have a good package and the engine works really well, so I'm very happy and I'm looking forward to just going racing now."
Sergio Perez: "It's been a positive final day in the car for me. We did a lot of work and I think we have a good idea of where we stand with the car. Today was about final race preparations with lots of long runs. Every time we go out, we learn more and more and I feel ready for the season ahead. It's been a long winter and I'm extremely motivated: I can't wait to go racing again. Starting the season with some points would be good, but in the end it's a long season so we need to get to Melbourne and see how we really compare to the other teams.
Paddy Lowe, Chief Technical Officer:
For the final day of the pre-season testing we planned an ambitious program to mirror George's from yesterday. This involved more data gathering in the early cool track conditions which we achieved very well, followed by some performance experiments and a qualifying simulation before lunch. The long running in the afternoon was unfortunately brought to a halt because a number of critical bodywork parts had reached a stage of degradation that meant that we were no longer learning useful information from the car nor indeed for Robert. So we decided to switch our time to those final race procedural practices (starts, pit stops etc.) that we need to do before Australia.
Having arrived late to the testing, our reliability during the running itself has been incredibly high. Up until today we were on track to complete our originally intended mileage and to consume all available tyre sets. But today this car has become ultimately too tired to continue. In the interest of saving our resources for the important racing in Australia we felt it was right to change the plan. In general, the car is not as its best and this has affected our performance most particularly this morning with Robert in the qualifying simulation and to some extent with George yesterday.
This is an important moment as we finish the pre-season testing to acknowledge the huge effort that has been put in by everybody to design, manufacture and operate this car. The car build and testing itself has required an extremely intense period of more than three weeks working 24×7 by the trackside team. What we have achieved despite our huge challenges is remarkable; well done to the whole team.
Robert Kubica:
It is a pity to end testing with a difficult day before we head to the first race. Out of the runs that we did, we managed to learn some things, but it hasn't given me the level of confidence that I would have liked ahead of Australia. It wasn't the day that I was hoping for after the delay to the start of testing, but you have to take the positives out of these difficult situations.
Day 4 Final Results
| | | | | | |
| --- | --- | --- | --- | --- | --- |
| POS | DRIVER | TEAM | TIRES | TIME | LAPS |
| 1 | Vettel | Ferrari | C5 | 1m16.221s | 110 |
| 2 | Hamilton | Mercedes | C5 | 1m16.224s | 61 |
| 3 | Bottas | Mercedes | C5 | 1m16.561s | 71 |
| 4 | Hulkenberg | Renault | C5 | 1m16.843s | 51 |
| 5 | Kvyat | Toro Rosso | C5 | 1m16.898s | 131 |
| 6 | Sainz | McLaren | C5 | 1m16.913s | 134 |
| 7 | Grosjean | Haas | C5 | 1m17.076s | 73 |
| 8 | Ricciardo | Renault | C5 | 1m17.114s | 52 |
| 9 | Raikkonen | Alfa Romeo | C5 | 1m17.239s | 132 |
| 10 | Magnussen | Haas | C5 | 1m17.565s | 94 |
| 11 | Verstappen | Red Bull | C3 | 1m17.709s | 29 |
| 12 | Perez | Racing Point | C5 | 1m17.791s | 104 |
| 13 | Kubica | Williams | C5 | 1m18.993s | 90 |
C1=Hardest Tires
C5=Softest Tires