Mustang and McLaughlin conquer the streets of Adelaide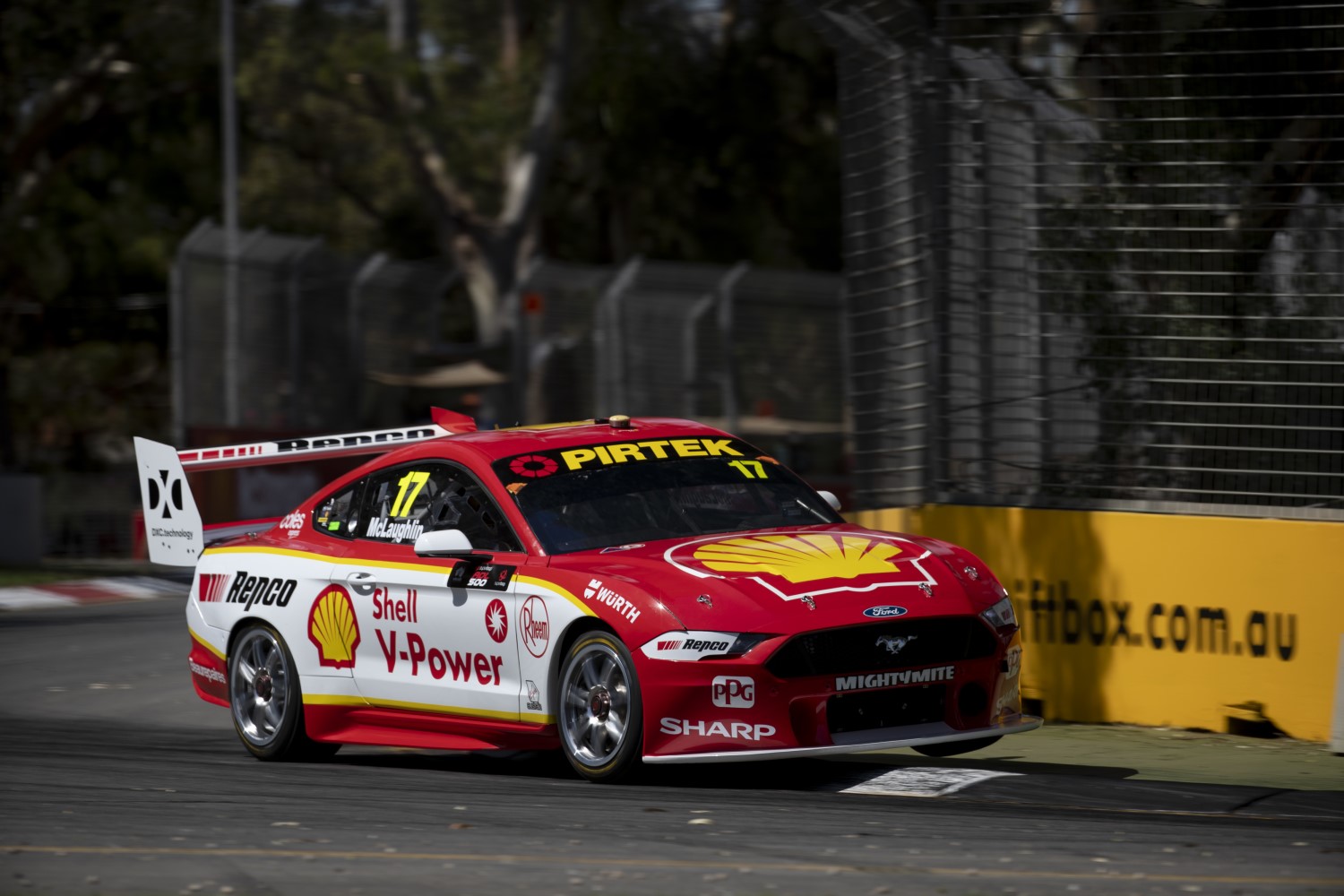 Scott McLaughlin
Scott McLaughlin has ensured a successful Supercars comeback for the Ford Mustang by topping qualifying in his first outing, while resuming his head-to-head battle with Jamie Whincup at the Superloop Adelaide 500.
The two qualifying masters headed the sheets in the first qualifying session of the year on the red-hot streets of Adelaide with an even mix of Mustangs, ZB Commodores and the Nissan Altima of Kelly Racing's Rick Kelly down for tomorrow's ARMOR ALL Top Ten Shootout.
McLaughlin was quick out of the blocks in setting the time on his fifth lap while Whincup was outside the ten until his very last lap, with the last lap flyer a career trademark of the seven-time Supercars Champion.
McLaughlin's Shell V-Power Racing team-mate Fabian Coulthard was third.
"Everything feels pretty good, I just need to tune up a few areas," McLaughlin said. "There was a little bit of a toss up whether to go out again but there is always time to tune up."
Coulthard was first driver to break 1m:20s for the weekend but was eclipsed moments later by McLaughlin who was just .3s outside of the Adelaide qualifying record held by Shane van Gisbergen.
"It's exciting, a lot of fun to drive and we have had a good weekend so far. The more we drive it the more familiar we will get with it and be able to start to tune it more," Coulthard said.
"We have never been very strong on street tracks so it's something we will continue working on; but it's a good start."
Mustangs and Commodores split the top four places, ahead of the Tickford Racing Fords of Cameron Waters and Will Davison.
Van Gisbergen was out of the top 10 at the start of the final runs but did enough to grab seventh, ahead of Rick Kelly in the lead Kelly Racing Nissan, David Reynolds and James Courtney.
"It's friggin hot in the cars man, it's tough," said Van Gisbergen. "At least we are getting somewhere and it's getting better and better. We have another session tomorrow to tune it up and we are in the shootout so that's all that matters."
Penrite Racing youngster Anton de Pasquale fell back to earth quickly after topping practice yesterday when he slammed into the turn eight barrier, demolishing the entire left had side of the car. It also means he will start from the rear of the grid in tomorrow's first race.
The moment was not lost on Penrite Racing team manager Barry Ryan: "It just shows he still has a lot to learn. He is a young guy going for it but there was no reason for that to happen. Let's hope he is here all night helping fix it."
Chaz Mostert was eventually shuffled down to 12th by the end of the session, with 2019's seat traders Lee Holdsworth and Mark Winterbottom 14th and 16th.
Macauley Jones was the best of the two rookies in 17th, three spots ahead of Garry Jacobson.
Practice 4 starts at 10:40am local time on Saturday, followed by the ARMOR ALL Top 10 Shootout and the opening 78-lap race from 4:50pm.
The first race of the year will be a 250km slog in what is expected to be hot conditions on Saturday afternoon with a second 250km race on Sunday.
Every session of the Virgin Australia Supercars Championship is broadcast live in high definition on Fox Sports within Australia.
MCLAUGHLIN QUOTE:
"Today was a really good day, I think we had to reset a bit after yesterday. We worked our way through, and this afternoon for qualifying the car was lit, it was awesome – the best it's been all weekend. I'm feeling very comfortable in the Mustang, it's a good car, we've still got room to build on it and it have plenty to work on from here. The shootout is going to be great, I'm looking forward to having a crack."
Qualifying Results
| | | | | | | |
| --- | --- | --- | --- | --- | --- | --- |
| POS | No. | DRIVER | TEAM | BEST LAP | GAP | LAPS |
| 1 | 17 | McLaughlin | Shell V-Power Racing Team | 1:19.598 | +0.000s | 7 |
| 2 | 88 | Whincup | Red Bull Holden Racing Australia | 1:19.648 | +0.050 | 8 |
| 3 | 12 | Coulthard | Shell V-Power Racing Team | 1:19.666 | +0.068 | 8 |
| 4 | 8 | Percat | Brad Jones Racing | 1:19.668 | +0.070 | 8 |
| 5 | 6 | C. Waters | Tickford Racing | 1:19.743 | +0.145 | 8 |
| 6 | 23 | Davison | Monster Energy Racing | 1:19.762 | +0.164 | 11 |
| 7 | 97 | Van Gisbergen | Red Bull Holden Racing Australia | 1:19.895 | +0.296 | 9 |
| 8 | 15 | R. Kelly | Nissan Motorsport | 1:19.903 | +0.305 | 10 |
| 9 | 9 | Reynolds | Erebus Motorsport | 1:20.011 | +0.412 | 12 |
| 10 | 22 | Courtney | Mobil 1 Boost Mobile Racing | 1:20.057 | +0.458 | 11 |
| 11 | 14 | Slade | Brad Jones Racing | 1:20.064 | +0.466 | 9 |
| 12 | 55 | Mostert | Supercheap Auto Racing | 1:20.083 | +0.485 | 8 |
| 13 | 7 | Heimgartner | Nissan Motorsport | 1:20.153 | +0.555 | 11 |
| 14 | 5 | Holdsworth | The Bottle-O Racing Team | 1:20.209 | +0.611 | 8 |
| 15 | 2 | S. Pye | Mobil 1 Boost Mobile Racing | 1:20.286 | +0.688 | 9 |
| 16 | 18 | Winterbottom | Preston Hire Racing | 1:20.358 | +0.760 | 12 |
| 17 | 21 | M. Jones | CoolDrive Racing | 1:20.364 | +0.766 | 9 |
| 18 | 33 | R. Stanaway | Wilson Security Racing GRM | 1:20.401 | +0.803 | 10 |
| 19 | 34 | J. Golding | Wilson Security Racing GRM | 1:20.466 | +0.868 | 8 |
| 20 | 3 | G. Jacobson | Nissan Nismo | 1:20.493 | +0.894 | 12 |
| 21 | 35 | T. Hazelwood | Bigmate Racing | 1:20.613 | +1.015 | 9 |
| 22 | 78 | S. De Silvestro | Nissan Nismo | 1:20.722 | +1.123 | 10 |
| 23 | 19 | J. Le Brocq | TEKNO Woodstock Racing | 1:20.914 | +1.316 | 8 |
| 24 | 99 | A. de Pasquale | Erebus Motorsport | | +0.000 | 1 |