Asian Le Mans Series Champions Crowned in Malaysia!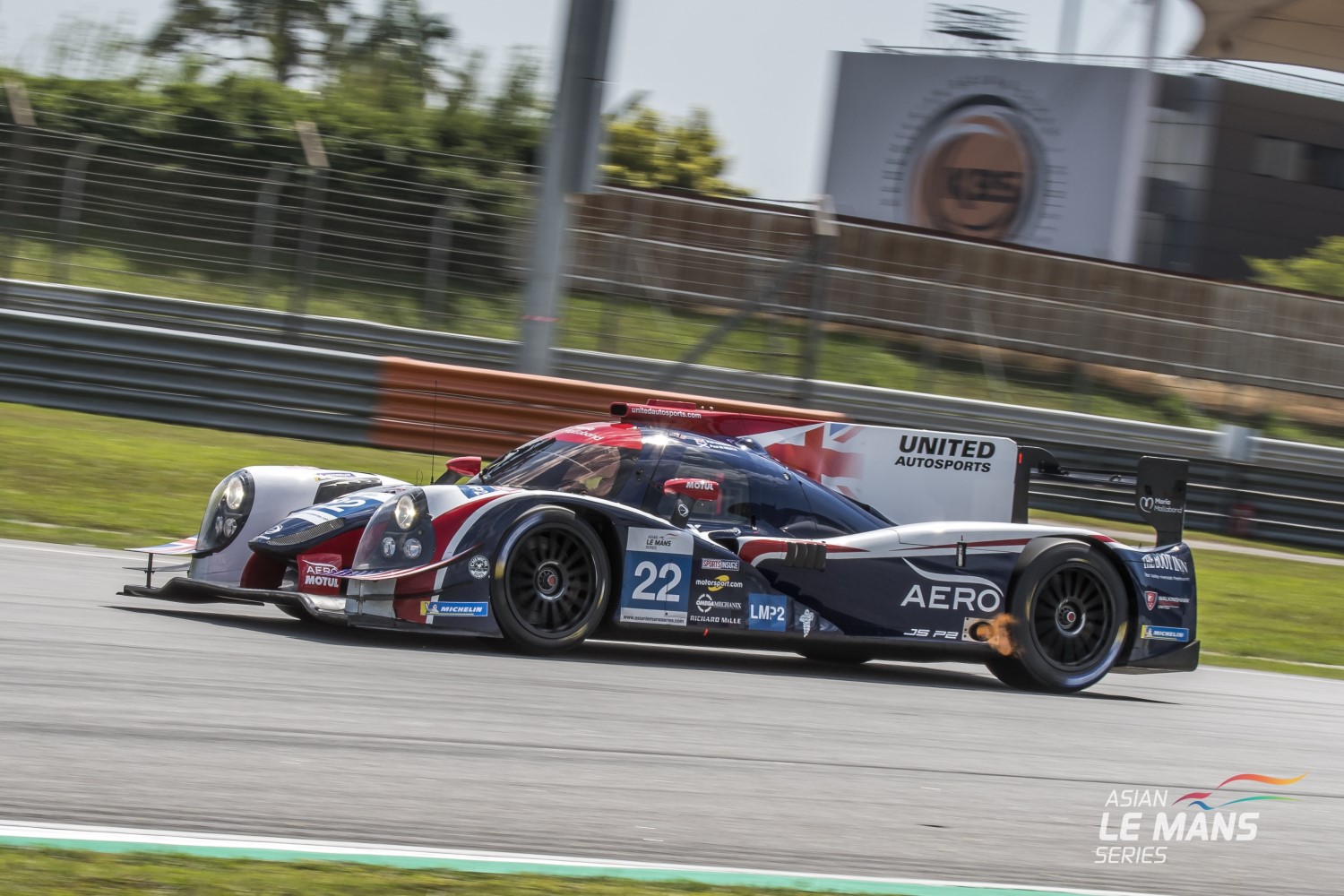 LMP2 Champs – #22 United Autosport Ligier Nissan
Second place in the 4 Hours of Sepang was good enough for the #22 United Autosports Ligier JS P2 Nissan of Phil Hanson and Paul De Resta to win the outright Championship in the 2018/19 Asian Le Mans Series. The #24 Algarve Pro Racing team of Andrea Pizzitola, Harrison Newey and Ate Dirk De Jong gave it their all, winning the race and finishing second in the Championship.
In the LMP2 Am Trophy, ARC Bratislava finished 4thoverall and 1stin class in the 4 Hours of Sepang to claim the Championship win. Driving the ARC Bratislava entry were Miro Konopka, Ling Kang and Darren Burke. Their main title rivals, the #23 United Autosports Ligier JS P2 Nissan suffered a gear box problem that saw them retire from the race. The #25 Algarve Pro Racing entry also retired from the race, securing the championship for ARC Bratislava.
The fight for the LMP3 battle was intense throughout the race, but ultimately it was the #13 Inter Europol Competition Ligier JS P3 driven Jakub Smiechowski and Martin Hippe that won the race in dominant style to claim the LMP3 Championship title. In 2ndplace was the #7 Ecurie Ecosse / Nielsen Racing Ligier JS P3 and third was the #2 United Autosports Ligier JS P3. Third place was good enough for the team to secure 2ndplace in the Championship for Chris Buncombe, Garett Grist and Wayne Boyd.
In GT Japanese team Car Guy of Takeshi Kimura, Kei Cozzolino and James Calado capped off a fantastic season by making it four race wins from four starts in their #11 Ferrari 488 GT3 to win the GT Championship! It was not a simple exercise as they were forced to withstand significant pressure from the pole sitting #88 TianShi Racing Team Audi R8 LMS. The #88, raced by Xu Wei, Chen Wei An and Dries Vanthoor finished the race second and the #51 Ferrari of Alessandro Pier Guidi, Ozzy Negri Jr and Francesco Piovanetti finished 3rd, and claimed 2ndplace in the Championship.
The GT Am title went to the second TianShi Racing Team Audi R8 LMS, the #66. Their race unfortunately finished in the garage with a DNF.
On top of the added pressure of it being the Championship decider, the race was run in very high temperatures and humidity making for one of the toughest races of the season. This made the success of the winning teams all the more sweet.
Algarve Pro Racing secures convincing 'race' victory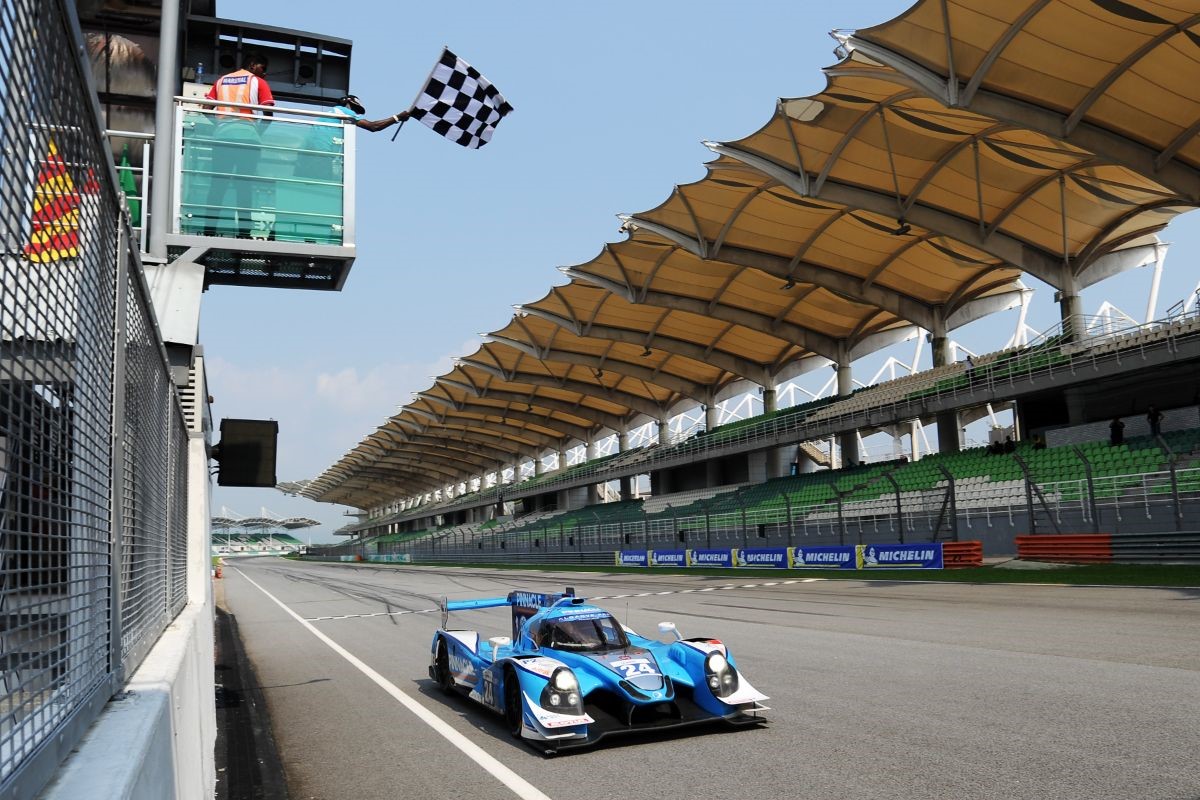 #24 Algarve Pro Racing wins race before near zero fans in attendance
Algarve Pro Racing won the 2018-19 Asian Le Mans Series 4 Hours of Sepang (22-24 February) to finish runner-up in the final championship classification.
In a flawless team performance, Ate Dirk de Jong, Andrea Pizzitola and Harrison Newey possessed supreme speed and benefited from inspired, reactive strategic calls to secure their second victory of the 2018-19 Asian Le Mans season at a hot and humid Sepang International Circuit in Malaysia.
The final weekend of the 2018-19 Asian Le Mans Series began with an Algarve Pro Racing one-two in FP1 on Friday (22 February) afternoon;
The #25 Ligier JSP2 of Anders Fjordbach, Chris McMurry and Mark Patterson headed the times on a 1m54.986s, a full second ahead of the sister #24 car of Newey, Pizzitola and De Jong in P2;
It was the #24 that topped the times in the second phase of free practice on Saturday (23 February) morning with a time of 1m55.211s;
Algarve Pro Racing set the pace during much of the quick-fire qualifying shootout, but Pizzitola's best (1m55.407s) ultimately assured the #24 crew of third position, while Fjordbach went fifth fastest on a 1m55.840s to head the Am Trophy order;
The Asian Le Mans Series 4 Hours of Sepang itself was held in typically hot and humid ambient conditions on Sunday (24 February) afternoon;
A lock-up in the braking zone for Turn 1 saw De Jong tumble from third to sixth, but Fjordbach was ready to pick up the baton as the lead Algarve Pro charger in P3 overall;
Fjordbach, sat at the head of the LMP2 Amateur Trophy order, matched the race-leading #8 Spirit of Race and #22 United Autosports cars for pace to stretch his advantage over the rest of the field;
However, the #8 Spirit of Race entry would be served with a drive-through penalty for jumping the start, promoting Algarve Pro Racing's Fjordbach to second place overall;
De Jong, meanwhile, gained one place when the #23 United Autosports car was also served with a drive-through;
Fjordbach pegged the leading #22 United Autosports car of Phil Hanson for pace throughout the opening stint, but McMurry climbed aboard the #25 in the first round of LMP2 pit stops, when de Jong relinquished the sister #24 machine to Pizzitola;
France's Pizzitola emerged from the pits in fifth, but lapped significantly quicker than those ahead of him to steadily reduce his 1m20s deficit to the outright leader, clearing both McMurry and Spirit of Race's Alexander West to breach the podium places entering the second hour;
However, a timely Safety Car prompted Algarve Pro Racing to pull its drivers in for earlier-than-scheduled second stops, the team's quick strategic thinking ultimately propelling Pizzitola to first position with a healthy 11-second advantage over United Autosports' Paul di Resta;
The final driver changes were conducted with 1h45m remaining. Denmark's Fjordbach replaced Patterson in the #25, before Newey took the reins of the race-leading #24 car;
Algarve Pro doubled its lead over United Autosports in the penultimate round of stops, but a second Safety Car significantly reduced the Portuguese team's 22-second advantage;
The Safety Car punctuated a storming stint from Fjordbach, whose pace was unrelenting in the stifling heat; the Danish racer recorded purple sector times to rise from seventh to fifth, and he continued closing in on Panis Barthez Competition's Jean-Baptiste Lahaye in fourth overall until the #25 car slowed to a halt at Turn 10 during the final hour;
At the Safety Car restart, Newey and Hanson breached the 1m55s barrier while trading purple sectors in the fight for the outright victory, but Algarve Pro's BRDC Superstar found an extra gear to build a sizeable buffer and seal a convincing win in the curtain-closing 4 Hours of Sepang.
2018/19 Asian Le Mans Series Champions:
LMP2: #22 United Autosports Ligier JS P2 Nissan
Phil Hanson /Paul De Resta
LMP2 Am Trophy: #4 ARC Bratislava Ligier JS P2 Nissan
Miro Konopka / Ling Kang / Darren Bourke
LMP3: #13 Inter Europol Competition Ligier JS P3
Jakub Smiechowski /Martin Hippe
GT: #11 Car Guy Ferrari 488 GT3
Takeshi Kimura / Kei Cozzolino / James Calado
These four teams will also receive and invitation to compete in the 24 Hours of Le Mans.
The full entry list for the 2019 24 Hours of Le Mans will be announced by the Automobile Club de l'Ouest on Friday the 1st of March 2019.
Quotes
Phil Hanson (GB), driver car #22, United Autosports:
Born/Lives: London, UK. Age: 19
"Very happy to have achieved our goal of winning the championship and a Le Mans entry but disappointed in not doing it with a second consecutive race win. The start and opening phase of the race was really good for me and I pulled out a good lead, over 50 secs to #8 and almost 90secs to our #24 title rivals before, in my opinion, a relatively uncalled for need for a Safety Car destroyed our strategy. We picked up a pit penalty when a wheel nut rolled on the floor less than a metre during a tyre change and so after that we coasted home to the finish. I managed a good lap in qualifying having gambled on a car set-up for that time of the day and track conditions based on what we'd learned from Friday's practice. "

Paul Di Resta (GB), driver car #22, United Autosports:
Born: Scotland, UK. Lives: Monaco. Age: 32
"Four very different races, one win and three second places, means we've accomplished what we needed to do. We've won the title but also the series was about me helping to develop Phil as much as I could in preparation for ELMS, Le Mans and WEC during the year. He's consistently produced excellent performances. Competing in this four-races series has definitely shortened the winter in some respects but on the other hand it feels it's been a long season having begun in November. "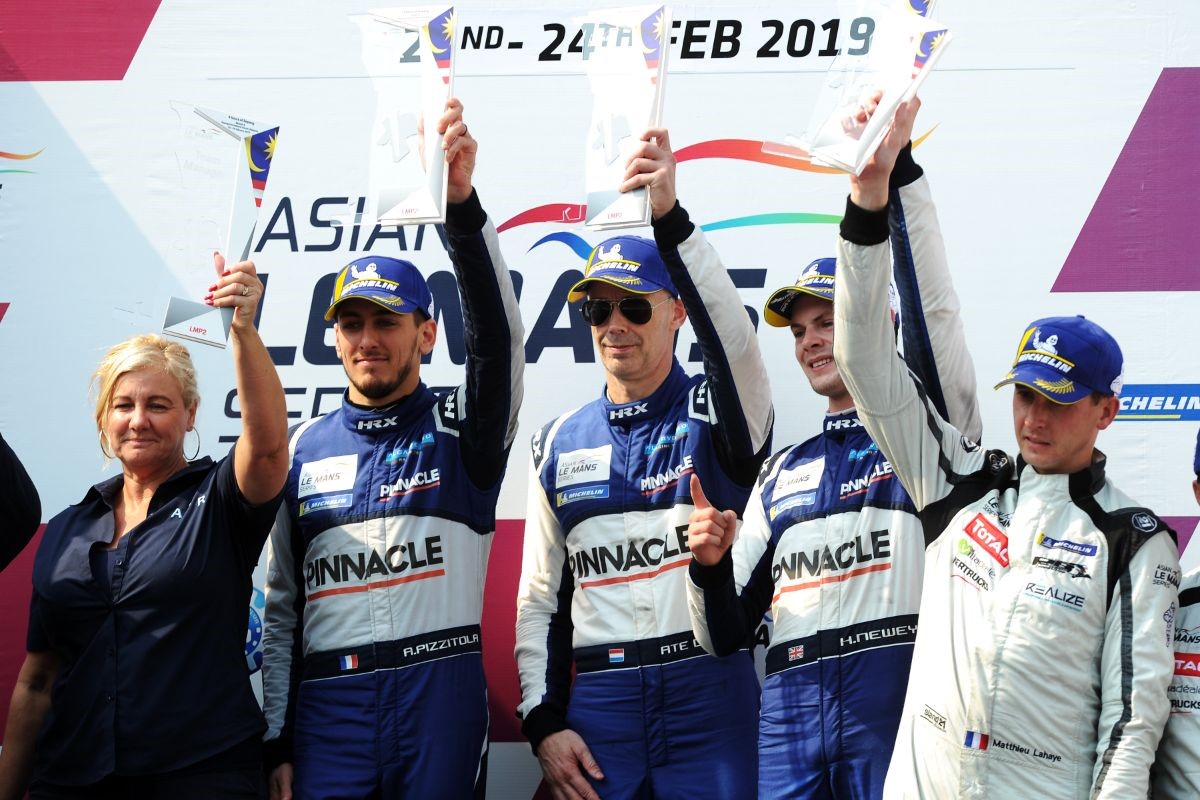 #24 Algarve Pro Racing Drivers celebrate
Ate Dirk de Jong (#24 Algarve Pro Racing Ligier JSP2):
"To finish on the top step of the podium in endurance championships like the Asian Le Mans Series is what I've been working towards since starting car racing three years ago. We finished first at Fuji, second in Buriram and first here at Sepang, but the non-points score in Shanghai hurt us and meant we ultimately finished second in the championship. Nevertheless, I'm happy with my performance in the last two races; my stint at Sepang was relatively easy because it was much shorter than Andrea's and Harrison's. It took a little bit of time – about five or six laps – to find a rhythm, but it then went pretty well. Andrea and Harrison, though, did an insanely good job all season."
Andrea Pizzitola (#24 Algarve Pro Racing Ligier JSP2):
"The Asian Le Mans Series 4 Hours of Sepang was a really nice race and I'm so happy to have finally won with Ate (Dirk de Jong). It's a hugely satisfying result, particularly as it was such a difficult race in the heat. It was a superb effort by Algarve Pro Racing, which made some great calls, including to triple-stint the tyres for Ate and me. Ate and Harrison (Newey) did a great job in their stints. For me, it was just a case of not making any mistakes and giving the car to Harrison in one piece so he could finish the job."
Harrison Newey (#24 Algarve Pro Racing Ligier JSP2):
"Ate (Dirk de Jong) and Andrea (Pizzitola) made my life easy, because I was given the car in the lead. The Safety Car cut our lead down, but the car felt fantastic – Algarve Pro Racing did a great job with it all weekend – and I just had to bring it home."
Full race results can be found here.