F4 U.S. still gaining popularity entering 4th season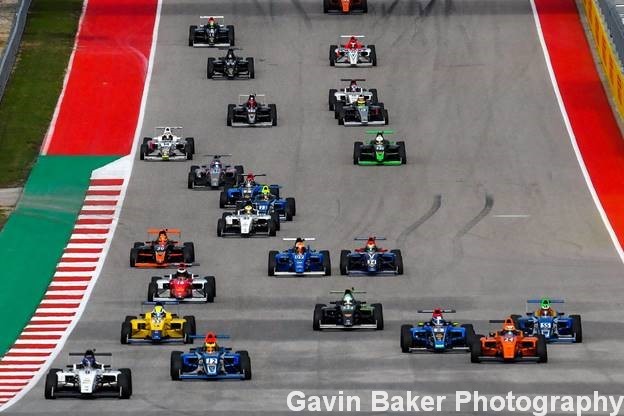 COTA Action
In 2018, Formula 4 United States Championship Powered by Honda maintained the largest F4 field in the world, averaging 31 Ligier JS F4 cars for the 17-race season. With teams like Alliance Racing Sponsored by Gas Monkey Energy Drink, DEForce Racing and Jay Howard Driver Development all expanding their F4 efforts for 2019 and the Formula Pro USA F4 West Coast filtering in new drivers, the field for the season opener at Road Atlanta (April 18-20) is on track to surpass last year's record-breaking season.
"The excitement from our great 2018 season has carried over to 2019. We are looking at topping our 2018 end-of-season projections," said SCCA Pro Racing General Manager Sydney Davis-Yagel. "With a championship scholarship that's valued at $230,000 to progress into the F3 Americas and the potential to earn FIA Super License Points it's no surprise we've sold over 70 cars on both the east and west coasts. The Ligier, Honda/HPD package is a proven product that continues to embrace the low-cost values of our series, both in purchase price and ultimately the cost to compete."
Second-year F4 U.S. squad Velocity Racing Development secured the most recent F4 entry, bringing back British pilot Oliver Clarke. Showcasing his potential in the single-seater category last year with two top-10 finishes in the final three races, the teenager will return to contest a full campaign spearheading a two-car VRD entry.
"I'm delighted to confirm my plans with Velocity Racing Development for the upcoming 2019 F4 United States Championship," said Clarke, who is the ninth F4 U.S. veteran to confirm his championship contention. "Our showing together in COTA certainly proved to me that I didn't want to be anywhere else for my second season. With VRD comes a lot of experience in Daniel Mitchell and the team is currently going from strength to strength. I'm confident that our previous relationship will help us challenge at the front for race wins."
Clarke and the rest of the burgeoning F4 U.S. field will visit six prestigious road courses across the United States this year, supporting premier championships like F3 Americas, NASCAR Xfinity Series and Formula 1. The top-seven drivers in the overall championship earn FIA Super License Points to advance their racing careers. For more information on the F4 U.S. teams, drivers or the championship, visit F4USChampionship.com.
SCCA Pro Racing is a division of the Sports Car Club of America, Inc. — a 65,000-member organization dedicated to motorsports. SCCA Pro Racing provides full-service organization, operation and sanctioning for numerous professional racing series such as F3 Americas, Trans Am® and Formula E.
About the SCCA Pro Racing F4 U.S. Championship:
FIA F4 is designed as entry-level open-wheel racing for participants, around a contemporary, modern, cost conscious formula. SCCA Pro Racing and its chosen partners that embrace these ideals and support this vision with appropriate technology and products. The selected F4 powerplant is a production-based engine powering the Honda Civic® Type R®, tuned to meet FIA-mandated output of approximately 160 Hp. The engine and the ECU are sealed to provide parity and compliance. The Ligier JS F4 16 carbon fiber chassis is manufactured in the United States. From the Hankook Tires, the Honda engine to the Ligier chassis, the F4 U.S. car is assembled and made in the United States.
F4 U.S. 2019 Schedule
April 18-20: Road Atlanta with F3 Americas and FRP
June 21-23: Pittsburgh International Race Complex with F3 Americas
July 26-28: Virginia International Raceway with F3 Americas and FRP
8-10: Mid-Ohio Sports Car Course with NASCAR Xfinity Series and Trans Am
13-15: Sebring International Raceway with F3 Americas
1-3: Circuit of the Americas with Formula 1