Arthur Leist Returns For Second F4 U.S. Season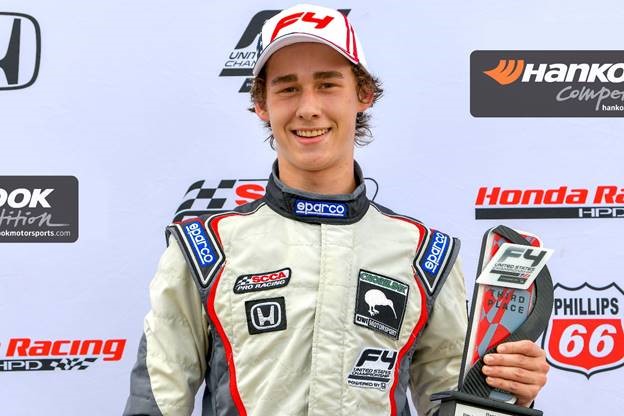 Arthur Leist – brother of IndyCar driver Matheus Leist
With the Formula 4 United States Championship Powered by Honda season opener quickly approaching, reigning team champions Crosslink/Kiwi Motorsport is confirming another powerhouse driver lineup, starting with Brazilian Arthur Leist.
Leist, who piloted the No. 30 Ligier JS F4 for the team last year, scored two podiums, a pole position and earned points in 10 of the 17 rounds. Competing in the world's largest F4 field, Leist finished his first season in single-seater competition ninth overall in the F4 U.S. championship and was awarded the Catherine Crawford Most Improved Driver Award for his continued development throughout the season.
"First of all I have to say that F4 US Championship is a huge success, with high level of drivers and I'm humble to be part of it," said Leist, who is the younger brother of IndyCar driver Matheus Leist. "Young drivers like me in Brazil always think about going to Europe. However, since my brother came to IndyCar, my first goal was to come to U.S. and follow his steps until I get to the top of the open-wheel category in U.S. motorsport. I am very happy and motivated to come back to Crosslink/Kiwi Motorsport for my second F4 U.S. season. The team is always committed to results and it makes me confident in their work. This year I'm preparing myself to be for more consistent and stronger and I will fight for the championship"
After merging assets before the 2018 season, Crosslink/Kiwi Motorsport created a thriving roster, fielding six Ligier JS F4 cars. The newly formed team produced four racers in the Championship's top-10. All together in its maiden season, Crosslink/Kiwi Motorsport won 13 podiums and scored 56 top-10 finishes, making it the most consistent team on the grid in F4 U.S. history.
"People underestimated us, especially growing to a six-car team by the final race at COTA last year," said Garry Orton, Kiwi Motorsport co-owner. "It was combination of the ability of our drivers, their willingness to learn and the structure we put in place. Our recipe for success has proven to be effective. We want to continue that success into 2019 and that starts with signing great talent like Arthur."
The Dallas-based outfit also broke the record for most points scored at a single event by a team and was the first F4 U.S. team to ever sweep the podium. The unwavering team effort won Crosslink/Kiwi its first team championship.
"Winning the Team Championship last year was a team effort. Not only did we collectively score points in every race, it was all of our drivers earning us these valuable points toward the team championship," said Kiwi Motorsport co-owner Teena Larsen. "The ability to share data and coach from there kept all our drivers on their toes. That is why it's important for us to build our field this year with drivers who are willing to work as a team. Arthur listened to feedback, quickly adapted to any situation and was a team player. We are excited to have him back again this year."
The 2019 F4 U.S. season kicks off supporting the F3 Americas Championship Powered by Honda and Formula Race Promotions at Road Atlanta April 18-20.