Conquest Racing To Compete In IMSA Prototype Challenge In 2019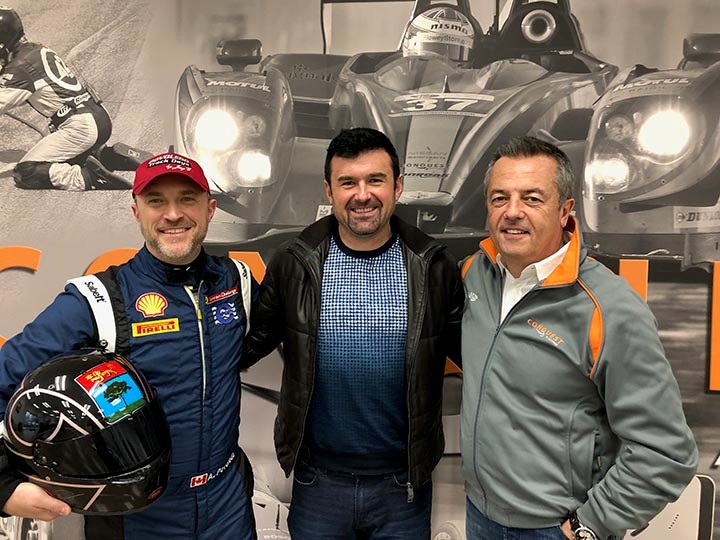 Eric Bachelart (R) with drivers Ross Chouest and Aaron Provoledo
Conquest Racing announced today that the team will return to prototype competition by joining the 2019 IMSA Prototype Challenge with drivers Ross Chouest and Aaron Provoledo. The team has registered the #25 Conquest Racing Ligier JSP3 entry for the full season and will start off this new project next January 4-6 at the season opener at the Roar Before the 24 at Daytona International Speedway.
The former IndyCar team is no stranger to sportscars competition, after fielding a successful LMP2 campaign in 2012. The team also runs a successful seven-car Ferrari Challenge operation under the banner of New Country Competizione, with Chouest as one of its drivers.
In 2018 Chouest and the team captured the Tropheo AM Championship and third place in th World Finals, and will now look for a new challenge in the faster LMP3 cars. For Provoledo, this will mark the eight year of working together with Chouest but 2019 will see him trading his coaching hat for a helmet as he will drive alongside his long time student sharing the #25 Conquest machine.
Ross Chouest
Driver
#25 Conquest Racing Ligier JSP3
"I am really excited to start 2019 with Aaron Povoledo, Eric Bachelart, and the rest of the crew at Conquest Racing in the LMP3 program. We are fresh off of challenging 2018 Ferrari Challenge season that we were able to finish off strongly winning the U.S. Am title and finishing P3 in the World Finals.
I am looking to try to continue that momentum into the LMP3 program. I am anticipating it will be challenging, especially initially. I basically have no experience in this car and it just recently arrived in the U.S. but I look forward to the challenge and I know I am surrounded by a great group of guys that will be there to help me along the way and help expedite the process."
Aaron Provoledo
Driver
#25 Conquest Racing Ligier JSP3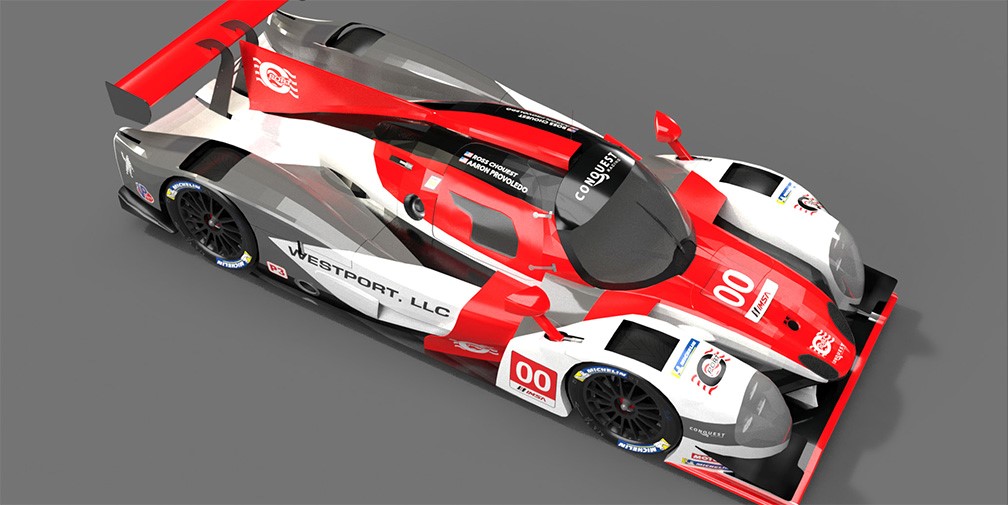 #25 livery
"What a great challenge to sink our teeth into and what a fantastic group of people to do it with! I couldn't be happier teaming up with Ross Chouest, Westport Yachts and Conquest Racing for our first foray into LMP3 competition. I've been working with Ross for 7 years now and together we've shared a lot of success.
As Ross's coach I've seen him grow from a first time beginner into champion, and I believe the LMP3 car and endurance format will provide the perfect training platform for Ross to grow even stronger.
Eric Bachelart and his crew at Conquest racing have been so good to Ross and I this past year while they supported his Ferrari Challenge season. We won the championship together and it was a tremendous team effort. They take winning very seriously and it shows in the hard and smart work they put into everything. LMP3 is new to all of us but I can already see the excitement and enthusiasm this team has for the project. I simply cannot wait to dig in with this crew and Ross and start learning about our new Ligier LMP3 car."
Eric Bachelart
Team Owner
#25 Conquest Racing Ligier JSP3
"We're delighted to participate in the IMSA Prototype Challenge with Ross and Aaron. We have enjoyed good success with Ross in Ferrari Challenge and this is a great and logical extension to the program. For us it means a return to sportscars which has been one of our goals for years, and it's only the first step of our program growing deeper and larger around IMSA. We have a brand new Ligier JSP3 from Onroak and the guys are working hard at the shop to make sure we hit the ground running next week at the Roar."