Is Kyle Kirkwood IndyCar's next Alexander Rossi?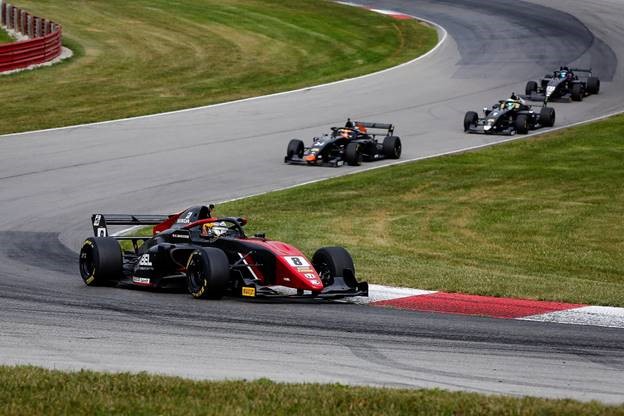 Whether it was Formula 3 cars or USF2000 cars, Kyle Kirkwood was untouchable
A whirlwind of an incredible year is coming to a close for Kyle Kirkwood writes Joey Barnes of IndyCar.com.
The 20-year-old racer was simply on another level in 2018 as rivals were left in the wake of insurmountable pace.
He put everyone on notice early and often as a rookie driving for Cape Motorsports in the Cooper Tires USF2000 Championship – the first rung of the Mazda Road to Indy development ladder sanctioned by INDYCAR. He burst onto the scene by capturing 12 victories in the 14 races, matching JR Hildebrand's 12-year-old record for most wins in a single season. The Floridian easily claimed the USF2000 championship and $325,000 scholarship to move up the MRTI ladder in 2019.
Kirkwood's dream year also included a dominant title run for Abel Motorsports in the inaugural season of the F3 Americas series, where he won 15 wins over 17 races. On top of that, he turned a one-off opportunity into success when making his sports cars debut in the four-hour Michelin IMSA SportsCar Encore at Sebring International Raceway last month, co-driving the winning LMP3 entry for ANSA Motorsports.
Tallying that up, Kirkwood amassed 28 wins and 30 podiums in 32 total races for the year.
While confessing he is still trying to "absorb" the magical campaign – adding it was "extremely unexpected" considering every deal was put together at the last minute – Kirkwood was pleased but said the focus has already turned toward next year.
Earlier this month, he tested at the Homestead-Miami Speedway road course with Abel Motorsports, as both driver and team were getting a feel for their first official run in the second rung of the MRTI development ladder – the Indy Pro 2000 Championship presented by Cooper Tires (formerly Pro Mazda).
Kirkwood topped the opening session at Homestead, but a variety of issues plagued the potential for additional competitive speed throughout the remainder of the two-day event. The pace right out of the gate was another sign of Kirkwood's adaptability in changing from the Tatuus USF-17 chassis in USF2000 to the PM-18 in Indy Pro 2000.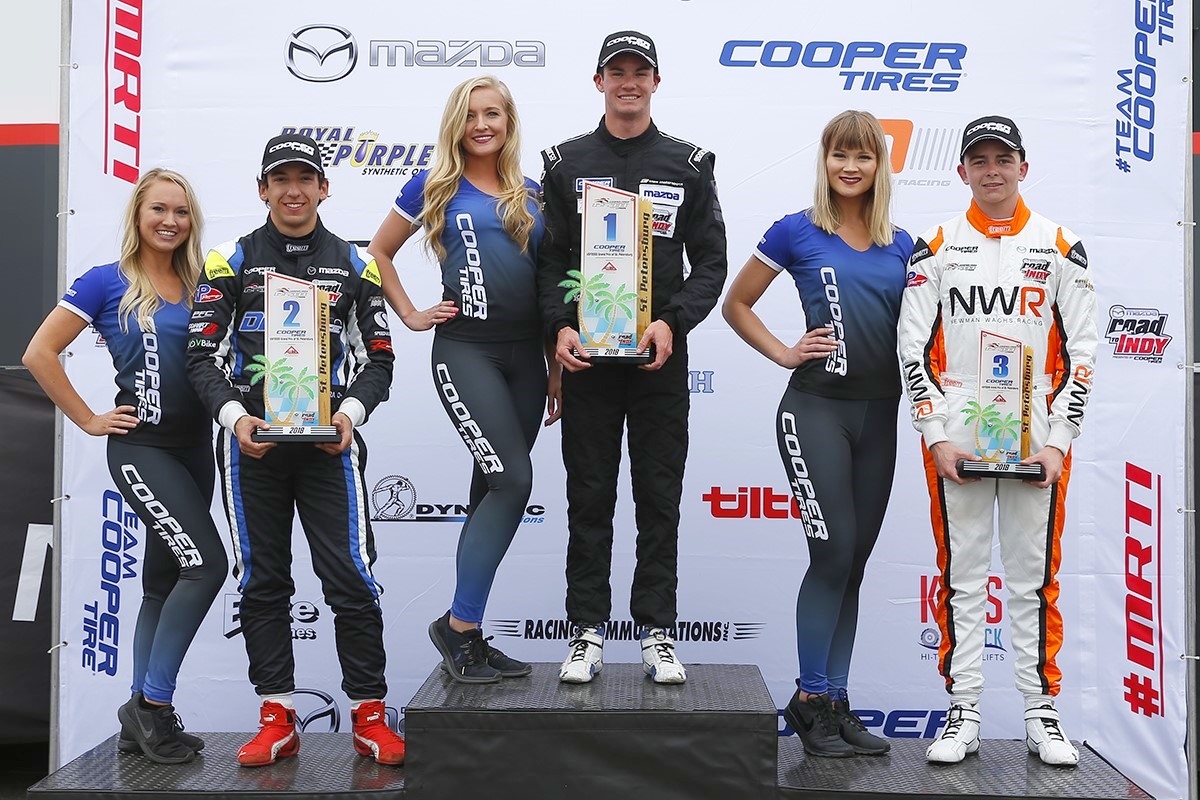 Kyle Kirkwood (C) is dominating the lower ranks like Alexander Rossi did. Might he be the next American, like Rossi, to burst on the IndyCar scene in a big way?
"Quite honestly, I can't really pinpoint the exact differences," Kirkwood said. "It was an easy transition considering I went from the USF-17 to F3 and then F3 to (the PM-18). It didn't feel much faster than the F3 car, but in comparison to USF, it obviously has a lot more power. I think 100 horsepower, to be exact. Obviously, the tires and (added) downforce comes into effect as well.
"It's just a bigger, faster car than the USF. A little bit more meat on the bone, if you will. It's a quick car, no doubt."
Even though the pressure remains for finalizing a deal to drive in 2019, Kirkwood isn't ready to rush into a decision three months prior to the season. Instead, his planned approach is more methodical to find the best fit.
"There's a lot to think about and, just like this past year and the year before that in F4, everything that I've done has been last minute," he said.
"So it's weird trying to figure out everything at this moment, this early before the season. I'm still keeping my eyes open for the best opportunity and have faith that something will prevail. As of right now, I have not made any decisions whatsoever. I'm working on stuff, who knows if any of that will work out. Nobody can say at the moment. Hopefully, it does. There's a lot to think about.
"Obviously, I have the Mazda scholarship to move on with that and I have a very good relationship with Honda through the F4-F3 stuff and ran karting with them since 2012. I'm very, very grateful for all that they've done in my entire career.
"I think staying on both the path towards INDYCAR with the Road to Indy and Honda is the ultimate goal." Joey Barnes/IndyCar.com