Pro Mazda Series renamed to Indy Pro 2000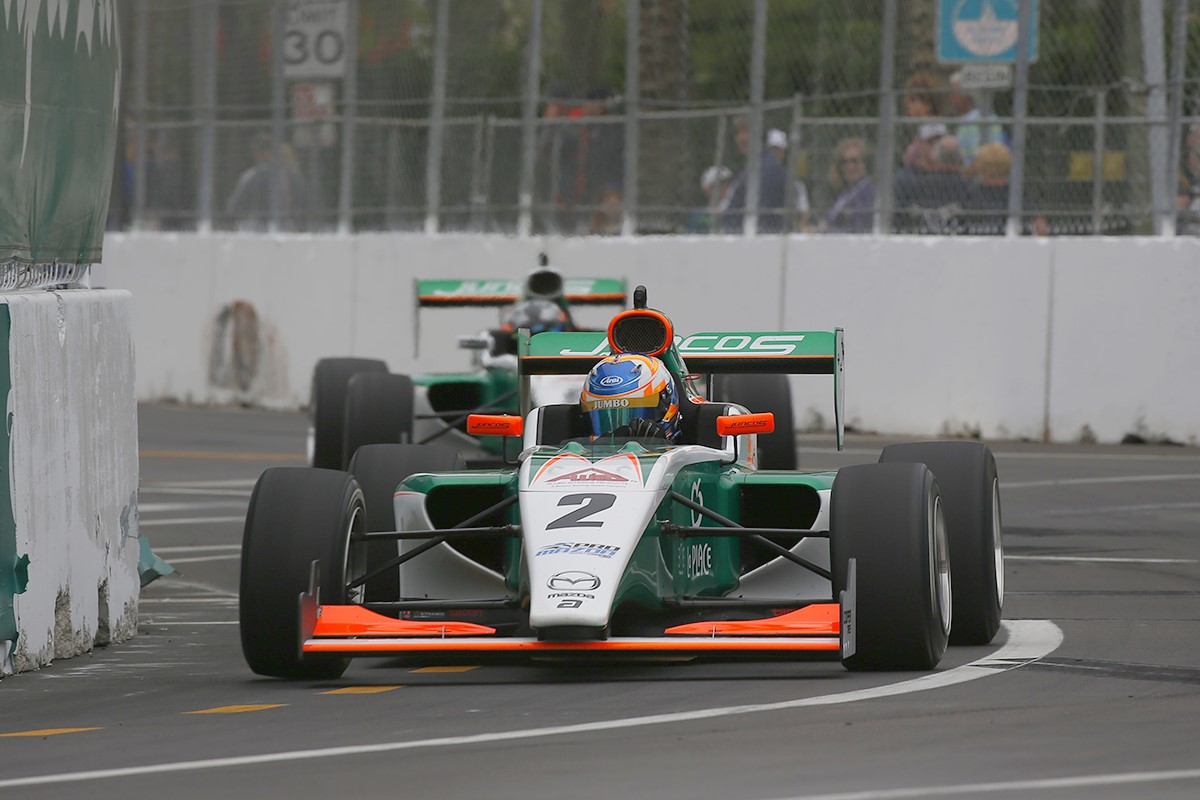 Why doesn't IndyCar do the right thing and replace Pro Mazda with Formula 3 cars – a global standard?
The middle step on the world-renowned Road to Indy Presented by Cooper Tires open-wheel driver development ladder is being rebranded as the Indy Pro 2000 Championship Presented by Cooper Tires in time for the 2019 season.
Fitting in between the entry-level Cooper Tires USF2000 Championship and Indy Lights Presented by Cooper Tires – which provides the final stepping stone to the IndyCar Series – Indy Pro 2000 will continue to build on a strong foundation which was further strengthened this year following the introduction of the state-of-the-art Tatuus PM-18.
Originally debuting as Star Mazda in 1991, then reformed as Pro Mazda in 2013 when Andersen Promotions took over the helm after the previous administration ceased operations, the series has served as a vital training ground for many of today's open-wheel stars during its 28-year history.
Current IndyCar drivers Marco Andretti, James Hinchcliffe, Spencer Pigot and Graham Rahal all established their credentials in either Star Mazda or Pro Mazda, while recently crowned champion Rinus VeeKay is poised to move up one more step on the ladder when he enters the Indy Lights fray for 2019.
Indy Pro 2000 competitors next season will vie for a champion's purse valued at $596,700 to progress to Indy Lights and follow in their footsteps, with the aim of graduating to the IndyCar Series and the Indianapolis 500.
"We are indebted to the tremendous support of Mazda over the past nine years, but now, as the Road to Indy Presented by Cooper Tires legacy continues to grow, we feel the time is right to introduce a new look as we head into a new season," said Dan Andersen, Owner and CEO of Andersen Promotions.

New Logo
"The Tatuus USF-17 has been hugely successful from the time it was introduced in USF2000 two years ago, and since the same chassis – along with some considerable enhancements – forms the basis for the PM-18, it makes sense to incorporate this into the name evolution while also strengthening our ties to INDYCAR. We are excited to roll-out the new Indy Pro 2000 branding over the course of the next few months."
The rebranding will go into effect immediately on the Indy Pro 2000 website (indypro2000.com) and social media platforms with the new handle of @IndyPro2000 on both Twitter and Facebook. Instagram will feature all three series under Road To Indy Official.
The Indy Pro 2000 Championship Presented by Cooper Tires slate of 16 races at nine venues will kick off March 9/10 on the Streets of St. Petersburg, Fla., where all three levels of the Road to Indy will be in action. The Road to Indy annual Spring Training will take place one week prior on March 2/3 at Homestead-Miami Speedway.
Coverage of Indy Pro 2000 will continue to include global live streaming of all practice, qualifying and race events on indypro2000.com, indycar.com, RoadToIndy.TV and the Road to Indy TV App. In 2016, Road to Indy became the first American racing series with a dedicated broadcast channel on demand. The channel is available on Apple TV, Amazon Fire and Roku in addition to an official App on Xbox One.