Latest F1 news in brief – Sunday
Saving Pirelli tires by sitting our sessions brought little value to the paying customer in the grandstands

Penalized drivers can't stay in garage and save tires anymore

Raikkonen expected bigger difference between Ferrari and Sauber
Abiteboul: Let's see what happens with Red Bull and Honda
Mexican Grand Prix wins fourth-straight Best Promoter award
Leclerc named FIA Rookie of the Year
Hartley: I would love to tell the story one day
Penalized drivers can't stay in garage and save tires anymore
To ensure all the drivers take part in the qualifying, the FIA has tweaked the rules of qualifying for the upcoming 2019 Formula One season.
Since 2018, any driver with more than 15 penalty places is automatically relegated to the back of the grid. If more than one driver is facing a penalty, the starting order is based on when the offense is committed. For example, if power elements cause grid penalty, the order in which they were used on the track will determine the grid start position.
To take advantage of this situation, some drivers would leave their garage ahead of time and park the cars at the end of pit late and start early on the track during the free practice run, thereby guaranteeing a higher position.
We saw the biggest example of this during the Russian GP when four cars were waiting at the pitlane exit.
Such drivers also made a habit of making a token appearance in Q1 and did to venture out in Q2 and Q3 to save mileage and tires.
To plug the rampant misuse of this loophole, the FIA created a new rule to come into effect from 2019. According to the new rule, the Penalized drivers will line up on the grid based on their qualifying order.
The new rule will incentivize the Penalized drivers to remain competitive in the qualifying segment, thereby ensure all cars are fighting in the shootout.
The World Motor Sport Council ratified a few other changes to the rules including the one about fuel handling procedures. From now on, the teams have to use the race event fuel procedure even for tests.
Raikkonen expected bigger difference between Ferrari and Sauber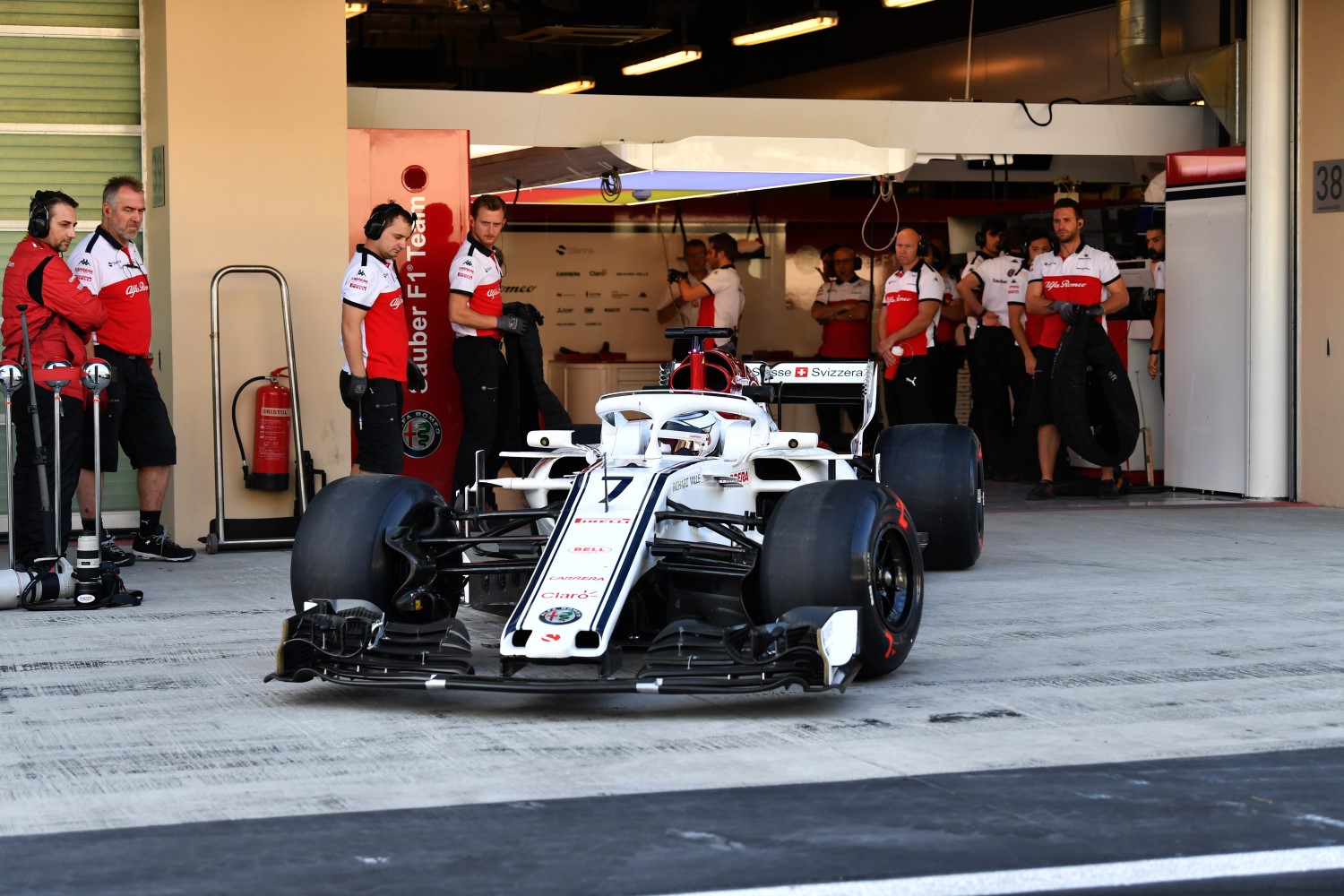 Raikkonen testing the Sauber in Abu Dhabi
After testing Sauber's 2018 F1 car for the first time in Abu Dhabi recently, Kimi Raikkonen was rather impressed.
"I think it felt very similar to what I'm used to," Raikkonen said.
"It's a different car, looking a bit different, but to be honest it wasn't a lot different feeling.
"I probably expected a bigger difference.
"[I was] just testing the tires and not really dong any setup work, just in the car doing laps and trying to see what is what. I think as a first experience, it was OK."
"I am excited. It's different obviously [at Sauber], obviously I've been in teams with a lot of different people now," Raikkonen said.
"I think they have all the tools, they have a great wind tunnel, they have everything to build a great car. Obviously we have a Ferrari engine, so we know what we're going to get.
"I don't see a reason why we can't do a good job out of it. Where that's going to take us, we'll see next year.
"But for me it was important to just try the car and see if there were any big things that we need to fix, but it was pretty straightforward."
Abiteboul: Let's see what happens with Red Bull and Honda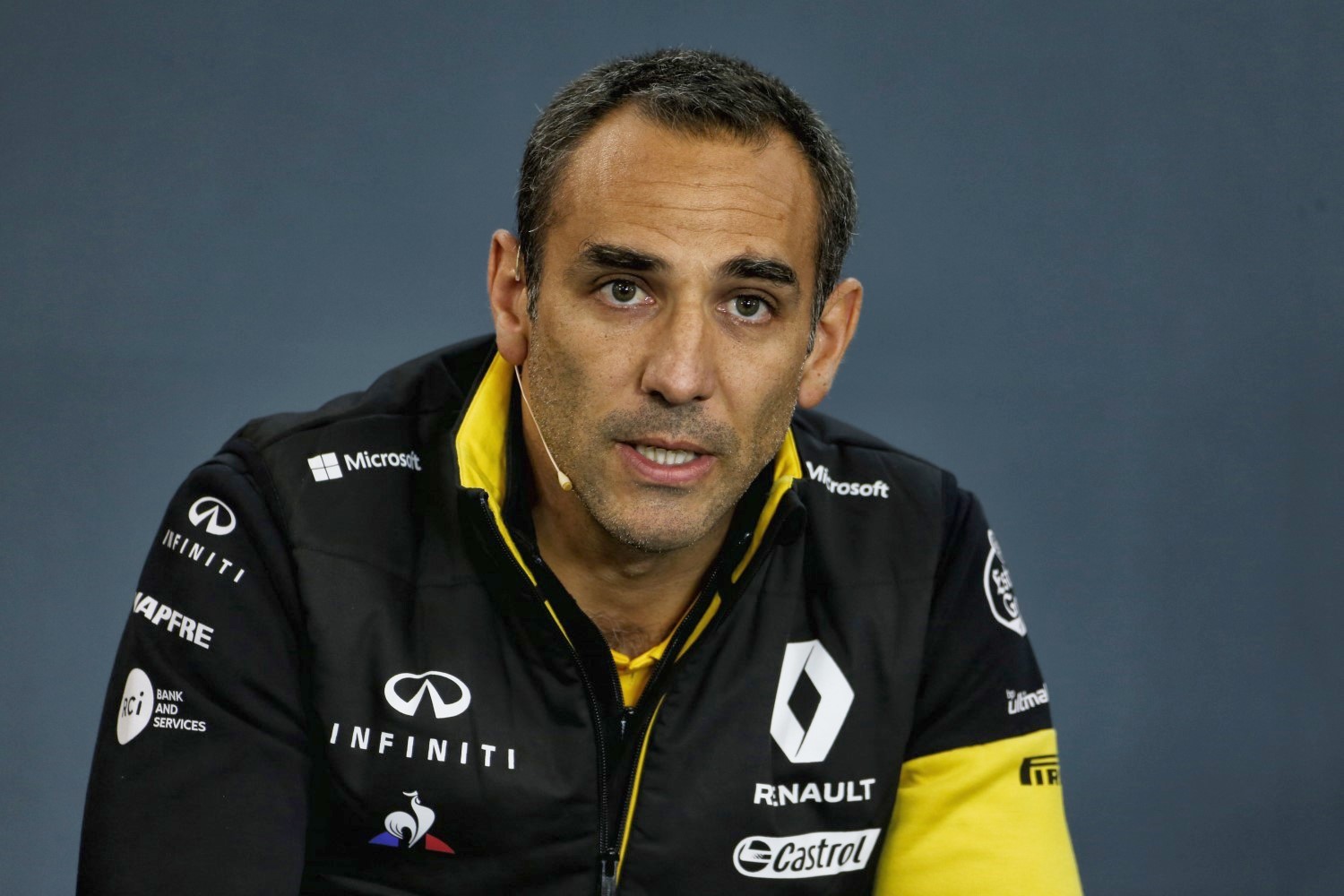 Abiteboul got back at Red Bull by stealing Daniel Ricciardo
Renault sports director Cyril Abiteboul believes that Red Bull powered by Honda are his target next season, after Red Bull dumped his Renault engines in favor of Honda
When asked by Auto Motor und Sport what his expectations are for next season, Abiteboul said, "It's hard for me today to set goals for next year but if the curve is up, like ours, then you want this trend to continue. We may not succeed in terms of world championship position, but we want to narrow the gap to the top."
"Let's wait and see what happens with Red Bull and Honda. Red Bull never tires of saying how good Honda is compared to us. May I remind that Toro Rosso is still behind us?"
He revealed why he stole Daniel Ricciardo from Red Bull, perhaps as a way of getting them back for being dumped by the energy drink team, but he wasn't admitting it.
"His laughter and his positive attitude. Things that may have been a bit absent from our team, sometimes you need a bit of fresh wind and energy."
"The reasons are obvious why Red Bull did not allow Ricciardo to test our car in Abu Dhabi. They probably do not want him to give us any good tips early on in which direction we can improve the car. All these obstacles that Red Bull puts in our way shows me that we are heading in the right direction."
"2018 was a good season for us, but also a season mixed with joy and frustration."
"We spent most of the season in the game, which was our goal. From the Spanish Grand Prix to Abu Dhabi we were fourth. It was a season in which we continued to build our team and improve collaboration between Viry-Chatillon and Enstone."
"All our development capacities have improved. We were able to convince Daniel Ricciardo of our project and have put together with him and Hülkenberg for 2019 one of the best driver pairings in the field."
"Fourth was important for motivation. It was important for us to be the first team behind the top three and to have scored twice as many points as last year."
"But now we have to look ahead. We cannot deny that we are one to one and a half seconds off pole position. That is a cause for concern," said the Renault F1 team chief.
Mexican Grand Prix wins fourth-straight Best Promoter award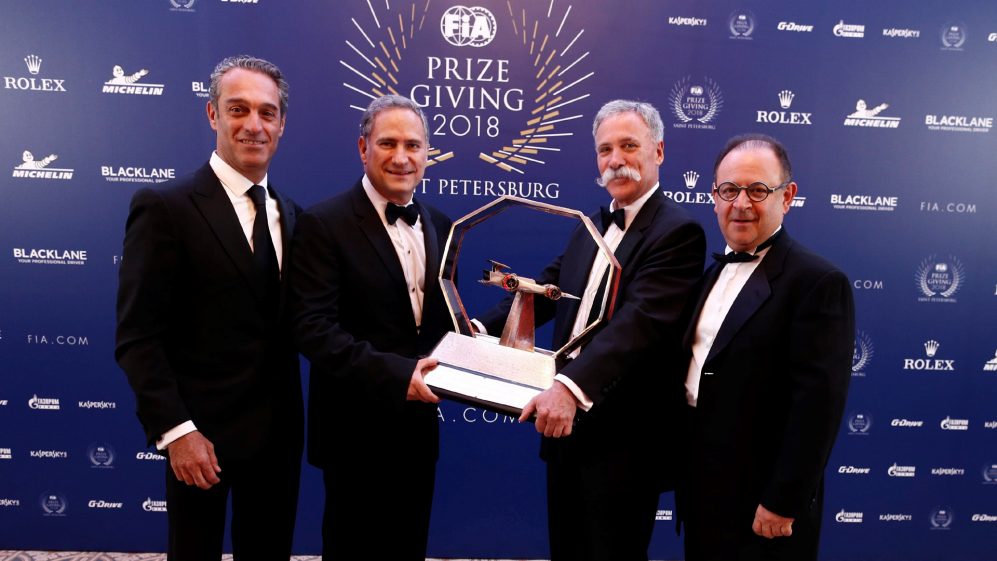 The Mexican Grand Prix promoters collect the 2018 Best Promoter Award from Chase Carey, Chairman and CEO of F1
The unique fiesta atmosphere that defines the Mexican Grand Prix has seen the race organisers claim the coveted Best Promoter award at the FIA Prize Giving for the fourth year running.
The Grand Prix won the accolade upon its return to the Formula 1 calendar in 2015, and has gone on to win it in 2016, 2017 and now 2018. A key part of the circuit's appeal to fans and drivers alike is its unique layout, which sees the track wind through the Foro Sol baseball stadium, while the podium ceremony is also held in the former home of the Diablos Rojos del Mexico soccer squad.
Meanwhile, the Autodromo Hermanos Rodriguez's proximity to the center of Mexico City – which means fans can travel to the circuit on the metropolis' underground network – saw a massive 334,946 people pass through the turnstiles in 2018.
Leclerc named FIA Rookie of the Year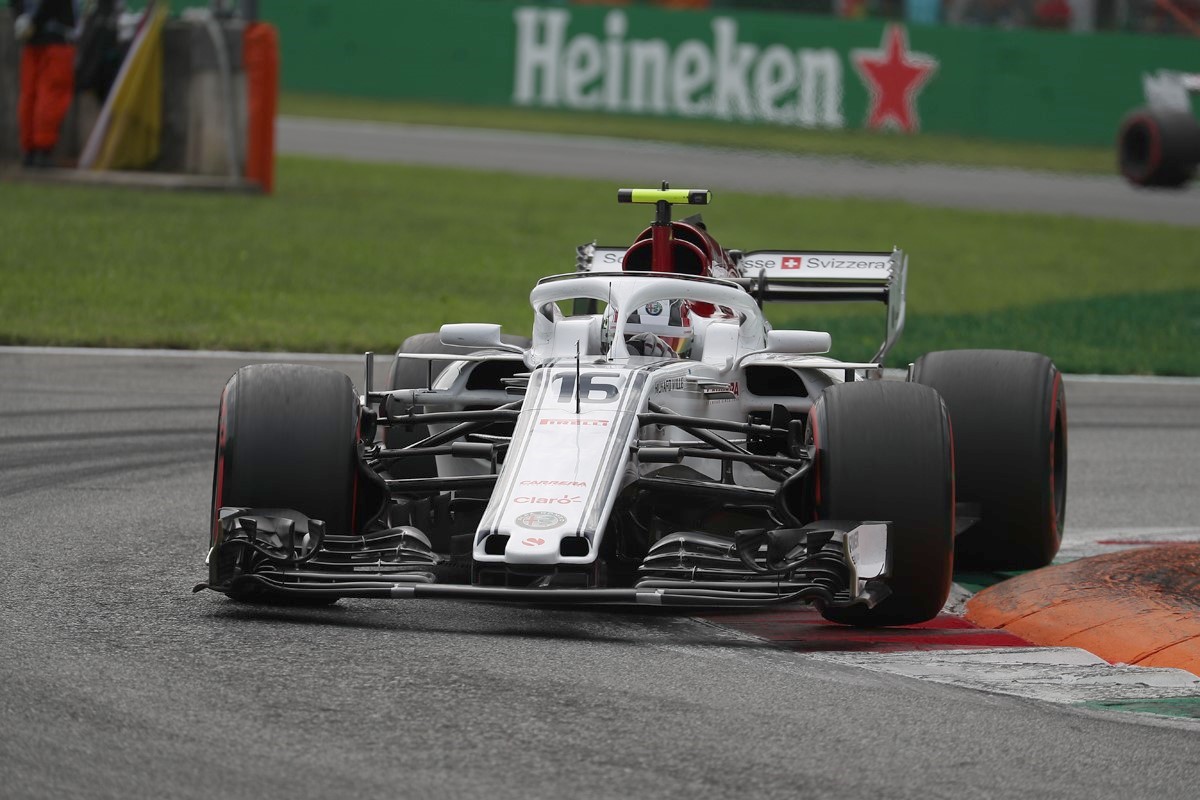 Charles Leclerc at Monza
Charles Leclerc has been named the FIA's Rookie of the Year for the second year in a row following an impressive debut season in Formula 1 with Sauber through 2018.
Leclerc won the FIA's rookie award last year after charging to the Formula 2 title in his first year in the category ahead of a move up to F1 in 2018 with Sauber.
Any driver who has completed their first season in an FIA championship is eligible for the award, meaning that Leclerc was crowned ahead of drivers from series as diverse as the World Endurance Championship, the World Rally Championship and the CIK Karting KF World Championship.
It comes after a year that saw Leclerc initially struggle to get on top of the demands of driving F1 machinery, before the 21-year-old went on to put in some great performances for the much-improved Sauber squad, highlights being his sixth place in Azerbaijan, as well as a trio of season-ending seventh places in Mexico, Brazil and Abu Dhabi.
His 10 points-scoring finishes of the season were the most for a Sauber driver in Formula 1's post-2014 hybrid era, while Leclerc's scintillating rookie performance ultimately saw him handed a drive with Ferrari for 2019 alongside Sebastian Vettel.
Home with an ear infection, he addressed the FIA Prize Giving ceremony via a video screen: "I'm extremely grateful to be receiving the… Rookie of the Year award for the second year in a row.
"These last two years have been amazing and this first year in Formula 1 has been great. It was very difficult in the first few races to get used to these cars, but after that, it has been great, with an amazing team behind me that has pushed me all year long and that has [taught] me all the basics of Formula 1. So yeah, really looking forward to the next challenges ahead and see you soon on track."
Hartley: I would love to tell the story one day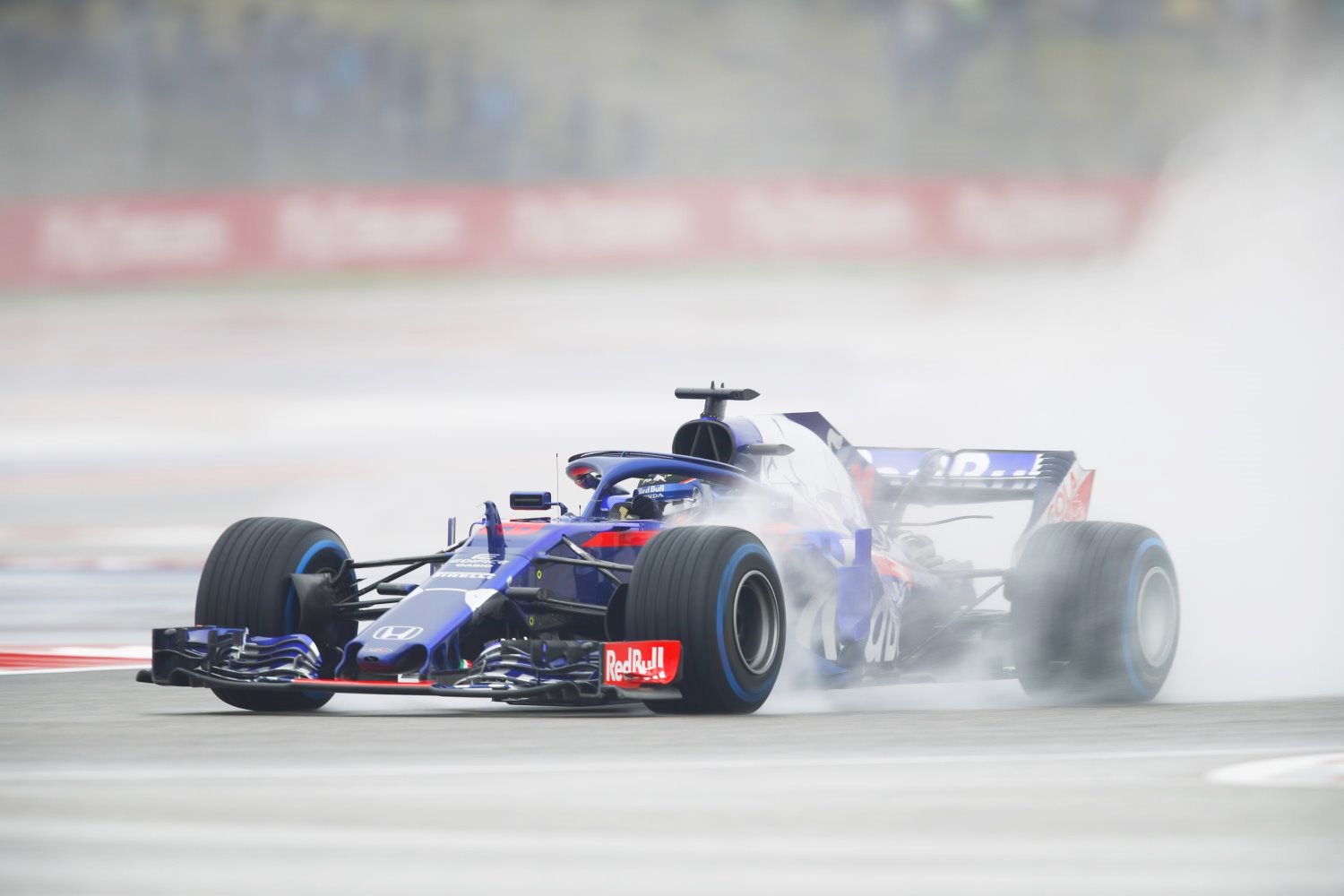 Hartley in the rain in Austin
Brendon Hartley had an unexpected crack at Formula 1 with Toro Rosso last year but did not bring a big enough check to keep his place on the grid beyond this year, however, the New Zealander admits he is not sure why he got the boot despite having a long-term deal with the team
Speaking to New Zealand Newstalk broadcaster Mike Hosking, Hartley summed up, "I'm in a pretty good place. I've definitely been better."
Red Bull is a well-known nest of politics for drivers of its Toro Rosso team, with a lot of jockeying going on for the driver who can bring the biggest check to pay for their ride, a fact that Hartley alluded to during the interview, "I would love to tell the story one day. The politics I don't enjoy."
Of his future, he said, "Still trying to figure that out. I've maintained a relationship with Porsche through all of this, I was with them for four years through the two world championships and Le Mans. My phone has been glued to my ear over the last week, a lot of emails."
"Not the perfect time of year to be sorting out a drive, coming into December but I've got a good reputation and just trying to figure out what the right steps are and also what's going to keep me happy."
"You will definitely see me doing something next year but it won't be Formula One," revealed the 29-year-old.
Before going to F1 he was poised to be an IndyCar driver, but now all the good seats are taken for 2019.
Hartley has previously said that he has unfinished business in the top flight, and said of a return to F1, "I would never say it's closed. Ten years ago when that door was effectively shut, I've proven that it's possible to open it again."
"I'm now in a position where I have a Super license, I have hands-on Formula 1 experience, I definitely didn't disgrace myself and I definitely wouldn't say that door is closed. "
"It took me some time to get used to the extra media attention, but I was definitely prepared, coming into Formula 1, being involved in Porsche and LMP2."
"I think the pressure definitely ramped up more than I expected in terms of being under the microscope a lot more but I got more and more comfortable with that during the season."
It was no secret after the summer that Hartley was in jeopardy, some predicting his ejection by Singapore, but this did not transpire and more than once he told media how it came as a surprise to me that his seat was in jeopardy.
"There were rumors very early in the season which was a big surprise to me when I thought I'd signed a long-term contract. Came off the back of a world championship, a Le Mans win and after just two or three races there were rumors and a lot of questions being asked around my immediate future."
"I'm happy with how I handled that. I feel under the circumstances other people could have potentially cracked and I actually came out much stronger because of it. I fought, I evolved through the season. There were articles in the press saying: he needs to improve and beat his teammate."
"Actually and the end of the season I really felt on top of my game, built great relationships with Honda, all the staff at Toro Rosso and I was consistently out-performing my teammate. I'm really proud of how I handled the situation and how I improved during the season."
"It was particular easy after seven years away from single-seater racing but I was very comfortable with the job I was doing at the end of the year. What I will say is Formula One is very complicated, there's a lot of money involved, politics and some of the reasons why drivers stay or leave isn't always in your control or of reasons for pure performance."
"In any case I left the paddock with my head held high. I knew I'd given it my best shot this year. I knew that I'd stepped up to the plate when I needed to."
"There are so many fantastic experiences I take away from the season. Driving the fastest Formula One cars that the world has seen, maybe the fastest ever. There's a lot to be proud but I did feel like I had more to give in Formula One."