Three Team USA Drivers Chase MRTI $200K Scholarship Prize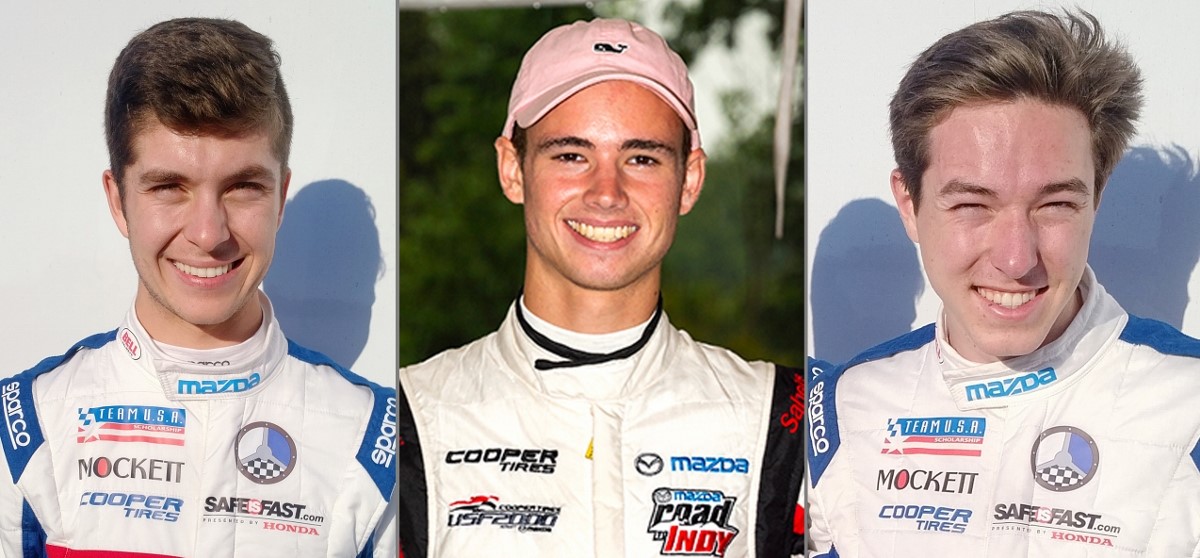 Jake Craig, Braden Eves and Colin Mullan
Team USA Scholarship recipients Jake Craig, Braden Eves and Colin Mullan (left to right) will contest the third annual Mazda Road to Indy USF2000 $200K Scholarship Shootout this weekend, December 8/9, at the Bondurant Racing School in Chandler, Ariz.
They will be joined at Wild Horse MotorSports Park by fellow 2018 Team USA nominees Dario Cangialosi, Courtney Crone, Hunter McElrea and Tyler O'Connor, who earned their opportunities alongside an accomplished group of aspiring young IndyCar drivers via a variety of Mazda Road to Indy Official Feeder Series quite literally from around the world.
The shootout winner will be awarded a $200,000 prize to enter the 2019 Cooper Tires USF2000 Championship, the first step on the highly acclaimed Road to Indy Presented by Cooper Tires which next year will provide over $2 million in scholarships to progress all the way from the grassroots of the sport to the IndyCar Series and the Indianapolis 500.
After a stellar career in karting, Craig, from Mission Viejo, Calif., enjoyed a successful first year of car racing in Canada, where he placed second in the Toyo Tires F1600 Championship. Craig also shone while carrying Team USA's patriotic colors in some hugely competitive Formula Ford 1600 events in England and was granted an At-Large entry by Mazda.
"I'm extremely excited to have another go at the Mazda Road To Indy Shootout," said Craig, who recently celebrated his 21st birthday and last year was invited to the MRTI Shootout as an At-Large nomination by eKartingNews.com. "I'm feeling very confident now that I have a full year of car racing under my belt. Coming fresh off a month of racing in England with the Team USA Scholarship is definitely going to be beneficial going into the weekend. I would like to thank everyone who made it possible for me to get to the Shootout. This is a potential career changing opportunity for me to progress up the ladder."
Mullan, 16, from Danville, Calif., in June became the youngest ever winner in the IMSA Continental Tire SportsCar Challenge. After missing the opening two events of the season because he was under age, Mullan won his second race with a MINI JCW at Watkins Glen International.
"I'm very excited to be representing the Team USA Scholarship at the Mazda Road to Indy Shootout," said Mullan, who is the youngest of all the shootout contestants. "The Road to Indy has proven to develop aspiring professional drivers throughout the years and provide them with the path to success. I am truly grateful for this opportunity to progress my open-wheel career, as the MRTI Shootout provides me with the chance in open-wheel that I didn't have before. To have drivers come to compete from across the globe is amazing, and I'm proud to be a part of it."
Eves, 19, from New Albany, Ohio, shone in selected F1600 Championship Series races and one USF2000 weekend before being awarded a Team USA Scholarship following a shootout at Road America in early September. He was unable to take his place in England while recovering from a surgical procedure but is now back to full fitness and ready to shine again.
"I cannot be more excited to compete for the Mazda Road to Indy 200k Scholarship," said Eves. "Opportunities like these have always allowed hope for drivers like me to become a professional in racing, and this is one of the great opportunities for drivers my age. I'd like to thank everyone involved in making the Mazda 200k Scholarship a reality, as well as the Team USA Scholarship for allowing me to take part despite having to miss the trip to England due to my previous surgeries. I'm looking forward to the experience."