Interesting Numbers for Dega's Oversized Vehicle Tunnel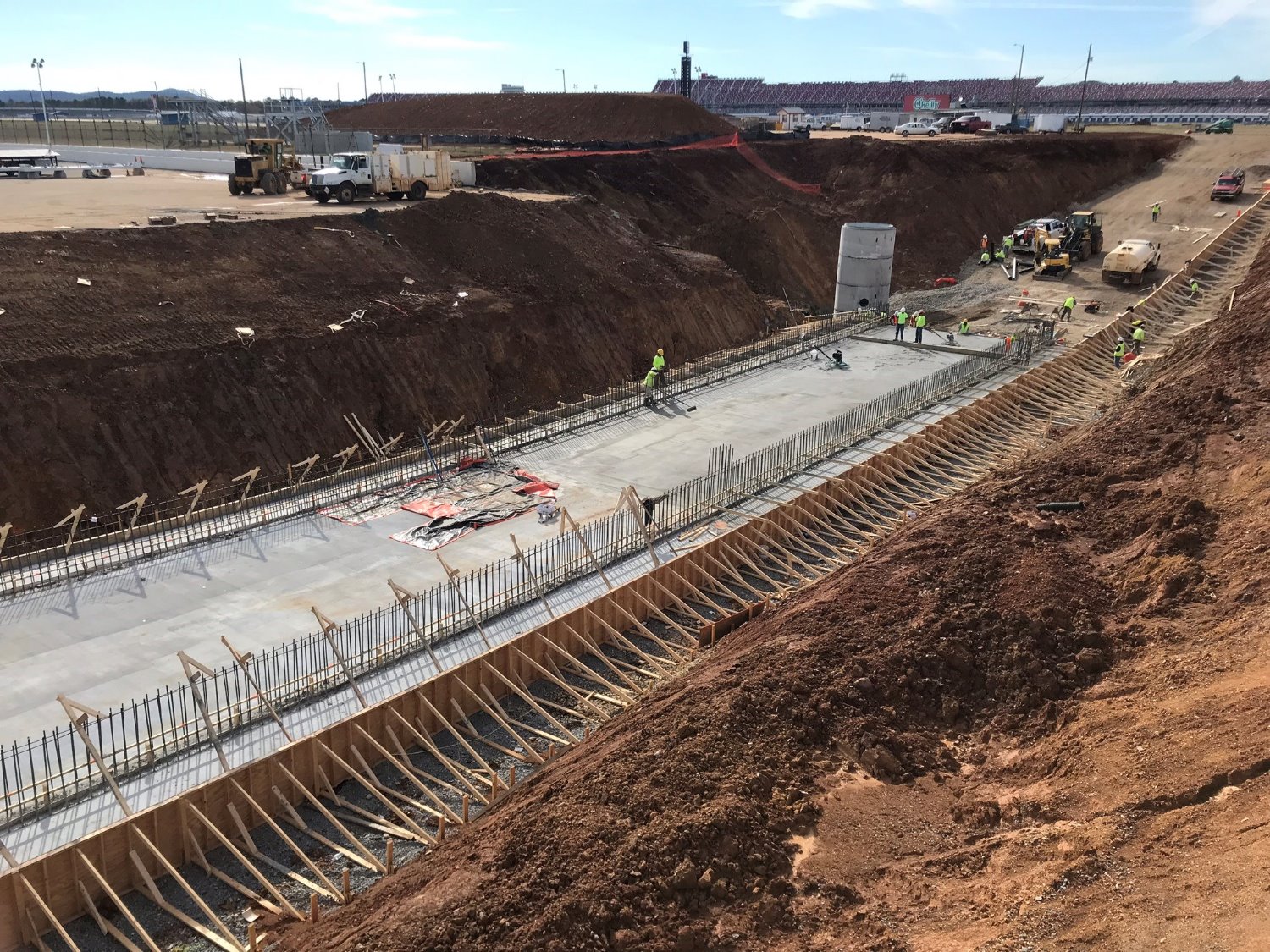 Tunnel construction progressing
With construction efforts continuing around the clock on the concrete tunnel slab for Talladega Superspeedway's new Turn 3 Oversized Vehicle Tunnel, here are some cool, interesting facts on the initial endeavor of Transformation – The Talladega Superspeedway Infield Project.
3,000 Cubic Yards: The amount of concrete that will be used for the tunnel slab and foundation walls
100 Tons of Rebar: The amount of rebar that will be used for the concrete tunnel slab and foundation walls
4 Feet Thick Mat: The amount of concrete beneath the tunnel to form the floor
Facts at Tunnel Completion:

Cover a Football Field: Once the tunnel is finished, enough sheet waterproofing will have been applied to the tunnel to cover an entire football field from end zone to end zone.
3,200,000 Pounds: The weight of the completed tunnel
204 Feet Long: Length of tunnel (and headwalls)
28 Feet Wide: Width of tunnel (two vehicles lanes that can accommodate two haulers at once)
16 Feet by 8 Inches: Clearance height inside the tunnel
Work has also begun on the foundation walls and will continue through December. After the flooring and walls are set, precast concrete tunnel arch sections are scheduled to be applied in early January to create the top of the tunnel. Oxford, AL's Taylor Corporation is spearheading the tunnel construction effort.
The Oversized Vehicle Tunnel, which is scheduled for completion in time for the track's April 26-28, 2019 spring motorsports tripleheader weekend featuring the GEICO 500, is the initial part of the approximately $50 million Transformation Infield Project that is part of International Speedway Corporation's (Talladega's parent company) long-term capital allocation plan and reinvestment into its major motorsports complexes. The new two-lane tunnel will be capable of allowing vehicles as large as race team haulers, fans' recreational vehicles as well as track tram vehicles (to take fans who have both infield admission and grandstand seating) to enter and exit the track simultaneously with ease. It will be open 24 hours during event weekends. Also slated to be ready for spring 2019 is the 67-spot Finish Line Premium RV area (located just past the start-finish line & includes full hookups), as well as new Infield Shower Trailers.
The culmination of Transformation will occur in October 2019 and will allow fans to be immersed into the sport of NASCAR with a one-of-a-kind Garage Fan Zone Experience, which will feature "up-close" access, interactive attractions and enhanced amenities for fans, sponsors, teams and stakeholders in the iconic Talladega infield.
Fans can learn more about the project and view the progress 24/7 via the construction cam by visiting www.talladegasuperspeedway.com/transformation.