'New' name for the ex FIA Formula 3 European Championship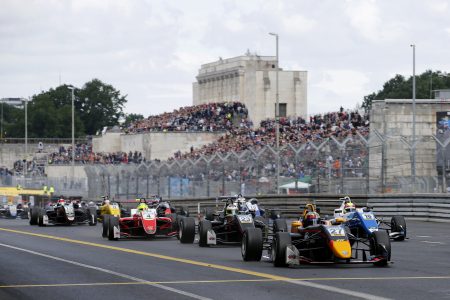 Formula 3
In the coming season, the Formula European Masters will succeed the FIA Formula 3 European Championship in the DTM support program. The junior series that will be contested with the existing single-seaters used in the FIA F3 European Championship and will take part at each race weekend of the 2019 DTM season. Registration is possible since 15th of November.
The Formula European Masters continues the tradition of the most competitive junior race series worldwide on the DTM platform. As it was the case in the Formula 3 Euro Series and the FIA Formula 3 European Championship, the new Formula European Masters will also be promoted by the 'Formel 3 Vermarktungs GmbH'. Since 2003, the Formula 3 championships have been held in the support program of DTM and continuously offered young, gifted drivers perfect conditions on their way to the top categories of motor racing.
In the top-class grids of the preceding Formula 3 series, the greatest talents of their days prepared for their future international careers: F1 World Champions, such as Lewis Hamilton, Sebastian Vettel and Nico Rosberg, learned their trade in the Formula 3 Euro Series and made a name for themselves. From 2013, the FIA Formula 3 European Championship – successor to the Euro Series – attracted many more major talents, such as Max Verstappen, Esteban Ocon and Charles Leclerc who are racing in Formula One today.
It goes without saying, that DTM also offers young Formula 3 drivers' fantastic prospects. Some of the drivers who achieved successful careers in DTM via Formula 3 are Marco Wittmann, Paul Di Resta, Jamie Green and Joel Eriksson.
Another significant advantage of the junior race series is the extensive track time the young drivers are offered during the race weekends. This means the young Formula European Masters talents can cover maximum mileage with their single-seaters, allowing them to learn – in cooperation with the professional teams – how to squeeze the most performance out of themselves and their racing cars.
"The F3 single-seaters are extremely sophisticated, well-engineered and safe. Both the technical and sporting regulations have proven their worth for years. Our premium series on the highly professional DTM platform offers the young drivers' perfect conditions and the chance of demonstrating their skills in front of the eyes of those responsible at top-class brands such as Aston Martin, Audi and BMW. In addition, the Formula European Masters also benefits nationally and internationally from the professional marketing and top-class TV partners." says Walter Mertes, CEO of 'Formel 3 Vermarktungs GmbH'.
The Race Calendar 2019:
3-5 May – Hockenheim / D
17-19 May – Zolder / B
7-9 June – Misano / I
5-7 July – Norisring / D
19-21 July – Assen / NL
10-11 August – Brands Hatch / GB
23-25 August – Lausitzring / D
13-15 September – Nürburgring / D
4-6 October – Hockenheim / D