New North American Trade Pact Signed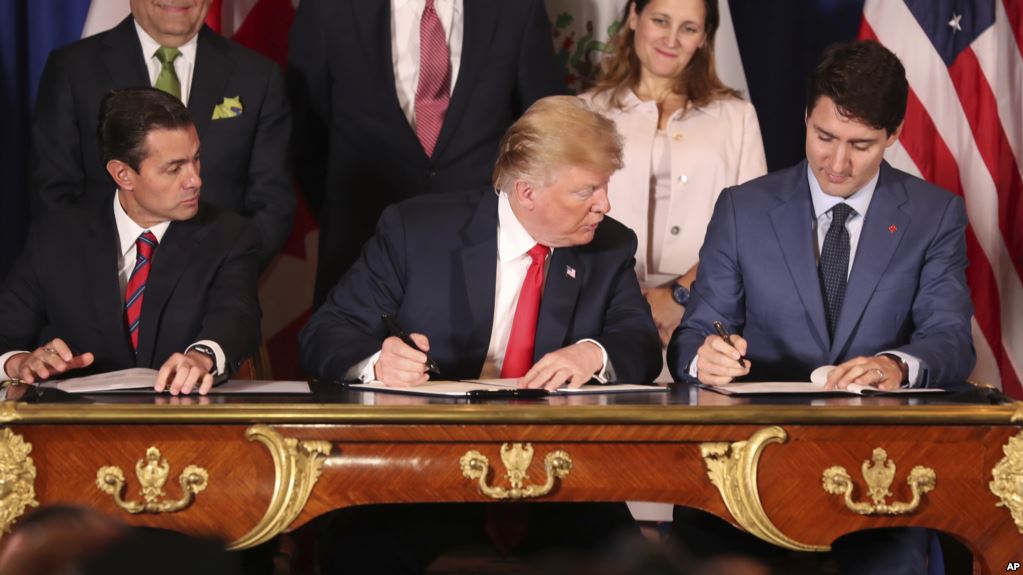 President Trump, looks over at Canada's Prime Minister Justin Trudeau's document as they and Mexico's President Enrique Pena Nieto sign a new United States-Mexico-Canada Agreement that replaces the NAFTA trade deal, at a hotel before the start of the G20
President Trump and his Mexican and Canadian counterparts sought to put the acrimony of the past two years behind them on Friday as they signed a new trade agreement governing hundreds of billions of dollars in commerce that underpins their mutually dependent economies.
Meeting for the first time since the revised North American Free Trade Agreement was sealed, Mr. Trump, President Enrique Pena Nieto of Mexico and Prime Minister Justin Trudeau of Canada hailed the results as a boon for workers, businesses and the environment, even as they alluded to the harsh talks that had preceded this day.
"It's not Nafta redone, it's a brand-new deal," President Trump said at the White House.
Text of the pact released includes major adjustments in several key areas of the countries' trading relationships. The agreement sets new rules for automobile production, meant to incentivize production of cars and trucks in countries that pay higher wages. It reduces barriers for American dairy farmers to sell cheese, milk and other products to Canada. It retains a tribunal for resolving trade disputes that the United States had sought to eliminate.
It guarantees Canadian and Mexican manufacturers expanded access to some large American markets, such as cars and light trucks, but leaves lingering questions about their ability to avoid tariffs on steel and aluminum exports to the United States.
Nafta required automakers to produce 62.5 percent of a vehicle's content in North America to qualify for zero tariffs. The new agreement raises that threshold, over time, to 75 percent. That's meant to force automakers to source fewer parts for an "Assembled in Mexico" (or Canada) car from Germany, Japan, South Korea or China.
For the first time, the new agreement also mandates that an escalating percentage of parts for any tariff-free vehicle — topping out at 40 percent in 2023 — must come from a so-called "high wage" factory. The agreement says those factories must pay a minimum of $16 an hour in average salaries for production workers. That's about triple the average wage in a Mexican factory right now, and administration officials hope the provision will force automakers to shift suppliers from Mexico to Canada or the United States.
Ford Statement
In response to the signing of the regional trade agreement between the United States, Mexico and Canada, Ford Motor Company released the following statement, attributable to Joe Hinrichs, executive vice president and president of Global Operations:
"Today's signing is an important step towards achieving free and fair trade in North America. We look forward to being a collaborative partner to support the ratification of the agreement in all three markets because it will support an integrated, globally competitive automotive business, helping to drive volume and support manufacturing jobs. To achieve the full potential of the trade agreement and to ensure ratification, the elimination of tariffs on steel and aluminum will be critical and we will continue to work with all stakeholders on this important issue."